Aggressive Twins strike early against Kluber
Plouffe homers to cap three-run first in win over Indians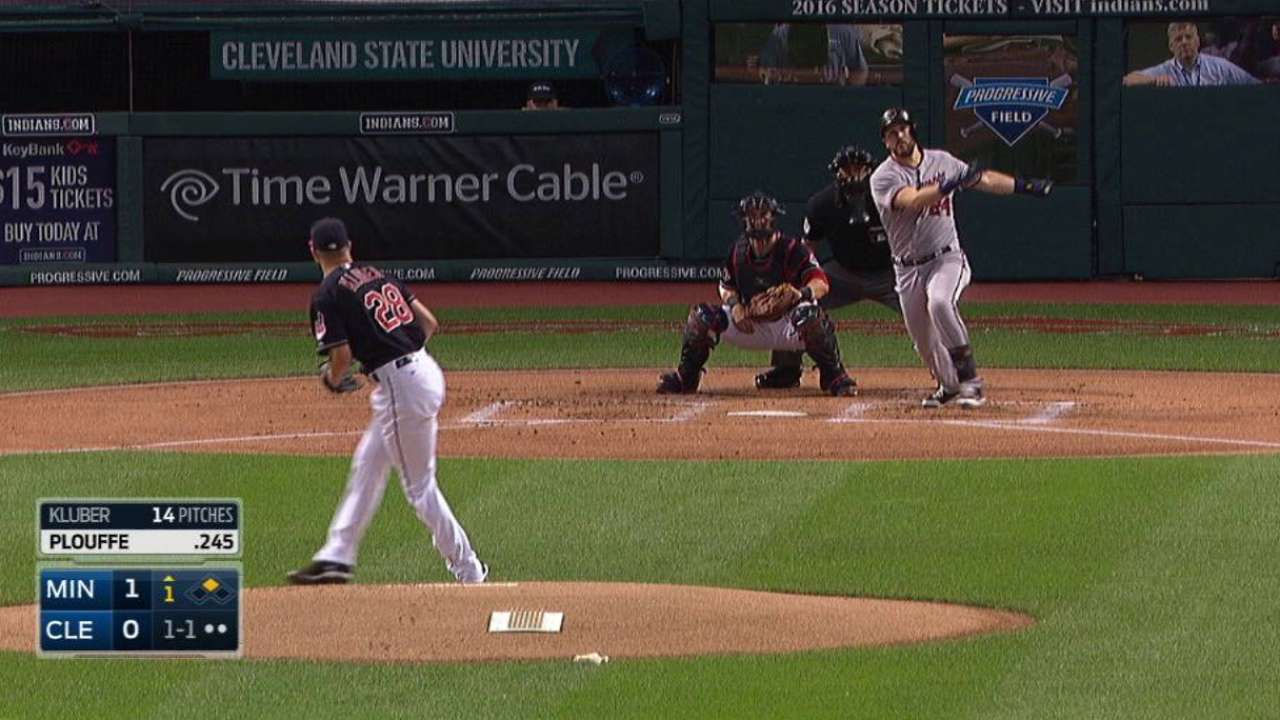 CLEVELAND -- After reigning American League Cy Young Award winner Corey Kluber dominated the Twins through his first three starts of the season with a 1.38 ERA and 25 strikeouts in 26 innings, the Twins decided they needed to be more aggressive early in counts against the Indians right-hander.
It worked for them on Wednesday, when they knocked him out after he allowed four runs in 3 2/3 innings, and their plan worked for a second time in a row in a 4-2 win over Cleveland on Monday at Progressive Field. Kluber went six innings this time, but the Twins scored three runs in the first and tacked on another in the fourth to get a crucial win with six games left in the season. They trail the Astros by a game for the second AL Wild Card spot, pending Houston's result late Monday.
The plan was to jump on him early in counts so he couldn't get ahead and use his devastating curveball, as even Joe Mauer swung at a first pitch for just the 33rd time this season and came up with a double off the left-field wall to spark the three-run first inning. Miguel Sano followed with an RBI double on a 2-1 fastball before Trevor Plouffe connected on a 1-1 cutter for a two-run blast to left.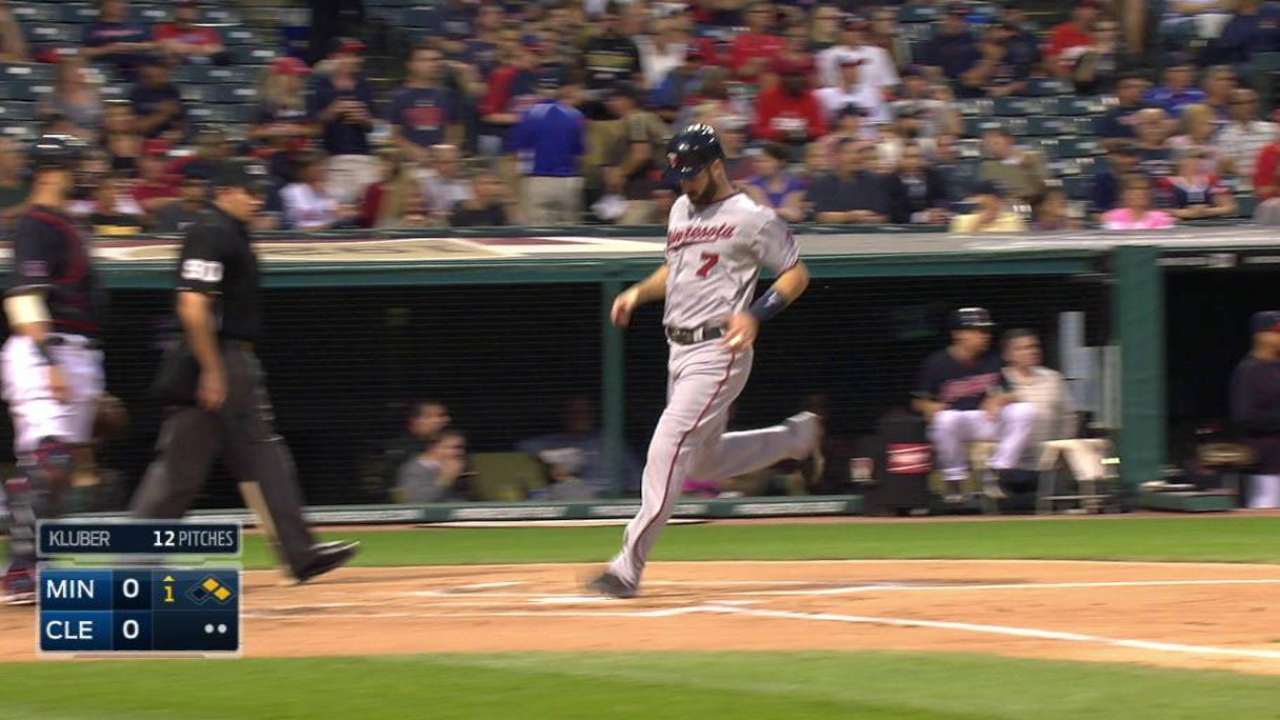 "The last time we faced him we had a plan to attack him early," Plouffe said. "You can't let him get ahead of you because with his off-speed pitches, it's tough. We know how tough he is when he's ahead, so we tried to be aggressive early in counts. The first inning, Joe had a nice at-bat, Miguel had a nice at-bat, and I was able to put a good swing on a 1-1 cutter over the plate."
Twins manager Paul Molitor liked his team's approach against Kluber, as it also gave lefty Tommy Milone some early breathing room, as he was starting on short notice with Phil Hughes out due to illness.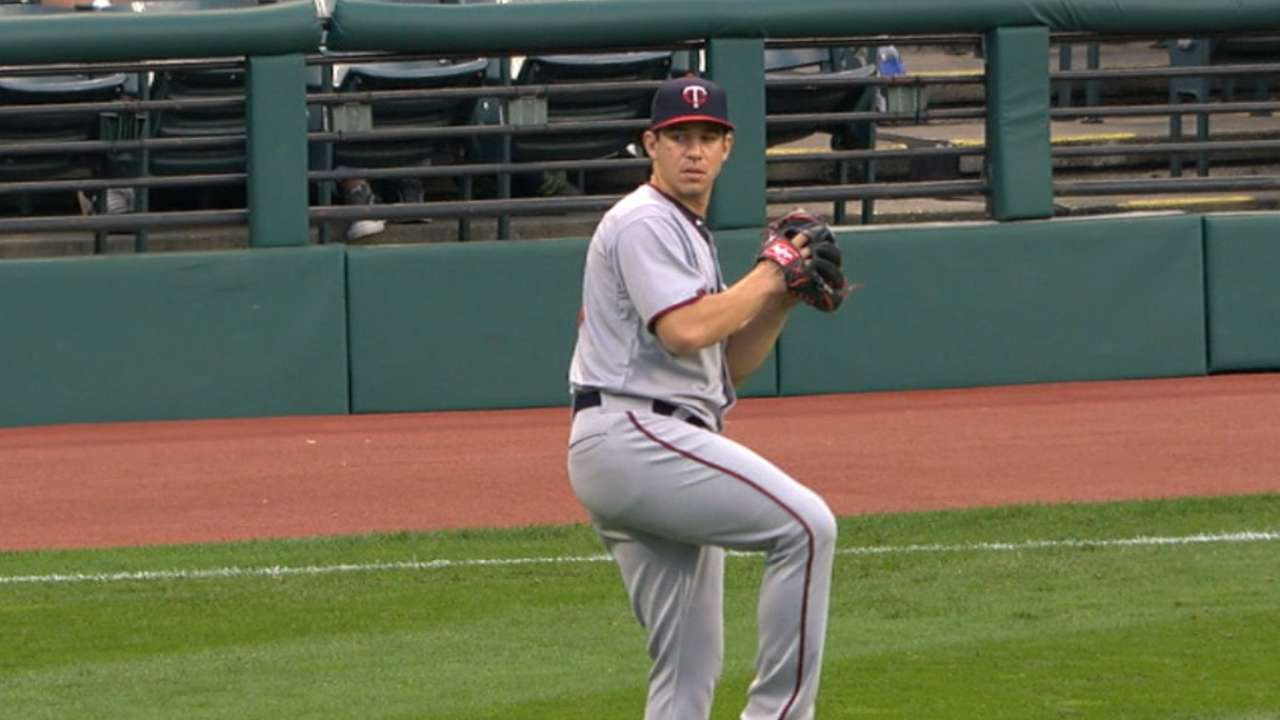 "It was nice to put a number up kind of like we did up there [on Wednesday]," Molitor said. "He's grinding. I'm not sure how he's feeling after that injury. But he still battles. He got to over 100 pitches and kept them in the game after that first inning."
Plouffe said Kluber altered his pitch selection after the first inning, using his curveball to get ahead of hitters instead of his fastball, which helped him settle down. Like Molitor, he noted that Kluber has been dealing with a hamstring issue that has seemed to limit his effectiveness in his three outings since his return.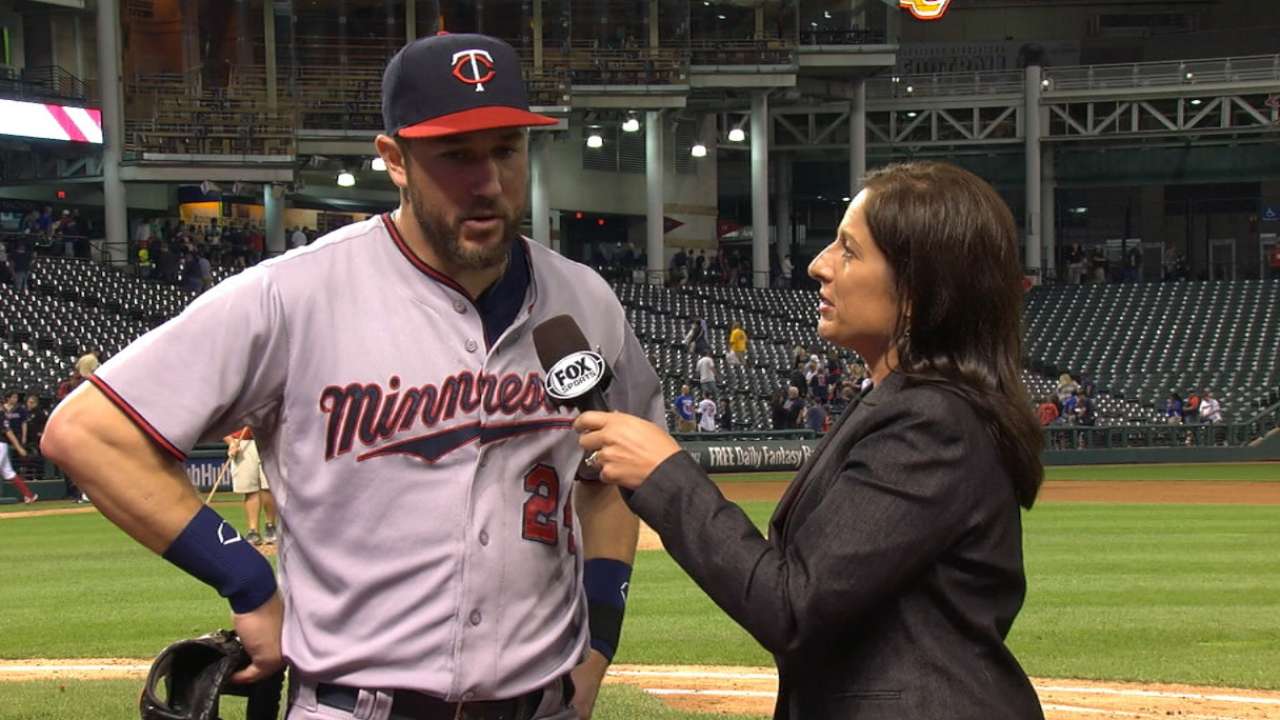 "When he's trying to get ahead that might be the one pitch you get in that at-bat so we were trying to be aggressive with that tonight and it's worked out the last couple times," Plouffe said. "But with a guy like that, if he spots up like he wants to and has his plus-stuff it's going to be a tough game. We never look forward to facing him but the last two times we've had some success."
Rhett Bollinger is a reporter for MLB.com. Read his blog, Bollinger Beat, follow him on Twitter @RhettBollinger and listen to his podcast. This story was not subject to the approval of Major League Baseball or its clubs.