Working out of trouble no trouble for Verlander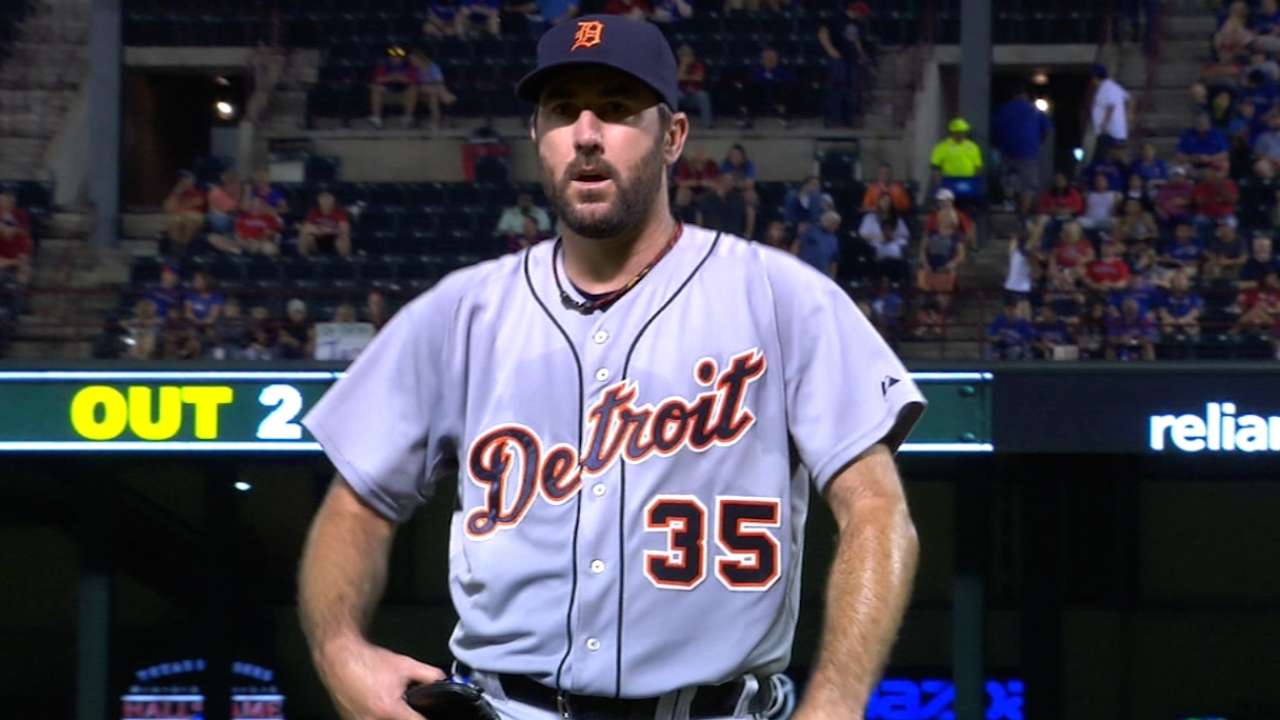 ARLINGTON -- Justin Verlander has been here before, but in this case it wasn't 99-mph fastballs or no-hit bids. It was the Texas traffic jam on the basepaths in the fourth inning of the Tigers' 7-4 win on Monday.
As Verlander stared at Elvis Andrus in the batter's box, he could look around the bases and find a selection of Rangers who have haunted him -- Adrian Beltre on third, Mitch Moreland at second, Josh Hamilton on first. All they were waiting for was the big hit to continue Texas' charge toward the postseason.
That hit never came. The big inning followed, but on the Tigers' side, sending Verlander to a second consecutive victory in a hard-luck season that began with him on the disabled list and ends with him on the rebound.
"You get out of a big jam there and these guys come back and score five runs, that's momentum," Verlander said. "I think you can help offense as a pitcher. Guys get pumped up. Guys on defense are teammates. We're a unit, and those guys get excited when you do something great and get out of a big jam and they come in [and bat].
"How many times do you see somebody in the field make a great play and come in and do something special with the bat? Momentum's a real thing, and getting out of a jam and getting guys back in with a tie game can mean something."
Prince Fielder's leadoff home run had tied the score at 1, penalizing Verlander for a first-pitch slider over the plate. It was one of several aggressive first-pitch swings the Rangers took against Verlander the second time through the order. So was the Beltre single that followed.
By contrast, Moreland and Hamilton made him work -- Moreland working out of an 0-2 count to run it full. Verlander was pitching for the defensive shift, trying to get the ground ball into it and start a double play, but it got through. Verlander got ahead on Hamilton, too, but lost him to a walk.
Out came pitching coach Jeff Jones to let him catch his breath. Then Verlander went to work on the bottom third of the Rangers' order.
There was no 99-mph fastball this time, but his heater worked fine as it elevated. It got Andrus to fly out to shallow right, with second baseman Andrew Romine surviving a collision with J.D. Martinez to hold on for the first out.
Three fastballs and three Rougned Odor swings later, Verlander had his second out.
"I was just kind of climbing the ladder there to him," Verlander said. "Then [Chris] Gimenez gave me a tough at-bat."
It lasted seven pitches, Gimenez struggling to catch up to the fastball but shrugging off the secondary pitches. Verlander's 2-2 slider tailed off and into the dirt, running the count full and sending runners in motion.
Then came Verlander's best pitch of the night, a 96-mph fastball he spotted on the outside corner for a called third strike as Gimenez watched helplessly.
"He has that knack for being able to step on the gas if he gets in trouble," manager Brad Ausmus said.
Jason Beck is a reporter for MLB.com. Read Beck's Blog, follow him on Twitter @beckjason and listen to his podcast. This story was not subject to the approval of Major League Baseball or its clubs.