Tillman solves nemesis, but denied win
O's righty limits Blue Jays in fifth '15 start against rivals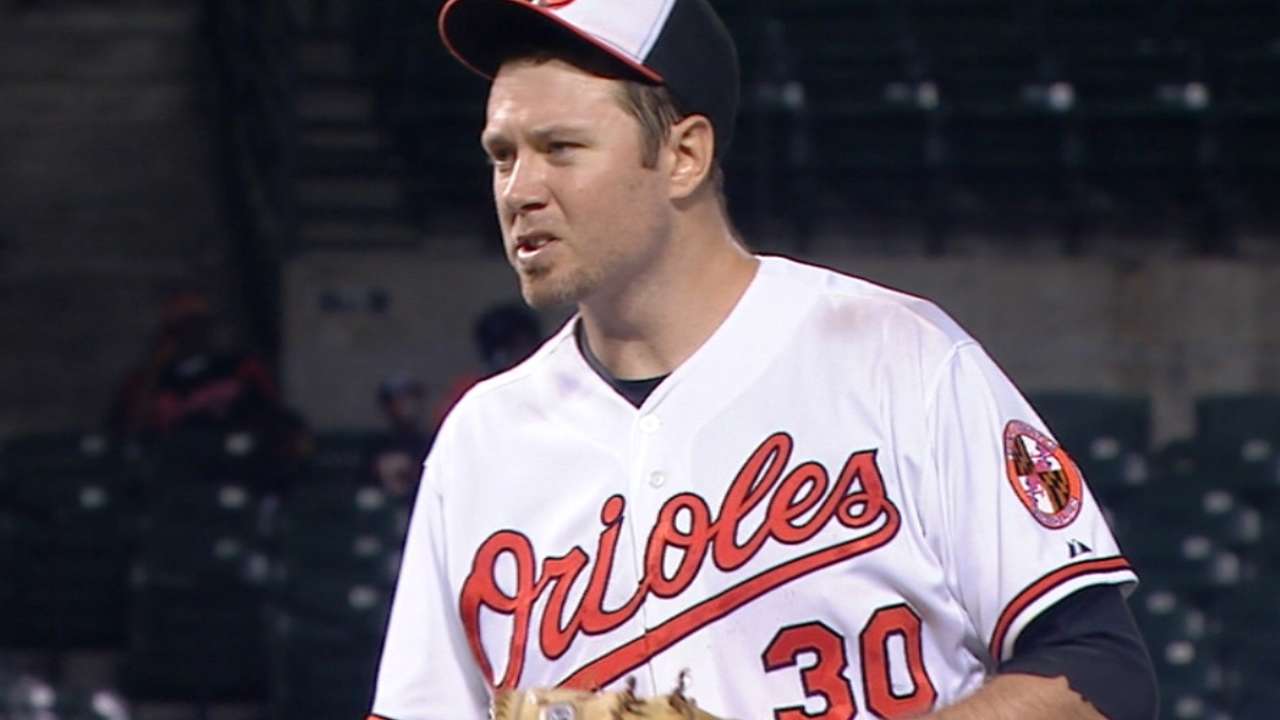 BALTIMORE -- No team has tormented Orioles right-hander Chris Tillman more than the Blue Jays this season.
Nonetheless, Tillman embraced the latest start against his nemesis. He simply stayed focused on the opportunity to finish the season strong. Tillman responded by keeping Toronto's powerful lineup mostly in check before the bullpen faltered in the Orioles' 4-3 loss Monday night at Camden Yards.
"I wanted to get them," said Tillman, who is 10-11 with a 5.05 ERA. "For the most part, it was pretty good tonight. Would've been better to come out of that with a 'W.' But, you know what, they're a good team. And they never stop."
Before the outing, Tillman had lost all four of his previous starts against the Blue Jays, with a 15.50 ERA over that stretch. He was much better this time around, allowing just two runs on five hits with three strikeouts and one walk over 7 1/3 innings.
Baltimore catcher Matt Wieters could notice the difference.
"I thought he commanded the zone pretty well," Wieters said. "I thought his fastball command was very good. On top of that, he was able to mix and match with his offspeed ... kind of everything we knew he needed to do coming into the game. He was able to execute well and he can take that moving forward as a positive."
The Orioles, however, could not provide much run support. After being shut out three straight games in Boston, they managed all of their runs against Toronto on a three-run homer by Ryan Flaherty in the second.
Baltimore manager Buck Showalter credited Toronto starter Marco Estrada for keeping the offense in check.
"He been pitching well for four or five outings in a row," Showalter said. "Very economical with his pitches. We had another four-hit game. That one inning, Ryan put a good swing on a changeup, first pitch after a couple hits and that was about it."
After advancing to the playoffs in two of the past three seasons, the Orioles need to win their final six games to finish with a winning record. For now, the team is not looking past tomorrow. Tillman will likely get one more start in the final series against the Yankees.
"I'd like to win tomorrow's game first," Tillman said "I think the only thing that's on our mind is tomorrow. We've got a challenge ahead of us but we'll focus on tomorrow and that's it."
Todd Karpovich is a contributor to MLB.com. This story was not subject to the approval of Major League Baseball or its clubs.