MLB.com Columnist
Barry M. Bloom
Tanaka's elbow, hamstring good enough to start
Righty set to take hill Wednesday, says he feels fine with postseason in sight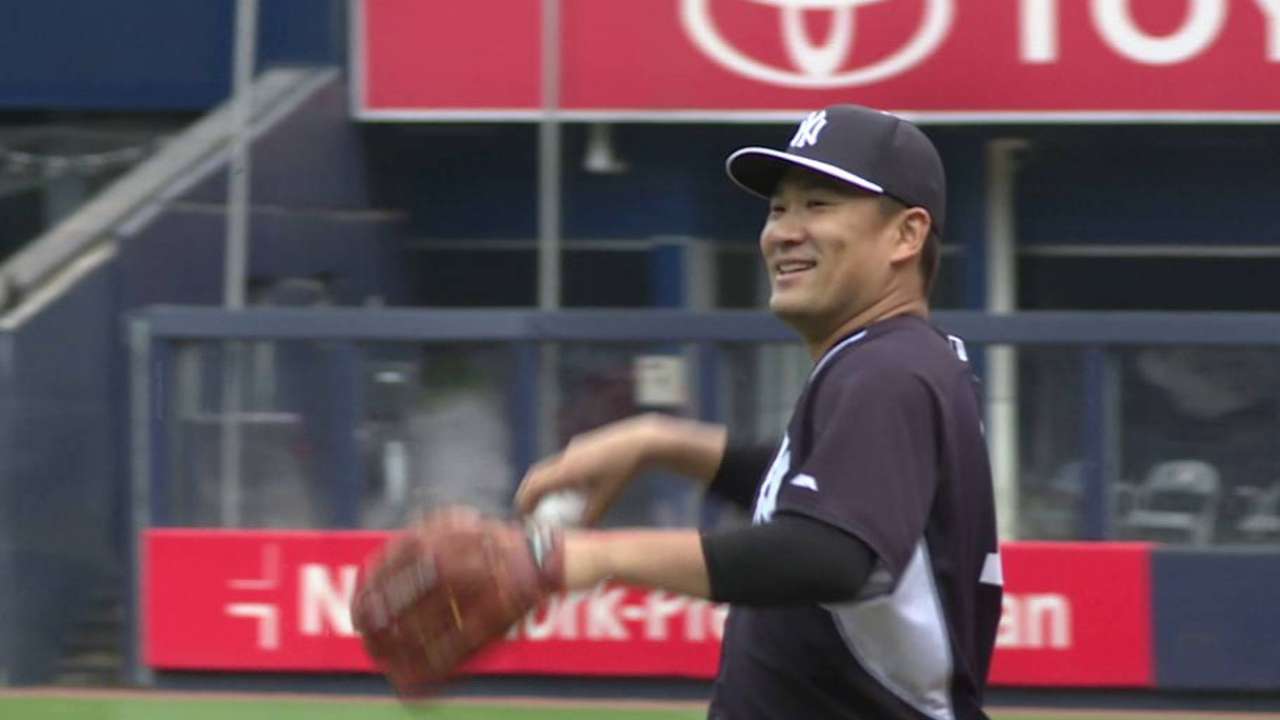 NEW YORK -- The Yankees will have to wait another night to secure a postseason berth and win the 10,000th regular-season game in franchise history.
Instead, they secured loss No. 7,565 on Monday night at Yankees Stadium, 5-1, to the Red Sox when Ivan Nova let up a pair of homers, one each with two out in both the sixth and seventh innings.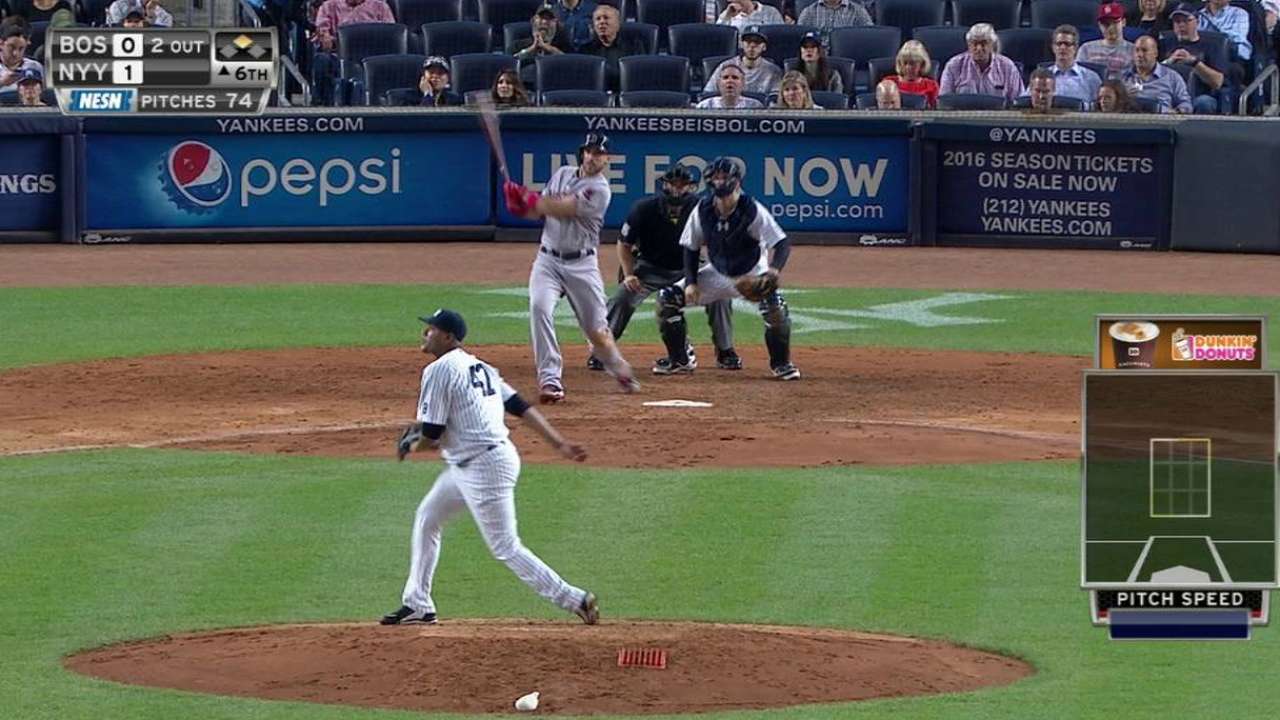 But there was good news. Masahiro Tanaka is back in the rotation as of Wednesday night. Not only is the strain in his right hamstring coming along, but there are also no problems with his right elbow.
"His mechanics have been good all season long, and he's had no [elbow] issues," Yanks manager Joe Girardi said. "He had that one little issue with the forearm, but all has been good. That's not even something that even popped up in my head."
The little right forearm issue forced Tanaka out from April, 23-June 3, and last year the Japanese right-hander sat out three months rehabilitating a partial ligament tear in that same elbow.
But right now, the sky is not falling.
With a Wild Card berth being almost all but secure, Girardi said for the first time that if all goes well, Tanaka would be set up to pitch the American League Wild Card Game presented by Budweiser next Tuesday.
Tanaka had two words when asked about the condition of his elbow: "It's fine," he said through his interpreter, Shingo Horie.
Tanaka, nearing the end of his second season in the Major Leagues, was mimicking Ichiro. A smile drew across his face, and it was clear he could understand the question. Like Ichiro, though, he chooses to answer in Japanese.
But still, it was duly noted.
"Yeah, yeah," Horie said. "He's getting there."
Whether Tanaka's leg and arm can stand the test of the most important games left in the season is still up to question. Some of that may be revealed when he starts against the Red Sox on Wednesday night.
Girardi set the rotation for the remainder of the Red Sox series, naming Michael Pineda to pitch on Tuesday night and CC Sabathia to make his last start of the regular season on Thursday night.
Tanaka hasn't pitched since Sept. 18 in a loss to the Mets at Citi Field when he sustained the injury breaking out of the box on a second-inning bunt. Somehow he was able to pitch five more innings that night with what Girardi later said was a Grade 1 strain, the weakest on the scale.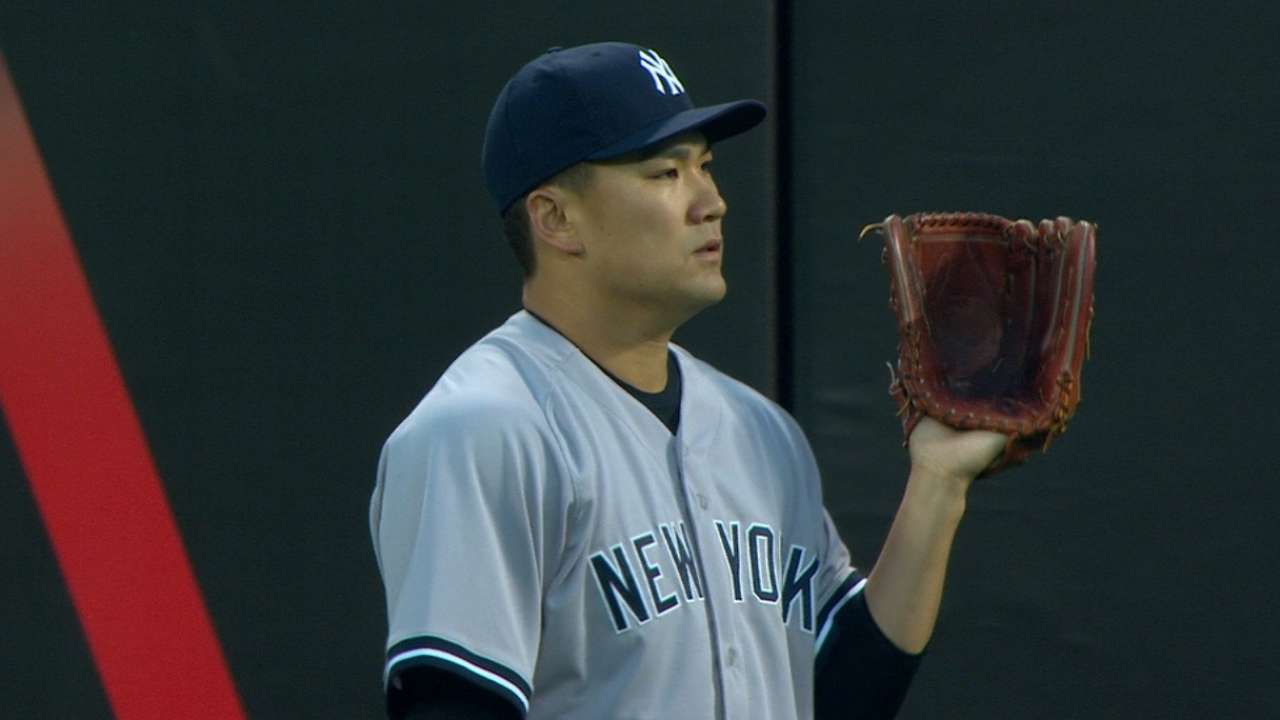 He had a bullpen on Friday and claimed to still feel a twinge in the hamstring. He rested on Saturday and had a catch on Sunday. On Monday before the game, he took pitchers' fielding practice or what's commonly known as PFPs.
After he fielded his position some, Girardi finally felt comfortable setting this week's rotation. It was important, Girardi said, for Tanaka to make at least one more start prior to the postseason.
"I don't think you want anyone to sit that long without making a start," he said. "For us, we want to get him back out there and make sure he's capable of doing the things he needs to do.
"It's a little bit of a concern [that the strain is still there]. He's gone through a lot of the hurdles. It's something that will be in the back of your head. He pitched through it, and he's had 10 or 11 days off, so we feel pretty good about it."
So, evidently, does Tanaka, who thinks he won't be restricted in any way.
"If that was the case, I probably wouldn't be pitching," he said.
In any event, Girardi will have to have at least one other starter on the 25-man roster for the Wild Card Game in case Tanaka pops the hamstring again early. The other starters can be left off for that game only and replaced by position players and/or relievers.
The roster can be reset again prior to the start of the AL Division Series if the Yanks win that game and move on.
Nova probably won't be among the starters to make the cut based on the way he pitched on Monday night and since he returned on June 24 from missing more than a year after Tommy John surgery. He's 6-10 now with a 4.89 ERA in his 16 starts.
Girardi said that Nova pitched a pretty good game, but made only two bad pitches to Travis Shaw and Jackie Bradley Jr., who both hit the ball out.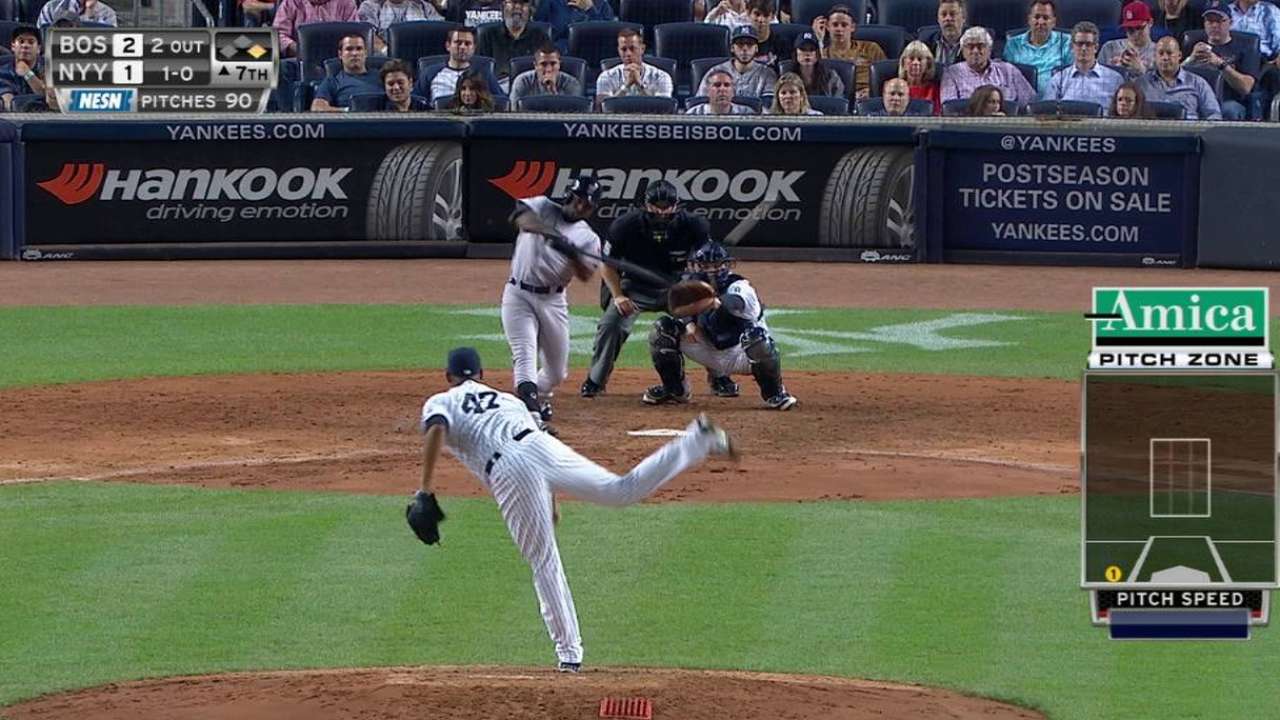 Nova, though, wasn't having any of it.
"I didn't throw well, and we lost the game," Nova said. "It's not easy, it's not easy. I don't feel very good about it."
Asked if he had done enough to make the playoff roster, Nova added: "It's not my decision. I just go out there and pitch. Whatever they decide to do, it's their decision."
For his part, Girardi is continuing to keep those decisions -- on Nova, on Tanaka and on the one-game playoff roster -- close to the vest. That's his policy, he said.
"That's way too far down the road," Girardi said. "We still have work to do to get into the playoffs. We'll sit down and meet and formulate a roster when we get in, if we get in."
Way too far down the road is now one week.
Barry M. Bloom is a national reporter for MLB.com and writes an MLBlog, Boomskie on Baseball. Follow @boomskie on Twitter. This story was not subject to the approval of Major League Baseball or its clubs.