Paxton not likely to pitch against Astros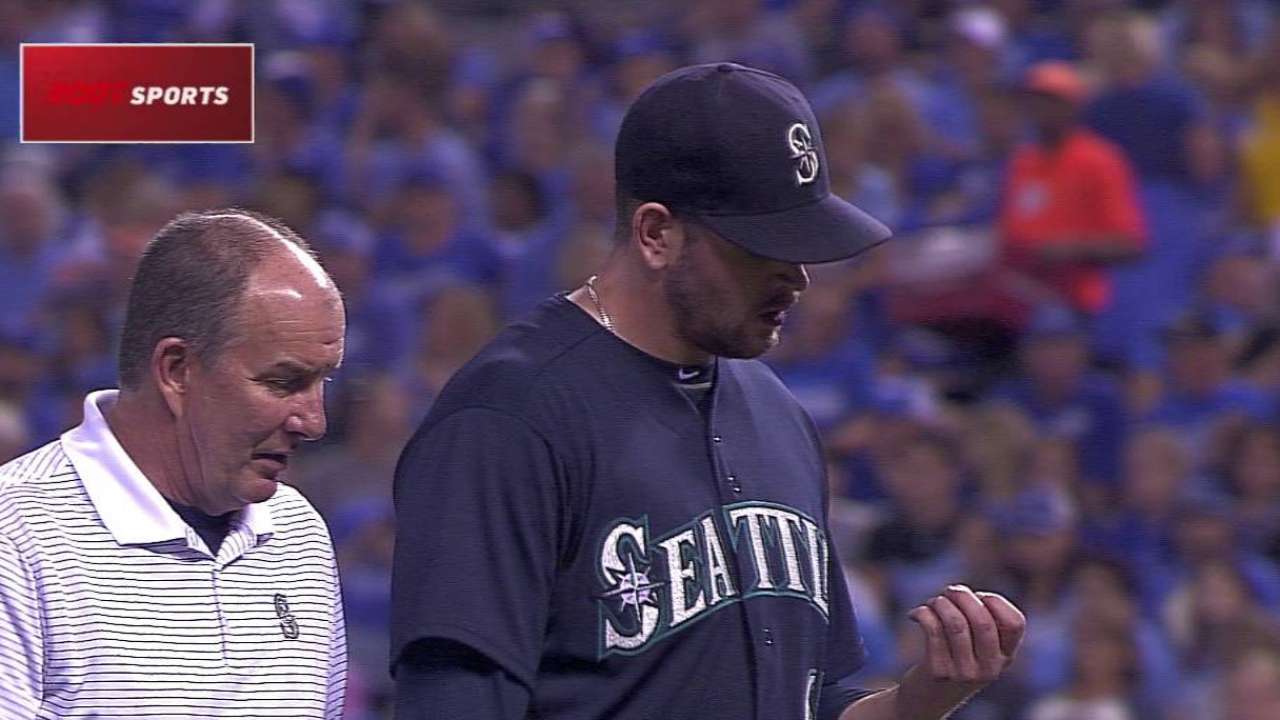 SEATTLE -- Manager Lloyd McClendon's rotation plans for the final few games of the season haven't been solidified, but he said Monday there's a chance they won't include left-hander James Paxton.
Paxton was forced to exit just 1 1/3 innings into his Thursday start against the Royals with a tear on the fingernail of the same left middle finger that held him out of the rotation for more than three months. A similar fingernail injury in early September delayed Paxton's return from a strained tendon in his left middle finger.
McClendon had initially planned for Paxton to make his final start of the season in Wednesday's series finale against the Astros, but said Monday that was "highly unlikely." When asked whether he expected Paxton to make another start for the Mariners this season, McClendon said there is a "50-50 chance."
Paxton not starting on Wednesday means the Mariners' bullpen will have a busy day, though McClendon didn't announce which reliever he expects to start the Houston series finale.
The second-year Mariners manager also hasn't cemented his rotation following Thursday's off-day. McClendon said he would wait to see how right-hander Felix Hernandez reacted to a throwing session during the team's batting practice on Monday before deciding which combination of Hernandez and Hisashi Iwakuma to slot for Friday and Saturday's games vs. the A's. Roenis Elias is expected to start Sunday's season finale against Oakland unless Paxton is ready to return during the final series.
Worth noting
• Outfielder Stefen Romero, who did not make the trip to Anaheim after sustaining a contusion behind his left shoulder running into the wall in Kansas City, said he feels "light-years better" but still is not ready to resume regular baseball motions.
"I haven't really swung at all since I tried to do it the next day after it happened, but I don't think I could swing now," Romero said. "Thank goodness it wasn't a fracture or anything with structural damage. That's good."
• McClendon said he has seen film of catcher Mike Zunino's swing in the Arizona instructional league. For now, he said, his plan of having Zunino as his starting catcher entering Spring Training next season hasn't changed.
"I haven't seen anything to this point to say otherwise," McClendon said.
• Nelson Cruz continues to nurse a right quadriceps injury, and Robinson Cano has been playing through an abdominal strain for nearly two months, but the two likely will play through the end of an Astros series with major American League West and AL Wild Card race implications. Time off for both could be in order during the final series against the A's, McClendon said.
Andrew Erickson is an associate reporter for MLB.com. This story was not subject to the approval of Major League Baseball or its clubs.