Barnhart keeps Scherzer from history books
Catcher breaks Reds into hit column in 8th inning against Nationals' ace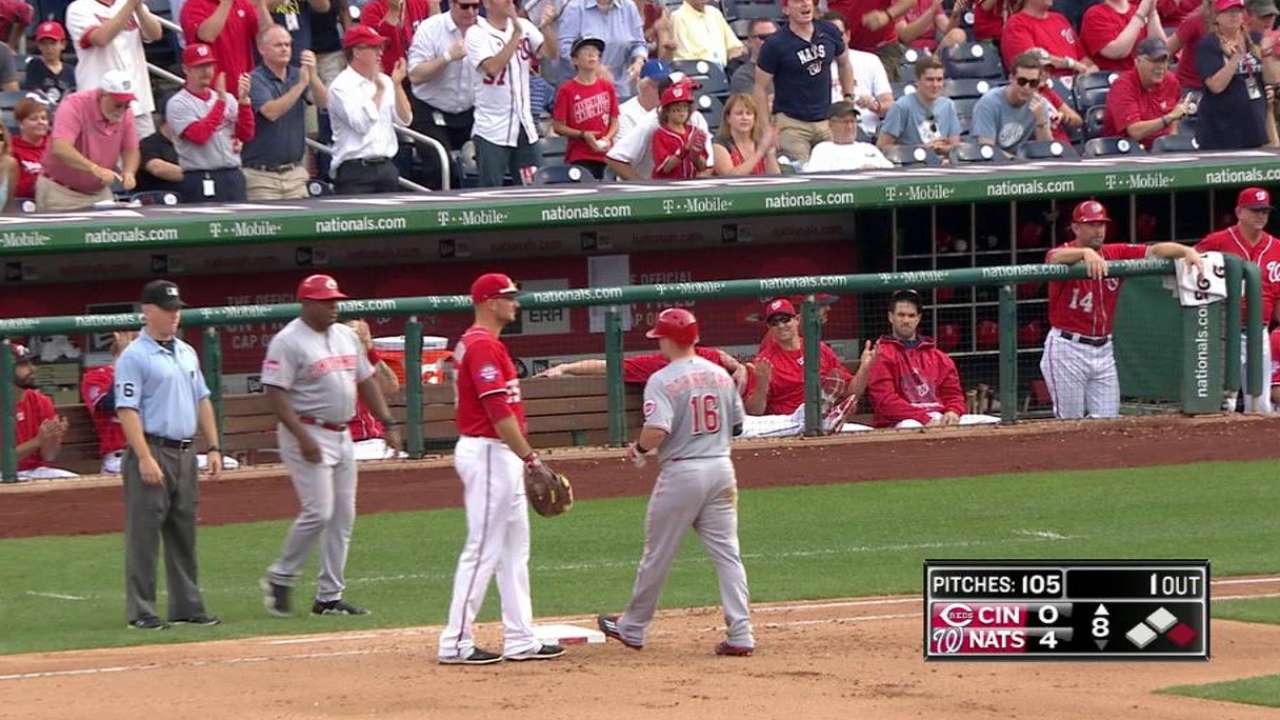 WASHINGTON -- Max Scherzer was going in the wrong direction.
As a game gets deeper and the pitch count rises, a starter is supposed to lose command and his velocity should drop. Instead, as the game flew by in Cincinnati's 5-1 loss to the Nationals on Monday, Washington's ace was only getting better.
"The obvious thing for me is he got stronger as the game went on," Reds manager Bryan Price said. "As he got into those middle innings, it really seemed like the fastball velocity and command began to peak. And when he needed an out, he'd just reach back."
Joey Votto and Tucker Barnhart each walked in their first at-bats, and Skip Schumaker was robbed of extra bases when Tyler Moore went full extension in left field for a diving catch in the third inning. Four innings later, with the Reds still scrambling for their first hit of the afternoon, that all-out catch seemed like it might be the difference in Cincinnati being no-hit in the regular season for the first time since 1971.
"Typically when guys are throwing games like that, there are spectacular plays that are made along the way. Certainly, in left field, with Moore making a nice stab," Price said. "It seemed like he didn't only just have good stuff, he had some really good defense and an inspired defense behind him, which tends to make a difference in those games."
No defensive alignment ever employed could've prevented Barnhart's eighth-inning single from hitting the outfield grass, though.
With Scherzer five outs away from his second no-hitter of the season, he worked ahead of the Reds' catcher, 1-2.
"It's obviously in the back of your mind," Barnhart said about the potential no-no, "but you try to get that out of your head as much as possible."
Scherzer's two-strike offering, a 98-mph fastball, crossed back over the plate and Barnhart was quick on the attack, lining it into shallow left field.
"Luckily, I put a good swing on it," Barnhart said. "But Max was great all day. It was obvious by the way he made us look at the plate."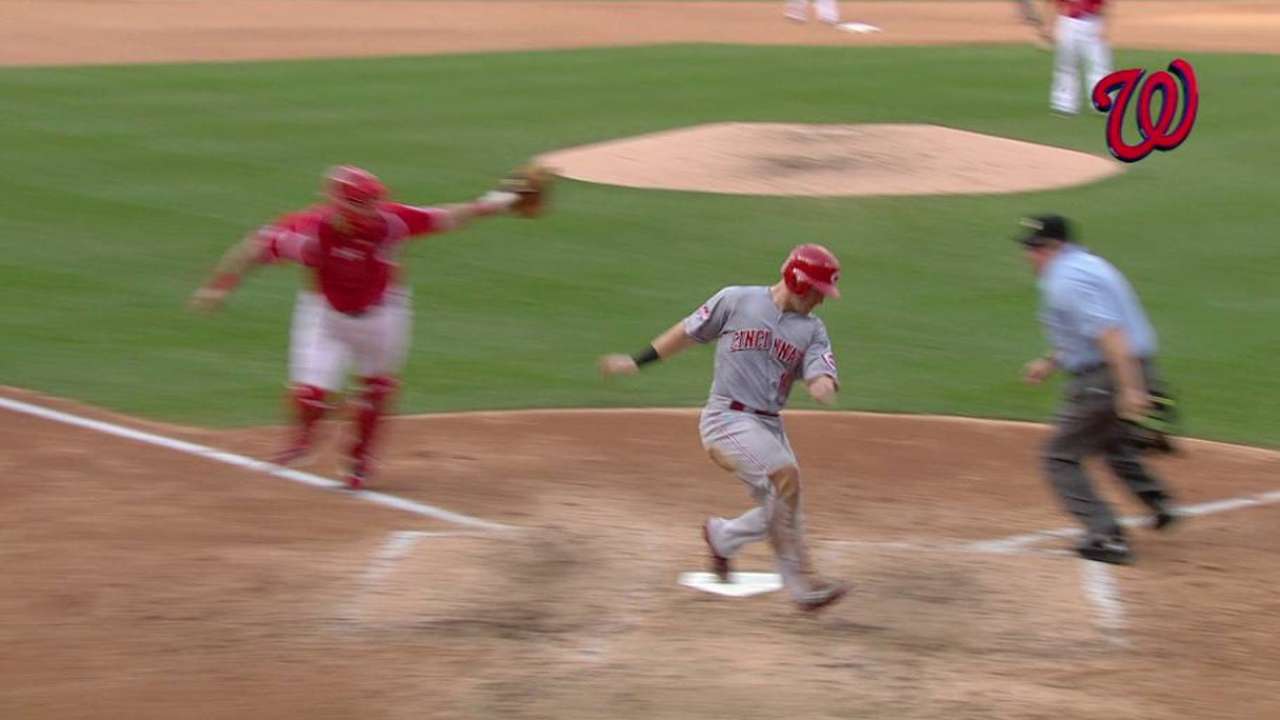 Schumaker pulled a single to right field two batters later, scoring Barnhart to get the Reds on the board. Schumaker was the only Reds starting position player not to strike out against Scherzer.
"First of all, I thought Scherzer was really great all day," said Price, who was the right-hander's pitching coach with the D-backs in 2008. "But there weren't a lot of great at-bats against him. He just had that kind of stuff. Some choppers, some fly balls and a lot of strikeouts. So it was about as good as I've seen him throw live."
Jacob Emert is an associate reporter for MLB.com. This story was not subject to the approval of Major League Baseball or its clubs.