5 things that changed the season for Mets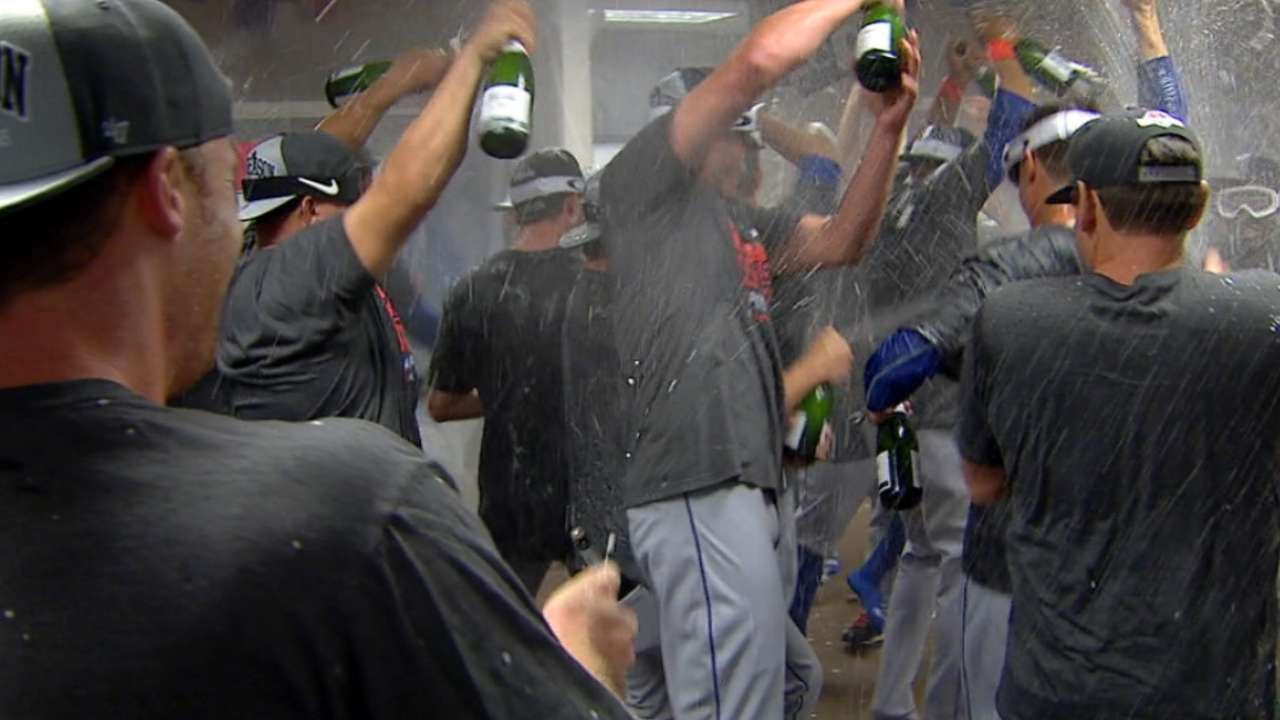 CINCINNATI -- Wilmer Flores stood off to one corner of a crowded clubhouse on Saturday at Great American Ball Park, clutching a beer, his eyes visibly glowing. That he was a Met, Flores remained grateful. That he had punched his ticket to the playoffs, he could hardly comprehend.
"I just didn't want to leave the team, no matter what," Flores said, referring to the late July non-trade that nearly sent him to Milwaukee. "This was the biggest reason. We knew we were going to make the playoffs."
What will always be known as "The Wilmer Flores Deal" was, without question, the turning point of a playoff season for the Mets. Nearly everything that happened after that -- from their acquisition to Yoenis Cespedes to their celebration in Cincinnati -- stemmed from that night.
Yet there were plenty of other memorable moments and events that shaped the Mets en route to their first playoff berth since 2006. Here are the five that most changed this season: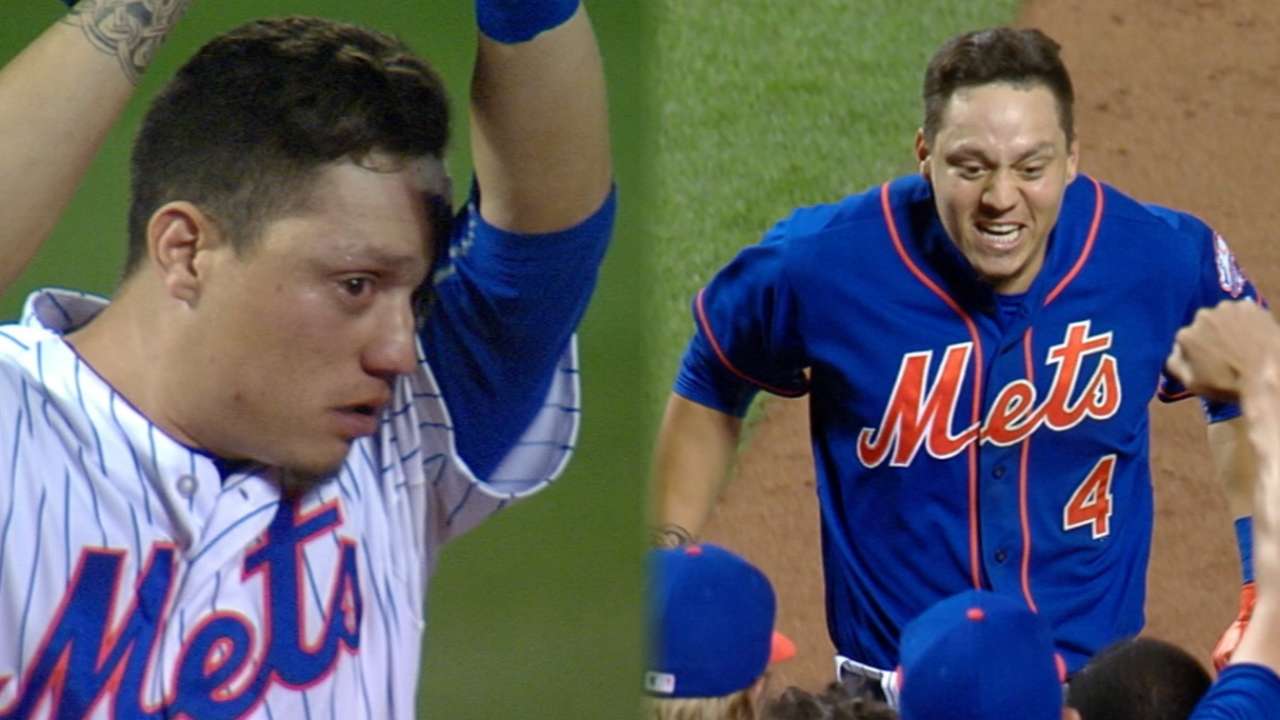 1. Tears to cheers
On the afternoon of July 29, Flores was a struggling, out-of-position shortstop whom many fans reviled for the holes in his game. The Mets were a second-place team that had just seen former closer Jenrry Mejia receive a season-ending suspension, and were a day away from absorbing their worst loss of the year -- a double-rain-delay, Justin Upton-fueled heartbreaker to the Padres. In between, they attempted to trade Flores and Zack Wheeler to the Brewers for Carlos Gomez.
It wound up being the night that everything changed for them. After learning about the deal from fans in the Citi Field stands, Flores began weeping on the field, unaware that Mets doctors were simultaneously reviewing Gomez's medical records and raising eyebrows at what they saw. Within hours, general manager Sandy Alderson had called off the deal, keeping Flores a Met.
Two days later, Flores hit a walk-off homer against the Nationals and became a darling of fans everywhere. And the absence of Gomez, who wound up struggling down the stretch for Houston, opened the door for …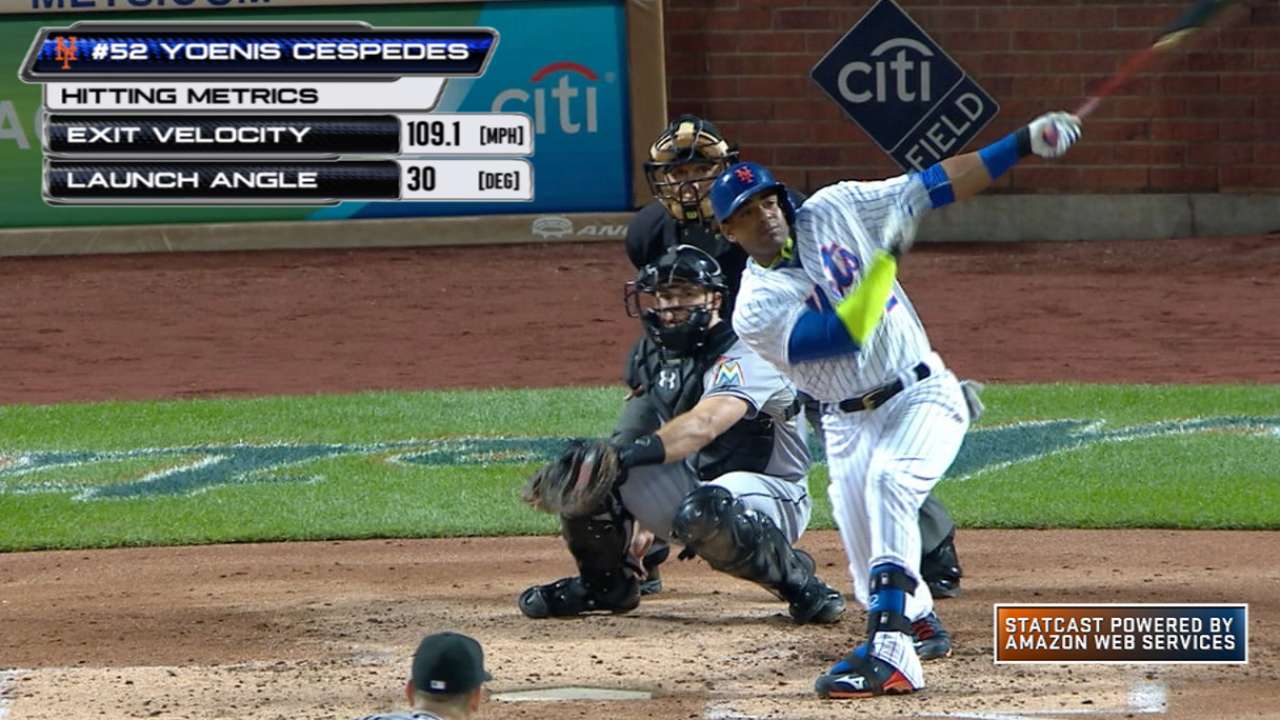 2. Cespedes comes to Flushing
A half-hour prior to the non-waiver Trade Deadline, Alderson and other Mets officials were sitting in their Citi Field war room, making phone calls, unsure if they would be able to complete a trade. Without Gomez, the Mets turned their eyes to Cincinnati's Jay Bruce, San Diego's Justin Upton and Detroit's Yoenis Cespedes, but as the minutes ticked away, nothing was materializing.
Then the Tigers alerted Mets officials that they would accept a deal of two Minor Leaguers, including highly-regarded pitcher Michael Fulmer. With 13 minutes to spare, Alderson picked up the phone, called Tigers counterpart Dave Dombrowski, and completed the trade.
Over the next two months, Cespedes transformed from a power-hitting question mark to one of the game's most-feared sluggers, bashing nine homers during one 13-game September stretch and garnering support -- however unfounded -- for National League MVP consideration. Had Gomez's medicals come back clean, Cespedes never would have become a Met.
"We ended up with Cespedes -- fortuitously, honestly," Alderson said.
3. David Wright returns
Standing in San Diego's Petco Park clubhouse in early June, Wright discussed his future with a quivering voice and not much conviction. Out in California, he was in the process of rehabbing from spinal stenosis, a career-threatening back condition. Wright could offer no timetable for returning to baseball activities or playing in games.
Flash forward nearly four full months, and there was Wright at Great American Ball Park, embracing family members and saluting the Mets fans who stuck around to watch their team's celebration. Not only did Wright rehab his condition well enough to return to baseball shape, but he homered on his first swing back from the disabled list, hit around .300 for most of his return and watched the clubhouse coalesce around him. Wright's home run in Saturday's clincher was a fitting exclamation mark for the season.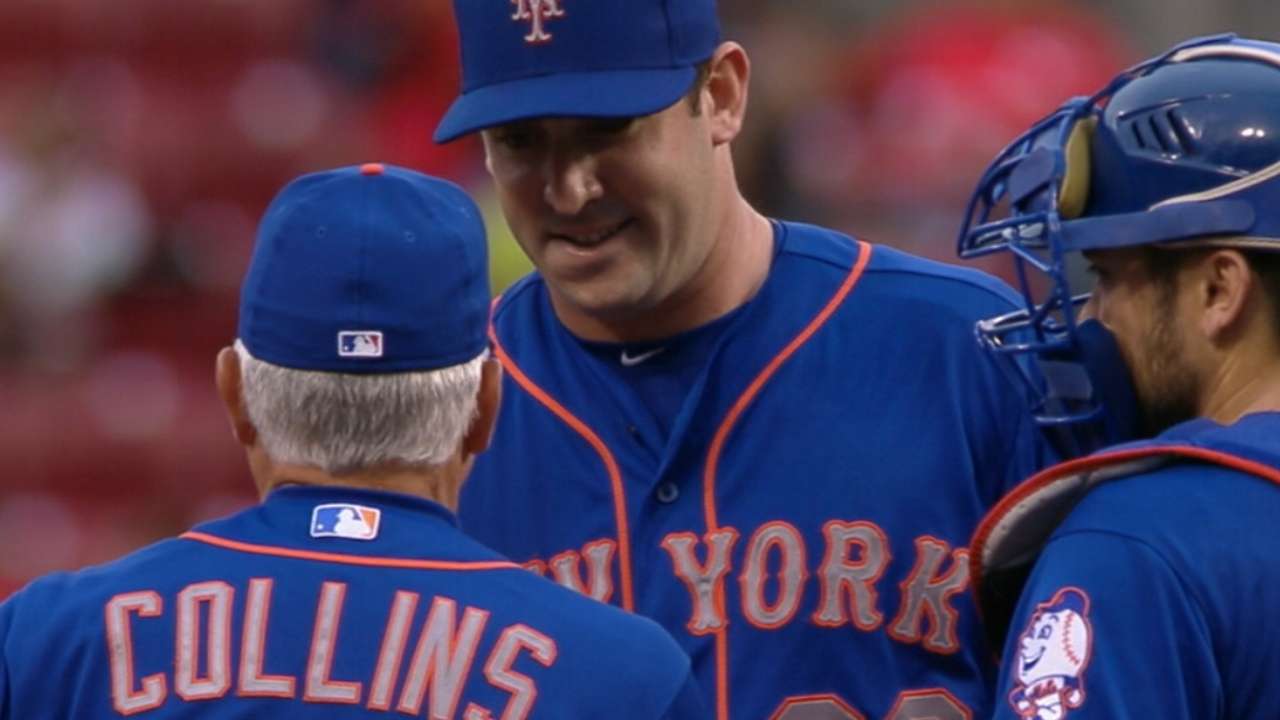 4. The saga of the Dark Knight
All summer, the Mets monitored Matt Harvey's workload in his first season back from Tommy John surgery. At times, Harvey lashed out against measures to limit his innings, such as the six-man rotation that he and other Mets pitchers effectively nixed in May.
But as September dawned, Harvey dropped a surprise on the Mets through his agent, Scott Boras, who demanded that his client stay under what he called a 180-inning hard limit. Already nearly there, Harvey did nothing to soften the situation until public backlash reached a crescendo, finally penning a "Players' Tribune" article to say that he planned on pitching in October. He, the Mets, Boras and Dr. James Andrews subsequently revisited the discussion, with near-disastrous results during a Sunday Night Baseball game against the Yankees at Citi Field. Then, just as suddenly, Harvey approached Alderson and manager Terry Collins and told them to forget about innings limits down the stretch.
Harvey wound up pitching into the seventh inning of the Mets' clincher in Cincinnati, then vowed again to take the ball regularly in October, giving the Mets hope considering the quality of his season: a 13-7 record, a 2.80 ERA and a whole lot of swagger.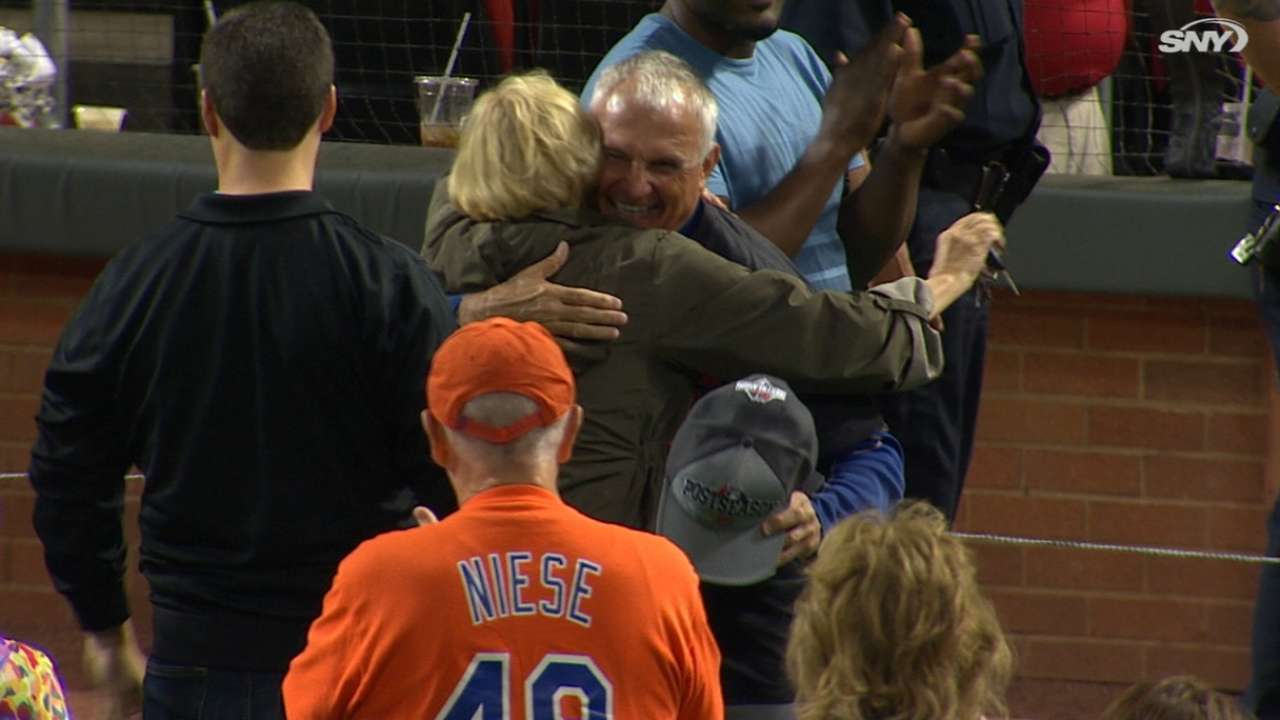 5. Exorcising Nationals demons
Had the Mets not lost 15 of their 19 games against the Nationals last season, they would have been an above-.500 team. One of their focal points heading into this year was to figure out how to vanquish the Nats, their most challenging division rival for most of this decade.
Things began well with an Opening Day win, but did not truly coalesce until after the non-waiver Trade Deadline. The Mets entered a three-game series against the Nationals three games back of them, and swept to move into a virtual tie for first place. The final act came on Sunday night, amid the most raucous crowd in Citi Field history.
Six weeks later, with the Nationals again threatening their place atop the NL East, the Mets again swept them to eliminate most realistic thoughts of a Washington comeback. New York cruised to its first division title since 2006 from there.
"From that point on … I think the expectations really shifted big time," Alderson said. "Not just for us, but for fans, for everybody, for the players. You can't have a nine-game lead at that point and not have some expectations. But I think it happened so rapidly, it turned so quickly, that it was obviously surprising."
Anthony DiComo is a reporter for MLB.com. Follow him on Twitter @AnthonyDiComo and Facebook, and listen to his podcast. This story was not subject to the approval of Major League Baseball or its clubs.