MLB.com Columnist
Jonathan Mayo
2015 draftee Orimoloye focused on fundamentals at Brewers' instructs
The Brewers, especially lately, are no strangers to developing young hitters in their farm system. The 2014 Draft saw them go high-risk, high reward with bats like Jake Gatewood and Monte Harrison. In 2015, Trent Clark and Demi Orimoloye were the big upside high school position players drafted.
The Brewers have also learned to be patient. Gatewood and Harrison's struggles with full-season ball serve as a cautionary tale. That Clark, the first-rounder taken No. 15 overall, had success in his debut, isn't so surprising. Orimoloye's strong first summer, however, was not as expected.
"It was good, a really smooth transition," said Orimoloye. "It was a good start. A lot of guys have trouble making the switch from high school ball to the pro game, but it was smooth. I'm loving every day of it."
Orimoloye certainly did a lot of things well during his time in the Rookie-level Arizona League. The Canadian prepster hit .292 and slugged .518, which would've been good enough for fourth in the AZL had he amassed enough at-bats to qualify. He also stole 19 bases, placing him fifth in the league.
The surprise stems from the fact that many saw Orimoloye as a bit of a project, one who had an uneven spring leading up the Draft. Once thought to be a first-round candidate, the toolsy outfielder slid to the fourth round. Those who thought the 6-foot-4, 225-pound Orimoloye would hit the ground running were likely in the minority.
"He's a good-looking athlete," Brewers farm director Reid Nichols said. "For a big man he runs really well. It's fun watching him go first to third, it looks like he goes faster as he gets to the base. He has legs like Dave Winfield. He's green, but he's a very good compensator. He has good hand-eye coordination and puts the bat on the ball.
"He's still putting his swing together to make it look smooth. It's more lumberjack-ish now."
Orimoloye is with many of the Brewers young prospects, including Gatewood, participating in instructional league play, which began in Maryvale last Monday. He can use the time to work on ironing out that swing and refining his approach (He drew just three walks and struck out 39 times in 33 games.), while also seeing time in all three outfield positions. The Brewers, for their part, don't plan on tinkering too much with Orimoloye, focusing on fundamentals and letting his natural raw tools take over from there.
"We're not going to change him," said Nichols, who thinks that while he has a lot to learn in the outfield, believes Orimoloye could end up in center field. "Give him the basic stuff and let his body figure it out. He's been good here. He's very willing to learn and try things."
Orimoloye thinks his transition to the pro game was actually helped by his time with Team Canada. Sure, he didn't get as much playing time as a high school player in California might have, but playing with the junior national team since he was 16 enabled him to travel and play every spring against extended Spring Training squads from Major League organizations.
"I had a little advantage from that," Orimoloye. "The pitching was similar, pretty much what I was seeing since I was 16."
Orimoloye is well aware he has far from figured everything out. He is using his time at instructs to get himself ready for what he hopes is a jump to full-season ball in 2016. Nichols hasn't ruled that jump out, saying it will depend on how much he progresses at instructs and then carries it over into Spring Training.
"Everything they've been giving me here, I'm going to take that back with me and keep it going," Orimoloye said. "It's all about routine. I'm just building my routine. So when I get to those full season teams and I move higher up, that routine sticks with me. Home for a little bit. Going to go to London, Ont. -- going to work out with Adam Stern. Be there for 4-5 weeks. Mid-Jan come back to Arizona and get ready for ST."

Gatewood headed in right direction
While Jake Gatewood, the 2014 first-rounder, scuffled in the Midwest League, the Brewers liked how he responded. Gatewood and Monte Harrison both performed well after re-setting down in the Pioneer League. Harrison got hurt, but Gatewood worked his way back up to Wisconsin. Nichols sees a different player at instructs compared to a year ago.
"He's walking with a little more confidence," Nichols said. "Especially for a young guy, it shows you why he was drafted where he was. He's a fighter, he's going to figure it out."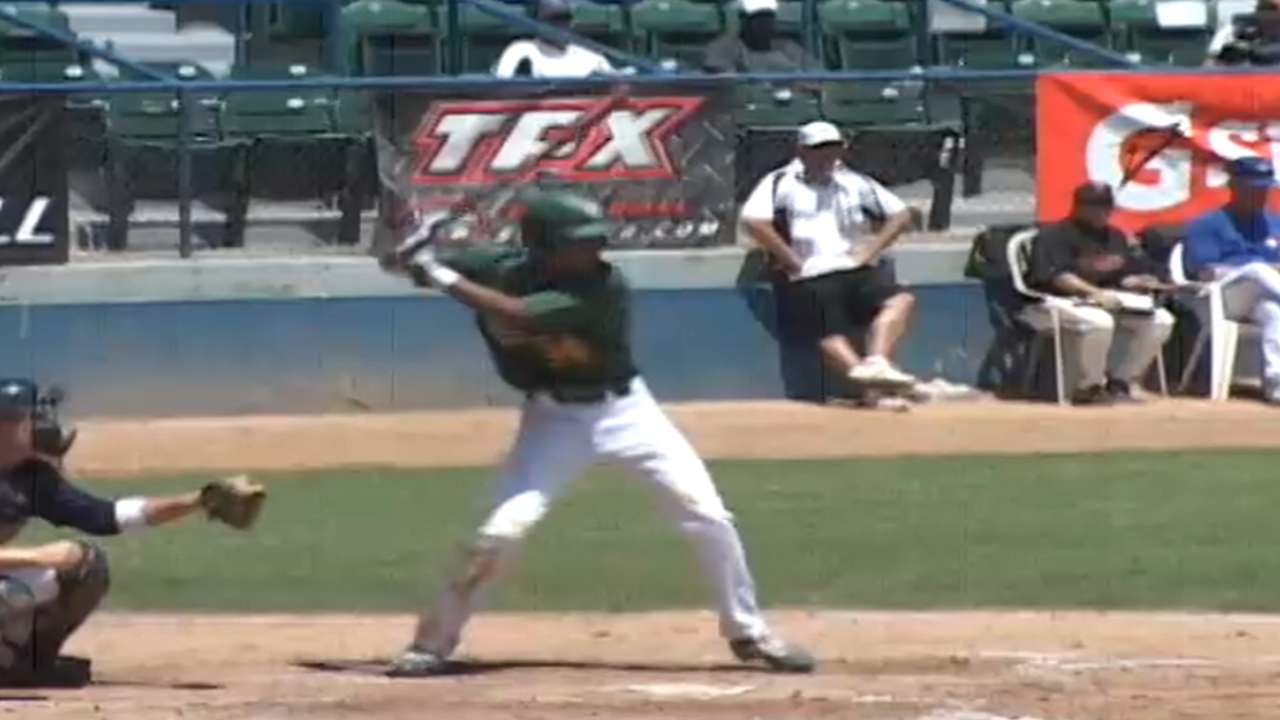 Gatewood has been playing his usual shortstop at instructs, but he's also seeing time at third. This is not a sign, Nichols said, that Gatewood is being moved. Some of it is because of fellow shortstop Gilbert Lara's presence at instructs, some of it is to increase versatility and some of it might help Gatewood be a better shortstop.
"He got better at short this year; we're not eliminating that yet," Nichols said. "Why not [give him time at third]? It also helps him to learn what it's like to be at third with a shortstop, which can help him make better decisions when he's at shortstop."
Jonathan Mayo is a reporter for MLBPipeline.com and writes a blog, B3. Follow @JonathanMayo on Twitter. This story was not subject to the approval of Major League Baseball or its clubs.