Steady Quintana displaying long-term value
Southpaw speculated to be intriguing trade chip if White Sox opt to shake things up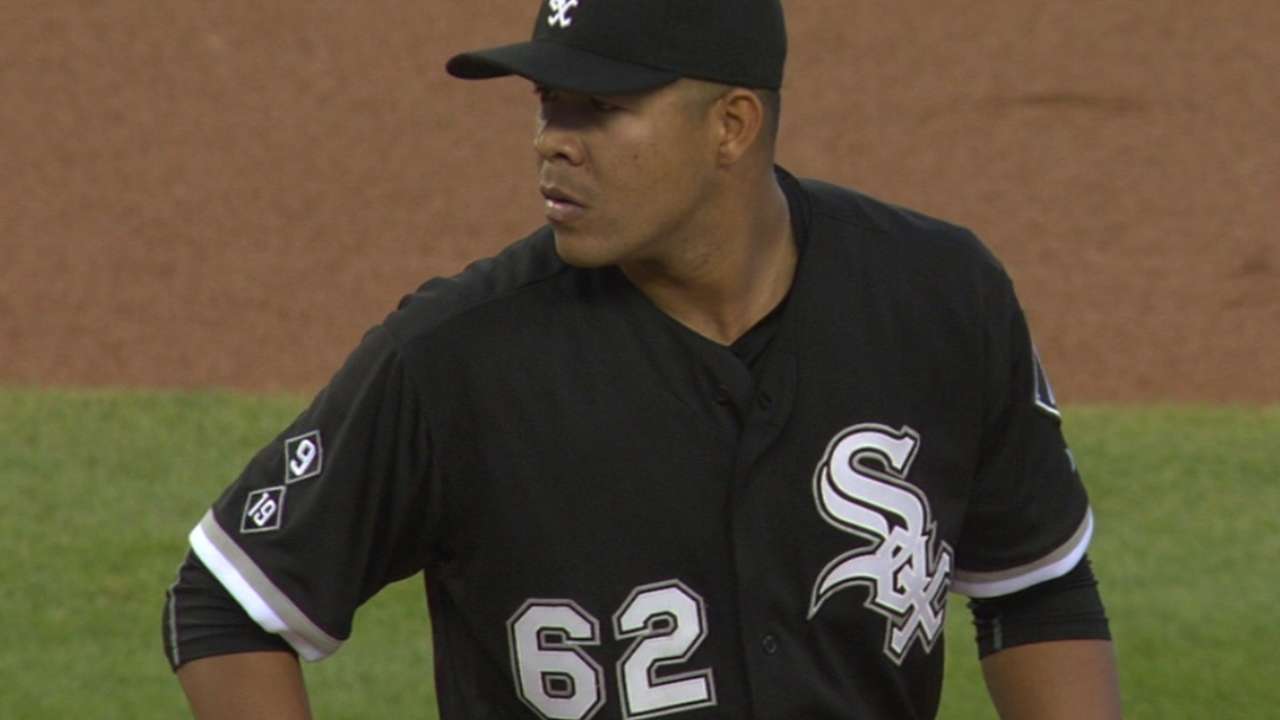 CHICAGO -- The question concerning a hypothetical Jose Quintana trade evoked a spirited response from White Sox pitching coach Don Cooper.
"Listen, you guys are playing GM and speculating," an incredulous Cooper said. "I guess it's fair enough because sometimes you deal from a strength."
Nothing aside from local media postulation has arisen concerning trading Quintana in the upcoming months. Why would the White Sox want to deal one of the American League's steadiest starting pitchers, not to mention one of the most highly-respected players and quiet leaders in the White Sox clubhouse?
Maybe because this team has missed the playoffs every year since a first-round exit in 2008. They began a reshaping plan in '13 and basically weren't designed to contend over the past two seasons, but the White Sox went for it in '15 and once again came up below the .500 mark.
Maybe because pitching stands as the team's greatest strength, even during these leaner years. With Chris Sale and Carlos Rodon going nowhere, Quintana becomes the South Siders' most enticing trade chip to disrupt the status quo.
Quintana is tied for second in the AL with 24 quality starts and ranks eighth with his 3.38 ERA, an ERA that is lower than that of Sale, Felix Hernandez and Corey Kluber. He has three straight years of 30 or more starts and with an additional 2 2/3 innings, he will have three straight years of 200 innings pitched. He also has a Major League-high 51 no-decisions since 2012, something Quintana has dealt with through his calm and upbeat demeanor.
He has a smooth delivery that allows him to hit all quadrants of the strike zone and stay healthy. Let's also not forget Quintana pitches under a team-friendly five-year, $21 million deal that features club options for 2019-20.
While he's not a homegrown product, it's the White Sox who helped develop him.
"There is nothing that I don't like about Jose Quintana," Cooper said. "He's the model of consistency, but he's the model of hard work. He's the model of preparation. When you say somebody is coachable, he's that guy.
"I can remember the first day we had him and everything that's gone on with him since then and how he doesn't forget anything, how he adds it in. He is going to get every ounce out of his ability. He has not taken a day off since we've gotten him here."
A player such as Quintana becomes an ideal team asset. He helps to form a powerful top three in the White Sox rotation -- even with a Jeff Samardzija departure -- but if the club decides to break up its four southpaw starters, Quintana should return quite the talent haul.
If that thought eventually came from the White Sox instead of media speculation, it seemingly would not be a popular one.
"I'm for whatever is going to help the Chicago White Sox get back to where we want to be, now and long term in the future," Cooper said. "But to be honest with you, it would make me heartfelt sick if we ever lost him because of all the things I mentioned."
Scott Merkin is a reporter for MLB.com. Read his blog, Merk's Works, follow him on Twitter @scottmerkin and listen to his podcast. This story was not subject to the approval of Major League Baseball or its clubs.