Back in left field, Bradley puts on clinic
Besides making two stellar catches, outfielder goes deep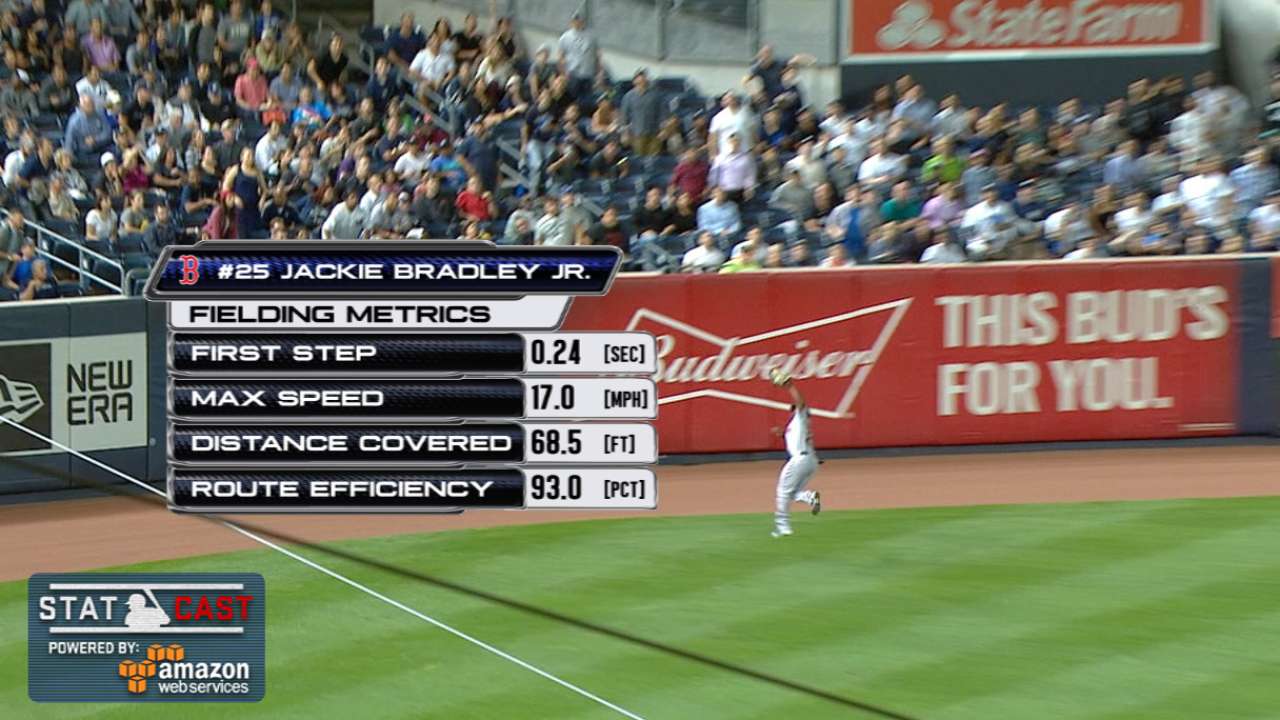 NEW YORK -- Left. Right. Center. Does it really matter? Just put Jackie Bradley Jr. somewhere in the outfield and he's going to make a highlight-reel play or two.
Starting in left for the first time since Sept. 1, Bradley looked like a natural in Monday's 5-1 victory over the Yankees, making a pair of gems to take extra-base hits away from Chase Headley and John Ryan Murphy.
The play on Murphy to open the sixth was a true eye-opener, particularly for Murphy, who stood on second base and asked for time, thinking he had a double.
What Murphy missed was Bradley racing back for the laser to his left and over his head and snaring it out of thin air.
"That's pretty funny," said Bradley, who didn't realize what had happened until teammates told him.
"I was standing on second base taking my shin guard off, asking the umpire for time. So I thought it was a double," Murphy said. "I asked him for time and he said, 'You're out.' Yeah, I had my head down, trucking, trying to get there, but he caught it, so great play. Nothing you can do."
Bradley has made a collection of them this year, even as the Red Sox shift him among the three spots, trying to determine which spot the club can best maximize his stellar defense.
"It's a big adjustment, but luckily I've been able to get practice in at all three and continue to keep working, because I never know where I will be," said Bradley.
In the third, Bradley sprinted to the gap in left-center and jumped in front of the wall to rob Headley.
"Twice he did it," said Red Sox interim manager Torey Lovullo. "It was pretty amazing to see the footwork, see the reaction, see the route to the ball. I know on one of them he fooled Murphy. He thought he had a double. Jackie is amazing. Nothing he does surprises me."
Bradley's defense has always been ahead of his offense, but he's shown some flashes of brilliance at the plate this year also. In fact, Bradley was the most productive hitter on the Red Sox from Aug. 9 to Sept. 7 before cooling off of late.
But against the Yankees on Monday, Bradley went the other way and put home run No. 10 over the wall in left.
"It feels good," said Bradley. "Definitely want to let the ball travel a little bit, and I put a good swing on it."
Ian Browne is a reporter for MLB.com. Read his blog, Brownie Points, follow him on Twitter @IanMBrowne and listen to his podcast. This story was not subject to the approval of Major League Baseball or its clubs.