MLB.com Columnist
Anthony Castrovince
Dynamic duo: Arrieta, Greinke in race for ages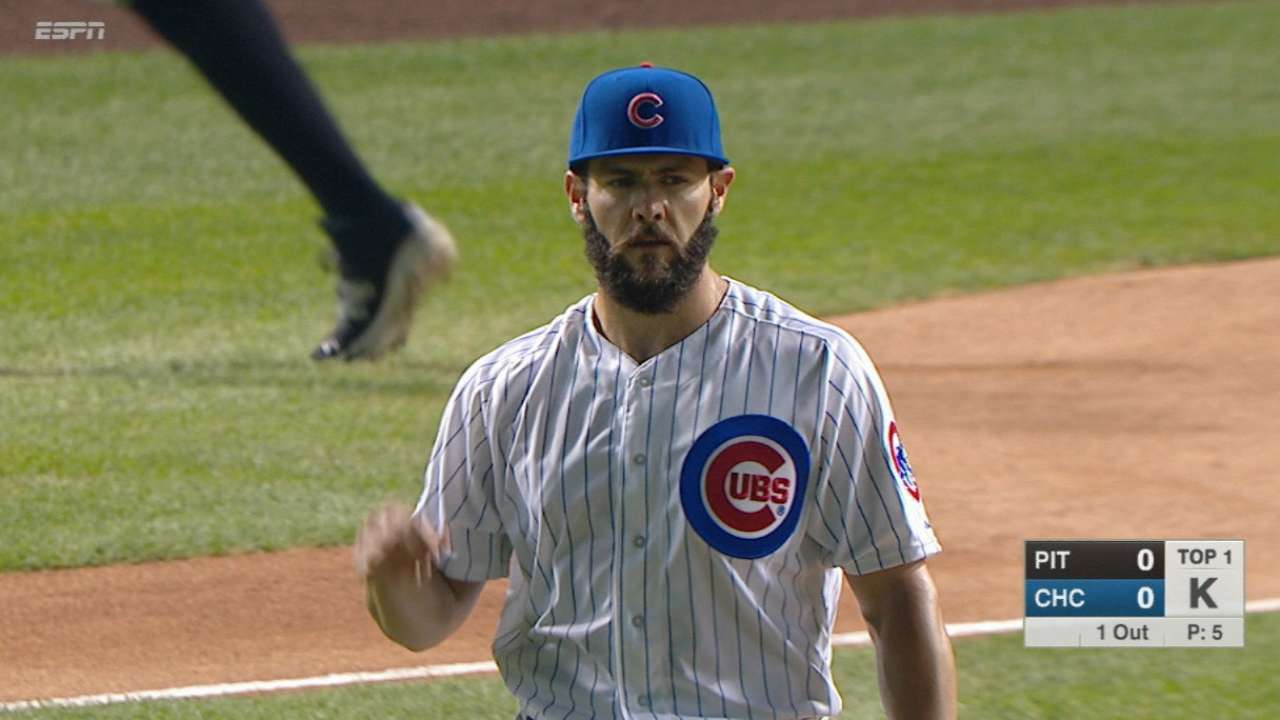 Wrap your head around this: Zack Greinke has a 1.65 ERA that, if it holds, would be the sixth-lowest in Major League Baseball in a full season in the live ball era (since 1920). His 0.85 WHIP would be the fourth-lowest in that span.
And Greinke might not win the National League Cy Young Award or the Esurance MLB Award for Best Starting Pitcher.
No, it's entirely possible that both of those awards go to Jake Arrieta, whose sensational second half (he has a 0.44 ERA over the not-so-small sample that is his last 11 starts) has made those races arguably as entertaining as anything going on in the standings in this final week of the regular season. Arrieta might have fallen short for his second Sunday night no-hitter in four weeks, but another pulsating performance against the Pirates ensured that Greinke, who makes his 31st start of the season Monday night against the Giants, has his work cut out for him in his last two turns.
It should be noted that the Esurance MLB Awards do not differentiate by league, but I think it's safe to assert that the two Senior Circuit stalwarts with the sub-2.00 ERAs are most deserving of winning the top pitching honor. And so the NL race takes place on dual fronts. As if trying to pitch the Dodgers to a division title (a win Monday night would clinch the NL West) weren't pressure enough, Greinke needs to show the world that last week's scratched start with a minor calf issue and Arrieta's ongoing ascension won't be enough to overtake him at the ballot box.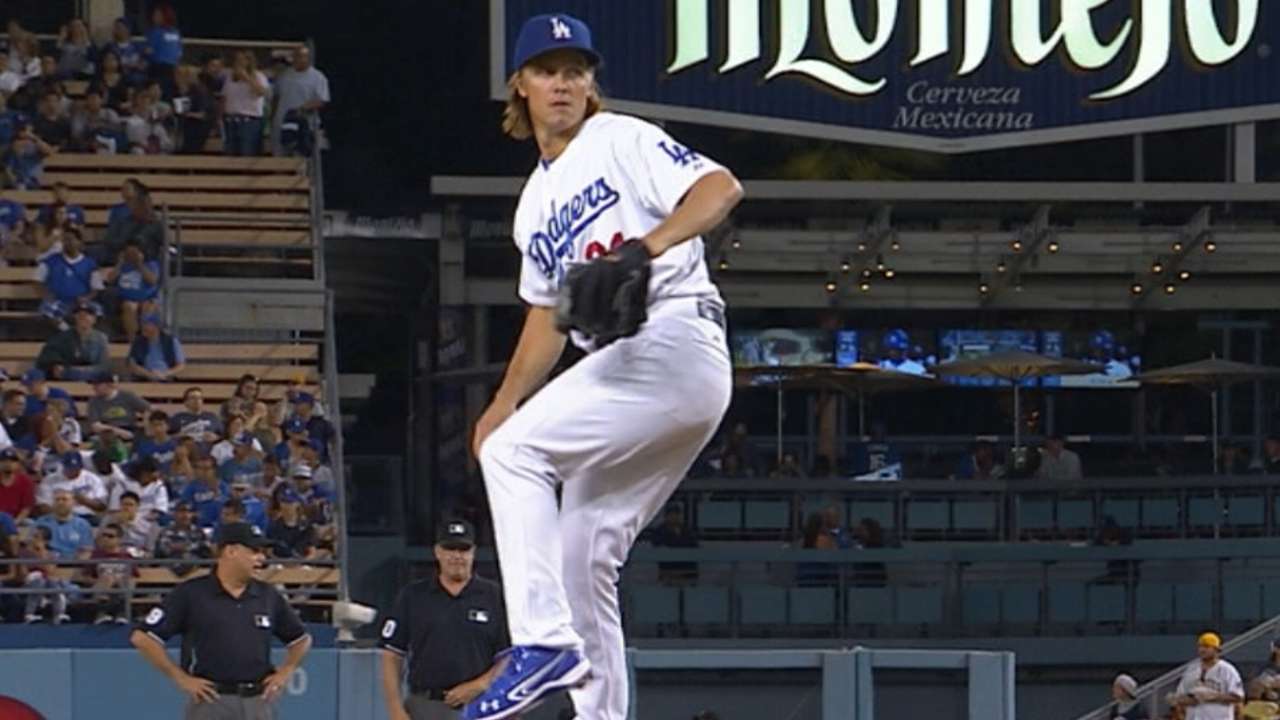 Of course, Greinke has never had to look too far for competition on the awards front. One of his rotation mates owns three of the last four NL Cy Youngs and is the NL's reigning MVP. Clayton Kershaw's his name. He's got a 2.25 ERA and a Major League-best 281 strikeouts. But if the voting were to wrap up today, I doubt Kershaw finish higher than third on either ballot.
No, all of the focus is on Arrieta and Greinke, and for good reason. We haven't seen two guys post an ERA of 1.82 (Arrieta's current mark) or below in the same season since 1971 (Vida Blue and Tom Seaver), and it's only happened two other times in the live ball era (Dean Chance and Sandy Koufax in '64; Bob Gibson, Luis Tiant and Sam McDowell in '68).
So let's dig into the brilliance of Arrieta and Greinke a bit. Here's the current tale of the tape:
| Arrieta vs. Greinke: Who has the edge? | Arrieta | Greinke |
| --- | --- | --- |
| Games started | 32 | 30 |
| Record | 21-6 | 18-3 |
| ERA | 1.82 | 1.65 |
| ERA+ | 215 | 228 |
| FIP | 2.4 | 2.77 |
| Innings | 223 | 207 2/3 |
| Complete games | 4 | 1 |
| WHIP | 0.879 | 0.848 |
| Batting AVG against | 0.187 | 0.189 |
| OPS against | 0.515 | 0.508 |
| Strikeouts | 229 | 185 |
| Walks | 48 | 36 |
| Hits per 9 innings | 6 | 6.1 |
| Homers per 9 innings | 0.4 | 0.6 |
| Walks per 9 innings | 1.9 | 1.6 |
| Strikeouts per 9 innings | 9.2 | 8 |
| K/BB | 4.77 | 5.14 |
| WAR (per Baseball Reference) | 8.4 | 8.7 |
All right, so, remember when I said Greinke could log the sixth-lowest ERA in the live ball era? Well, the five guys who currently rank ahead of him are Gibson (1.12 in 1968), Dwight Gooden (1.53 in '85), Tiant (1.60 in '68), Greg Maddux (1.63 in '95) and Spud Chandler (1.64 in '43).
From that group, Gibson, Gooden and Maddux were all unanimous Cy Young winners. Chandler didn't win the Cy Young Award for a very good reason -- there was no Cy Young Award. He had to settle for the MVP.
But Tiant is the interesting case study here, because he finished behind a 31-game winner who also had a sub-2.00 ERA -- Denny McLain.
Arrieta has a real shot at playing McLain to Greinke's Tiant.
Thankfully, wins have become devalued at the ballot box, as evidenced when Tim Lincecum won the 2009 NL Cy with 15 wins and Felix Hernandez won it the following year in the AL with just 13 victories. But I wouldn't be shocked if Arrieta's superior win total is held up by some old-school voters as a tiebreaker, at the very least.
A much better advantage for Arrieta is the workload. By virtue of making two more starts and tying for the Major League lead in complete games, Arrieta has worked 15 1/3 more innings, and yet many of his rate stats hold up very nicely when compared to those of Greinke. And the attention placed upon strikeout totals in today's game further aids Arrieta.
Frankly, last week's skipped start with the calf issue complicates Greinke's cause. It's left us to wonder what his numbers would look like if he were going into his 32nd start and not his 31st.
Normally, I'd be more inclined to look at ERA+ than win totals, because it's a stat that adjusts a pitcher's ERA to account for his ballpark and the league average. Here, Greinke is on top of all of baseball. And for whatever it's worth, he's compiled a higher WAR than Arrieta, despite the lower innings total.
But man, the innings difference bothers me. I can't believe it, but I actually find myself leaning away from the guy with the 1.65 ERA and all those other bolded numbers. I also wonder if Greinke and Kershaw will steal some votes from each other, allowing Arrieta to finish on top.
Hey, maybe we should take just one more factor into account for these superior NL pitchers -- how they've fared at the plate!
Arrieta: .158/.169/.276 slash with two homers, one double, one triple, one walk, 44 strikeouts
Greinke: .234/.242/.359 slash with two homers, two doubles, no triples, one walk, 12 strikeouts
Hmm. Greinke's been more consistent and less strikeout-prone. So if you want to use that as a tiebreaker, go right ahead.
Of course, the fact that this conversation has drifted all the way into these guys' plate performance just illustrates how ridiculously close it is. To his credit, Arrieta has really forced the issue here in the second half, and he was brilliant again Sunday night, at a time when every pitch is precious.
Your move, Zack.
Anthony Castrovince is a reporter for MLB.com. Read his columns and follow him on Twitter at @Castrovince. This story was not subject to the approval of Major League Baseball or its clubs.