Keuchel dominant at home all season long
Astros ace goes 15-0 with a 1.46 ERA at Minute Maid Park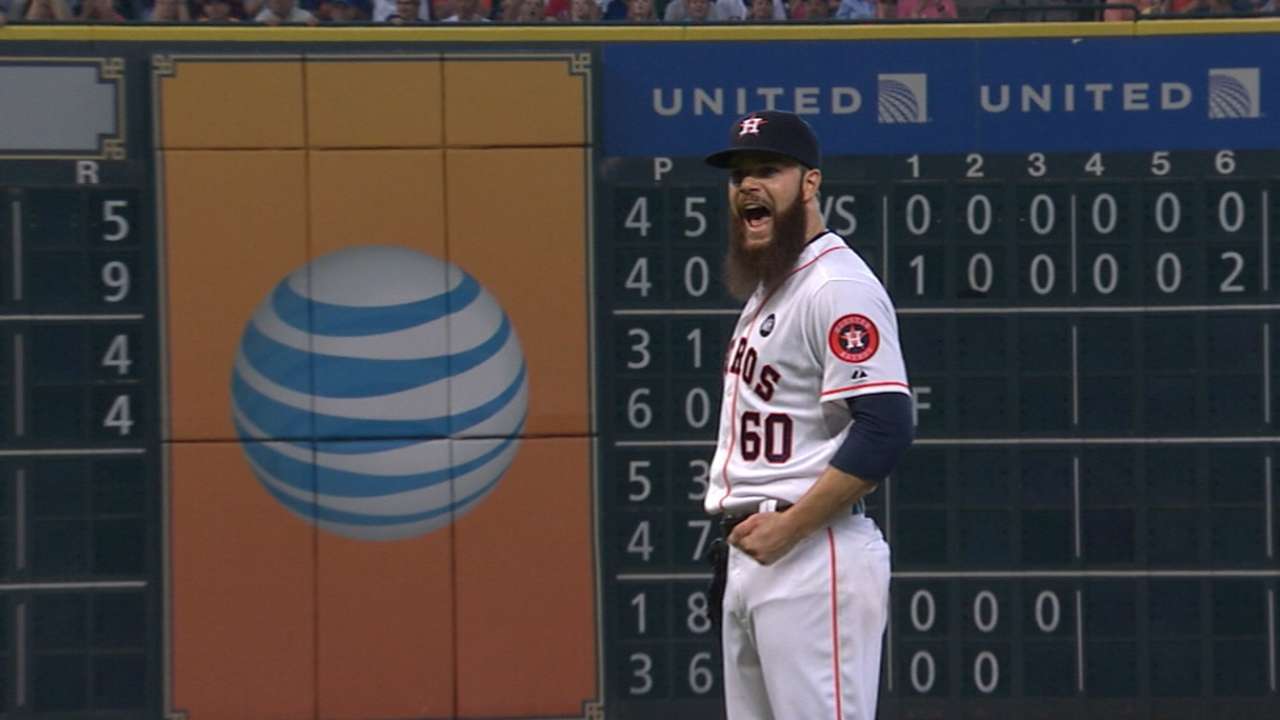 HOUSTON -- Dallas Keuchel can't fathom a world where he's an American League Cy Young Award favorite because, he says, "I never thought I'd be in this position."
Much like his team's storybook season, guaranteed to be the Astros' first winning one since 2008, Keuchel's season isn't what he anticipated in his wildest fantasies. His seven-inning, two-hit gem in Sunday's 4-2 win over Texas sealed the best home season by a pitcher in modern Major League history, finishing 15-0 with a 1.46 ERA. It also helped pull Houston to within 2 1/2 games of the first-place Rangers in the AL West.
• Is Keuchel #AwardWorthy? Vote now for Best Major Leaguer
The 15 wins are the most by an undefeated starter at home in Major League history, breaking a record shared by Boo Ferriss and Tex Hughson, who were both 13-0 for the Red Sox in 1946 and 1944, respectively. Keuchel hasn't lost at Minute Maid Park since Aug. 10, 2014, and he has a 16-game home winning streak.
"It's hard to fathom that kind of dominance against a really good league," said Astros manager A.J. Hinch. "This is the highest league there is and this is a ballpark that doesn't always reward good pitches. It's a tough park. And he's never backed down from the challenge, he's never begged off of anything in his life. I think his year, specifically at home, is as special as they come."
Keuchel's 213 strikeouts are also the most by a left-handed pitcher in Astros history. Of the 213, 139 came at Minute Maid Park. For comparison, Keuchel had just 146 punchouts in his entire 2014 season, a testament to Keuchel's season-long motto to attack the strike zone and use opposing hitters' aggression for his own good.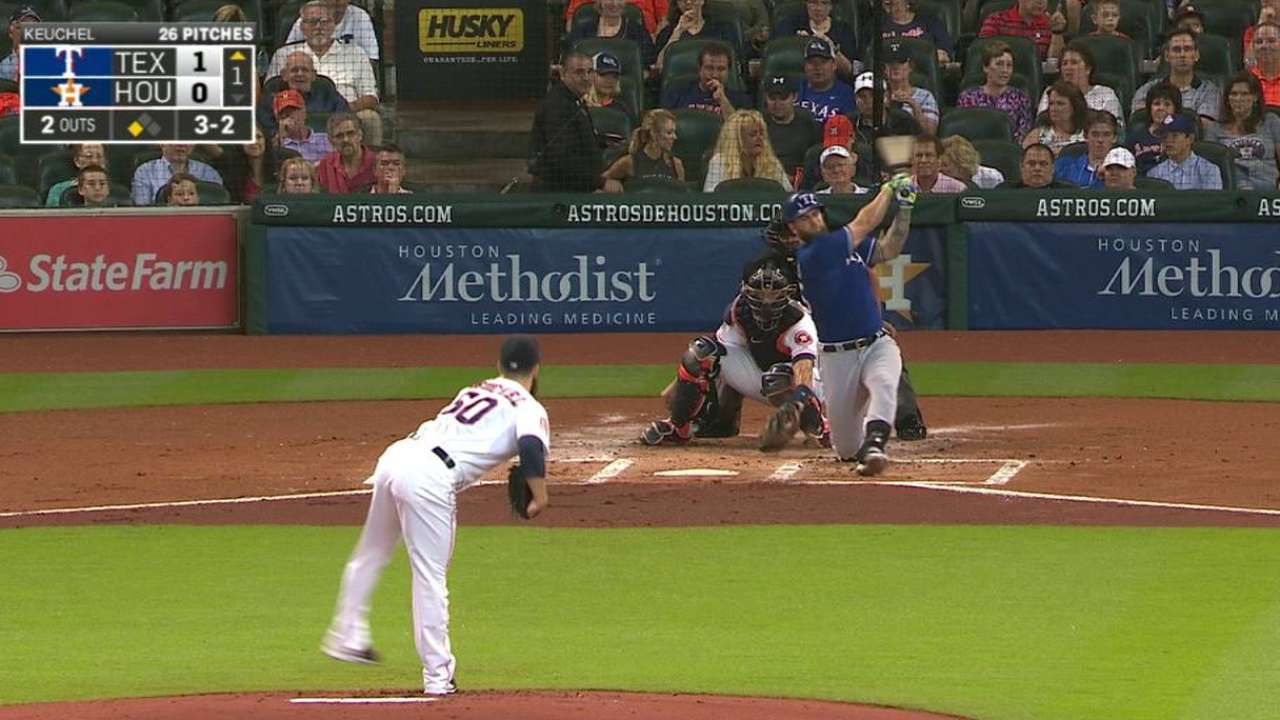 It's a method that worked in Sunday's bounce-back start against the Rangers, who roughed him up for a career-high nine earned runs in just 4 2/3 innings 11 days ago at Globe Life Park.
"I think I was actually the exact same. They were just hitting pitches last start, they weren't doing it today. Can't really chalk it up to anything," Keuchel said. "I think I was trying to do too much in Arlington and that's not me. I knew what I had to do today and that was attack the zone. I think I did a good job of that and that was the key."
Prodded on what he meant by "doing too much," Keuchel said it wasn't the magnitude of last week's game, which the Rangers eventually won, 14-3, on their way to a four-game sweep and a lead in the division.
Instead, he said, he felt he needed to "put the team on his back" and pitch perfectly enough to eke out a victory.
"That's not the way you go about doing things," Keuchel said. "That was no fault of anybody else but my own in Arlington and that was the main key to today. I think I did a good job of relaxing and not doing too much."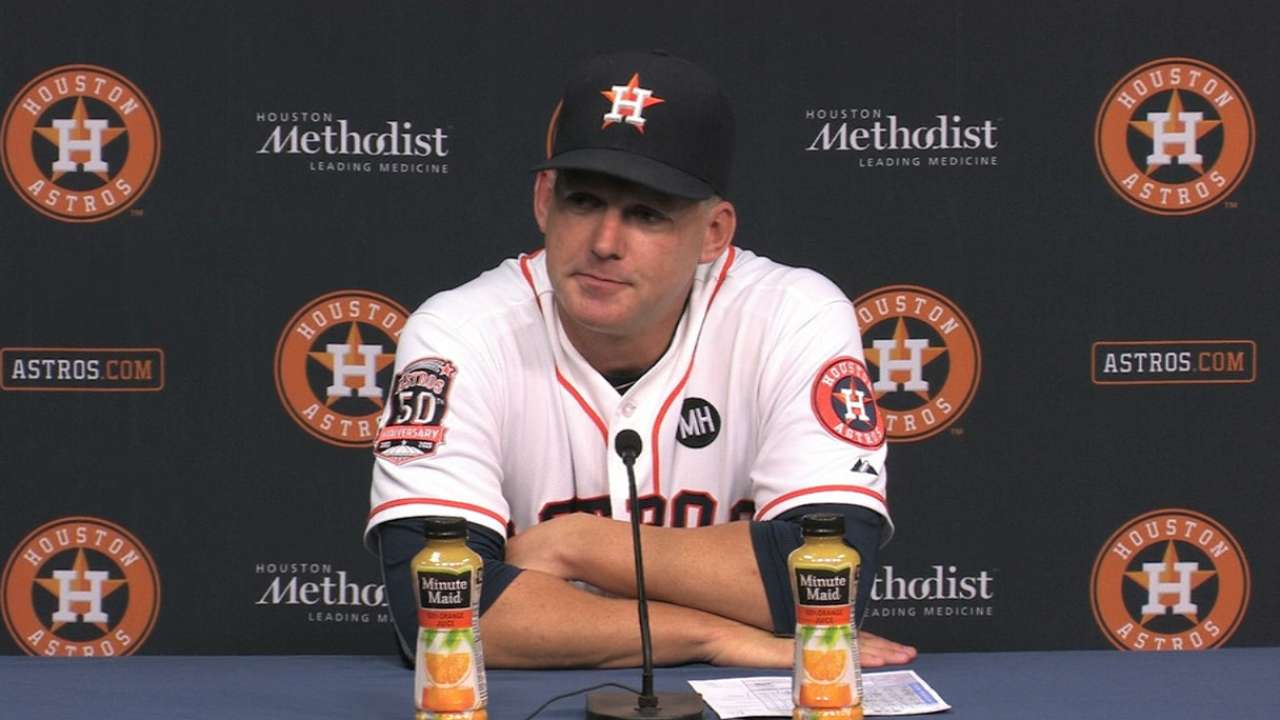 Keuchel can afford to relax now. Gone are the fears of 100-loss seasons and immaturity he said plagued his first few years in the organization. The team he's leading is ready to win and, depending on the results of this upcoming six-game road trip, could crack postseason play. The Astros hold a half-game lead over the Angels for the second AL Wild Card spot.
Something, again, Keuchel can't fathom.
"I've steadily improved the last couple years, and I think a lot of that has to do with a lot of confidence in myself," Keuchel said. "We've embraced the fans this year and they've really shown a lot of support for us, so that makes us feel a lot more comfortable than in years' past. We didn't put a good product on the field in the last couple years, but at the same time we knew we were growing and we'd get there eventually. This seems to be the turning point this year and it's just magical a little bit."
Chandler Rome is an associate reporter for MLB.com. This story was not subject to the approval of Major League Baseball or its clubs.