Early error costs Rangers against Keuchel
Astros score two runs after Andrus is unable to record inning-ending out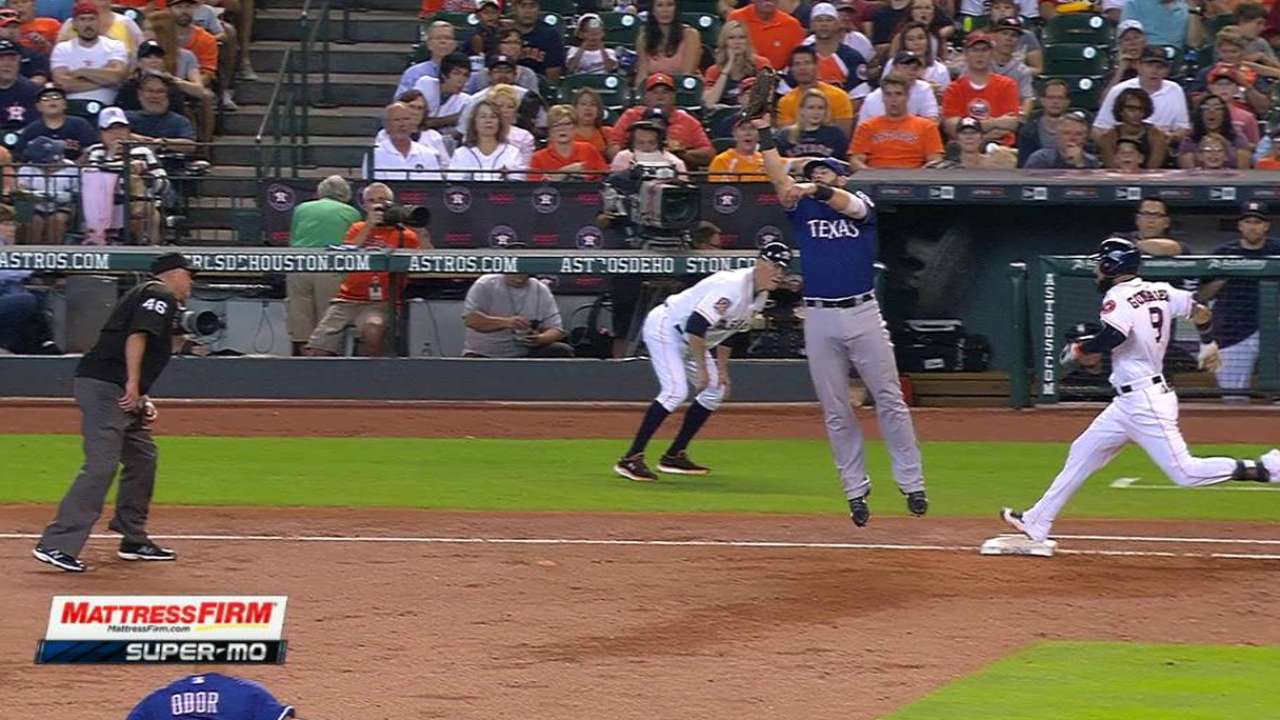 HOUSTON -- The Rangers knew they had almost no margin for error when going up against All-Star left-hander Dallas Keuchel. Turns out all it took was just one error.
Shortstop Elvis Andrus' errant throw set up two unearned runs in the second inning and the Rangers couldn't overcome it in a 4-2 loss to the Astros on Sunday afternoon. The loss cut the Rangers' lead to 2 1/2 games in the American League West with seven to play. Their magic number to win the division is five.
They return home to Arlington for the final week with three against the Tigers and four against the Angels.
"We're exactly where we want to be," first baseman Mitch Moreland said. "We're playing good baseball, we're working hard and battling a lot. We still have seven games, we are going to go out there every night, take the one in front of us, play hard and give it everything we've got."
The Rangers were able to scratch out a run against Keuchel in the first inning to give Martin Perez a 1-0 lead. Perez pitched a scoreless first, then retired the first two hitters in the second. Marwin Gonzalez followed with a grounder to Andrus, and his throw to first pulled Moreland off the bag.
"It kind of stuck in the net, and when I tried to throw I was just off balance," Andrus said. "I couldn't make an accurate throw. It's one of those plays you're in a rush trying to get it out of my glove as fast as I can."
Perez then gave up a single to Chris Carter, walked Jason Castro to load the bases and then gave up a two-run double to Jake Marisnick. Perez said he didn't let the error bother him.
"That happens," Perez said. "It is part of the game. I didn't have a problem with it. I just tried to get the last out. Sometimes I tried to throw a pitch where I wanted to and didn't do it."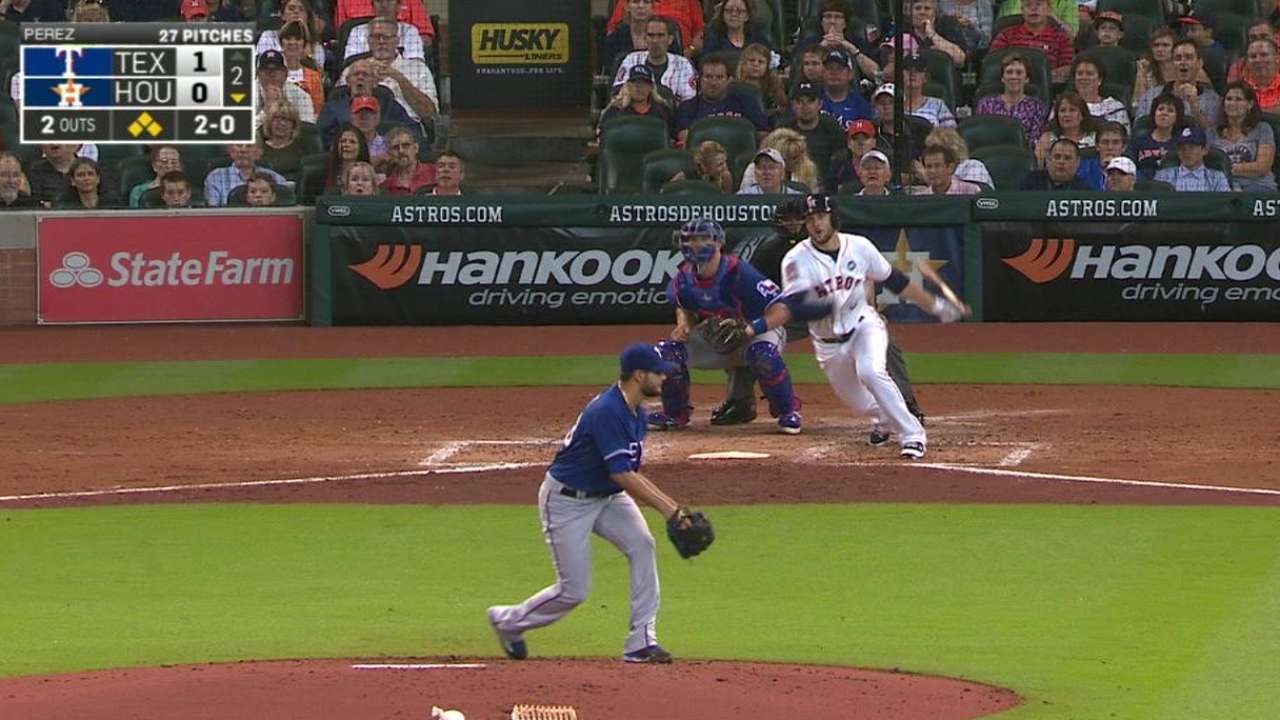 Keuchel responded to the lead by retiring 15 of 16 hitters from the third inning to the seventh. He ended up allowing two hits and two walks while striking out 10, and there was some grumbling by Rangers players about what was perceived to be a generous strike zone by home-plate umpire Vic Carapazza.
"We knew it was going to be tough," manager Jeff Banister said. "Dallas Keuchel is a solid pitcher. If you give him a nice strike zone, he is going to be a challenge. I felt like we had an approach to him, we got him up to 50 pitches early but something seemed to flip for him in the middle.
"I still feel our guys played hard and competed well," Banister said. "We're still 2 1/2 games up with seven to go. Our destiny is in our hands. If we play well and take care of business, we'll be right where we want to be."
T.R. Sullivan is a reporter for MLB.com. Read his blog, Postcards from Elysian Fields, follow him on Twitter @Sullivan_Ranger and listen to his podcast. This story was not subject to the approval of Major League Baseball or its clubs.