MLB.com Columnist
Richard Justice
Astros relish pennant-race pressure
Young club finding joy, not stress, as postseason push heat up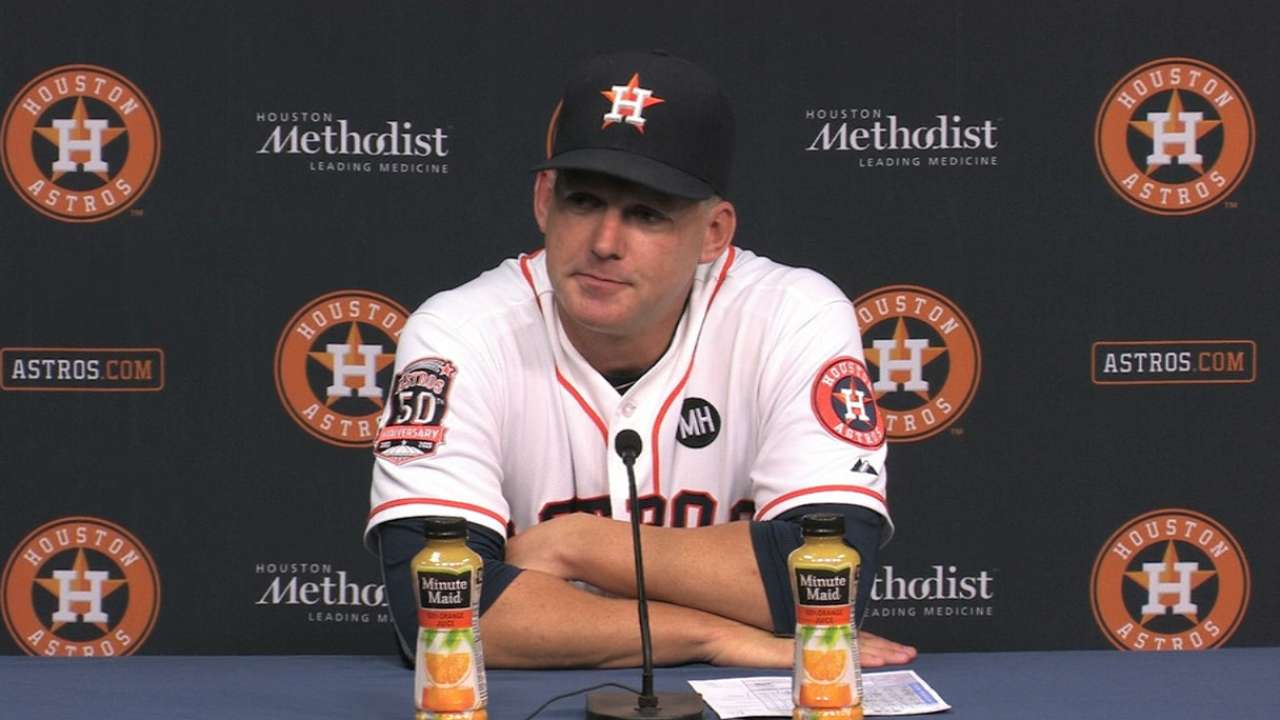 HOUSTON -- Stress? What stress? This isn't stress. This is the good stuff. The Houston Astros -- and the Texas Rangers, Minnesota Twins and Los Angeles Angels -- might remember this as the most fun they ever had in baseball.
"It's what you live for," Astros designated hitter Evan Gattis said. "It's awesome. It's unbelievable. Hey, we can do this. We're a good team. We've been beating people all year."
He spoke these words in a happy clubhouse, moments after a 4-2 victory over the Rangers on Sunday afternoon at Minute Maid Park. This is that time of the year when a season could be riding on every pitch. Every defeat feels catastrophic.
And it's absolutely wonderful.
"Bring this stress to me every year," Astros manager A.J. Hinch said. "I'd love to be in this position."
"…I want him to have more home starts this season. This doesn't have to be his last one." - Hinch on Keuchel. #Astros

— Houston Astros (@astros) September 27, 2015
For the first five months of this baseball season, the Astros were just about the most interesting team in the game. After averaging 104 losses the four previous seasons, they rode youth, energy and a nice blend of mostly unheralded veterans into a 139-day stay atop the American League West.
And then, suddenly, September became a wall. Whether it was fatigue or inexperience or some other factor could be debated forever without a good answer. The Astros lost 15 of 22 to open the month. Their bullpen, once one of the best in the game, had some shaky nights.
Their offense, built on homers, cooled off, too. And during an eight-game losing streak against the Rangers, the Astros waved first place bye-bye.
"That type of dominance they had on us for eight straight games is tough," Hinch said. "We don't like to be asked about it. We stood our ground and got two big wins leading into the last week."
That's what made this next-to-last weekend of the regular season so significant. After losing to the Rangers again on Friday, the Astros may have saved their season with victories on Saturday and Sunday.
In doing so, they closed back to within 2 1/2 games of first place in the division, while remaining in good shape in the jumbled race for the American League's second Wild Card berth. The Astros and Angels both have 74 losses, the Twins 75, the Indians 77. There are a hundred ways to look at it.
The Astros finish the regular season with three games in Seattle and three in Arizona. Both clubs have losing records. But the Astros are 9-28 on the road since July 4.
Meanwhile, the Angels finish the regular season with four games in Arlington, against a team that could still be attempting to clinch a division championship.
The Astros say the math is too complicated.
"We're going game by game and not worrying about what else is going on in the league," center fielder Jake Marisnick said. "It's a lot of fun. Get those competitive juices flowing. We're playing playoff baseball before the playoffs."
Hinch had a similar take: "How about we win 'em all and we don't have to worry about it? There's a lot of important baseball being played. I sort of expect everybody to win down the stretch, including us."
The Astros got a huge, stand-up performance from their ace, Dallas Keuchel, on Sunday. He tossed a 122-pitch gem, allowing one earned run in seven innings and keeping himself nicely positioned for the AL Cy Young Award.
"That's what the aces do," Hinch said.
Keuchel is the first pitcher in history to sport a 15-0 home record. He allowed a first-inning run and nothing else, retiring 15 straight Rangers at one point.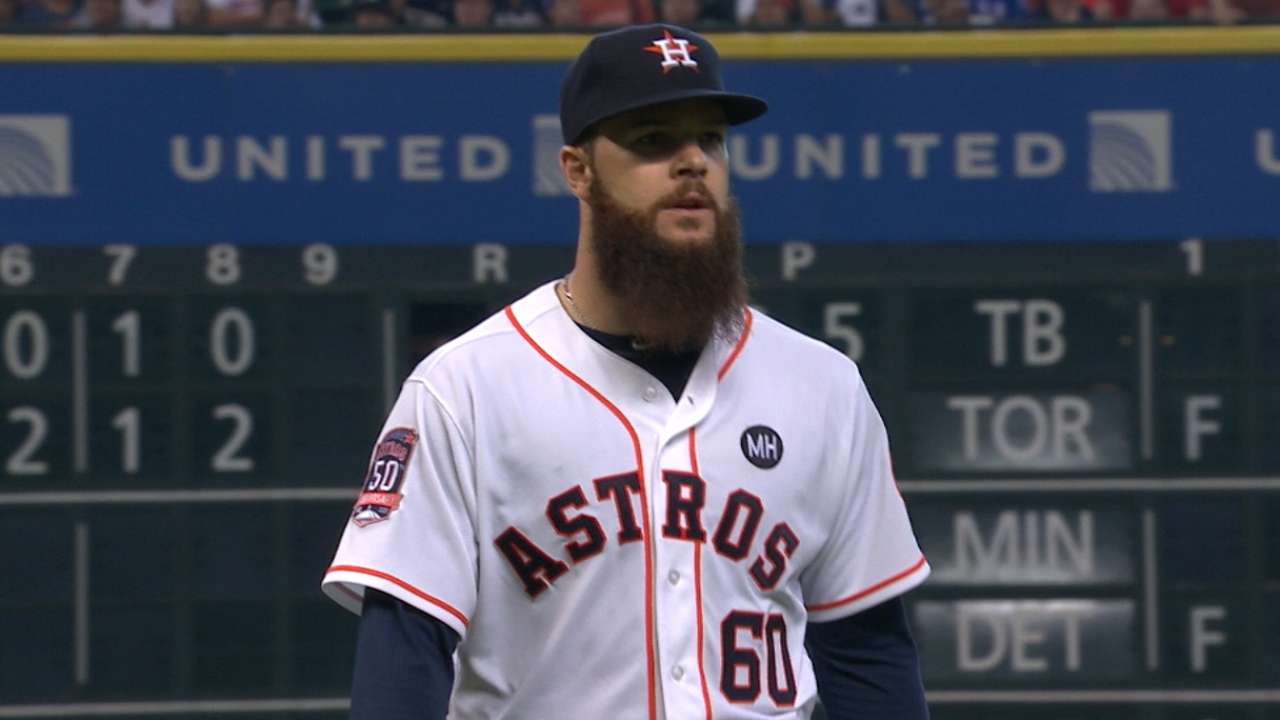 "He's as good as it gets, and the team knows it," Hinch said.
When Keuchel faced the Rangers in Arlington 11 days ago, he had one of the worst games of his career, allowing nine earned runs in 4 2/3 innings of a 14-3 loss.
"I was trying to put the team on my back, and that's not the way you go about doing things," he said.
Marisnick doubled in two second-inning runs Sunday, and Keuchel made them stand up until Chris Carter led off the bottom of the seventh with his third home run in four games.
And now the Astros are still alive and well, with six games remaining.
"I will bank on these guys coming through with the right type of approach, the right mindset," Hinch said. "We're having a great time. We want to finish this. We have to earn it. But I'll take this type of baseball that matters every year. I'm proud of this group. We've stayed resilient all year. We've answered the bell. We've got a little bit more work to get it done."
Richard Justice is a columnist for MLB.com. Read his blog, Justice4U. This story was not subject to the approval of Major League Baseball or its clubs.