Seattle loss mirrors season as mistakes add up
Mariners fall out of postseason contention for 14th straight year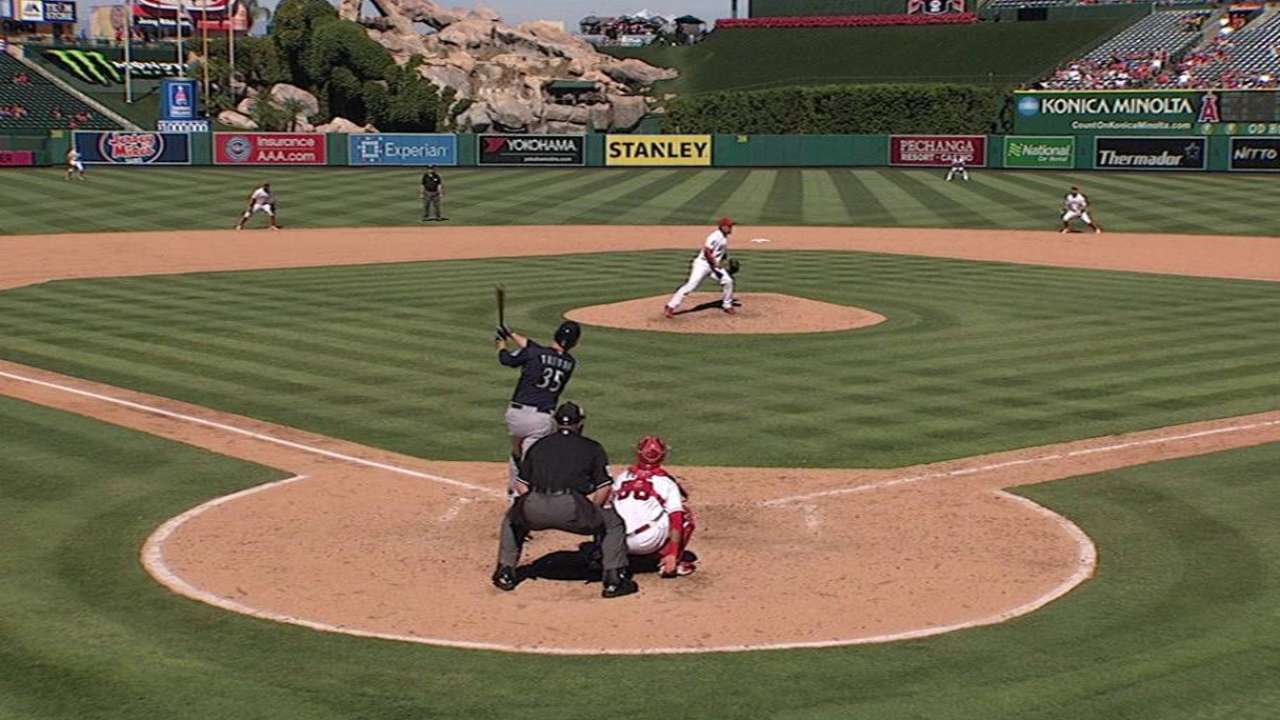 ANAHEIM -- The Mariners had some moments Sunday, but like much of this season, the highlights were swept aside by the final results as Seattle dropped a 3-2 decision to the Angels and was mathematically eliminated from playoff contention for the 14th straight year.
Mark Trumbo laced a game-tying home run while pinch-hitting in the eighth and Hisashi Iwakuma turned in another strong performance. But it wasn't enough to keep Seattle from getting swept for the first time in Anaheim since July 2011 -- back in Mike Trout's first series with the Angels -- and assuring themselves of their sixth losing season in the past eight years.
At 74-82, all that's left now for the Mariners is closing out the final homestand at Safeco Field this week against the Astros and A's, while awaiting word on the next general manager who'll get a chance to piece things together.
The Mariners seem to have many of their major parts in place with Felix Hernandez, Robinson Cano, Nelson Cruz and Kyle Seager all under long-term contracts, but little things that have troubled the club all year were evident again Sunday when a couple critical baserunning mistakes proved costly.
Seager doubled with one out in the fourth for the first hit off Jered Weaver, but then was thrown out going to third on a ground ball in front of him to shortstop Erick Aybar.
"Not the right decision," said manager Lloyd McClendon.
The following inning, Logan Morrison was caught stealing after being hit by a pitch. Morrison was initially ruled safe before a review showed he'd come off the bag on the tag, an occurrence that has happened frequently this year with replay situations.
That wound up costing the Mariners a run when catcher John Hicks doubled one out later. And Hicks, who'd been 1-for-28 before lacing that shot to left, inexplicably got picked off second by Angels catcher Carlos Perez after taking too big a lead on a pitch to Ketel Marte.
McClendon said there wasn't any trickery involved that led to Hicks' aggression on that situation.
"I can't think of a play to have on with a catcher on second base and two out," he said. "It was just a bad play."
Thus the Mariners' margin of error was razor thin against an Angels team that won the season series, 12-7, and put this one away with an RBI single by Kole Calhoun off reliever Carson Smith in the eighth.
The Angels used some heads-up baserunning of their own to set up that winning run, with Johnny Giavotella hustling into second on what appeared to be a single to center off Iwakuma leading off that frame.
"I thought Iwakuma was pretty good," McClendon said. "The starting pitcher gave us a chance to win a ballgame. We just shot ourselves in the foot with our baserunning and it came back to haunt us."
The loss spoiled a bright moment for Trumbo, whose line drive homer in the top of the eighth momentarily tied the game against his former Angels team.
"It was cool while it lasted, I guess," said Trumbo, who has 22 homers on the year between the Mariners and D-backs and also figures to be part of next year's plans with one year of arbitration eligibility remaining.
The Mariners wound up 40-41 on the road this season, their second-best away mark in the past 12 years. But they're just 34-41 at home heading into their final six games. And solving that Safeco situation figures to be another challenge for the next GM.
Greg Johns is a reporter for MLB.com. Follow him on Twitter @GregJohnsMLB, read his Mariners Musings blog, and listen to his podcast. This story was not subject to the approval of Major League Baseball or its clubs.