MLB.com Columnist
Barry M. Bloom
Severino says bring on Wild Card assignment
Yankees rookie poised for pressure if Tanaka is unavailable
NEW YORK -- Considering the tentative condition of Masahiro Tanaka's still tender right hamstring, rookie right-hander Luis Severino staked a claim Sunday to start for the Yankees in the American League Wild Card Game presented by Budweiser at Yankee Stadium on Oct. 6.
Not long after Tanaka played catch pregame on the field, Severino tossed six innings of five-hit, scoreless ball in a 6-1 victory over the White Sox.
Making his 10th start since being called up Aug. 5, Severino appeared a lot more poised than his 21 years would indicate.
If Tanaka is not available, Severino wouldn't shy away from taking the ball in that big game, the biggest game so early in his budding career.
"I'd be happy to," Severino said after the game. "I wouldn't be [overwhelmed]. I'd be happy to [start] over there."
A lot has to happen during the next nine days for that to occur. First, the Yankees have to clinch the Wild Card spot, sending the entire chain moving forward. The Yanks lead the Angels by five games in the Wild Card race with seven left to play, and could secure at least a tie for the second spot as early as Monday night, when they open a four-game series against the Red Sox at the Stadium.
Manager Joe Girardi and his staff would then have to determine when and if Tanaka would be available to pitch.
With the Yanks trailing the Blue Jays by four games in the American League East, the Bombers have Ivan Nova scheduled Monday and a list of TBAs (to be announced) for the following three games.
Severino said he's not sure when he'll start again.
"I hope maybe in five days, but nobody has told me," Severino said. "I work one day at time. When they schedule me I'm going to get ready for it. But right now, I don't know, no."
The chance of the Yanks tying the Blue Jays on next Sunday's final day of the regular season to set up a one-game playoff for the division title is growing increasingly remote. But the reality of them hosting the Wild Card Game against the Astros or Angels is now within easy reach.
Tanaka hasn't pitched since Sept. 18, in a loss to the Mets at Citi Field when he sustained the injury breaking out of the box on a second-inning bunt. He had a bullpen session Friday and said he still felt a twinge in the hamstring. He rested Saturday and played catch Sunday. On Monday the plan is for him to bounce off the mound and field some grounders.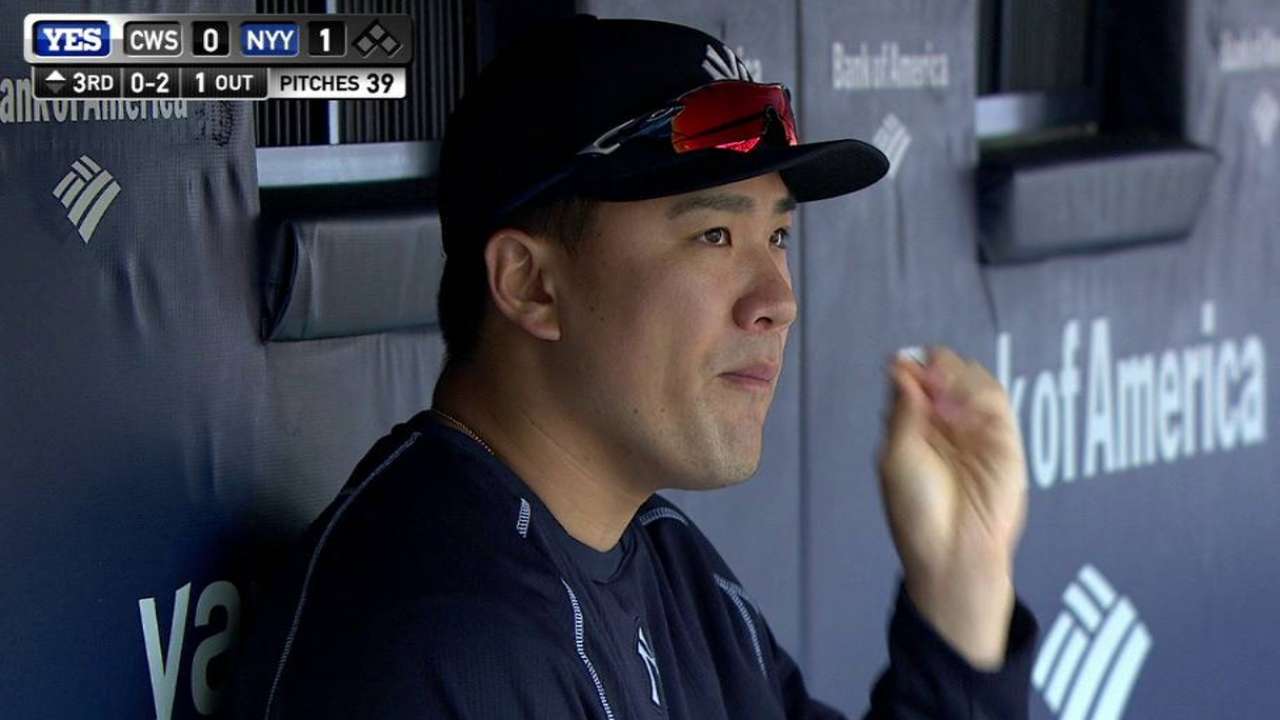 It's a day-by-day progression, and a slow one at that, considering the time of year it's happening. Girardi mused that Tanaka would have to make a full blown start by Thursday at the latest to be set up for the Wild Card Game five days after that.
"I know everyone wants an answer, but it's really not that simple, because of his value to us moving forward," Girardi said. "It's something you have to weigh. Is it worth the risk moving it up a day or two days if you need him against what could possibly happen? So it's a careful situation we're trying to manage. I wish I knew, really."
The complicating factor is that Tanaka has a partially torn ligament in his right elbow and any slight adjustment to his mechanics could have an adverse effect on that. If it was the middle of the season, no one would really care. Take all the time you need.
But it's not the middle of the season and the Yankees paid Tanaka $155 million over seven seasons, plus a $20 million posting fee to the Rakuten Golden Eagles to have him ready to pitch in these kinds of games. Tanaka said on Sunday that he's still not sure of his availability.
"I don't think we're there yet," he said. "I'm not ready to talk anything about that yet. As for now, for me, I'm just happy with the way I am progressing. It's getting better and better. I feel good. I have no problem throwing the ball."
He's certainly been there before, pitching his club to a Japan Series victory over the Yomiuri Giants in 2013 before signing with the Yankees, starting and losing Game 6 and earning a save in Game 7.
Asked if he'd be comfortable starting Severino if Tanaka is not available, Girardi said: "That's a hypothetical. I think Tanaka is going to be fine. That's not too much of a concern of mine. But [Severino] has pitched extremely well and we have a ton of confidence in him."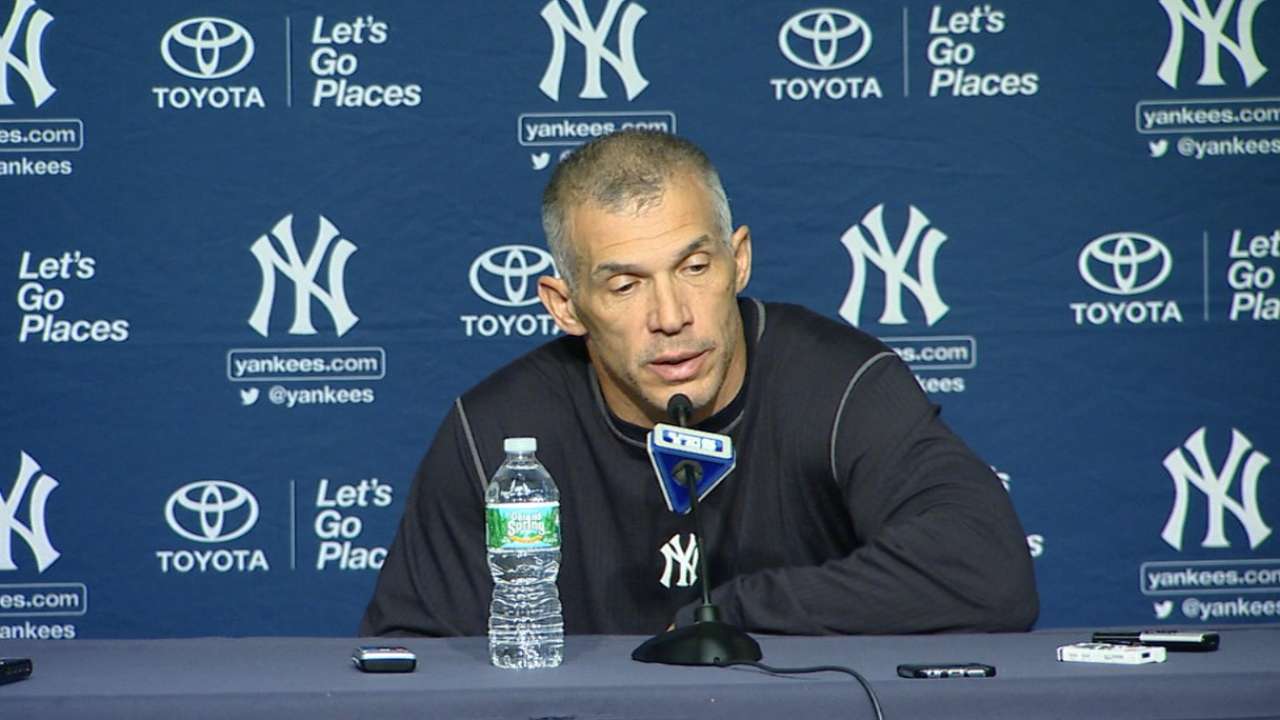 Severino is 5-3 with a 2.77 ERA and 50 strikeouts in 55 1/3 innings. This while Tanaka, Michael Pineda, CC Sabathia and Nathan Eovaldi have all missed significant time because of various injuries.
Even if Severino doesn't get the Wild Card start, he'll certainly be in the rotation if the Yanks can win that one and move on to a best-of-five AL Division Series.
"He can pitch," veteran catcher Brian McCann said. "Everyone around here already knew that. He's very impressive. He's a professional. He works hard. He does a lot of things right. He's lights-out."
And he's the perfect alternative if Tanaka doesn't work out.
Barry M. Bloom is a national reporter for MLB.com and writes an MLBlog, Boomskie on Baseball. Follow @boomskie on Twitter. This story was not subject to the approval of Major League Baseball or its clubs.