Solving Arrieta may be key to Bucs' October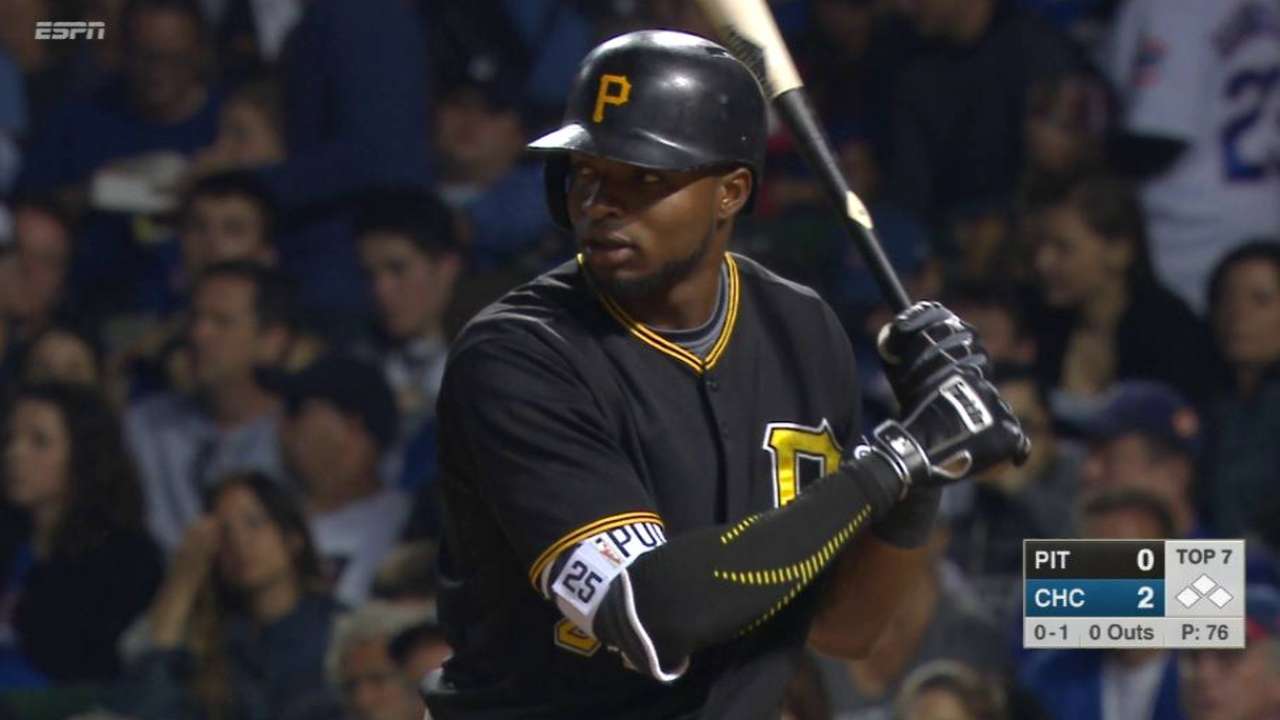 CHICAGO -- Jeff Branson stood by the railing of Wrigley Field's third-base dugout, and every pitch by Jake Arrieta spun the wheels in his head.
"He's one of the better pitchers in the game. We have to find a way to counter-attack," Branson said after Arrieta had added to his 2015 legend Sunday night by being perfect through six innings of the Cubs' 4-0 win over the Pirates.
As the Bucs' hitting coach, it will be Branson's task to coach the team's hitters into dealing better with the right-hander the next time their paths cross. If the Pirates don't pass the Cardinals to win the National League Central, that next time could be 10 days away, in the win-or-go-home NL Wild Card Game presented by Budweiser.
"He's good," Branson said. "We have to find a way to battle back. The more looks you get at a guy, the better. The more batters face him, the better idea they have."
Manager Clint Hurdle expressed the same hope, that repeated looks at Arrieta "can be an advantage."
"It could help, the close proximity of the repetition, as far as seeing the ball out of his hand and the spin," Hurdle said.
That is a very encouraging scenario, with one major flaw: Arrieta had also faced the Pirates 11 days earlier, allowing them one earned run in eight innings in PNC Park, an experience of little aid Sunday night. To the Bucs, anyway; it was of considerable help to Arrieta, who had allowed six hits in the previous meeting.
"We're in the same division," noted Andrew McCutchen, "so we see him enough. It's not like he's going to come up with anything new."
Indeed, Sunday night's meeting was already the fifth of the season between Arrieta and the Pirates. Advantage, Arrieta: 3-1, with an ERA of 0.75.
"It's not only us. He's been good against the entire league," Aramis Ramirez said of the 21-game winner. "A guy that good, it doesn't matter how many times you get to face him."
To the Pirates, however, Ramirez was an example of how close they came to taking a bite out of Arrieta this time. With two on in the seventh, Ramirez barreled up a pitch and hit it very hard, but right at shortstop Addison Russell, who turned it into an inning-ending double play. Next time, maybe they'll find that quarter-inch that was missing on that swing.
"We had that one shot at him," Hurdle said, "and if Ramirez catches that ball a quarter inch lower, it's not on the ground, it's in the air. And he smoked that ball."
"An example of how everytihng has been going his way," Ramirez said.
Maybe the Pirates will feel more comfortable the next time they meet, especially if the date is in PNC Park; the Bucs still have a magic number of 3 for securing the home-field for the Wild Card Game, should they not win the division. In that Oct. 7 Wild Card Game, they could be getting their third look in three weeks at Arrieta.
"That can be an advantage," said Hurdle, who then turned his own devil's advocate. "I've also faced some pitchers and then didn't want to see them again for a long time."
Tom Singer is a reporter for MLB.com and writes an MLBlog Change for a Nickel. He can also be found on Twitter @Tom_Singer and on his podcast. This story was not subject to the approval of Major League Baseball or its clubs.