Walk-off shot the latest highlight in Donaldson's magical 2015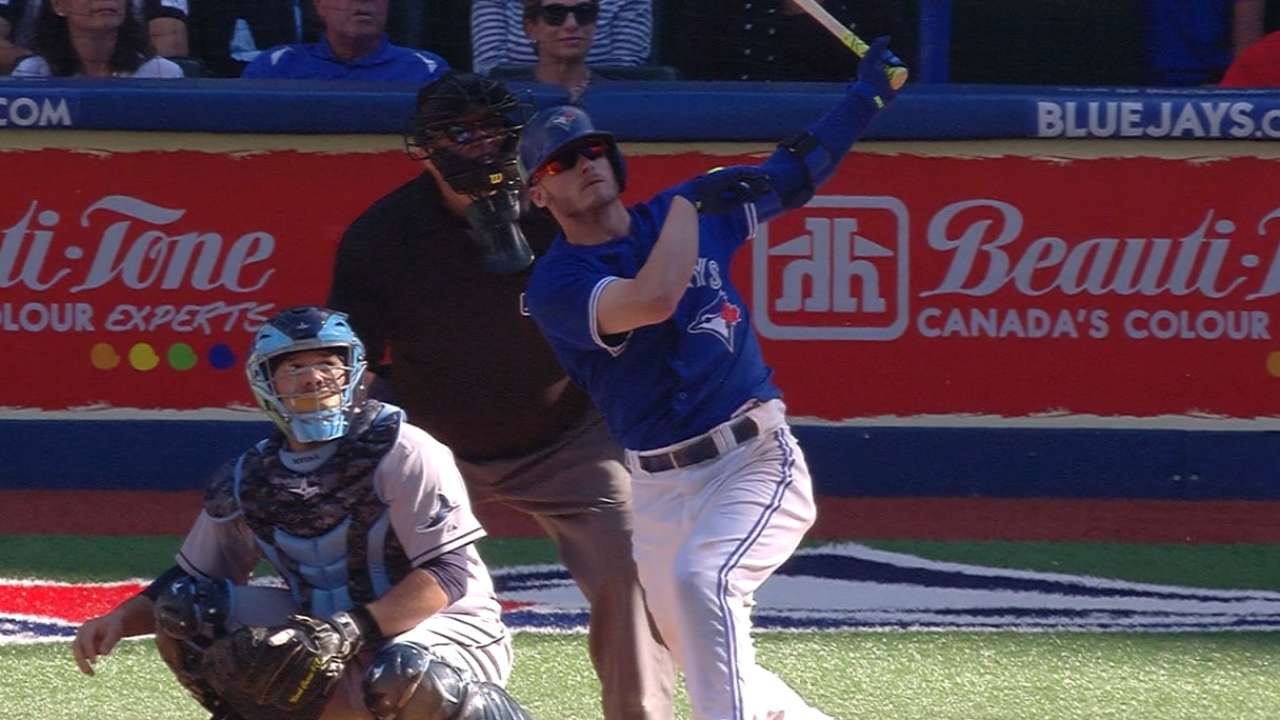 TORONTO -- It was the perfect ending to the last Blue Jays home game of the regular season. Amid chants of "M-V-P" from the Rogers Centre faithful, Josh Donaldson laced a line-drive home run over the wall in left field in the ninth to lift the Blue Jays to a dramatic, 5-4 walk-off, come-from-behind victory over the Rays on Sunday. The win extended their winning streak to four games, while lowering their magic number to clinch the American League East to four.
"Ever since I was young, I always looked forward to those big moments in the game. I always wanted to come through," said Donaldson, whose blast was his team-leading 41st homer of the season. "If it's not for my teammates, I'm not even put in that position."
Gear up for Blue Jays' postseason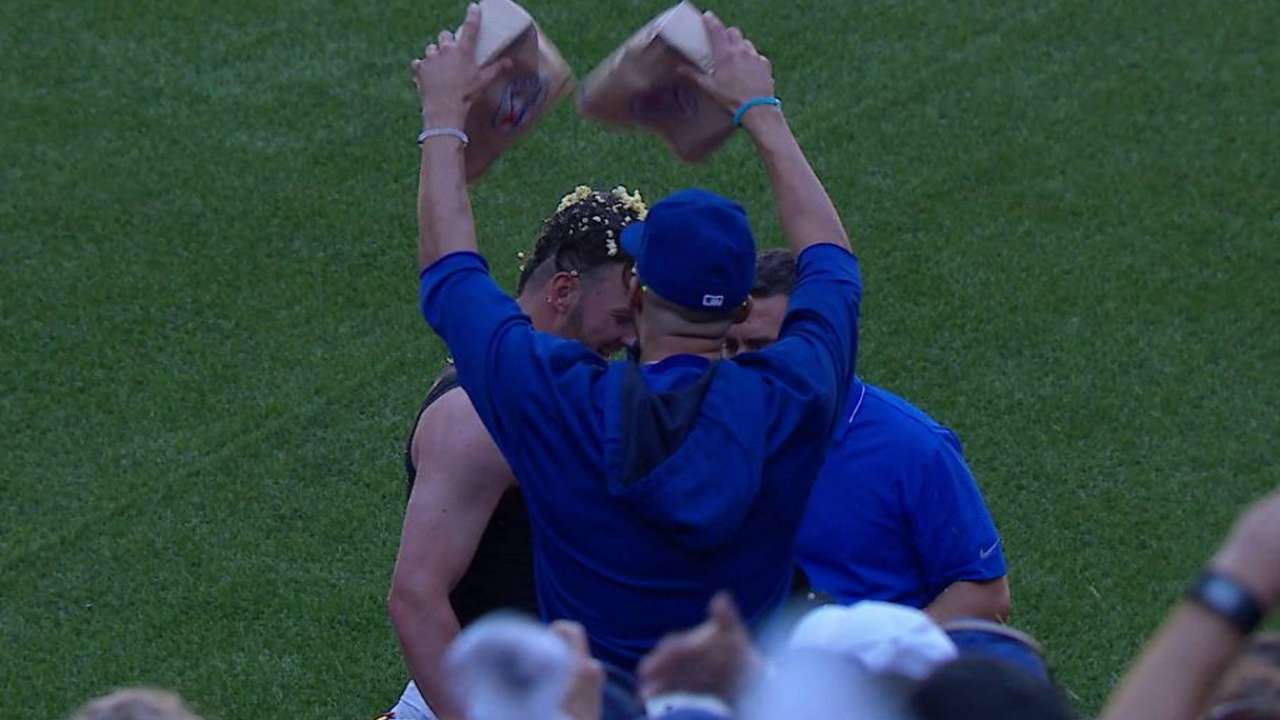 He's right, it did take a collective Blue Jays comeback to tie the game after trailing for the first 7 1/2 innings. Justin Smoak did most of the heavy lifting until that point, mashing a homer among his three hits and driving in three to keep the Blue Jays in it. Dalton Pompey, who entered as a pinch-runner for Smoak in the eighth, stole a key base and Kevin Pillar drove home the game-tying run with a double. But the day belonged to Donaldson.
"You always have the feeling with him," Blue Jays manager John Gibbons said. "He's got that flair for the dramatic. He's done that so many times this season."
Donaldson has had four walk-off hits this season, to be exact. Sunday's game-winner was the third time he came through with a homer -- and the first time since July 31, when he helped the Blue Jays to victory over the Royals. It was around that time the Blue Jays' season began to turn. They'd acquired Troy Tulowitzki and David Price in Deadline deals, turning the team with the longest playoff drought in North American pro sports into an instant contender. Now that they're guaranteed, at a minimum, an AL Wild Card appearance, it will mark Donaldson's fourth consecutive playoff trip, dating back to 2012 with the A's.
On that point, Donaldson directs his success back to his teammates.
"There are days I don't have it, the days I haven't necessarily performed the way I've wanted to," said Donaldson, "my teammates have been there to pick me up and get me in the situation where I can help the team win."
Even though his primary heroics came with the bat on Sunday, Donaldson made a key play at third base to save a run late in the game. After a nearly four-minute review confirmed Mikie Mahtook had successfully stolen third base with no outs in the eighth, Donaldson erased the threat with a heads-up play at the hot corner.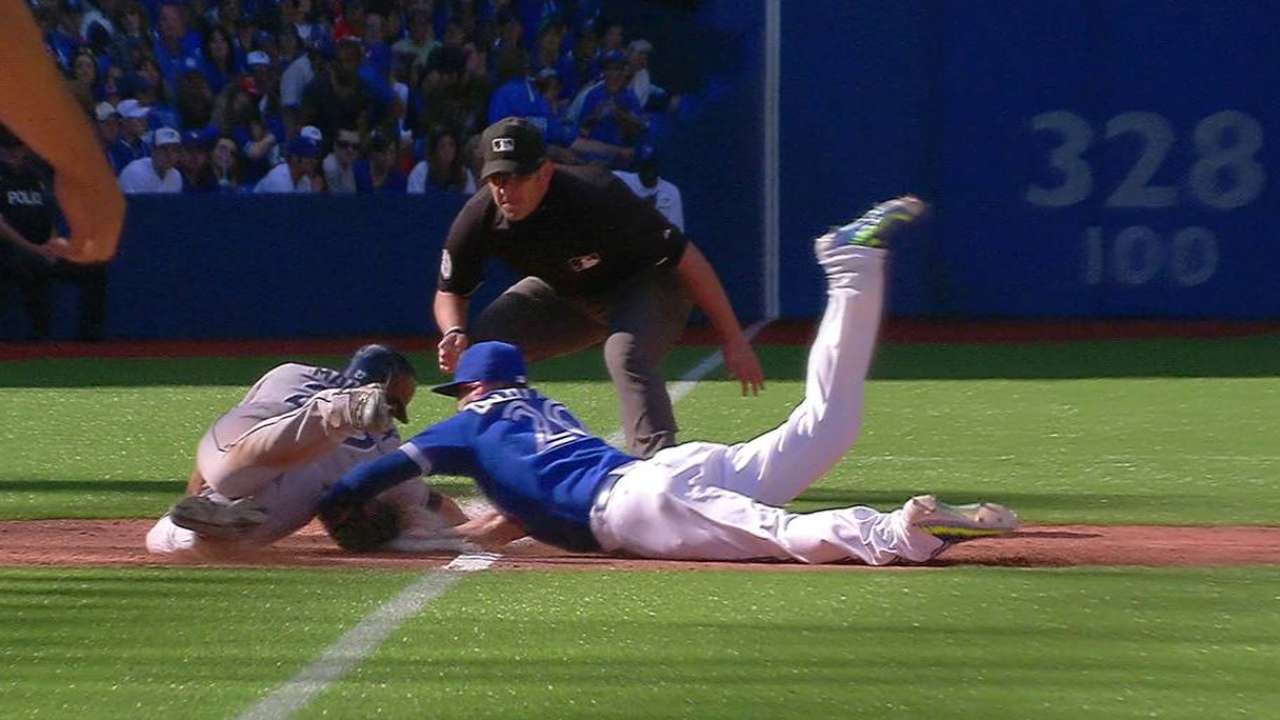 Fielding an Evan Longoria chopper, Donaldson leaped head-first to tag Mahtook, who had strayed from the bag on contact and momentarily froze on the baseline before retreating. That gave Donaldson just enough time to catch him. It's his play on both sides of the ball that has nearly every fan at Rogers Centre shouting for him to earn the AL MVP this season.
"That's what he does every day. It's expected now," Smoak said.
Jamie Ross is an associate reporter for MLB.com. This story was not subject to the approval of Major League Baseball or its clubs.