Cubs starting to think about Wild Card roster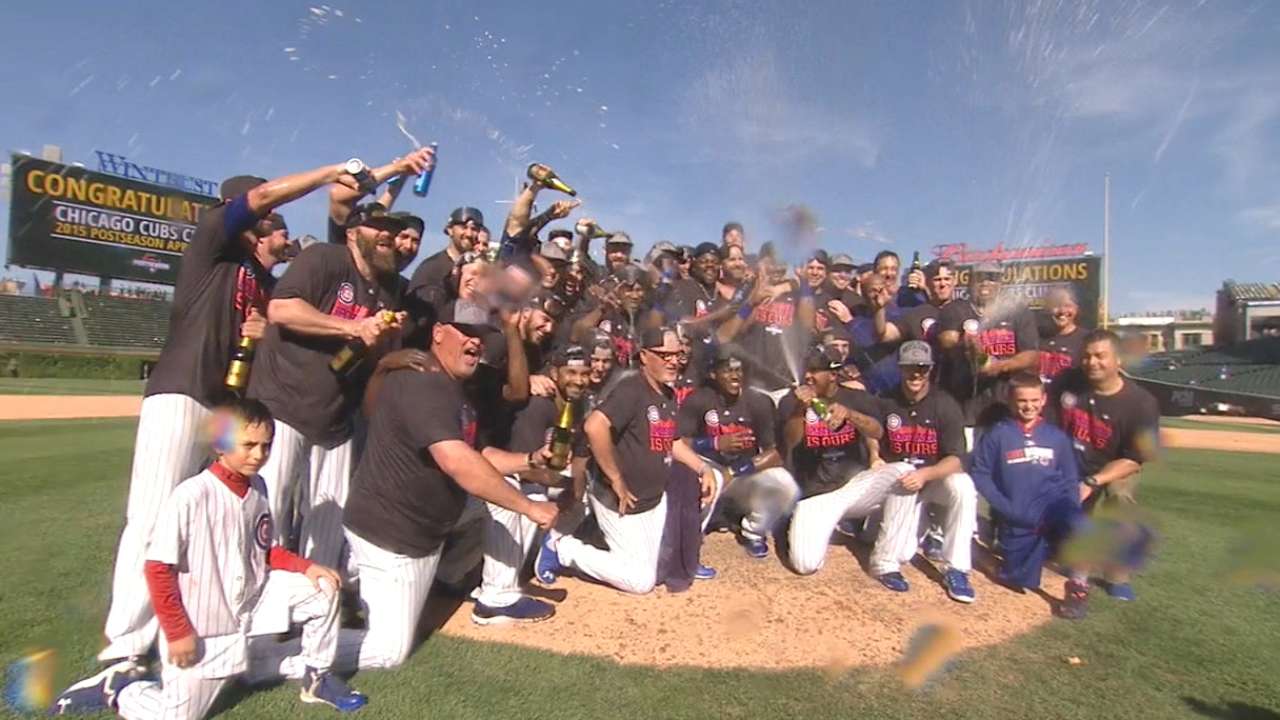 CHICAGO -- Despite the efforts by the cleaning crew, the Cubs' clubhouse still smelled of champagne from Saturday's postgame celebration at Wrigley Field. Now that the Cubs know they're in the playoffs, they can start discussing the postseason roster for the National League Wild Card Game presented by Budweiser, to be played Oct. 7.
Putting together a roster for a one-game playoff is different than a five- or seven-game series, Cubs manager Joe Maddon said Sunday.
"For the one game, you've got your starting pitcher and you need somebody who has length within that group [of bullpen pitchers] if something were to happen to the starter," he said.
• Gear up for the Cubs' postseason
The Cubs will sort through the relievers, and look at the opposing team's bullpen as well to determine who might be needed to pinch-hit or platoon.
The Cubs will play either the Pirates or the Cardinals in the Wild Card Game; Pittsburgh trailed St. Louis by 2 1/2 games in the Central Division, and the two teams meet at PNC Park, starting Monday. Does Maddon have a preference?
"Not really. Just happy to be there," he said. "Both are really good ballclubs. It's about pitching. The two pitchers on that particular night will set the tone for the game. Both sides have outstanding pitching. I don't have a particular preference."
It almost helps that the Cubs know the Pirates and Cardinals so well.
"We're not going to do anything differently," Maddon said of their preparation. "We're not going to add any more prep, any more video study. We played them 19 times this year, my God. If you don't know them by now, you're not going to figure it out in one miracle evening with all this extra stuff to absorb. It'll just confuse you."
• Anthony Rizzo has played all but one of the Cubs' games this season. Does he need a breather?
"Before you get to that [Wild Card Game], our little Super Bowl that we've got going on, he'll get plenty of rest," Maddon said about having two days off after the regular season ends. "I don't want to take him out of his rhythm. I'll talk to him about it."
• Jason Motte, sidelined since Aug. 24 with a right shoulder strain, expected to throw a bullpen session on Tuesday in Cincinnati. Motte, who was 8-1 with a 3.91 ERA in 57 games, all in relief, hopes to be able to pitch in the final regular-season games.
• The Cubs have been relying on rookies to get to the postseason. Does experience matter?
"Game in progress, the thing I've noticed is that one side or the other has to take charge," Maddon said. "Then you look in the faces of your players or their players and you see a different look, and I'm always aware of that. Regardless of your experience or not, I would say going into the game, experience does matter. But whoever fires the first salvo may have the opportunity to dictate the game, and that could be by a first-year guy.
"After the first ball falls [in the postseason], everybody becomes a veteran."
• The Cubs continued their celebration Saturday at a bar near Wrigley Field, which pitcher Jon Lester had arranged. Maddon said he thought it was important for the players and people who are new to the playoff situation to experience it.
"It's special, and you never want to forget that," Maddon said.
He's also not worried about any letdown after the party.
"That's not the threat," Maddon said. "The threat is that the other team pitches better than us."
Carrie Muskat is a reporter for MLB.com. She writes a blog, Muskat Ramblings. You can follow her on Twitter @CarrieMuskat and listen to her podcast. This story was not subject to the approval of Major League Baseball or its clubs.