Rays' youthful outfield progressing despite growing pains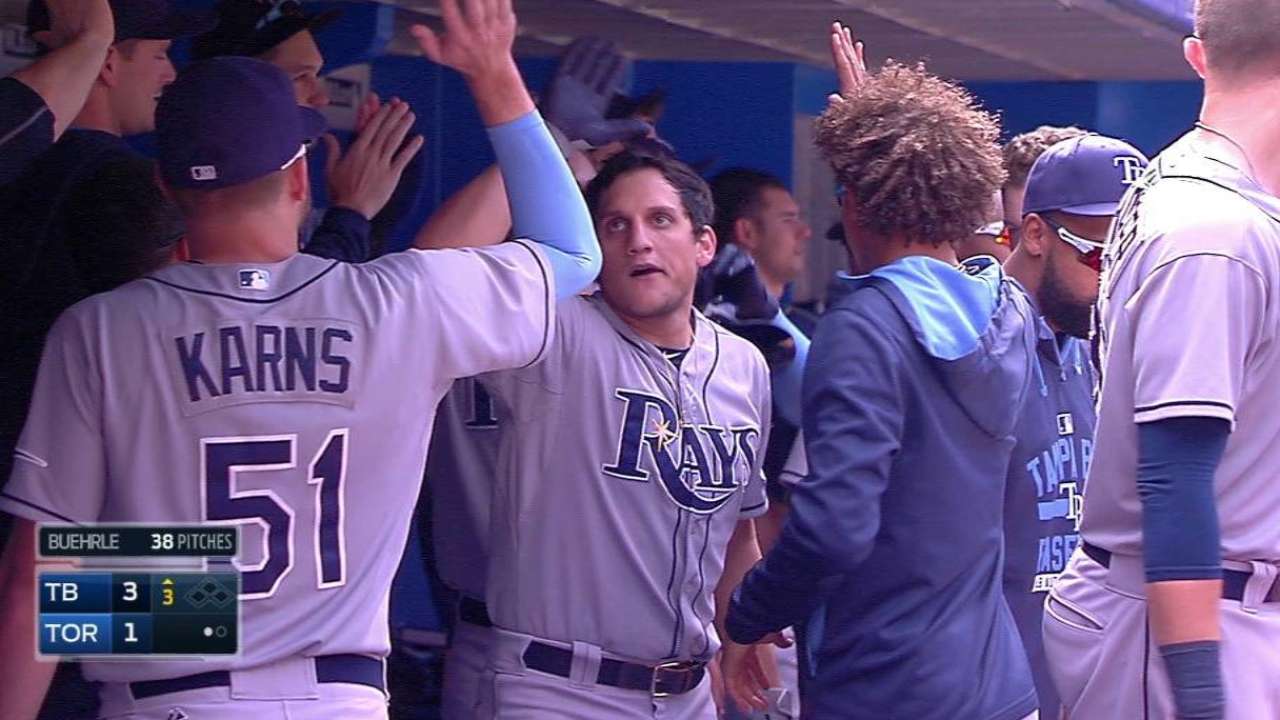 TORONTO -- Youth is fun to watch when it's operating properly, and that's what the Rays had going on Sunday with their young outfield in full swing.
Stellar center fielder Kevin Kiermaier had the day off, so Brandon Guyer started in left, Mikie Mahtook in center, and Steven Souza Jr. in right. The trio's combined efforts fueled a 4-1 lead the Rays could not hold in a 5-4, walk-off loss to the Blue Jays at Rogers Centre.
Guyer kicked off Sunday's showcase when he led off the game with a triple off Mark Buehrle and scored the game's first run on Logan Forsythe's single.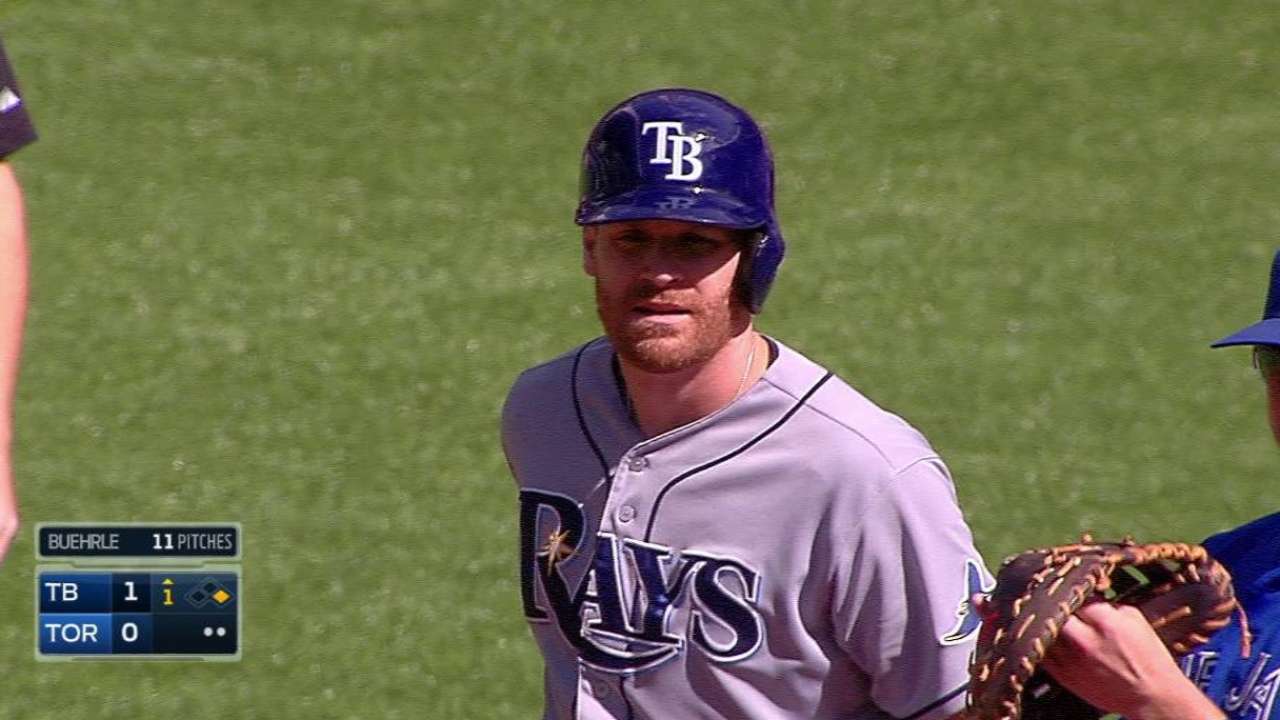 Guyer got on base again in the third, when Buehrle hit him with one out to bring Mahtook to the plate. After taking the first pitch for a strike, Mahtook drove a home run to right-center field. The rookie's sixth home run of the season gave the Rays a 3-1 lead.
"He got me my first at-bat," Mahtook said. "He's done it for years. He's a savvy pitcher and he knows what he's doing. I was trying to go up there and put up a good at-bat, and try to slow it down and see it deep. And I was able to see a good pitch and hit it out."
Five of Mahtook's six home runs this season have come against left-handers, and all six have come on the road. He has hit two of his six career home runs off Buehrle, including his first Major League home run.
Souza singled with one out in the fourth, then made a heads-up, hustling play by going from first to third on Tim Beckham's single to left. His initiative paid off when Richie Shaffer hit a sacrifice fly to left, driving home Souza with the Rays' fourth run.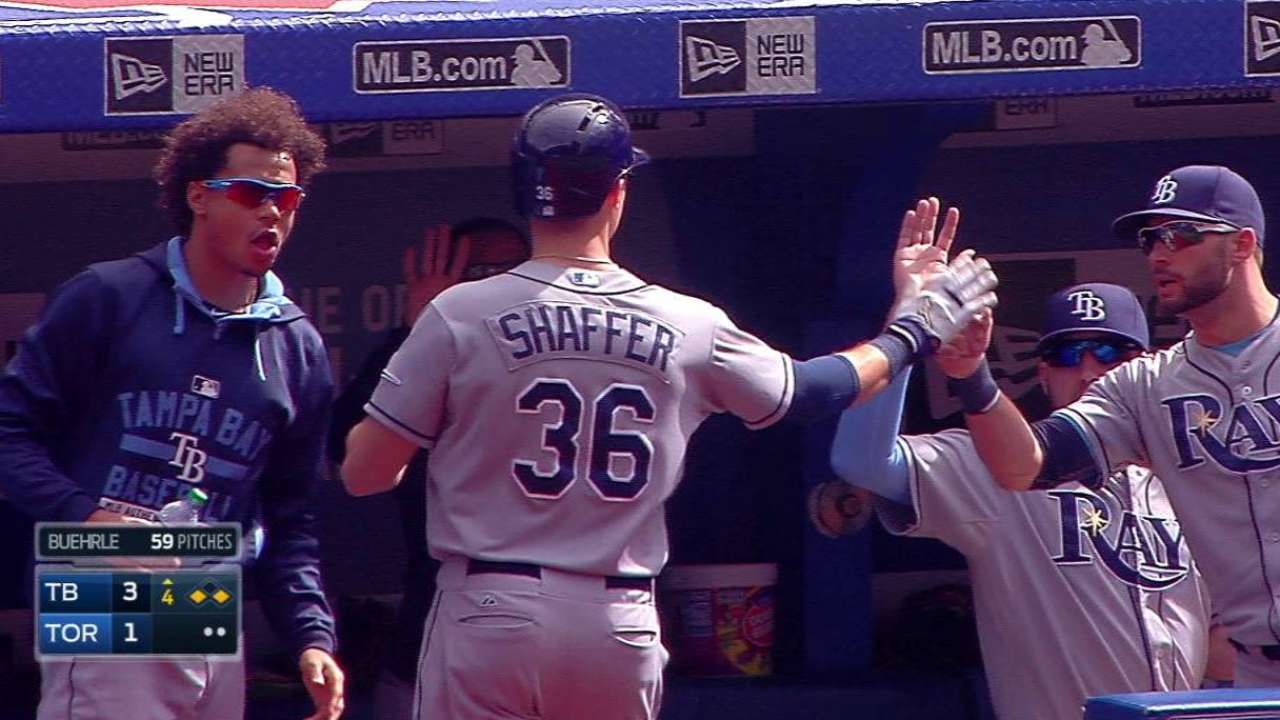 "I knew from playing out there, when the ball hits, it kind of jumps high, so he was going to have to catch it first and then re-direct and throw," Souza said. "That was going to take a lot of time. Once I saw that it was going to land short, I headed for third."
Mahtook got after it again in the eighth, when he led off the inning with an infield single and advanced to second on a throw that went into the stands. He then stole third base, putting him in great position to score with Evan Longoria at the plate and no outs.
Alas, youth will be youth. When Longoria grounded to third baseman Josh Donaldson, Mahtook broke for the plate, then headed back to third. Donaldson dove and tagged him out.
"The play at third was just, that was all me," Mahtook said. "Too over-aggressive. I shouldn't have gone. I kind of got lost in no-man's land. It's a play that shouldn't have happened."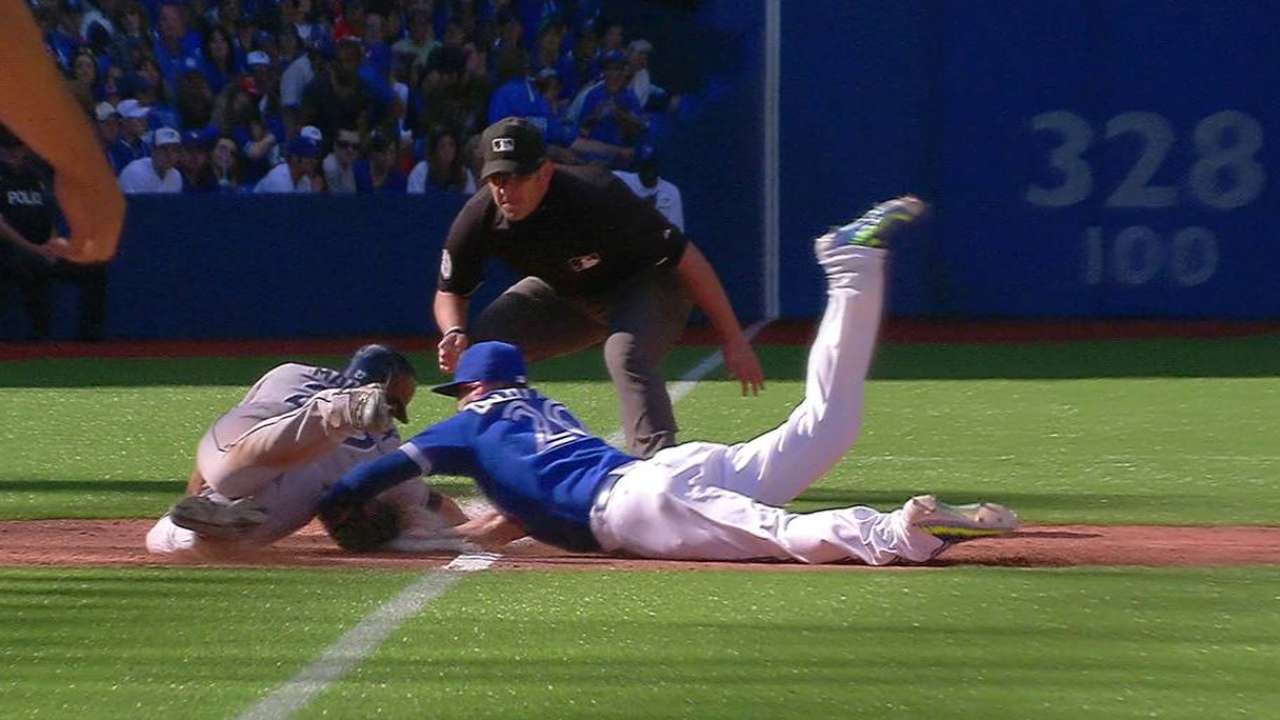 And there was the semi-collision between Mahtook and Guyer that took place when Ben Revere hit a ball to deep left-center field. Neither of the young outfielders could make the catch and Revere ended up with a double. He did not score, though.
"We were playing him shaded. We weren't really playing him deep," Mahtook said. "He got it, and it was one of those balls that was in the gap. And, as a lefty, hitting the ball in the gap, it's going to kind of fade. It just kept going and we were going after it.
"It's pretty tough to communicate out there. You don't hear very much. We were both going full speed after it. And I think, at the end, we kind of felt each other. And it got down. Luckily, our pitchers came up [big] and limited the damage."
Rays manager Kevin Cash was frustrated with some of the above, but he clearly can see a bright future.
"It is something nice," Cash said. "We love our players. We like the guys. They're learning on the job -- and it's like we've talked about, good experience."
Bill Chastain is a reporter for MLB.com. This story was not subject to the approval of Major League Baseball or its clubs.