Santana helps put Twins in good position
Right-hander pitches seven strong innings to position club well before crucial series vs. Tribe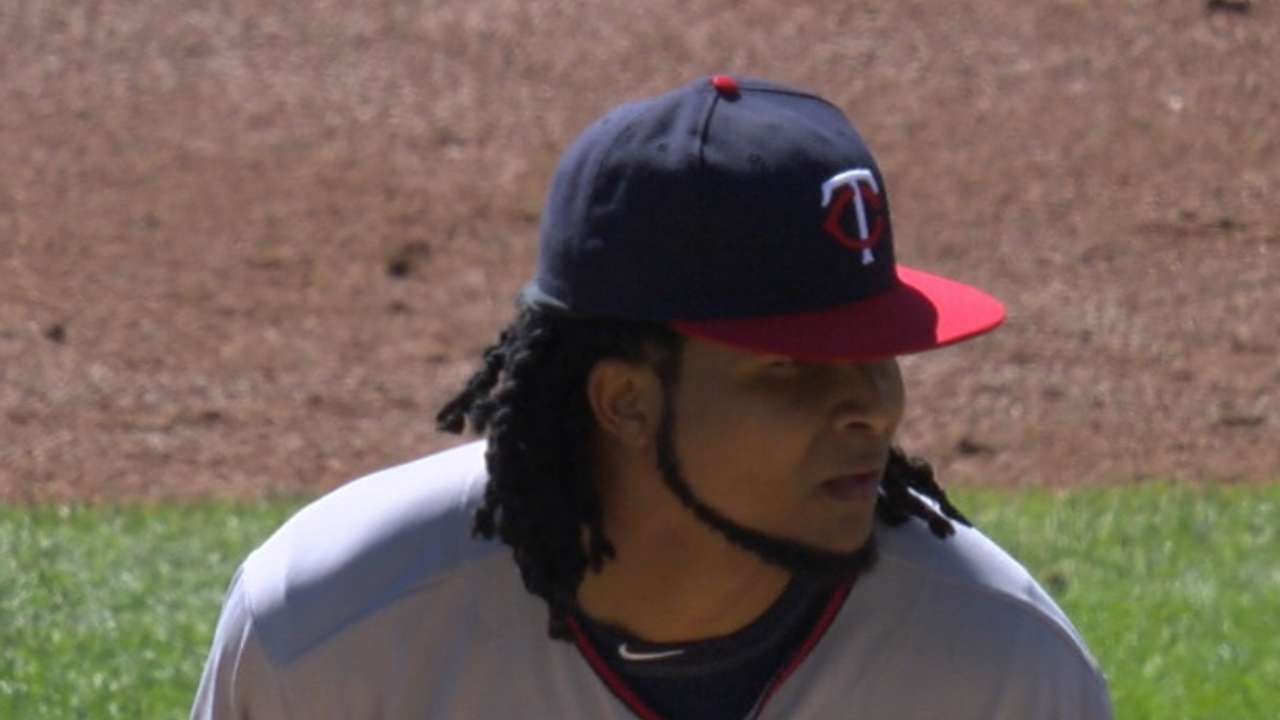 DETROIT -- When the Twins left Detroit after their first series of the year, they were 0-3 and were still reeling over the 80-game suspension of Ervin Santana announced just three days before the start of the season.
Things looked bleak for the Twins after four straight seasons with at least 92 losses, as they scored only one run in the three-game set. But much has changed since then, as the Twins left their final series in Detroit on Sunday with a 7-1 win that has Minnesota 1 1/2 games back of the Astros for the second American League Wild Card spot with seven games left in the year.
And it's been Santana who has been their ace for the last month as they've been making their unlikely push toward the postseason. The right-hander tossed seven strong innings, allowing one run on six hits, to mark his sixth straight outing of at least seven innings while allowing two runs or fewer. The Twins have lost just one of those six outings, and Santana has a 1.47 ERA over that stretch.
Santana can't pitch in the postseason because of his suspension, but he's trying his best to help the Twins get there for the first time since 2010 without trying to put any extra pressure on himself.
"I try to take it like any other game," Santana said. "I try not to put anything in my head other than to try to go out there and do my best."
Santana's effort led them to a series victory over the Tigers, and they're now headed to Cleveland for a crucial four-game set before finishing the year at home with three games against the Royals. The Indians are 2 1/2 games behind Minnesota, but they start Corey Kluber, Cody Anderson, Carlos Carrasco and Josh Tomlin in the four-game series.
"You keep trying to find ways to win," Twins manager Paul Molitor said. "Cleveland is right there and right behind us. So we have to go out there and find a way to win as many games as we can. They have really good pitching. You don't know what will happen in the other games, but you can't worry too much. You just have to try to win. It's nice to be coming off a win traveling there having won two games. We know what will be waiting for us. We'll see how we respond."
Santana said the Twins have the confidence to finish the regular season strong and pass the Astros, but now it's about executing and winning the games against the division-rival Indians and Royals.
"The chance is right there, but we just have to take advantage of it," Santana said. "We have to win series. Every game counts. We can't care about what the other teams do. We have to care about us. We're playing well. We just have to keep it going."
Rhett Bollinger is a reporter for MLB.com. Read his blog, Bollinger Beat, follow him on Twitter @RhettBollinger and listen to his podcast. This story was not subject to the approval of Major League Baseball or its clubs.