Move to 3rd-base side of rubber a success for Manship
Righty trying to become 1st Indians pitcher with sub-1.00 ERA in at least 30 appearances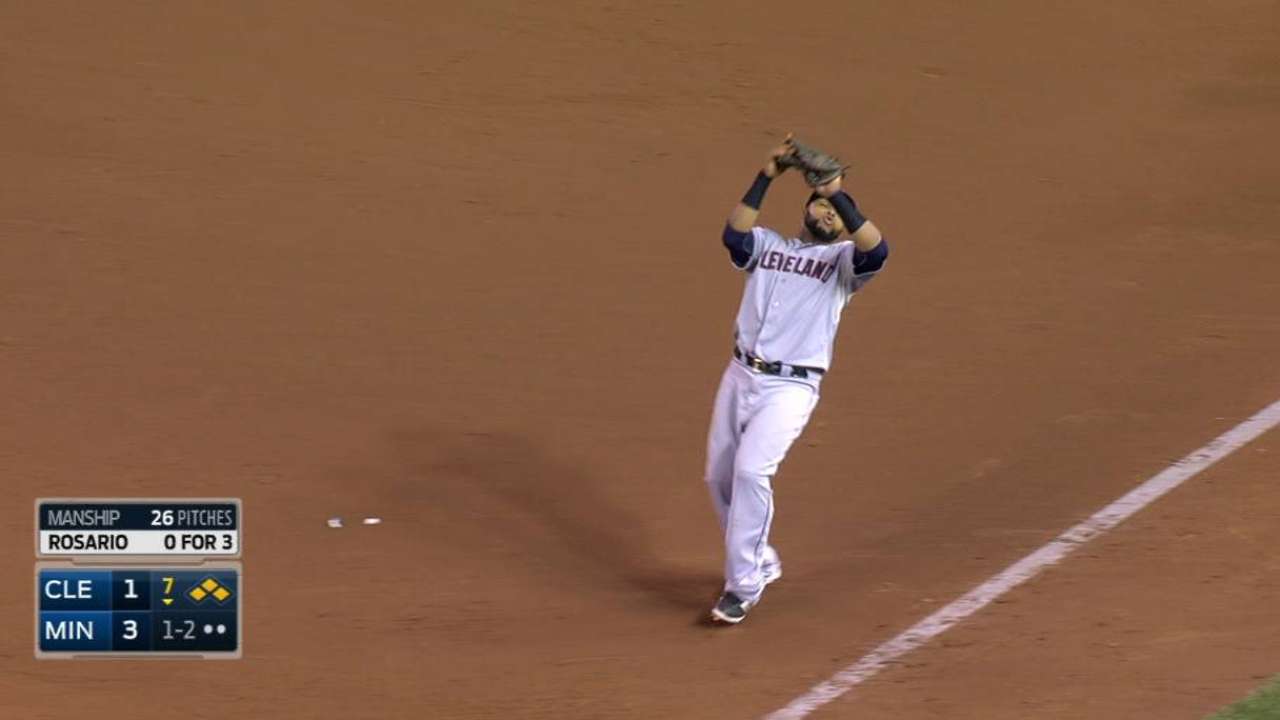 KANSAS CITY -- Jeff Manship has had a hard time explaining his incredible season out of the Indians' bullpen. After he logged two more shutout innings during Saturday's 9-5 win over the Royals, the right-hander looked as perplexed as anyone when asked how he has maintained his success.
"I just hope I can keep it rolling," Manship said.
The only change that Manship has been able to point to was an offseason decision to move to the third-base side of the pitching rubber. The result has been a different perspective both for the right-hander and the batter he is facing. He has found the strike zone with more regularity this year and batters have dealt with more deception and an uptick in velocity.
Can explaining Manship's season be as simple as citing his slight move on the mound?
"Maybe," Indians pitching coach Mickey Callaway said. "You're talking about a different viewpoint for the pitcher, and a different way your pitches are playing, as far as the angle they're coming in. He might be hitting a slot where it's just more comfortable for him to consistently find his release point."
Was key to Manship's success simply a move to 3B side of rubber? To an extent. Also, heightened velo, altered usage: pic.twitter.com/W2LK71OXYt

- Jordan Bastian (@MLBastian) September 27, 2015
Following his six-up, six-down outing Saturday -- a two-inning performance that "quieted" the Royals down, as manager Terry Francona phrased it -- Manship lowered his ERA to 0.97 through 30 appearances (37 innings). That is the best ERA this season among relievers with at least 30 innings. Royals relief ace Wade Davis ranked second with a 0.99 ERA, entering Sunday.
In the history of Cleveland's franchise, no pitcher has ended a season with an ERA of 1.00 or better with at least 30 appearances. Manship is on pace to become the first to accomplish that feat after posting a 6.46 ERA across the 2009-14 campaigns with the Twins, Rockies and Phillies. The righty allowed a .302 opponents' average in that six-year span, but has limited batters to a .163 mark this season.
Here's a look at how Manship's horizontal release point changed after this year's move to 3B side of pitching rubber: pic.twitter.com/DSI3VPrL1F

- Jordan Bastian (@MLBastian) September 27, 2015
Entering Sunday, Manship's opponents' batting average trailed only Davis (.147) and the Yankees' late-inning duo of Dellin Betances and Andrew Miller (.152 each), among AL relievers with a minimum of 30 innings. His 0.78 WHIP ranked second in the Majors to only Kenley Jansen (0.77) of the Dodgers.
"I think I'm just executing pitches a lot better than I did in the past," Manship said. "Throwing more often has helped instead of sitting down for a week and then having to throw."
To Manship's point, he has a higher first-pitch strike rate this season (62.5) compared to his career prior to this year (59.1). No longer a swing man, Manship has enjoyed career highs in velocity on all four of his pitches. He has also narrowed his focus to mostly sinkers and sliders, reducing the use of his four-seamer and changeup dramatically compared to previous years.
"The main thing I'm seeing is the confidence in the ability to go out there and get ahead," Callaway said, "and do things that may have eluded him in the past probably because of the roles he's been in. You come into a game as a long guy, you're going to stay in there until you start giving up runs. We started using him a little bit different than he had been used in the past. He started having some success."
Jordan Bastian is a reporter for MLB.com. Read his blog, Major League Bastian, follow him on Twitter @MLBastian and listen to his podcast. This story was not subject to the approval of Major League Baseball or its clubs.