MLB.com Columnist
Bill Ladson
Scherzer reflects on second-half struggles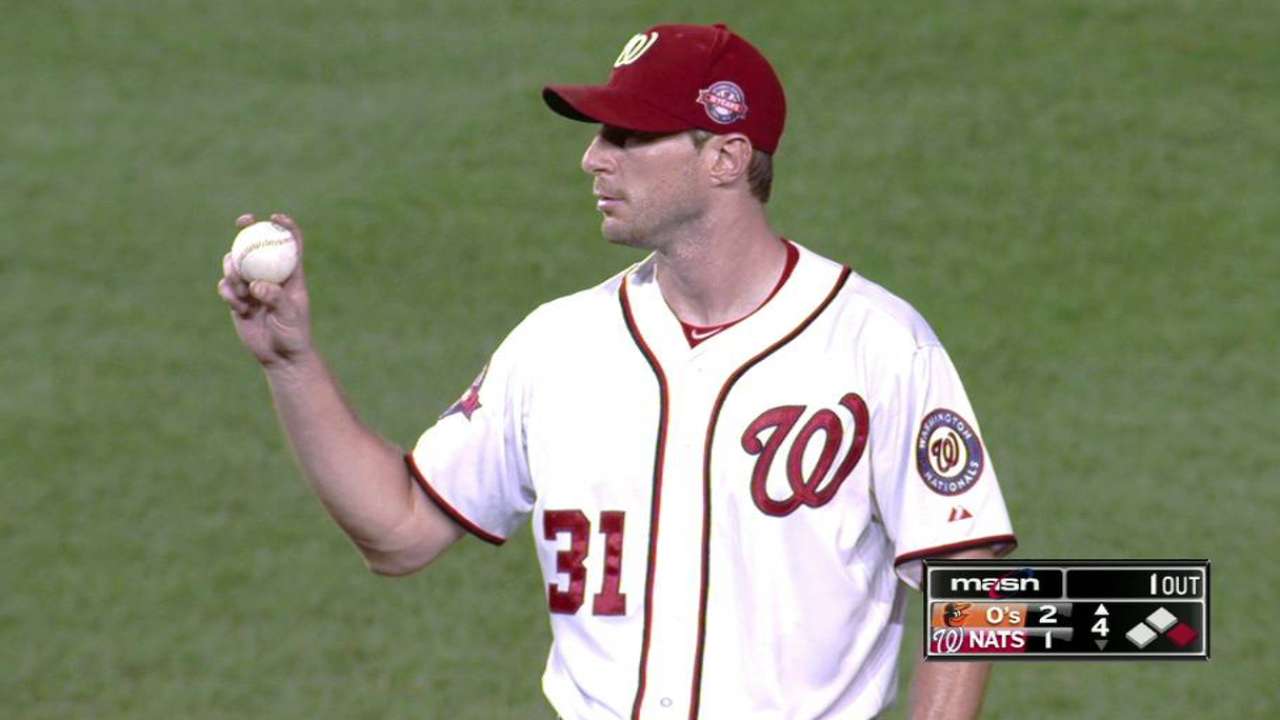 WASHINGTON -- On Jan. 21, Max Scherzer, Nationals manager Matt Williams, general manager Mike Rizzo and the club's ownership sat in the news conference room at Nationals Park and talked about potential.
The signing of Scherzer's mega-deal was the final piece to a Washington team that had seemingly become markedly stronger in the offseason after winning 96 games the year before. On Sunday morning, eight months removed from that day full of opportunity, Scherzer sat before his locker, surrounded by reporters, and answered one question after another about what went wrong.
"For us collectively to not achieve our goal, it's very disappointing," Scherzer said.
"When you have the type of talent that we have in this clubhouse and we aren't able to succeed, everybody needs to reflect on what they need to do better to be able to do what they need to do for 2016."
On Saturday night, the Nationals were officially eliminated from playoff contention, though the end had been approaching since a three-game home sweep at the hands of the Mets on Sept. 7-9.
The reasons for the underperformance are numerous, among them the starting pitching. Washington's starters entered Sunday having posted a 3.84 ERA -- 22nd highest in baseball -- a far cry from the historic numbers many expected from what might have been, on paper, the strongest staff in baseball.
Stephen Strasburg made two trips to the disabled list and posted a 5.16 ERA in the first half. Since the break, he has a 2.09 mark in nine starts with 85 strikeouts and nine walks, only resulting in more what ifs.
Doug Fister, a 16-game winner last year, joined Strasburg on the DL, but his troubles far surpassed forearm tightness. The right-hander was posting his poorest season as a starter before being demoted to the bullpen, which he handled like a professional while enjoying some success.
But Scherzer has been healthy all season, the first half of which he was perhaps the best in baseball. Before the All-Star break, he posted a 2.11 ERA, a 10/1 strikeout-to-walk ratio and 10 wins, though with better run support it easily could have been more.
Seomething was different in the second half, and that's what Scherzer will spend the offseason pondering. He allowed 17 home runs in his first 13 starts after the break, the root of his 4.41 ERA.
"I need to find a way to cut down the home runs. I've given up way too many home runs this year, that's been the symptom of why in my second half I haven't pitched as well as I know I'm capable of," he said. "That's going to take a while for me to digest everything after the season to come up with a clear-cut answer and really think about it."
Jacob Emert is an associate reporter for MLB.com. This story was not subject to the approval of Major League Baseball or its clubs.