Avila starts in possible last home game as Tiger
Catcher nearing free agency; Ausmus gives him nod for finale vs. Twins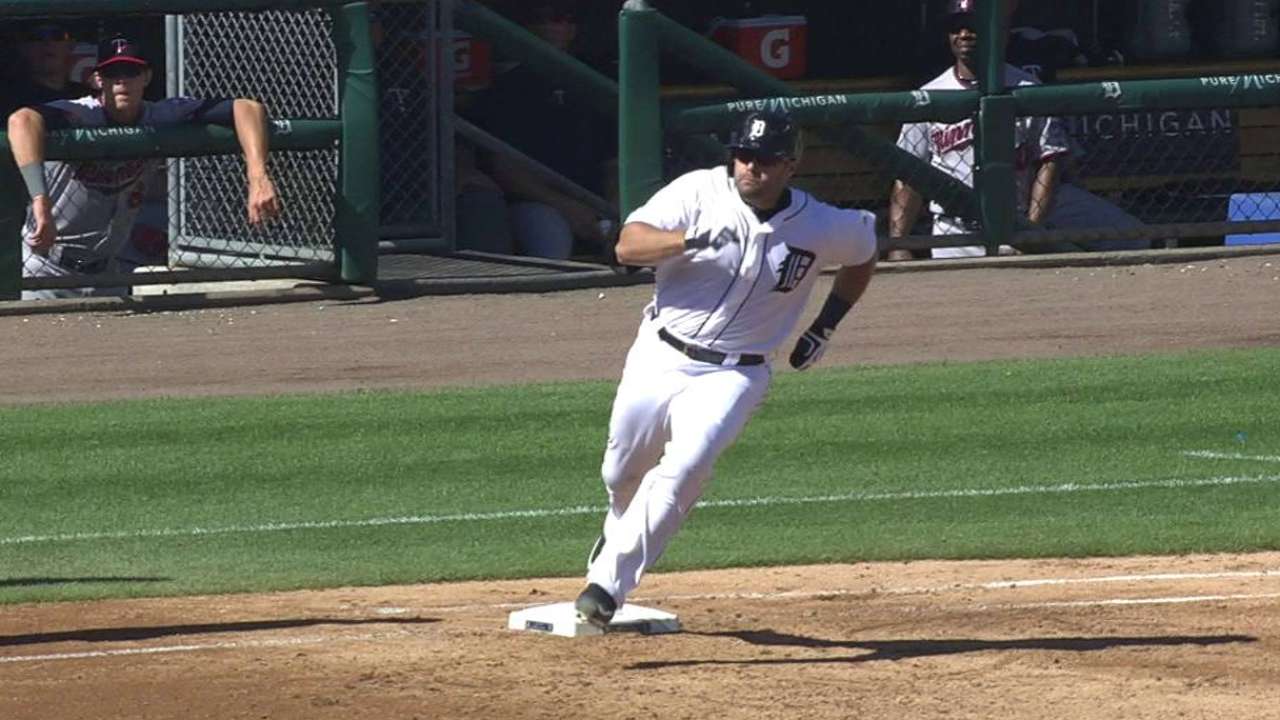 DETROIT -- Alex Avila has played in nearly 350 games at Comerica Park in a Tigers uniform. He understands Sunday may have been his last.
The catcher is a few short weeks from free agency, and a decline in offensive performance coupled with the unexpected success of rookie James McCann have cast doubts about whether Avila will return in 2016.
Understanding the situation, manager Brad Ausmus gave Avila the start during Sunday afternoon's 7-1 loss to the Twins in Detroit's final home game of 2015. The catcher went 1-for-3 with a double and a walk.
"The one thing that I've thought about over the past month or so is, obviously, there's a chance I may not be back," Avila said. "The hard part is not coming into this room [the clubhouse] every day, not seeing the people that I've seen for six years -- those relationships. That's what you think about. Everything else, I don't worry about any of that stuff."
This season has continued a downward trend for Avila, an All-Star and Silver Slugger Award recipient in 2011. His batting average, slugging percentage and OPS have dropped every year since. The catcher also missed nearly two months this summer with a knee injury, opening the door for McCann's success.
Ausmus isn't sure what is to blame for Avila's declining offensive productivity, but he noted the catcher's concussion-laden career as a possible explanation.
"From the outside looking in, I guess it's a little surprising," Ausmus said of Avila's struggles at the plate.
The manager insisted Avila -- the son of new general manager Al Avila -- hasn't and won't receive any preferential treatment, explaining he'll give an honest evaluation of the catcher's performance.
"It didn't really hit me until right before going out there that it could be my last [game]," Avila said. "I would have liked it to have ended differently -- that's how the game went. But I enjoyed myself."
Ausmus, along with several of Avila's teammates, praised the catcher for his leadership and "class-act" personality, including the dedication with which he mentored McCann while on the disabled list.
"He very easily could have disappeared and done his own thing, but he was in the dugout, he was in the locker room and he was constantly in my ear about game calling, about scouting reports," McCann said Saturday. "He was always there for me.
"He's a real team player. … He very easily could've wanted nothing to do with me, but he did everything in his power to help make me a better player this year."
Sunday, with two out in the ninth inning, Avila stepped into the batter's box for his final plate appearance at Comerica Park this season. After a warm round of applause, the catcher worked an eight-pitch walk.
"You want to be able to represent the organization and the city very well," he said. "I think that's something we've been able to do over the years."
Alejandro Zúñiga is an associate reporter for MLB.com. Follow him on Twitter @ByAZuniga. This story was not subject to the approval of Major League Baseball or its clubs.