Bour proving his worth with his power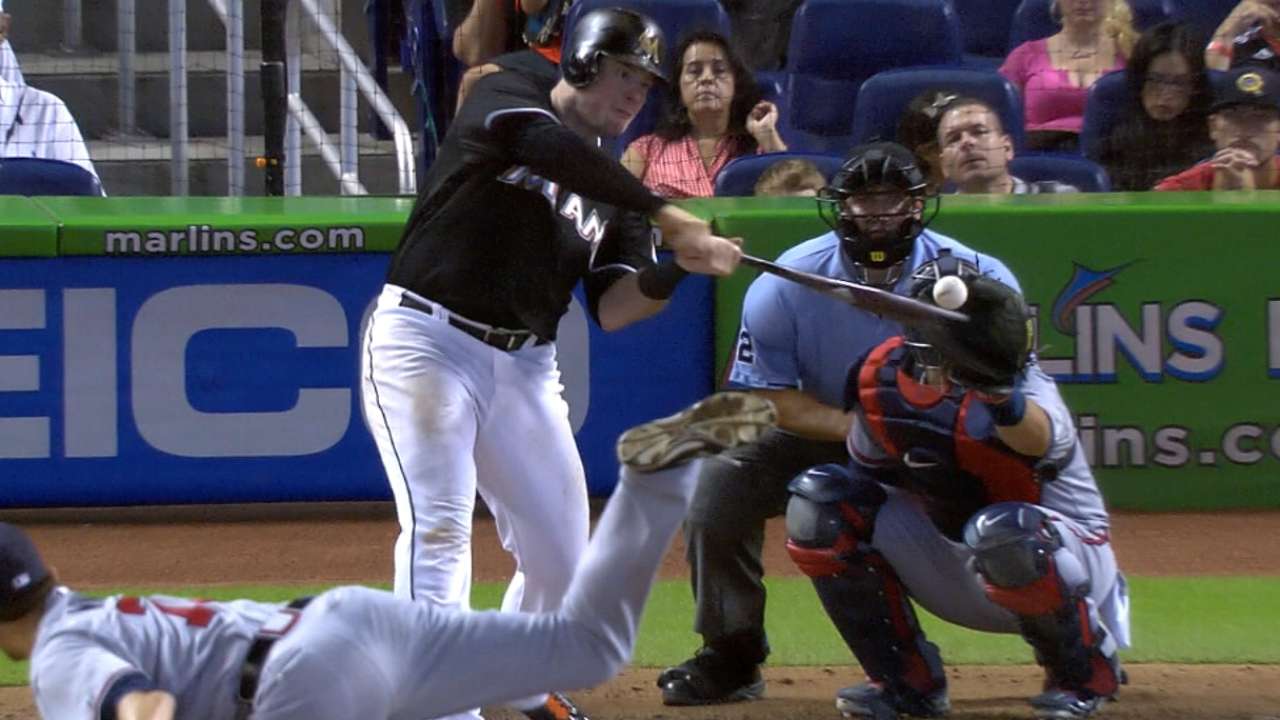 MIAMI -- The Marlins may not have to look any further than their own roster to find a power bat to protect Giancarlo Stanton in the middle of their order. Justin Bour is making his case to secure the role.
The 27-year-old launched two home runs, including his third first-inning home run in three games in the Marlins' 9-5 win over the Braves on Sunday. The two-run drive to right off Shelby Miller was an arching shot that the Braves asked for a challenge because it was unclear if it remained fair.
But after a review the home run held and he added an opposite-field shot in the seventh inning, which gave the first baseman his first career multi-homer game.
The blasts also gave the left-handed hitting first baseman 71 RBIs, which surpasses Stanton's 67 for the club lead.
Bour's 23 homers passed Stanton (2010) for the fourth-most homers by a Marlins' rookie. The club mark is held by Dan Uggla, who had 27 in 2006.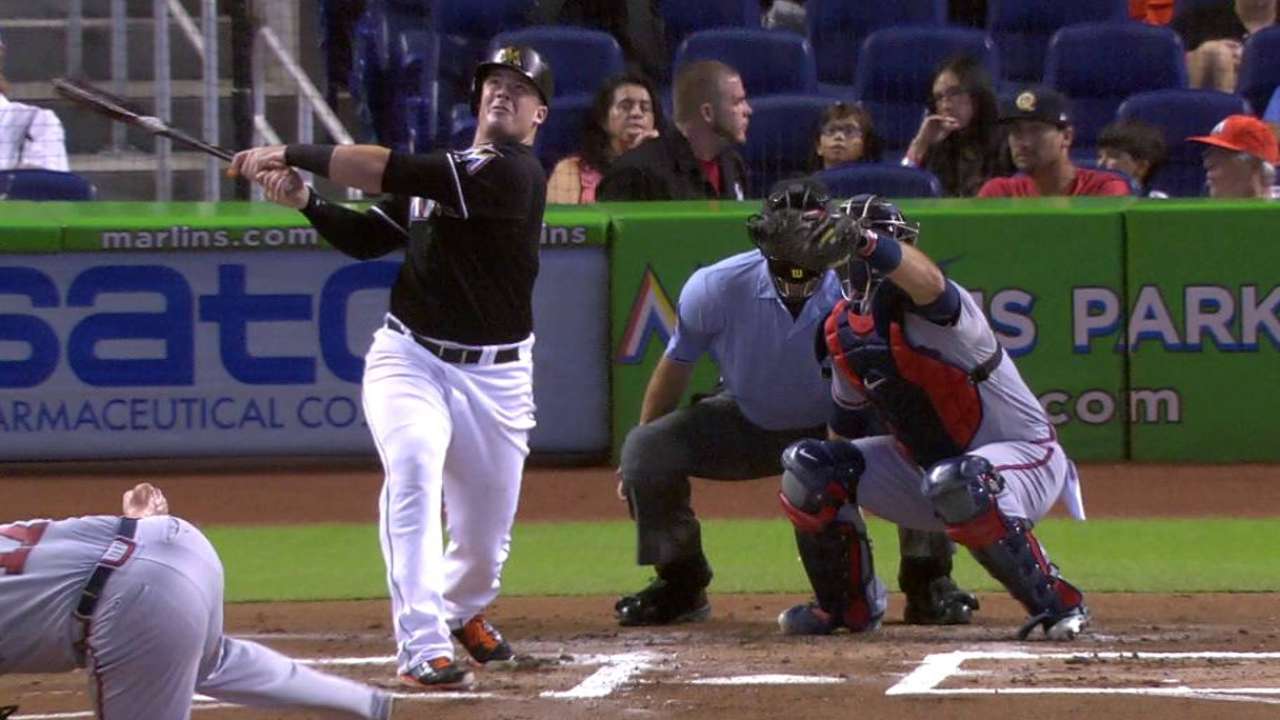 Since being promoted from Triple-A New Orleans in late April, Bour has seized his opportunity. He still has to prove he can hit left-handed pitching, and his defense needs some work.
In the offseason, Bour plans on working on his conditioning. And he plans on improving his all-around play.
"Obviously, I'd like to feel a little better, body-wise, going into next season," Bour said. "And continue to work on my defense, and pretty much everything."
Initially, Miami projected Bour as a 15-20 home run-caliber player. Now, they see potentially more.
"He can be a 30-35 home run guy with that kind of power," manager Dan Jennings said. "Again, he's a hitter first. I've said that the whole time. He has great rhythm with his hands. You make a mistake and he the ability to make you pay."
The way Bour has stepped up has the Marlins rethinking their offseason priorities. Rather than search for a regular first-base replacement, Bour has already shown 20-plus homer power. It's not an easy task for the organization, because they play in spacious Marlins Park.
Bour's 23 homers are the most by a Miami left-handed hitter since Logan Morrison belted 23 in 2011.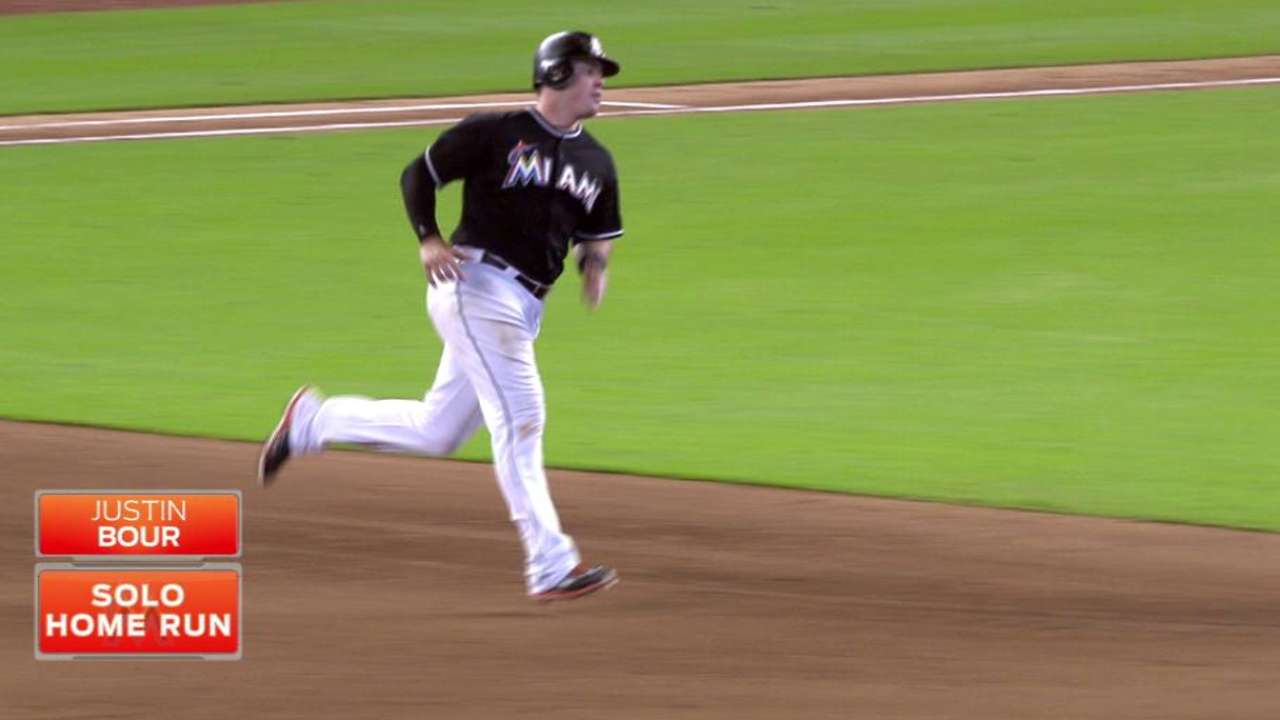 Having a lefty power bat also helps balance out the lineup for when Stanton gets back.
"You knew it was there. Now he's putting it together with good form," Stanton said of Bour. "The league adjusted to him after his first month, and now he's adjusted back."
When the Marlins signed Michael Morse to a two-year, $16 million deal in December, it was unclear what Bour's future would be. But when Morse struggled, Bour was promoted and made his season debut on April 25.
He played 14 games and had one homer in 51 at-bats with New Orleans before getting called up.
The Marlins traded Morse to the Dodgers in July mainly because Bour stepped up.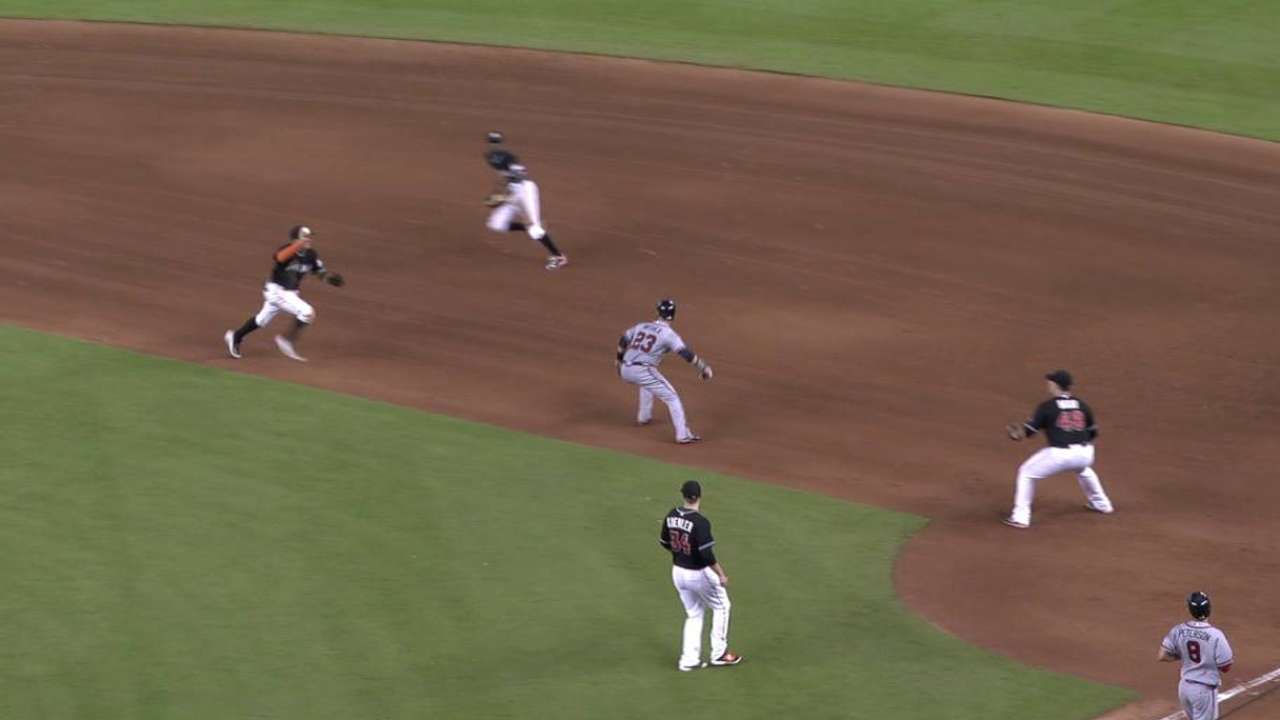 But, the Marlins didn't get a chance to see how the lineup would look with Bour behind Stanton, who has been out since June 26 with a broken left hamate bone.
Next year, they could be a formidable three-four tandem.
"He's taking tremendous at-bats," Jennings said. "When guys are making mistakes, he's getting them. He's making them pay for it. That's huge because one swing of his bat, you can put up two or three runs. That's big for us in the middle of that lineup."
Joe Frisaro is a reporter for MLB.com. He writes a blog, called The Fish Pond. Follow him on Twitter @JoeFrisaro and listen to his podcast. This story was not subject to the approval of Major League Baseball or its clubs.