Yanks weighing alternatives for Tanaka
Start against Red Sox, Wild Card Game in the mix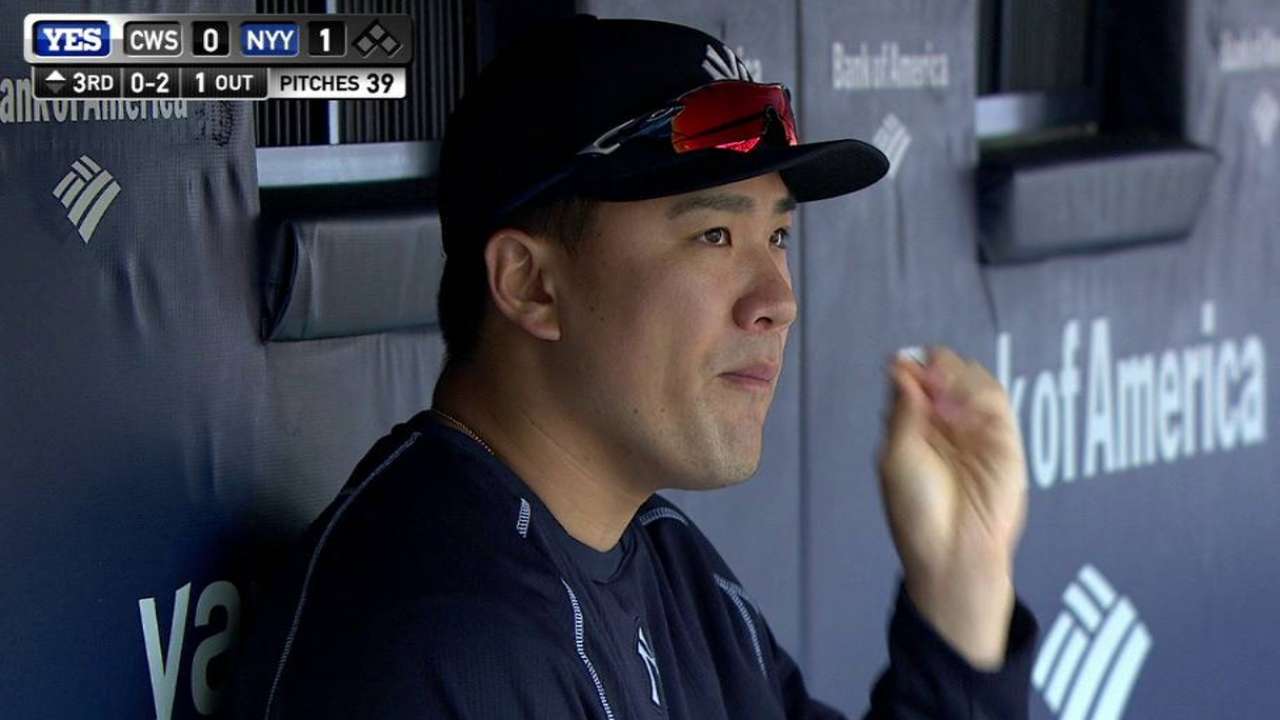 NEW YORK -- Joe Girardi searched for answers regarding Masahiro Tanaka and when he will make his next start for the Yankees, but the manager couldn't seem to find them Sunday morning.
Tanaka sustained a Grade 1 right hamstring strain Sept. 18 against the Mets and the Yankees are hopeful he'll start either Tuesday, Wednesday or Thursday against the Red Sox. If that's the case, what day exactly Tanaka will return is something Girardi doesn't know yet.
"That's something we have to decide on how he feels. I know everyone wants an answer, but it's really not that simple because of his value to us moving forward," Girardi said. "It's something you have to weigh. Is it worth the risk maybe moving it up a day or two days if you need him, to what could possibly happen? It's a careful situation that we're trying to manage. I wish I knew, really."
• Standings: Division | Wild Card
Girardi said based on how Tanaka felt, the pitcher could possibly run and participate in fielding drills Monday. Ivan Nova is slated to open the four-game set with the Red Sox on Monday, but the Yankees' probables aren't updated beyond that.
Girardi said Tanaka would have to start by Thursday if he was going to be able to start in both one more regular-season game and the American League Wild Card Game presented by Budweiser. A start after Thursday wouldn't give him enough days of rest for the Wild Card Game. If Tanaka doesn't make another regular-season start but does serve as the Yanks' pick for the Wild Card Game, Girardi will have to decide how the Yankees will prepare him after a long layoff.
"If that was the situation, you kind of talk about it and decide, maybe have him pitch an inning because it's been so long since he's been out there," Girardi said. "Thursday would be the cutoff, yeah."
After throwing a bullpen session Friday, Tanaka played catch on Sunday. The right-hander said he felt good and is pleased with his progression. He indicated that he felt strong enough to throw again.
Asked when he would take the mound again, Tanaka said that wasn't his decision. As for the potential Wild Card Game, that's not something he's thinking about yet, as the Yankees have not quite clinched.
"I don't think we're there yet. I'm not ready to talk anything about that yet," he said. "As for now, for me, I'm just happy with the way I'm progressing."
Grace Raynor is an associate reporter for MLB.com. This story was not subject to the approval of Major League Baseball or its clubs.