Red Sox establish emeritus role for Lucchino
COO Kennedy to take over as club president on Oct. 16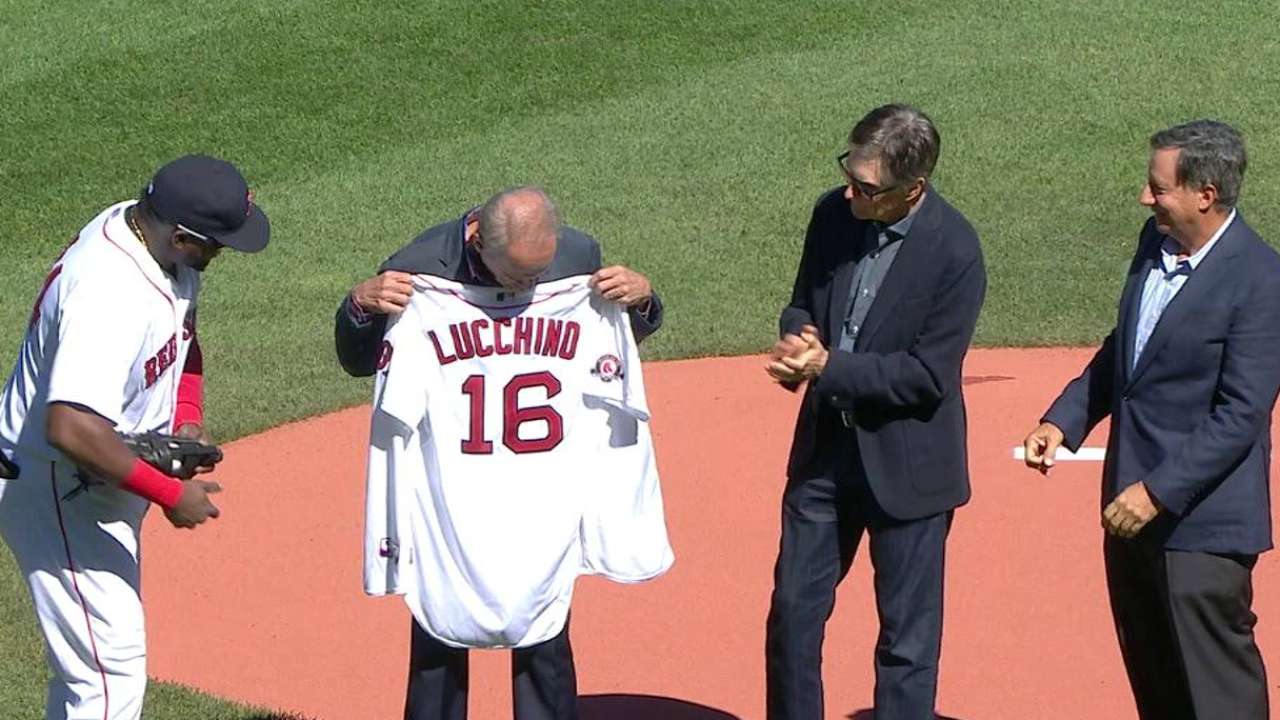 The Red Sox announced on Sunday that Larry Lucchino will become president/CEO emeritus when Sam Kennedy takes over as club president on Oct. 16.
In recognition of the announcement, Lucchino was honored in a pregame ceremony before Sunday's 2-0 win over the Orioles. During the ceremony, the team played a video tribute, he was presented with a "Lucchino" No. 16 jersey, and he threw out the first pitch to David Ortiz.
Lucchino's role will include being a participant in the strategic direction of the franchise and various issues facing MLB. He will remain a member of the Red Sox's ownership group.
The news of Lucchino stepping down was originally announced at the beginning of August.
"It's time for me to take a step back," Lucchino said. "I have been fortunate to work in baseball for over 36 years. These 14 years with the Red Sox have been the pinnacle. I love this team, I love this ballpark, I love this city, and I intend to remain active with the club and in the community."
Lucchino has been the Red Sox president/CEO since the club was sold to a group led by John Henry on Feb. 27, 2002.
"Larry has helped write a new chapter in the storied history of this franchise," Henry said. "He has brought boldness, vision and intensity each day to Fenway Park. He has also assembled an outstanding team around him, the hallmark of a great CEO."
Kennedy has been a vital member of the Red Sox organization since the group took over more than 13 years ago.
"Sam is the ideal person to now lead the Red Sox forward. I hired him in San Diego nearly 20 years ago, and it was evident from the beginning that he was a rising star," Lucchino said. "His passion for baseball, his business acumen, his extraordinary and positive energy and his ability to develop relationships have been constants throughout his career. He has a legion of admirers, and I am at the top of that list. All of us have long anticipated this succession. Sam will take over knowing he has the full support of our entire partnership."
Kennedy has local roots. He graduated from Brookline High in the early 1990s before attending Trinity College in Hartford, Conn.
"I understand what a privilege it is to work for the Boston Red Sox, having grown up just a mile from Fenway Park," Kennedy said. "I fully embrace the responsibility that comes with this opportunity."
Quinn Roberts is a reporter for MLB.com. This story was not subject to the approval of Major League Baseball or its clubs.