Arenado reaches 40-HR mark before CarGo's blast
Third baseman first to hit homer mark since Helton's 49 in 2001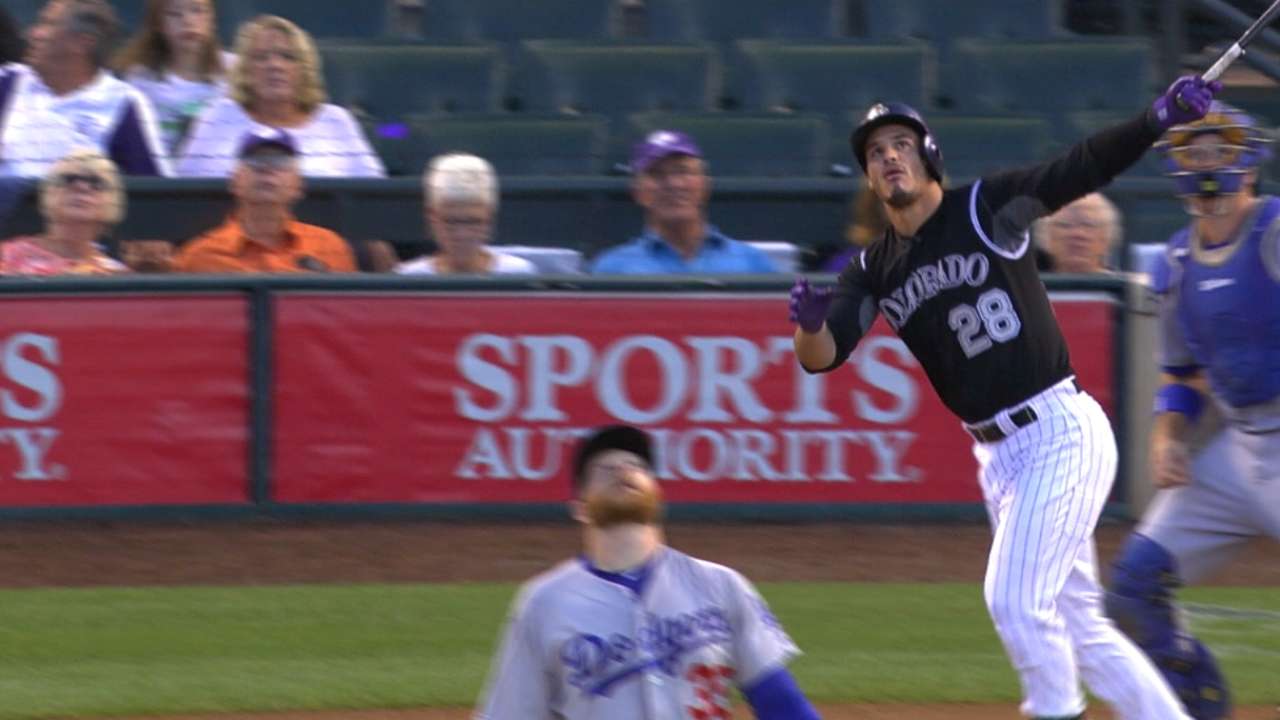 DENVER -- A crowd of 40,322 at Coors Field made it easy for the Rockies to act as if something was on the line Saturday night, and spoil things for the Dodgers -- who are close enough to taste their third straight National League West title. But Nolan Arenado and Carlos Gonzalez displayed real power, and delayed the Dodgers' celebration.
The Rockies took a dramatic 8-6 victory because of Arenado's 40th homer of the season -- a first-inning grand slam off starter Brett Anderson -- and Gonzalez's 39th, a two-run, game-winner with no outs in the ninth against Yimi Garcia. The Dodgers' magic number to eliminate the second-place Giants remained at two, all because of those last-place Rockies sluggers.
• Are Arenado and CarGo #AwardWorthy? Vote now in the Esurance MLB Awards
Arenado became the first Rockies player to reach 40 home runs since Todd Helton knocked a club record-tying 49 in 2001. And if Gonzalez hits another, he'll give the Rockies their first multiple 40-homer swingers since Larry Walker (49), Andres Galarraga (41) and Vinny Castilla (40) in 1997.
"It's exciting with what we have," Arenado said. "There are a lot of good things happening here."
The night didn't totally erase the Rockies' problems. The Rockies led 4-0 and 6-2, only to see the starting pitching, this time Kyle Kendrick, give it away. But the night also showed that anything is possible with No. 3 hitter Gonzalez and cleanup man Arenado, both of whom sent their homers to dead center.
"Nolan keeps adding to his unbelievable season," Rockies manager Walt Weiss said. "And CarGo, we saw him hit a ball out to center field the other day, and that's always a good sign. He did it again tonight."
The history of offense in Denver often is used to diminish the accomplishments of Rockies hitters. But in different ways, Arenado and Gonzalez have solid replies to criticism.
Arenado has hit 21 of his home runs away from Coors.
"It feels good, because I can hit on the road, too," said Arenado, whose 121 RBIs tie him with the Blue Jays' Josh Donaldson for the Major League lead. "People question that about some of the players here. I try to hit the ball hard on the road, and I try to do the same thing. There's nothing I do different."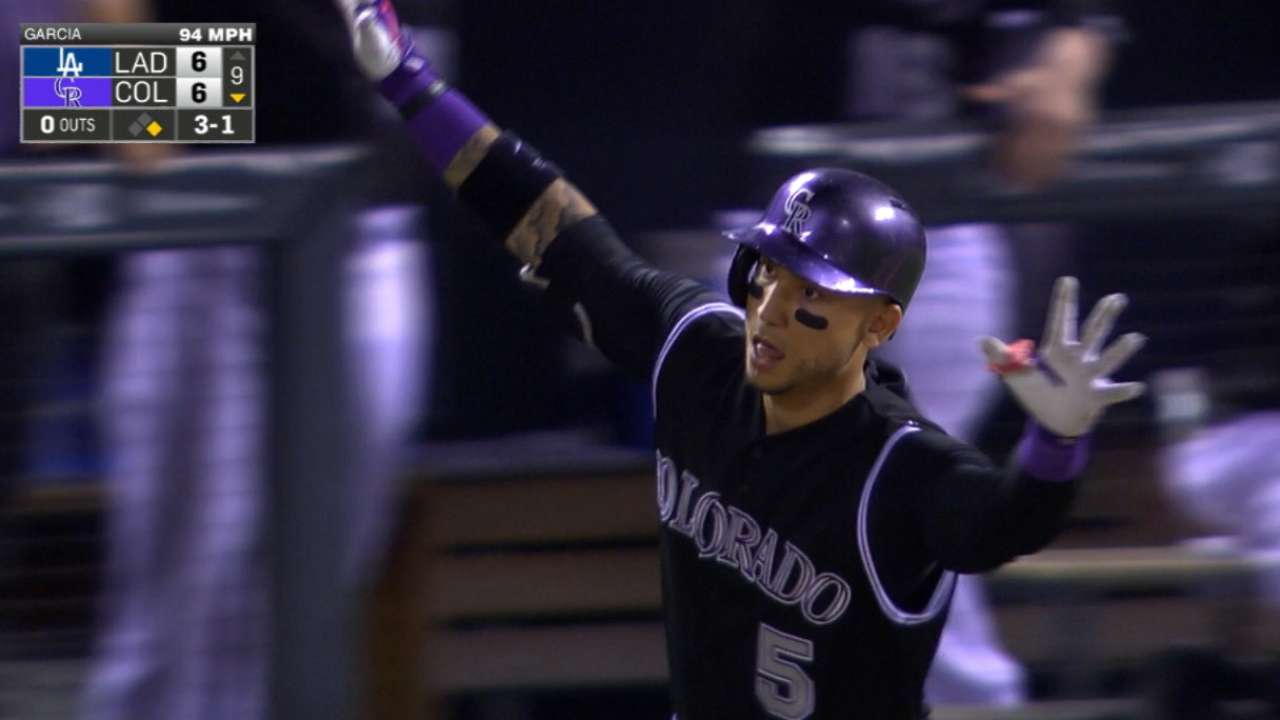 Gonzalez struggled through injuries to fingers on each hand in 2013 and 2014, and saw his season end early last year because of surgery to the left knee, which supports his weight on his violent swing. He also struggled through poor numbers and heavy criticism. But his 26 homers since the All-Star break are one fewer than Dante Bichette's 1995 club record.
"That's why it's even more special than even 2010, when I won the batting title," said Gonzalez, who won a game at Dodger Stadium on May 14 with a late home run, also off Garcia.
Also, Arenado is the first and Gonzalez stands to be the second Rockies players to reach 40 homers since the club installed the so-called "humidor" - a temperature-controlled chamber to store the baseballs to keep them from shrinking and hardening and becoming harder for pitchers to control.
Thomas Harding is a reporter for MLB.com. Follow him on Twitter @harding_at_mlb, and like his Facebook page. This story was not subject to the approval of Major League Baseball or its clubs.