Statcast: Trout stuns with latest robbed homer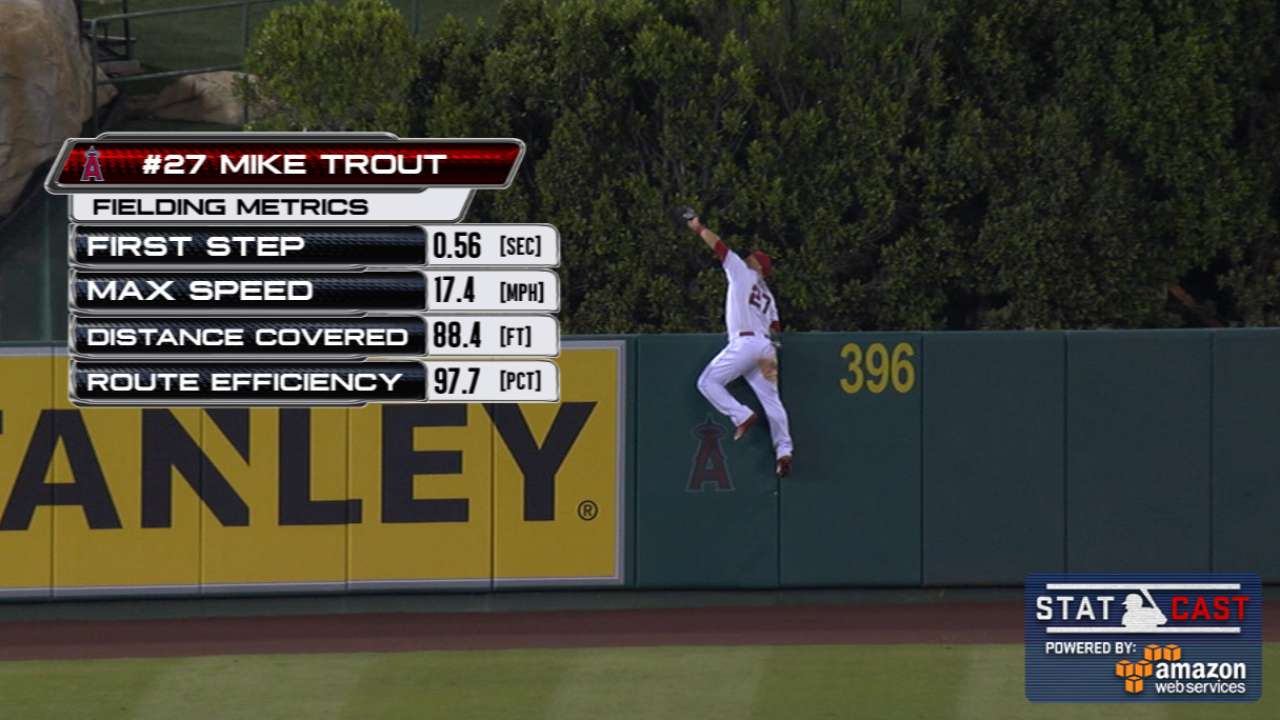 It's no secret that Mike Trout has established himself as one of the best all-around players in the game over the past few years.
This year is certainly no exception, as Trout has crushed a career-high 40 home runs at the plate, all while robbing more homers than anyone in the Majors in the field. On Saturday night, it was the latter that sent the Angel Stadium crowd into a frenzy -- and simultaneously ignited a firestorm on social media.
Trout made a catch-of-the-year nominee in the fourth inning on Saturday when he scaled the wall to rob Mariners first baseman Jesus Montero of a potential three-run homer. Statcast™ tracked the entire play to provide an in-depth look at arguably Trout's best home run-stealing grab yet.
Though Trout's jaw-dropping catch ultimately stole the show, there were plenty of other highlight-reel plays across the Majors on Saturday, including another homer robbery in Cincinnati. Elsewhere, Dodgers outfielder Joc Pederson and Cardinals infielder Kolten Wong made impressive diving plays of their own, though neither involved climbing any walls.
On the offensive side of things, Statcast™ tracked a few whopping home runs on the day, including two drives from the Astros and one each from the Angels and Pirates.
Here's a closer look at each of those plays, courtesy of Statcast™.
Trout makes catch of the year nominee
Starting with the aforementioned catch, Trout created an immediate buzz at Angel Stadium when he raced back and leaped well above the wall in center field to take away a sure home run from Montero. Trout reached a max speed of 17.4 mph on the play en route to covering a total distance of 88 feet. He was able to put himself in a position to perfectly time his jump, thanks in part to logging a route efficiency of 97.7 percent.
Though this one ultimately stands out above the rest, taking a near-perfect path to the ball is nothing new for Trout. In fact, he entered play Saturday having made a Major League-best 67 catches with a route efficiency of at least 97.5 percent. No other player had made more than even 62 such catches.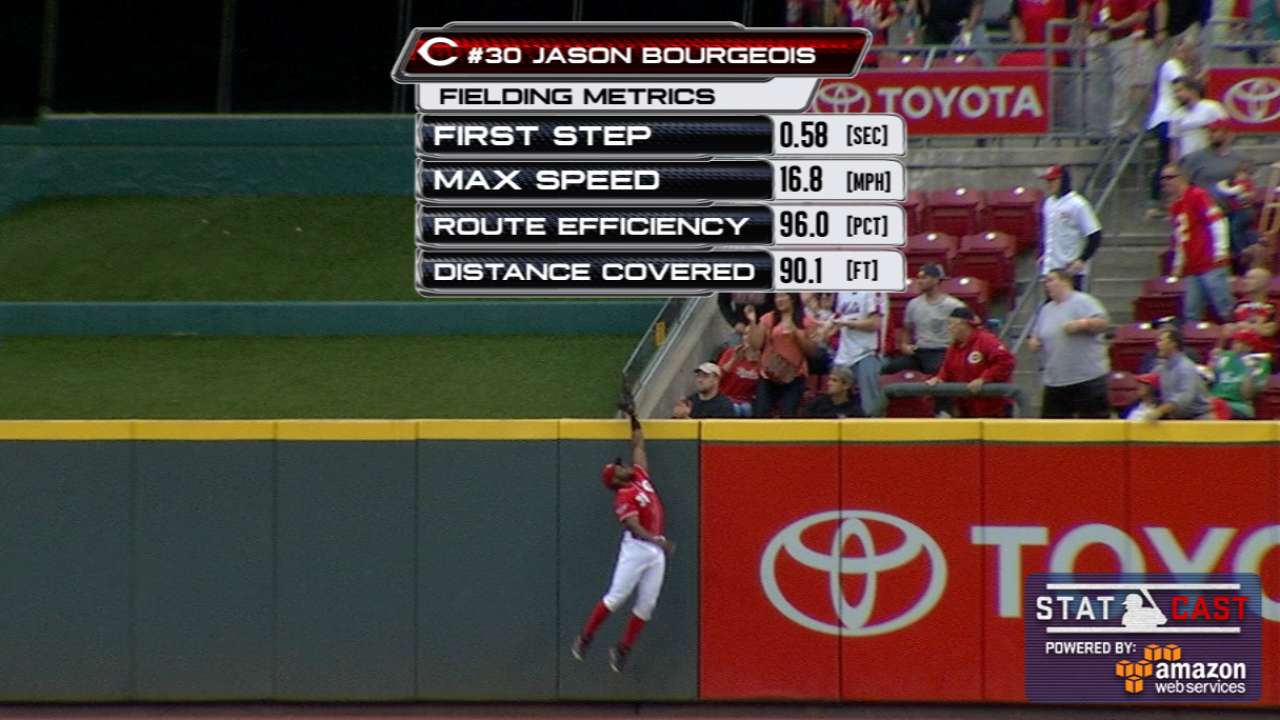 Bourgeois makes leaping, homer-saving snag
Though Trout's catch figures to dominate the highlights, Reds outfielder Jason Bourgeois took away a home run himself earlier in the day. Leading off the top of the fifth inning, Mets second baseman Daniel Murphy crushed a drive to deep right-center field. Bourgeois, however, took his first step just 0.58 seconds after contact and reached a max speed of 16.8 mph as he dashed toward the wall. He recorded a route efficiency of 96 percent, all while covering 90.1 feet before leaping to make the grab just above the yellow line.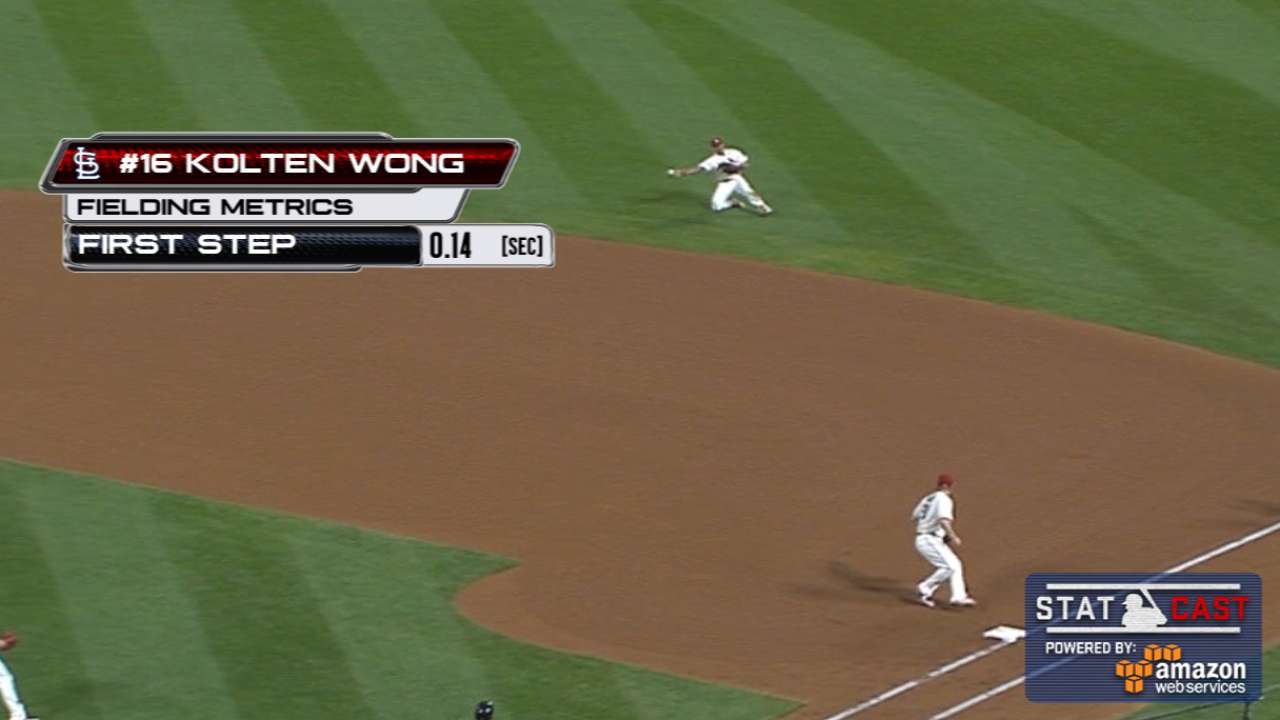 Wong flashes range, reflexes to take away a hit
Cardinals second baseman Kolten Wong put his full defensive arsenal on display with a third-inning gem against the Brewers on Saturday night. The play began with Wong taking his first step just 0.14 seconds after Milwaukee shortstop Jean Segura hit a hard ground ball to Wong's left. Wong then proceeded to reach a max speed of 16.6 mph on the play, as he covered 28 feet to make the sprawling stop. Despite throwing from a knee as he tumbled back to the ground, Wong still managed to fire a 66.7-mph throw to retire the speedy Segura, who reached a blistering max speed of 21 mph on his way to first base.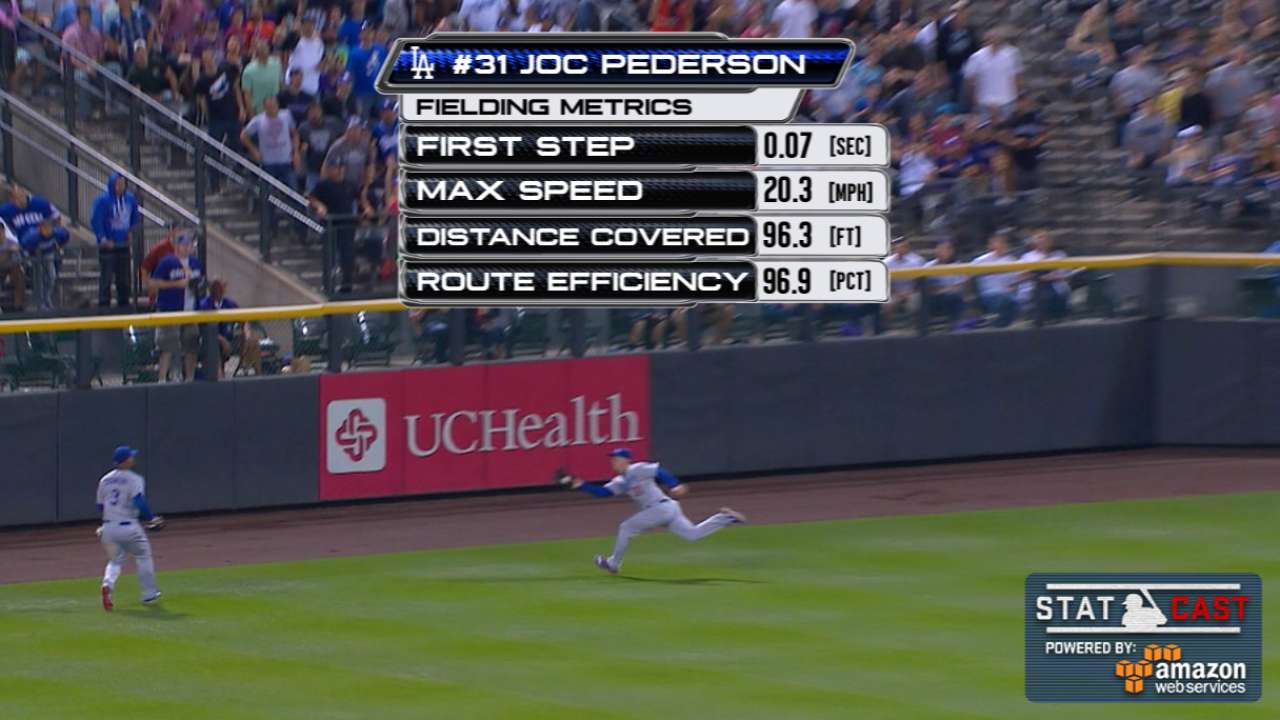 Pederson lays out near the track
Dodgers outfielder Joc Pederson found a different way to prevent a run in the seventh inning of an 8-6 loss to the Rockies on Saturday night. With the game knotted at 6 and the potential go-ahead run on second base, Colorado outfielder Corey Dickerson roped a ball deep into the left-center-field gap. Pederson reacted almost instantly, taking his first step in a lightning-quick 0.07 seconds after first contact. He then reached a max speed of 20.3 mph and logged a route efficiency of 96.9 percent en route to making a sprawling catch to cap off a 96-foot dash.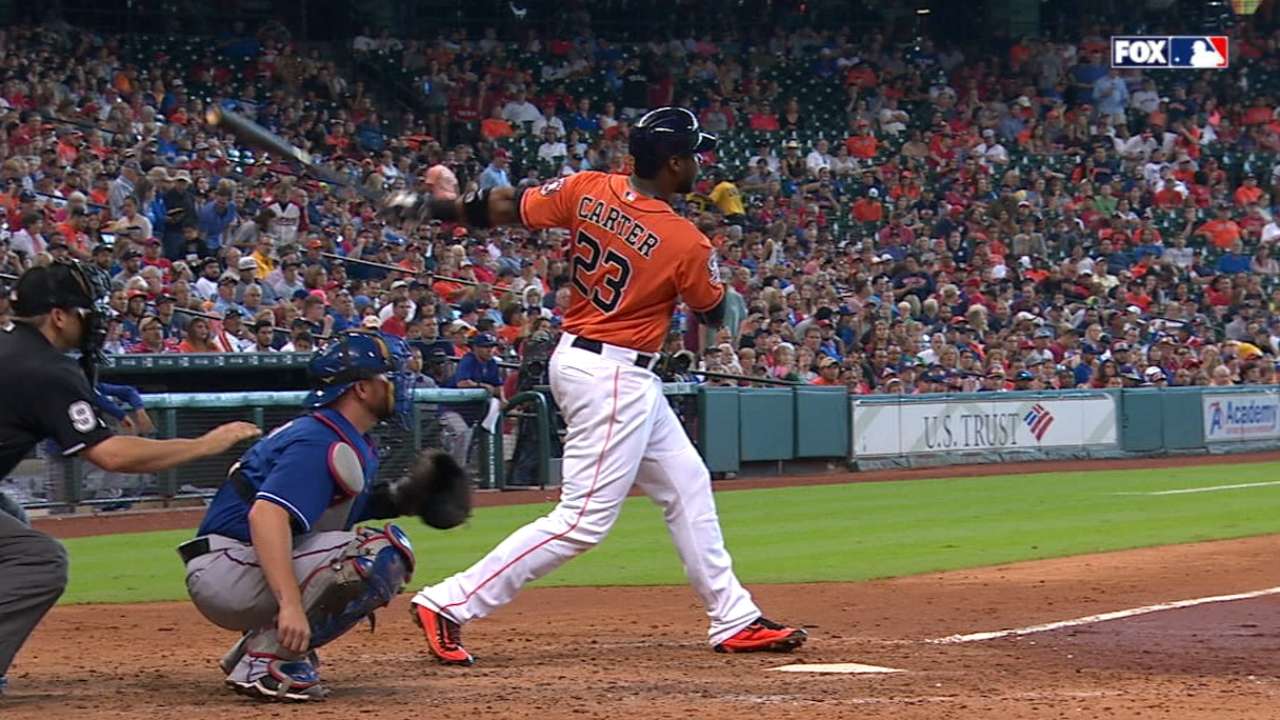 Carter hits a moonshot
Though the Astros teed off for six home runs in Saturday's 9-7 victory over the Rangers, none was hit harder nor traveled farther than the one mashed by Chris Carter. The Astros first baseman snapped a 4-4 tie in the sixth inning when he teed off for an absolute no-doubter off Rangers reliever Chi Chi Gonzalez. The ball left Carter's bat at a scorching 111 mph and traveled a projected distance of 430 feet from the plate before finally landing beyond the wall just to the left of Tal's Hill at Minute Maid Park.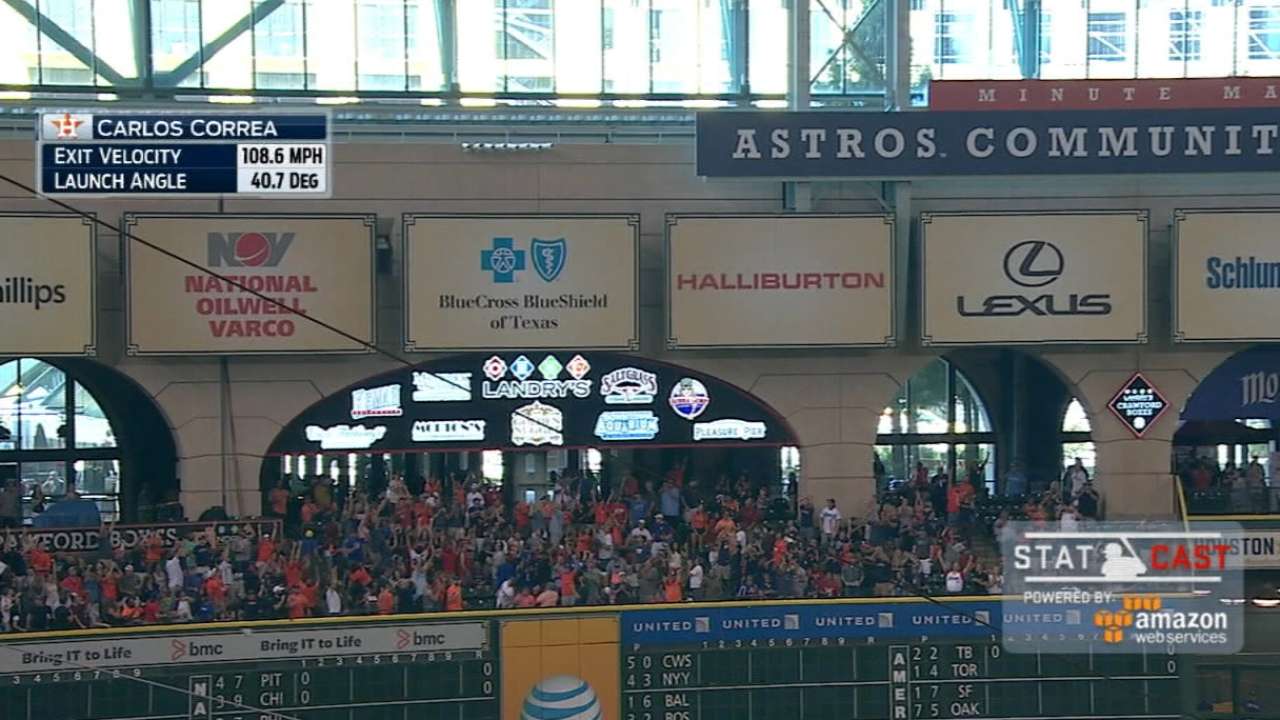 Correa ignites home run barrage
While Carter may have delivered the loudest drive of the game, it was phenom Carlos Correa who got things started for the Astros. The American League Rookie of the Year candidate crushed a solo homer in the first inning that registered an exit velocity of 108.6 mph and left the bat at a launch angle of 40.7 degrees. That steep angle resulted in a towering home run that proved to be just the first of two homers on the afternoon for Correa.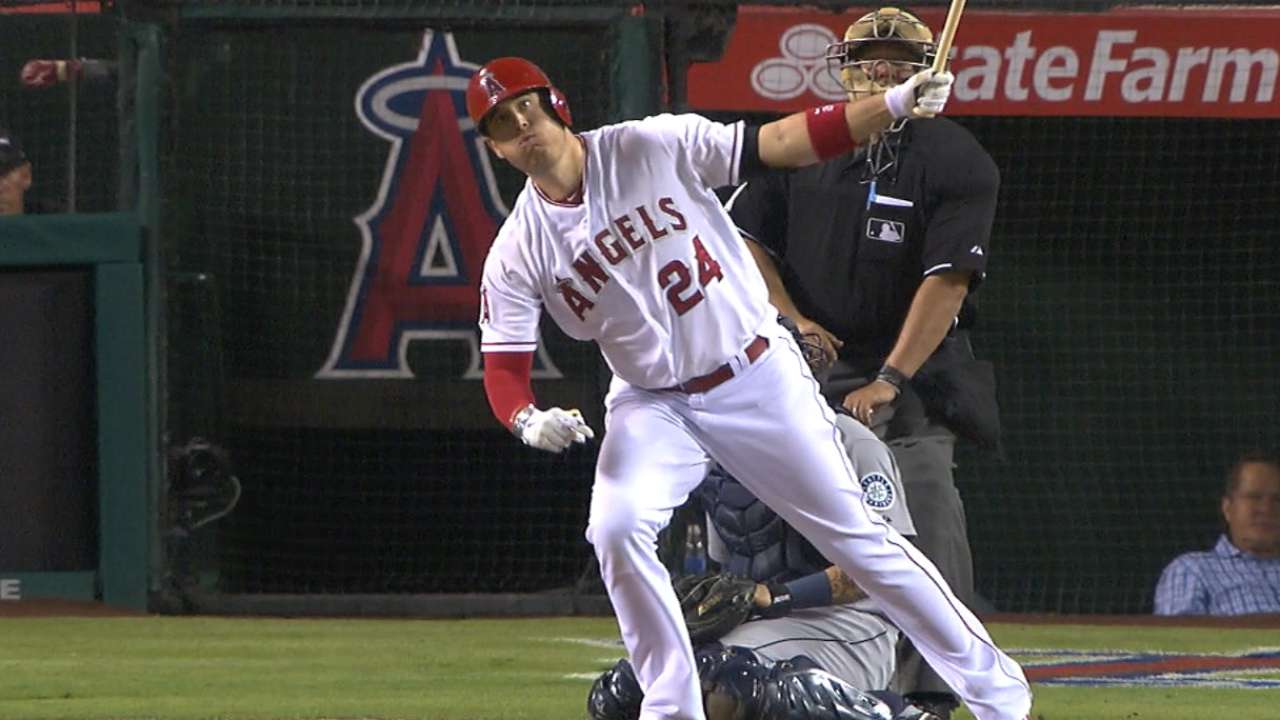 Cron crushes another homer
Two innings after watching his teammate rob a home run in straightaway center field, Angels first baseman C.J. Cron hit a ball in that same direction -- but made sure nobody could get to it. Though Mariners center fielder James Jones sprinted back to the track and scaled the wall in similar fashion to Trout, he could do nothing but watch as Cron's homer sailed not only over his head, but over the trees beyond the wall and onto the batter's eye. Cron unloaded on a 92-mph pitch from Felix Hernandez, turning it around at 109.8 mph and sending it a projected distance of 437 feet from the plate. The mammoth game-tying homer was nothing new for Cron, whose average home run distance of 408 feet is the highest among any Angels player.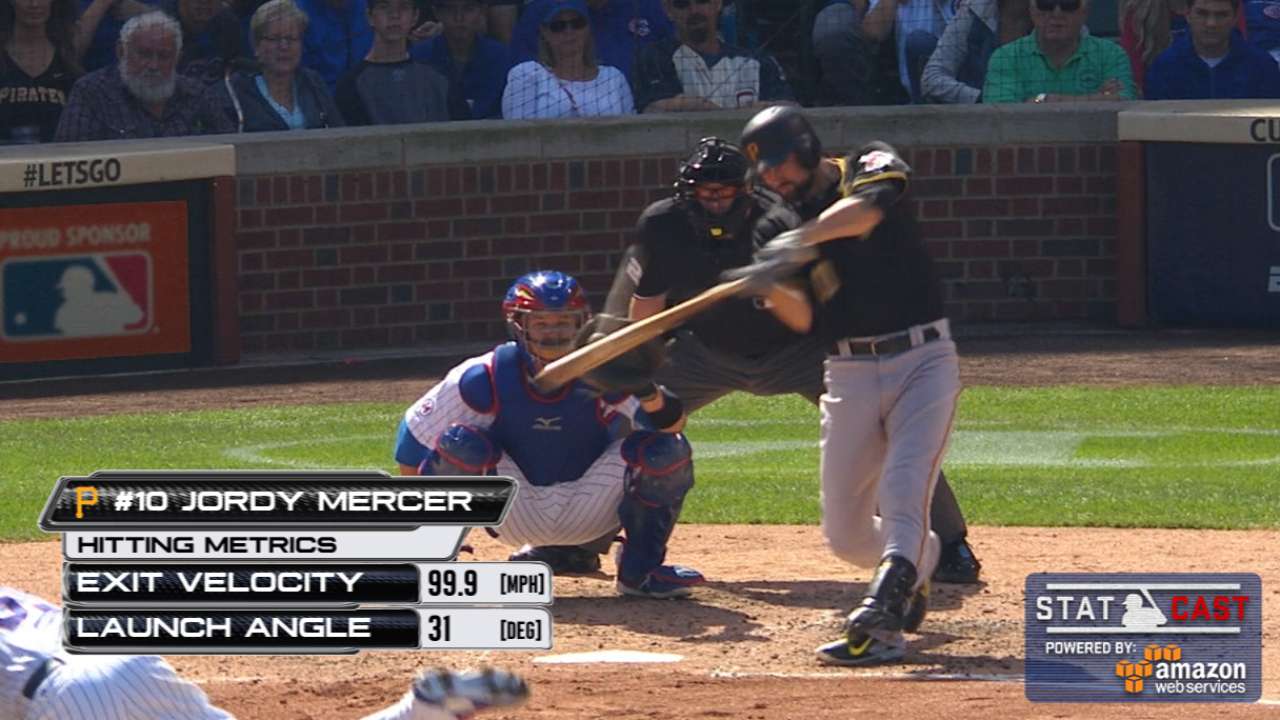 Mercer mashes go-ahead homer
Pirates shortstop Jordy Mercer snapped a tie in a big way on Saturday, crushing a three-run homer that proved to be the game-winner in a pivotal contest against the Cubs. With two runners on and his team locked in a scoreless battle in the fifth inning, Mercer sent a drive off his bat at 99.9 mph that traveled a projected distance of 384 feet from the plate and into the left-center field seats. It was only Mercer's third homer of the season -- and first since June 3 -- but it couldn't have come at a better time for the Pirates, who remained three games behind the National League Central-leading Cardinals with their win.
Paul Casella is a reporter for MLB.com. This story was not subject to the approval of Major League Baseball or its clubs.