Erlin takes no-hitter into sixth in rebound start
Padres starter gives up just two hits in seven frames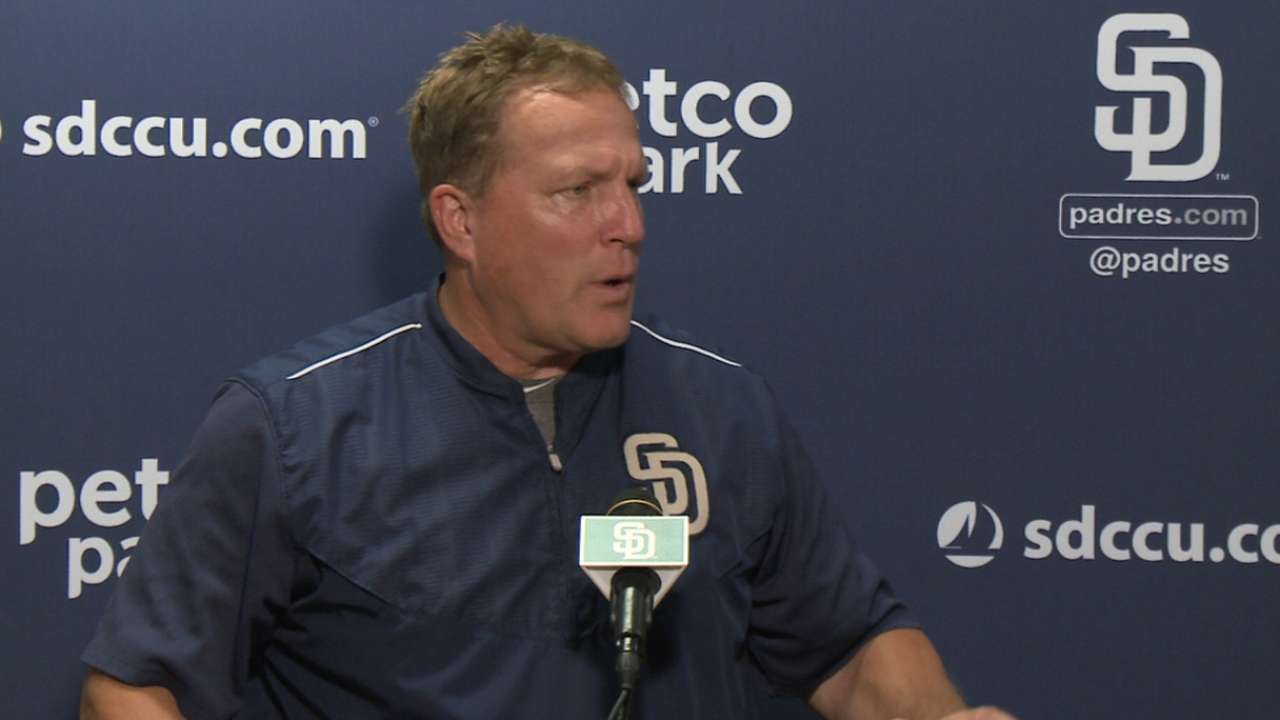 SAN DIEGO -- Same pitcher, but not the same result.
"A little bit different," the Padres' Robbie Erlin said with a wide smile.
Erlin (1-1) was sensational in stifling the D-backs on Saturday night in the Padres 3-0 win. He worked seven innings, allowing two hits and a walk and striking out four.
In the left-hander's previous outing on Sept. 19, it was who Erlin struck out.
He was blistered at Colorado for seven runs on nine hits and a walk in his first start of the season.
"You just forget about it,'' Erlin said.
He almost gave the Padres a night to remember. The D-backs didn't get a hit over the first 5 2/3 innings, until Ender Inciarte laced an opposite-field triple.
That's not quite late enough in the game to trigger a no-hitter alert. Then again, with the Padres never having achieved a no-hitter, it drew attention.
"I was thinking at one point that would be pretty unbelievable if Robbie Erlin throws the first Padres no-hitter with an 11-something ERA coming in.'' Padres interim manager Pat Murphy said.
Murphy was being kind -- a 21.00 ERA accompanied Erlin to the Petco Park mound.
Erlin said the no-hitter didn't cross his mind. Instead he was focused on the task at hand.
"In the last outing I left a lot of pitches over the middle of the plate,'' he said. "So I just tried to keep it out of the middle, keep it on the corners and below the zone as much as you can.''
He did that by spotting his fastball on both sides of the plate and complementing it with his changeup. His curve was so-so early, but he really didn't need it.
"It looked like he was changing speeds and his breaking ball didn't become effective until later in the game.,'' Arizona manager Chip Hale said. "He just stayed off the barrel and was competing. He was just better than us today. Give him credit, he did a nice job."
Unlike his last start, it was a good day at work for Erlin.
"Robbie was fantastic,'' Murphy said.
Jay Paris is a contributor to MLB.com. This story was not subject to the approval of Major League Baseball or its clubs.