Looking ahead, Tigers foresee quick turnaround
Although officially eliminated from postseason, club remains optimistic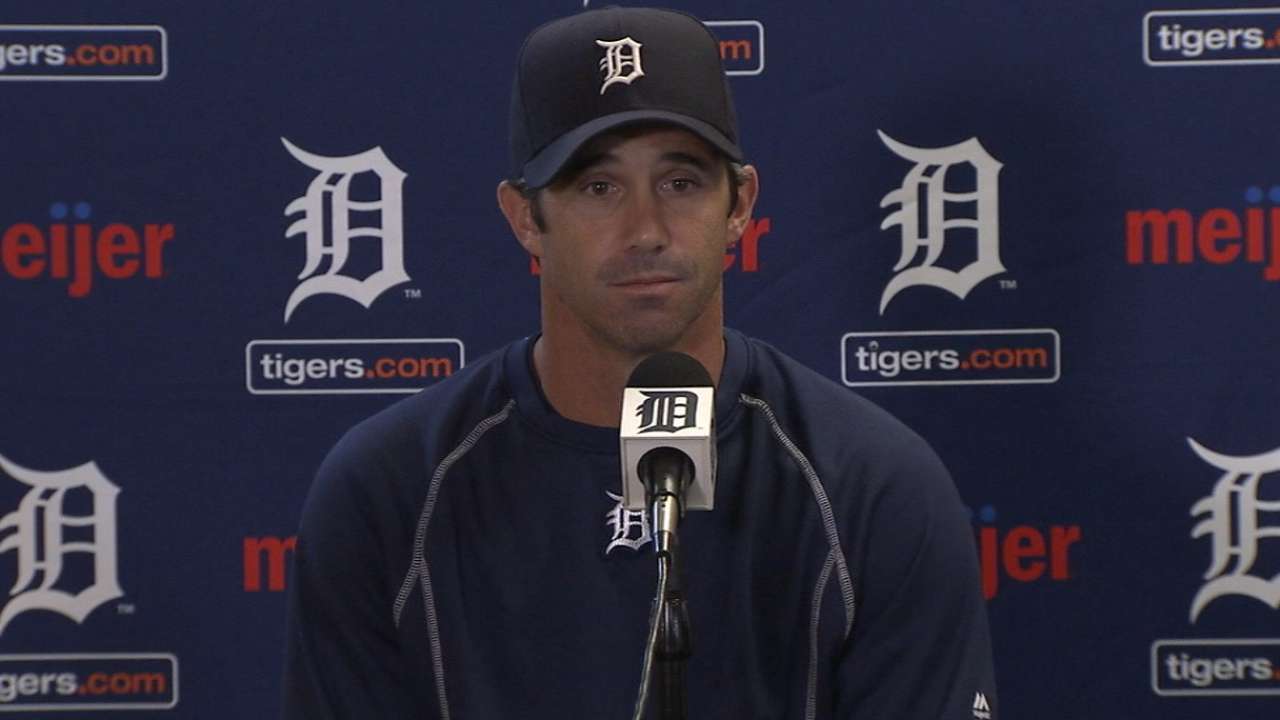 DETROIT -- The Tigers addressed manager Brad Ausmus' situation for next season Saturday afternoon, announcing he'll return. By the end of Saturday night, they were officially looking ahead to next year.
Although the Tigers' postseason hopes effectively ended in August, soon after they became sellers at the July 31 non-waiver Trade Deadline, they stayed in mathematical contention until now. Saturday's 6-2 loss to the Twins, combined with Houston's win earlier in the day, officially eliminated Detroit from postseason contention for the first time since 2010.
It was also the Tigers' 82nd loss, clinching the team's first sub-.500 record since 2008.
"It's been an uphill climb for a while," Ian Kinsler said. "I guess officially you can put an X next to our name or cross us off the list, I guess. It's really the only difference. It's been tough for a while."
Kinsler has been one of the most ardent veterans trying to push players through the stretch run, emphasizing the importance of playing out the full season. The focus arguably made a difference, in more ways than one.
The Tigers are 12-12 in September, their highest win total in a month since May, with a chance at their first winning month since they went 15-8 in April. They're 8-6 since rumors that Ausmus would be dismissed heated up two weeks ago.
Detroit's late-season performance with an increasingly young group of players was a factor in general manager Al Avila's decision to stick with Ausmus as manager for 2016.
"This team from Day 1, coming out of Spring Training, has faced a lot of adversity, a lot of injuries," Avila said. "It's been a very tough season, yet this team's not given up. I know we've made some mistakes on the field, but some of those mistakes come when you have young players."
Ausmus said that would have been the case no matter what his situation.
"It's just a matter of pride for these guys," he said. "The players are going to respect a manager despite what his contract status is. And the same thing applies to playing the game. Whether they're in the hunt or out of the hunt, when they step out onto the field, they have too much pride to do anything but their best."
With his situation settled, however, Ausmus is already looking ahead to next season and what needs to happen to get the Tigers back to contention. He doesn't believe the road back has to be long.
"I think it's a unique situation," Ausmus said, "because you do have a core foundation of guys that, I think if the right pieces are added, could be an excellent team. Quite frankly, we expect to win, and the goal is a World Championship."
Jason Beck is a reporter for MLB.com. Read Beck's Blog, follow him on Twitter @beckjason and listen to his podcast. This story was not subject to the approval of Major League Baseball or its clubs.