Tigers confident in Ausmus' leadership for 2016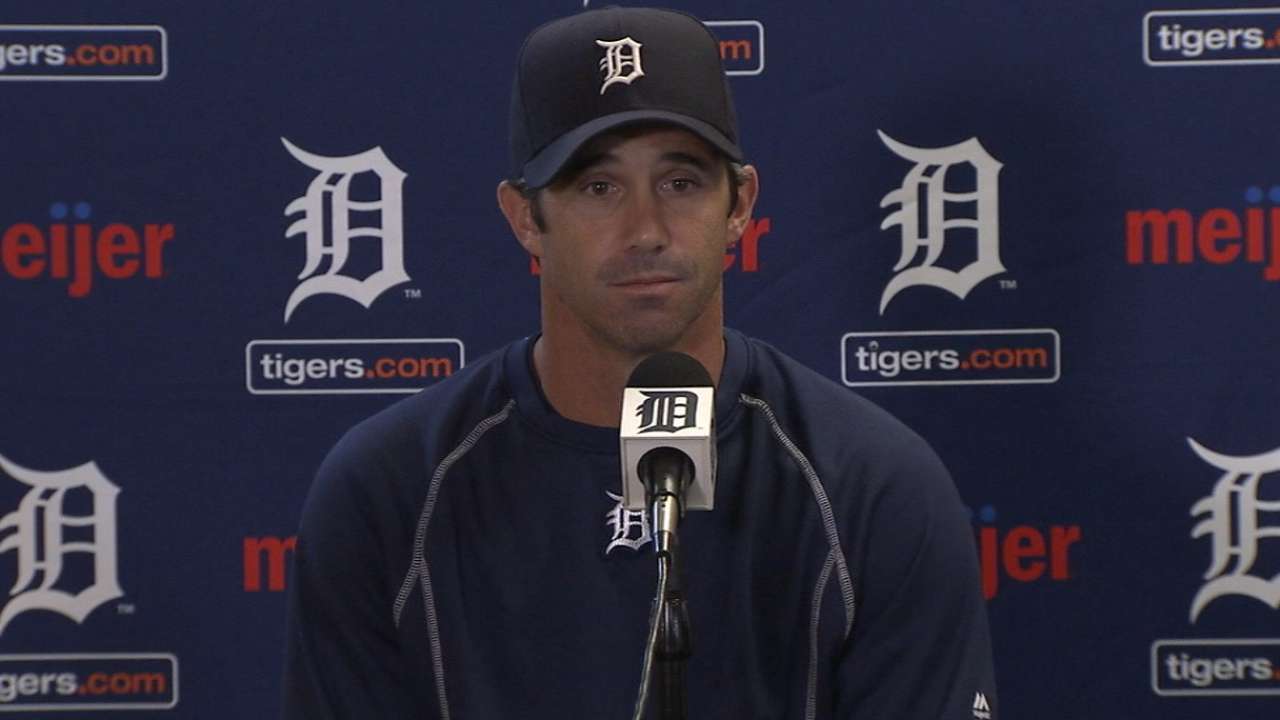 DETROIT -- Tigers catcher James McCann is a firm believer that a person will reveal his true character during adverse situations. For that reason, among several others, the rookie was pleased to learn Saturday afternoon that manager Brad Ausmus will retain his job through 2016.
"We've had our ups and downs, and it would be very easy to just hate life and hate coming to the ballpark, but he never did," McCann said,. "I think that speaks to who he is as a person as much as it does as a manager.
"He'd show up to the ballpark every day with a smile on his face to try to find a way to win. That's something that I really respect. When things are going bad, and you can still show up to the ballpark with a smile on your face, that says a lot about who you are as a person."
In Ausmus' second season at the helm, Detroit struggled in its first losing finish since 2008, snapping a four-year run atop the American League Central. General manager Al Avila cited the core of young stars -- McCann included -- and Ausmus' teaching abilities as reasons to retain him.
McCann praised Ausmus' managerial performance, attributing the disappointing year to a bevy of injuries -- to stars Justin Verlander, Miguel Cabrera and Victor Martinez -- and several other factors outside his control.
"I think Brad's a very, very good manager," McCann said. "I think that you can't point our struggles at him and say it was his fault."
Despite the struggles, the catcher said Ausmus' even-keeled demeanor served as an example for younger players. According to McCann, the manager's ability to ignore distractions -- such as when several reports emerged saying he'd be fired after the season -- helped unify the clubhouse during frustrating times.
That sentiment was echoed by reliever Blaine Hardy, who complimented Ausmus for enduring without complaint in what Hardy deemed as unwarranted blame.
"That's one thing I like about Brad: He has no problem taking responsibility, whether it's his responsibility or not," Hardy said. "He'll take the heat if there's any doubt whether it's his fault or someone else's fault. With as much heat as he's gotten this year, I think he's ready for any season to come. The fans seemed to think if we lost, it was his fault. There's only so much he can do."
As Avila explained Saturday afternoon, retaining Ausmus and his staff will also provide another year of consistent management for a crop of rising contributors, including rookie starter Daniel Norris.
"I'm really excited for it," Norris said of Ausmus' return. "The relationship I've built with Brad and Jonesy [pitching coach Jeff Jones] -- you know, I wanted them to come back, because I feel comfortable with them, and I feel like we're all on the same page. I think it was a really good move."
Alejandro Zúñiga is an associate reporter for MLB.com. Follow him on Twitter @ByAZuniga. This story was not subject to the approval of Major League Baseball or its clubs.