Duffey proving himself in big way down stretch
Rookie right-hander pitches six strong innings in win vs. Tigers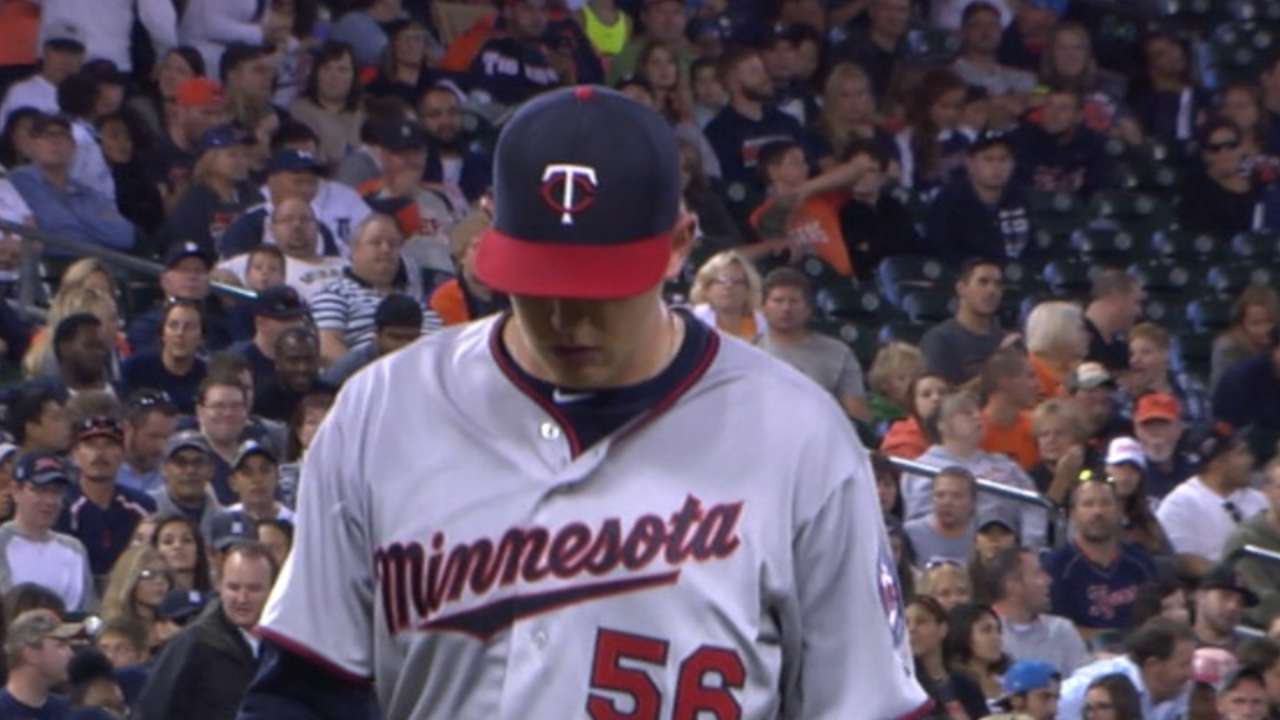 DETROIT -- While the Twins have been trying to monitor rookie Tyler Duffey's workload down the stretch, the right-hander has shown no signs of fatigue and has been lights out ever since his shaky debut in Toronto on Aug. 5.
Duffey played the role of stopper for the Twins on Saturday night, as he tossed six strong innings to lead them to a much-needed 6-2 win over the Tigers at Comerica Park. It helped the Twins remain 1 1/2 games back of the Astros for the second American League Wild Card spot.
It marked the second straight start Duffey ended a losing streak, as they had lost five in a row before his last start and two in a row before this one. He allowed two runs on eight hits and a walk to improve to 5-1 with a 3.14 ERA.
"The games are dwindling, and the last thing you want to do is increase your deficit with what we're trying to make up over the next eight days," Twins manager Paul Molitor said. "We've relied a lot on Tyler the last month, and again, he had a good night."
Despite pitching into September for the first time in his career, Duffey has showed no signs of nerves or fatigue down the stretch and has been impressive over his past eight starts since his debut. The right-hander is 5-0 with a 2.17 ERA with 46 strikeouts in 49 2/3 innings in those eight outings, and he knew how big his start was on Saturday after a tough loss on Friday.
"It's huge," Duffey said. "Torii [Hunter] preaches to let it go and go to the next day. We can't go too high or too low."
Duffey has thrown a combined 189 2/3 innings this year after throwing 149 1/3 frames last year, but the Twins still asked him to go out for the sixth despite having thrown 96 pitches to that point. He was able to get through the sixth and finished with a season-high 112 pitches.
"We all know where he's at during the season, and we've tried to avoid the high pitch counts, but today we needed him to go as far as he did given where we were at with the bullpen," Molitor said. "He ended up going six innings and getting us the win by getting off the field."
Duffey said he still felt strong after the game and plans on making his next start on regular rest on Thursday against the Indians. It'll be his first start on regular rest since Sept. 6, but Duffey is relishing the fact he's contributing to a team in the playoff race.
"It's fun," Duffey said. "It's everything you dream of to give your team a chance to win in big games. If you don't like pitching in this, you shouldn't be playing. So it's a lot of fun, and everyone is fired up and really going all out. That's what you gotta do this time of year."
Rhett Bollinger is a reporter for MLB.com. Read his blog, Bollinger Beat, follow him on Twitter @RhettBollinger and listen to his podcast. This story was not subject to the approval of Major League Baseball or its clubs.