Markakis continues to be a steady presence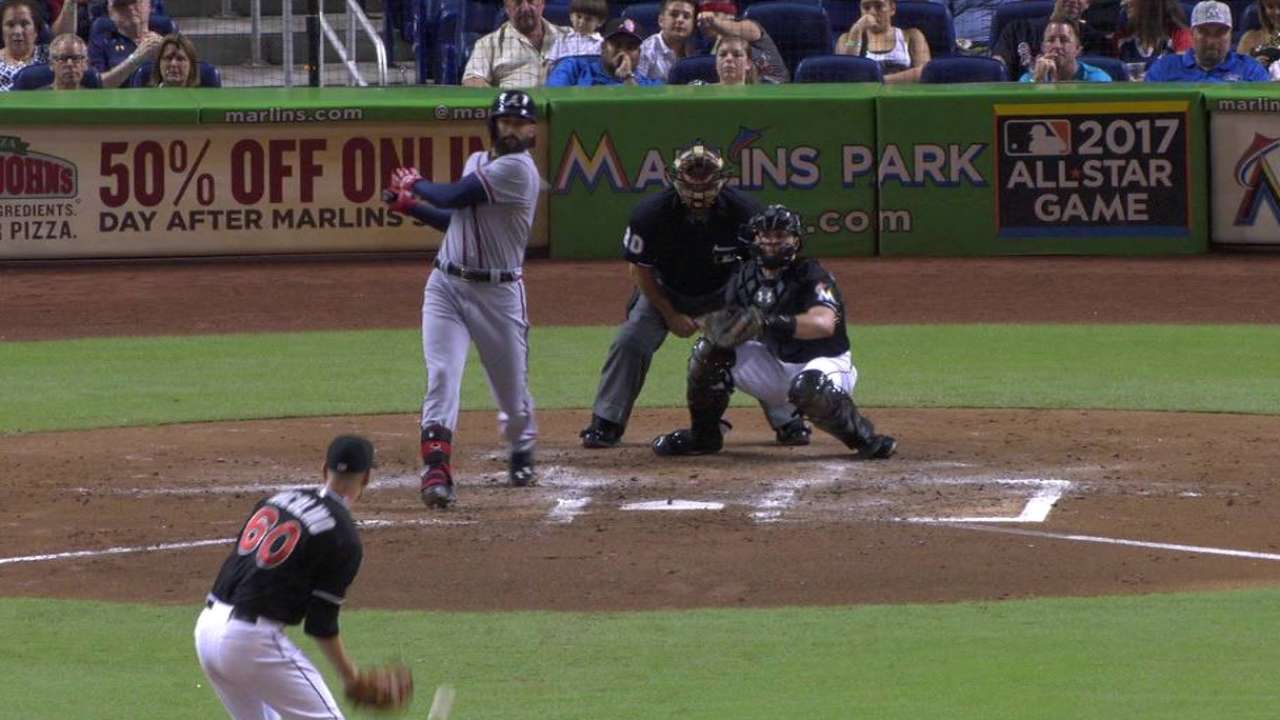 MIAMI -- When the Braves signed right fielder Nick Markakis to a four-year deal this past offseason, Atlanta brought in a left-handed bat with a career .290 batting average over nine seasons in Baltimore. To the Braves' delight, the 10th big league season for Markakis -- who notched an RBI single in Saturday's 6-2 loss to the Marlins -- has been just as advertised.
After going 1-for-4 with a walk against Miami, the 31-year-old holds a batting average of .297 (175-for-590) through 150 games. The leadoff man is currently in the midst of a six-game hitting streak -- 7-for-23 (.304) -- as he also notched his fourth career leadoff homer in Friday's loss.
"He gives you tremendous at-bats," manager Fredi Gonzalez said. "He gives you professional at-bats and a professional attitude, also."
The Braves signed Markakis to a $44 million deal to replace Jason Heyward, who they traded to St. Louis for starter Shelby Miller.
Since his arrival, he's hit over .300 in three months (.338 in April, .321 in July and .322 in August), while also hitting .259 in May and .260 in July. He's currently in the middle of a 24-for-85 (.282) month of September in which he has eight multi-hit games and has hit safely in nine of his past 10 contests (13-for-43).
Markakis could have very well picked up another multi-hit game on Saturday, but he was robbed by shortstop Miguel Rojas on a diving play in the hole to leadoff the game. He also lined out hard to third baseman Martin Prado in the sixth after recording his RBI single in the third inning.
"He should have had at least two hits tonight," Gonzalez said. "Only had one, but really should have had two."
For someone who is signed through 2019, Markakis -- whose leadoff homer on Friday marked his second of the season and came off of Marlins ace Jose Fernandez -- is certainly solidifying right field and setting a strong example for an organization building towards the future.
"He's been steady," Gonzalez said. "He's just given professional at-bats all year."
Steve Wilaj is an associate reporter for MLB.com. This story was not subject to the approval of Major League Baseball or its clubs.