Trout goes above, beyond wall to rob HR
Angels walk off in 9th to keep pace in Wild Card race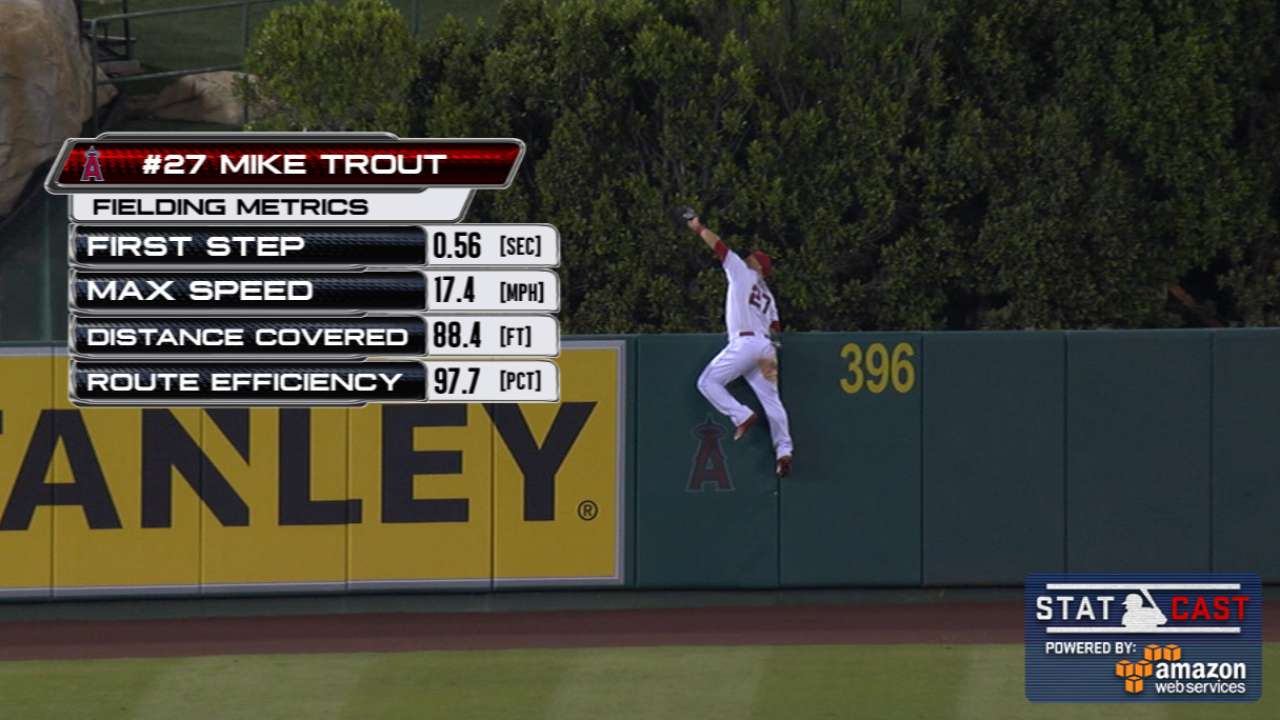 ANAHEIM -- With nine games left in the Angels' season, as they try to claw their way into the playoffs, Mike Trout turned in a candidate for the catch of the year.
The reigning American League MVP climbed the wall in dead center field at Angel Stadium, leaping high onto the fence to rob the Mariners' Jesus Montero of a three-run homer in the fourth inning of the Angels' 3-2 walk-off win Saturday night.
• Is Trout #AwardWorthy? Vote now for Best Major Leaguer, Everyday Player
"It was pretty crazy, once I caught it, looking up at the replay and seeing the reaction by my teammates," Trout said. "It was pretty special moment and a big play of the year."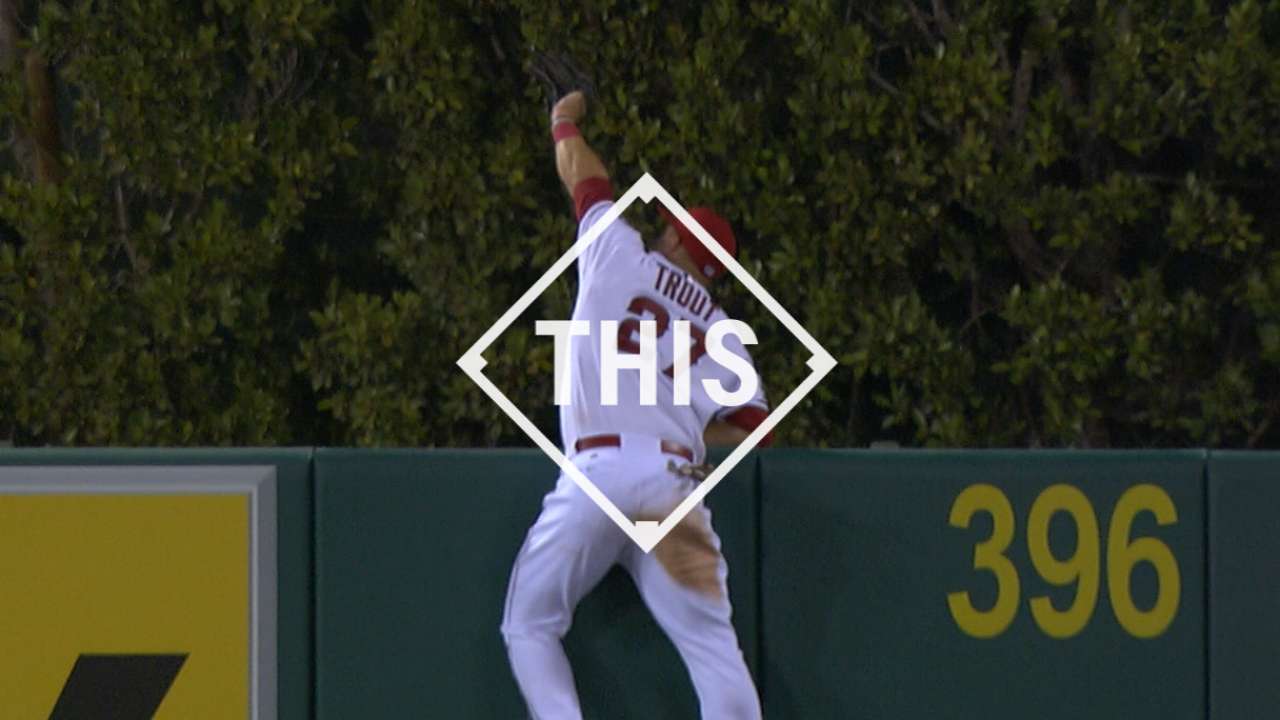 Trout's catch kept the Angels within a run of the Mariners at 2-1, a huge play when every game is important -- and especially facing Felix Hernandez. The Mariners didn't score for the rest of the game, as the Angels came back and won on a David Freese home run in the bottom of the ninth to stay 1/2 game back of the Astros for a Wild Card spot, and close to within four games of the Rangers in the American League West.
• Postseason contenders remaining schedules
Trout's timing, racing back to the wall, was perfect. So was the execution of his leap, the reach to his backhand with his glove. As he pulled Montero's drive back into play, the Angel Stadium crowd erupted in a minute-long, roaring ovation sprinkled with "MVP!" chants.
Just seen that catch by @MikeTrout. This guy is on another level. Bravo Sr. Trout. Bravo

— 10 (@SimplyAJ10) September 27, 2015
"When he hit it, I thought it was gonna be way gone," Trout said. "I just told myself, 'Get to the wall.' I climbed it, and everything else -- everything was just perfect."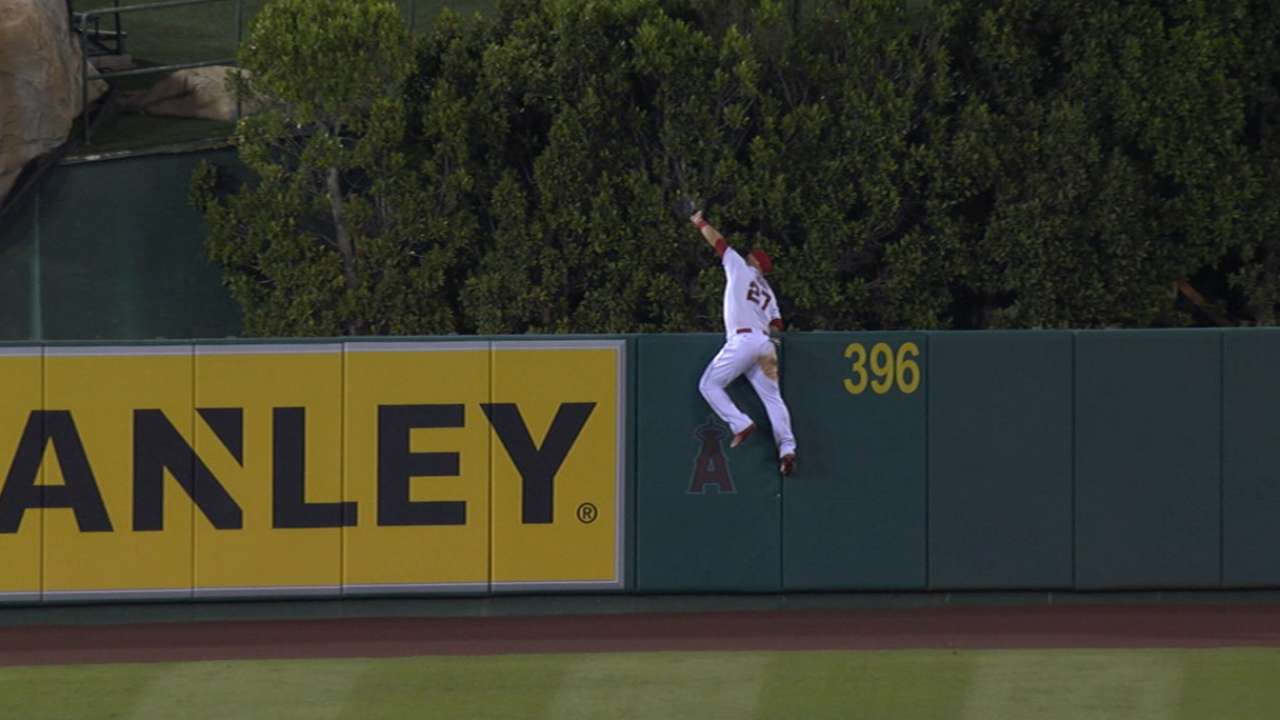 When Montero pulled his hands inside the 91-mph sinker from Andrew Heaney, the Angels left-hander thought it was a fly ball to the warning track. Then he saw Trout start running.
"When I saw Mike turn, I was like, 'Oh no,'" Heaney said. "I 100 percent knew that it was going out. And then he just pushed off the wall and got that extra bit. I was in disbelief. I didn't know what to do. It was crazy."
Trout has robbed home runs before -- he memorably took one away from J.J. Hardy in Baltimore in 2012. But Trout said he thought his catch on Saturday was better. So did manager Mike Scioscia.
"I haven't seen a better one," Scioscia said. "For him to get up on that wall, and hang, and get that kind of range to take a ball that's way out of the park and bring it back into the park -- that's just an incredible catch."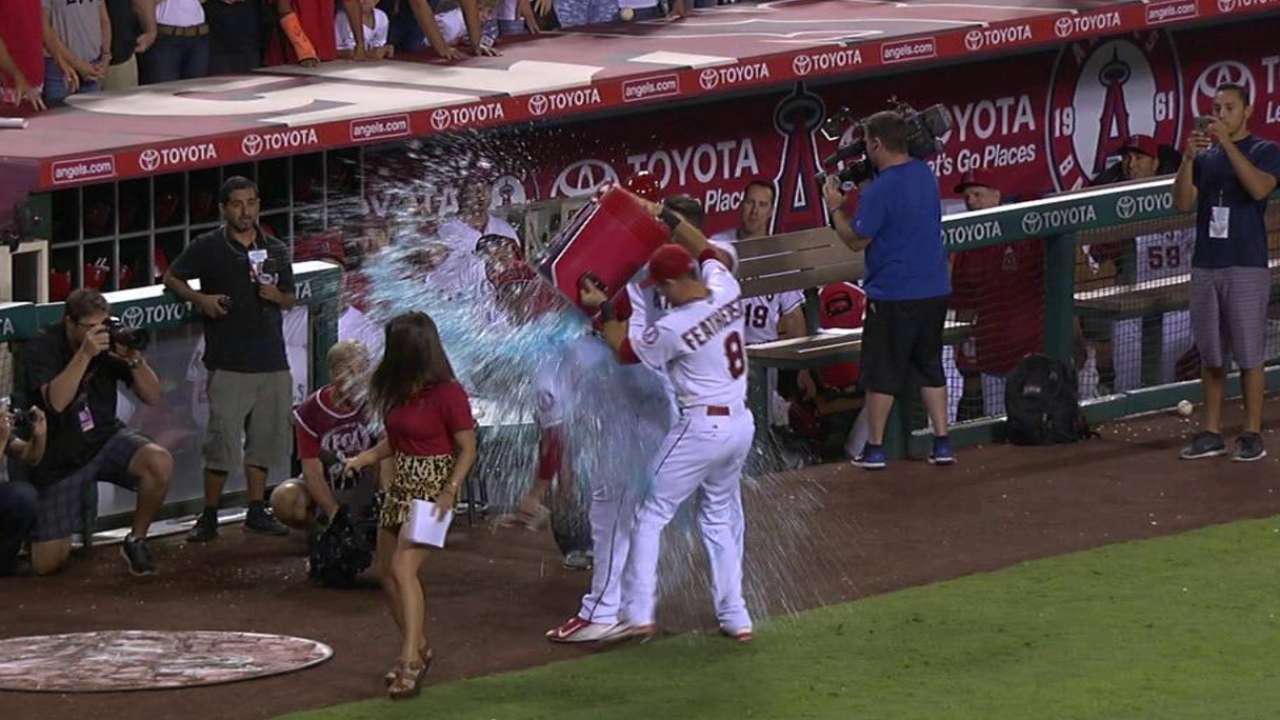 The long, high drive was hit 103 mph off the bat, according to Statcast™. It was projected to land 396 feet away. And it produced no runs.
"Honestly, I didn't think I could catch it," Trout said. "And then, once I got up to the wall and looked back up at it, I said, 'Man, I've got a chance to catch this ball.'"
After the play was over, Trout pumped his fist in exuberance. Jogging in to the dugout after the inning, he was swarmed by his teammates and got a second ovation from the 37,866 fans.
"You know you're playing with the best player in the game, and when he does things it seems so routine," Heaney said. "And then he does that."
David Adler is an associate reporter for MLB.com. Follow him on Twitter @_dadler. This story was not subject to the approval of Major League Baseball or its clubs.