MLB.com Columnist
Barry M. Bloom
Bombers need big boppers to stop slumping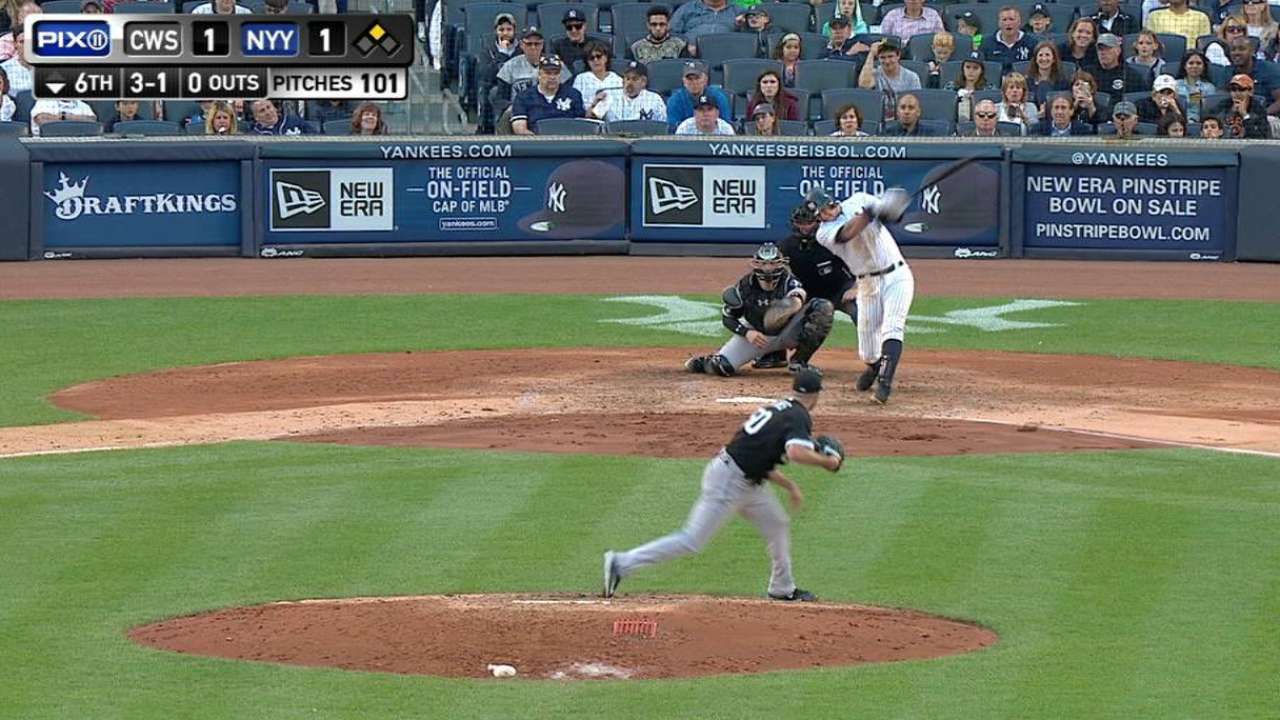 NEW YORK -- Chase Headley and Alex Rodriguez broke out of horrendous hitting slumps when the Yankees needed it the most on Saturday at Yankee Stadium.
Their back-to-back sixth-inning doubles drove home the tying and winning runs in a critical 2-1 win over the White Sox, which kept the Yanks four games behind the first-place Blue Jays in the American League East with eight games left to play.
Though the prospects of the Yankees winning the division become more remote with each passing day, their 85th win was one more than they amassed all of last season and drew them closer to securing home-field advantage in the AL Wild Card Game presented by Budweiser on Oct. 6.
Right now, the Yanks would host the Astros, whom they lead by 4 1/2 games.
"I think these games are all going to be great preparation for October," said Rodriguez, who was in a 2-for-26 funk with no homers nor RBIs when he smacked the game-winning hit. "We've been playing a lot of tough games, a lot of tight games. We've been facing some really good pitching, and [this] was a good one."
The White Sox took a 1-0 lead off starter Adam Warren in the first inning. They had three hits in that inning and not another the rest of the game against Warren and relievers Justin Miller, Dellin Betances and Andrew Miller.
The Yankees are second in the Major Leagues with 735 runs scored, but they've had problems generating offense of late. Jacoby Ellsbury, Headley and A-Rod combined for the two runs off White Sox left-handed starter John Danks that won the game.
For September, Ellsbury is hitting .205 with no homers and a pair of RBIs, Headley is .178 with a homer and four RBIs, and Rodriguez is hitting .213 with six homers and 13 RBIs -- but he hasn't hit a homer and hadn't driven in a run since Sept. 15.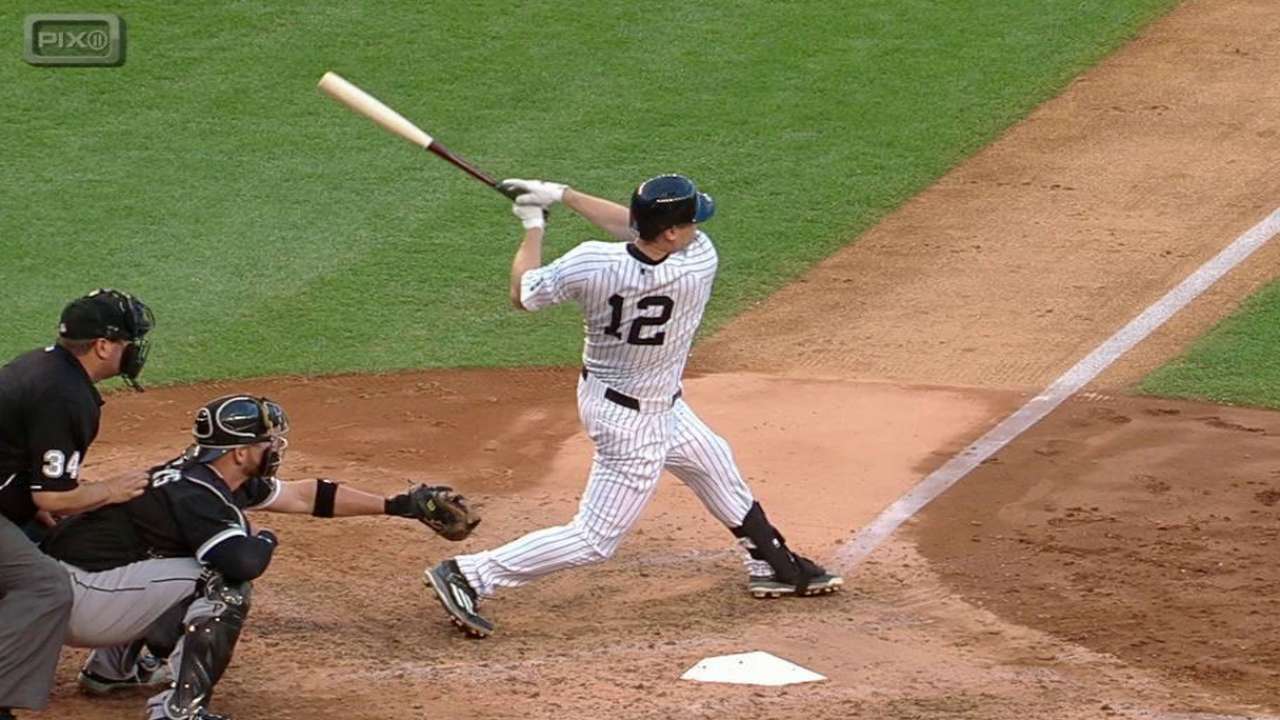 The three needed to break out, and it was about time all of them did. Ellsbury singled to open the sixth and then stole second base. Headley, 6-for-44 coming into that at-bat, hit a ground-rule double to left that knocked in Ellsbury. And A-Rod smacked a shot that bounced off third baseman Mike Olt into the left-field corner for the double that plated Headley.
"I hit a 3-1 pitch. It had a lot of topspin on it," A-Rod said, "and it just ate up the third baseman."
The Yanks have had a big month from slugger Carlos Beltran, who's hit five homers and driven in 15 runs, including a pair of game-winning three-run homers.
But for the Yankees to go deep into the playoffs, all their top hitters are going to have to be clicking.
"We have a lot of guys who are capable of getting hot. Obviously, Al has been a big part of this and I try to do my job as well," Headley said. "Hopefully we can get some more guys hot at the right time. We'll take them any way we can get them this time of year. But we're definitely capable of swinging the bats better than we have the last few games."
Rodriguez is certainly capable of swinging the bat better than he has since Aug. 1. A-Rod is hitting .181 since then, with eight of his 32 homers and 23 of his 84 RBIs. He's been trying to walk some, 10 times this month and 79 on the season, and even had his fourth stolen base after a leadoff fourth-inning walk.
Asked if he was surprised that Rodriguez stole the rare base, manager Joe Girardi said no.
"Well, I green-lighted him," Girardi said. "If they didn't pay attention, I wanted him to get in scoring position. What do you think I thought?"
The White Sox weren't paying attention and Rodriguez strolled into second base where he was ultimately stranded. It was the 326th steal of his 21-year career. And during his salad days with Seattle, long before surgery on both hips, he had a career-high 46 during the 1998 season. He had 13 as late as 2012, but only eight more since then.
"One for the old guy," deadpanned Rodriguez, now 40, about his latest swipe.
In all seriousness, folks, the real concern is A-Rod getting his hitting stroke back. He had his best month in May at .316 and peaked at .290 on June 24. It's been a long, slow decline to Saturday's .250 ever since.
"I think I just have to stay patient, especially against left-handed pitching," he said. "They're going to be tough on me and my key is to stay patient and just pass the baton. When they pitch to me, make them pay like today, and if not, just go to first base.
"Walks are huge. I have Carlos and [Brian McCann] hitting behind me. They're professional hitters."
The Yankees will need all of them contributing before this season and postseason is through.
Barry M. Bloom is a national reporter for MLB.com and writes an MLBlog, Boomskie on Baseball. Follow @boomskie on Twitter. This story was not subject to the approval of Major League Baseball or its clubs.