Bullpen trio may be key to Yanks' postseason
Wilson, Betances and Miller locking down final three innings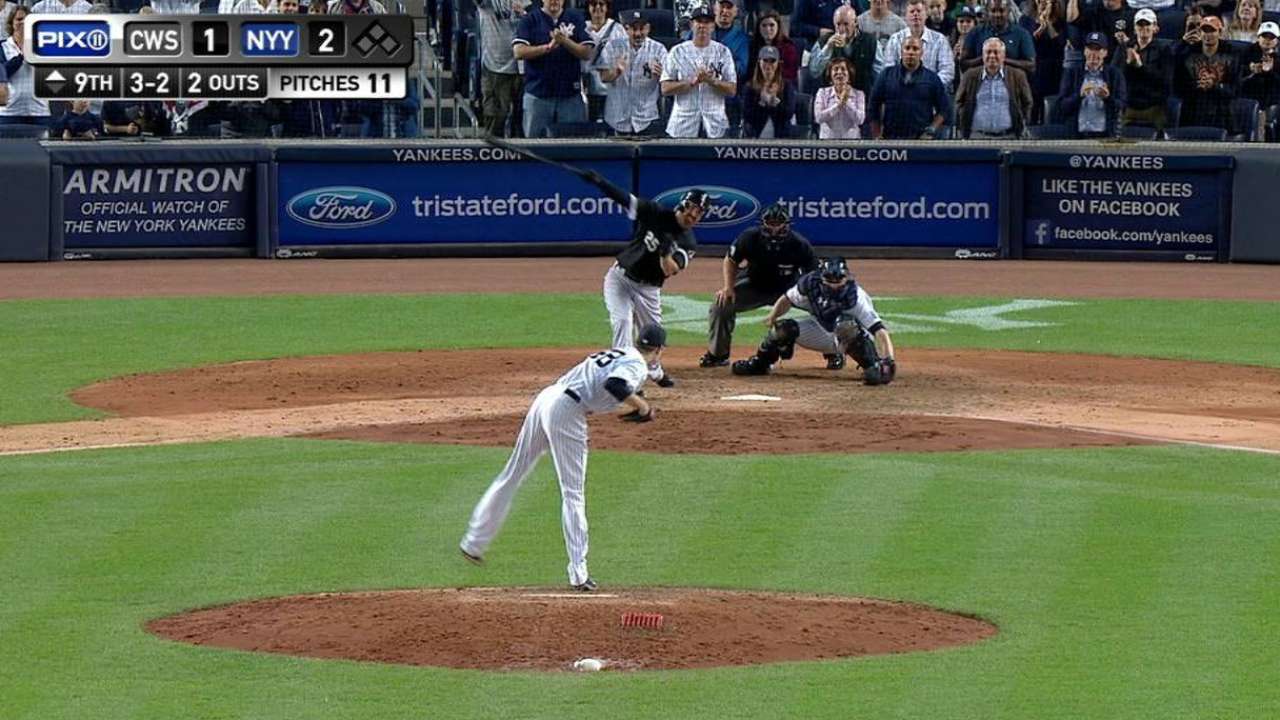 NEW YORK -- When the Royals rode their lockdown bullpen to an American League title last October, Dellin Betances was taking notes, believing that he could help replicate that. Indeed, his prediction seems to be coming true, as the Yankees could have a similar ability to shorten games in the postseason.
That formula was on display behind six solid innings from starter Adam Warren on Saturday. Justin Wilson, Betances and Andrew Miller all protected a one-run advantage with aplomb, securing a 2-1 victory over the White Sox that reduced New York's magic number for clinching a postseason berth to four.
"This is what we work for all offseason and Spring Training. We get ready as a team to have a chance to make it," Betances said. "We still haven't clinched, but we have a good chance, obviously. I'm excited to celebrate and taste some of that champagne."
• Standings: Division | Wild Card
The White Sox sent nine men to the plate after the seventh inning, with none reaching base and four striking out. That gives the Yankees' bullpen 573 strikeouts for the season, shattering an AL record of 571 set last year by the Yankees. The Major League record is 589, set by the 2012 Rockies.
"I don't think any of us go out there trying to get ground balls, especially Dellin and Andrew," Wilson said. "They punch out everybody, it seems like. It's a lot of fun and everybody has contributed. Hopefully, we can get that number up there a little more."
• Is Miller #AwardWorthy? Vote now for Best Breakout Player
The Yankees had a pretty good idea that, in some form or fashion, Betances and Miller would handle the last six outs (and sometimes more) of their most important games. Wilson has been a welcome addition to that mix, proving capable against both left-handers and right-handers.
"There's no way we have this opportunity without those three guys," Yankees manager Joe Girardi said. "There's just no way. As good as they've been, when we have a lead, you turn it over to them and you feel really good."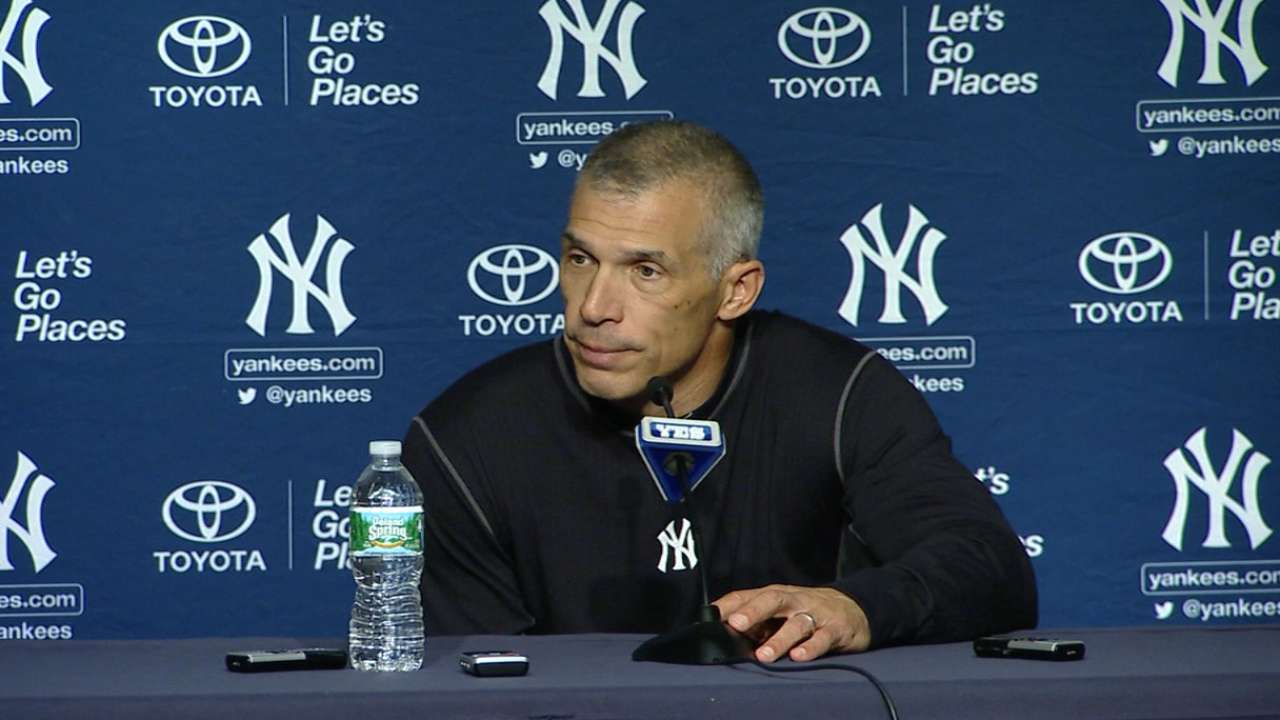 Warren said that the confidence he felt handing over a one-run lead to the bullpen is a luxury not every club may enjoy.
"It's amazing. Those guys have been so automatic this year," Warren said. "You have a lead through six and you turn them over and it's like, 'Well, we've won.' They've been great."
Miller's perfect ninth inning secured his 36th save in 38 chances, and the Yanks were encouraged by Betances' clean eighth inning, shrugging off a recent spate of wildness.
Though he has worked 79 2/3 innings in 70 appearances, Betances said that fatigue was not an issue. He thought that the problem was mechanical, something that he and pitching coach Larry Rothschild were able to clean up. Besides, at this time of the year, Betances believes that the extra adrenaline should provide any necessary boost.
"Once the playoffs start, if they want me to go three innings, I'll go three innings," Betances said.
Bryan Hoch is a reporter for MLB.com. Follow him on Twitter @bryanhoch, on Facebook and read his MLBlog, Bombers Beat. This story was not subject to the approval of Major League Baseball or its clubs.