Starter for a day, Breslow shuts down O's
10-year veteran reliever makes first career start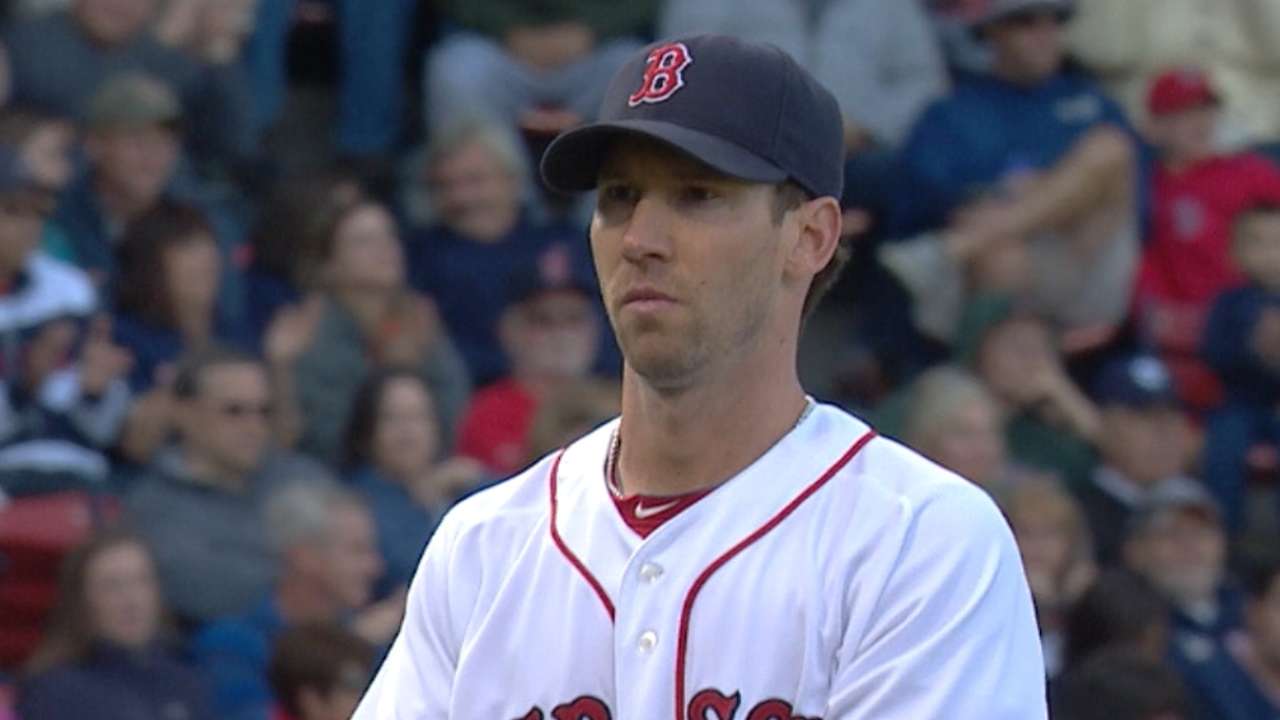 BOSTON -- For one day, reliever Craig Breslow got to be a starter. This, after the first 522 appearances of his career came out of the bullpen.
In what might have ended up being both Breslow's first and last game as a starter, the lefty fired four scoreless innings in helping the Red Sox to an 8-0 victory over the Orioles on Saturday.
At the age of 35, Breslow has no vision of switching career paths and reverting back to the starter he was at Yale University all those years ago.
"I brought out the windup for the first time, actually that might be for the first time since 2005," Breslow said. "Again, if I was going to go out there, I was going to play the part and look the part as much as possible. I'm not sure that a drastic career change is in store."
But Breslow made sure to make the most out of this opportunity.
"It was [fun]," Breslow said. "Now that it's done and it went pretty well, it was a lot of fun. At the time, I was consumed by some other thoughts. It was a lot of fun. I don't know how many guys make 500-some odd career relief appearances and then get a chance to start their first big league game."
Breslow is right -- it doesn't happen often. The last pitcher who made more career relief appearances before making a start than Breslow was Troy Percival, who made his starting debut in the 639th game of his career.
The reason it came about is that interim manager Torey Lovullo is trying to preserve his staff for the final week of the season. A couple of starters are out with injuries, and there are a couple of young starters on innings limits.
Breslow was informed of the start roughly 25 hours before it happened. He did his best to figure out the routine, asking questions he had never even thought about before.
"It was pretty strange. I asked some of the other starters what time I should get here and what kind of routine they go through," Breslow said. "Fortunately they were willing to share their secrets so I got here a little bit later than most of the guys. I was pretty nervous. I had no idea about the kind of stupid things that you never really think about, like where am I supposed to play catch before I go into the bullpen and what I do during the anthem.
"Those kinds of things, I've never faced before. But like I said, I drew on some of the other starters and just kind of followed the crowd."
Breslow became the oldest Red Sox pitcher at the time of his first career start. The last time an American League starter made his first start at 35 or older? Danny Boone for the Orioles on Sept. 30, 1990.
"I think he was very light-hearted and very loose about it," Lovullo said. "He's been through just about every war possible. I know it completed his resume to get his first career start. I know he's a little excited about that."
Ian Browne is a reporter for MLB.com. Read his blog, Brownie Points, follow him on Twitter @IanMBrowne and listen to his podcast. This story was not subject to the approval of Major League Baseball or its clubs.