Shields senses clubhouse shift in San Diego
Padres look ahead to 2016 after disappointing season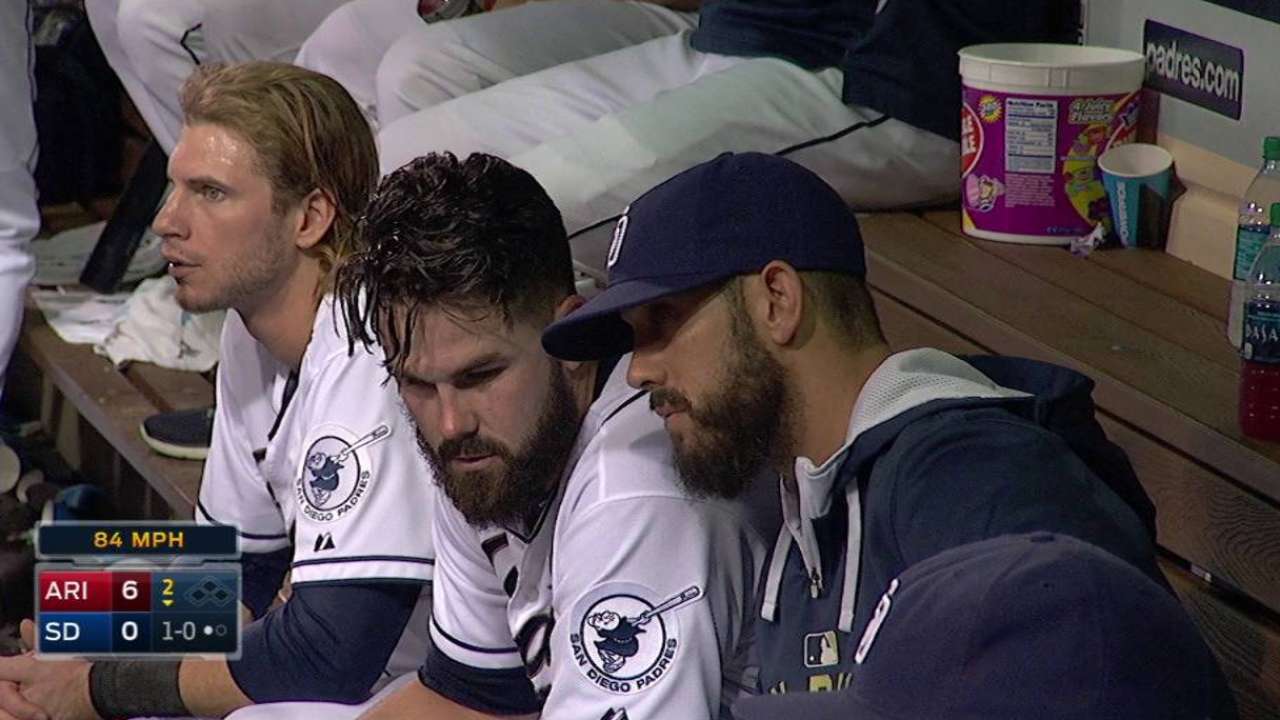 SAN DIEGO -- Big Game James is shooting for a big finish.
The Padres' James Shields has his last home start Sunday, aiming for his season-high fourth straight win.
"That is what it is all about,'' said Shields (13-6), who'll face the Arizona D-backs. "Being able to finish strong and going into next season feeling good.''
It's the same vibe the Padres started the season with.
After general manager A.J. Preller shook out the roster like an old rug, Padres fans were energized. With big names came big aspirations and no longer were stunning sunsets and fish tacos the only things on the locals' minds.
The Padres were predicted as a playoff-caliber team and that hasn't been mentioned in these parts in some time.
The Padres bolted from the gate at 10-5, and unfortunately, that's referred to as the good ol' days. San Diego heads toward its fifth-straight losing season, needing a telescope to locate the first-place Dodgers.
"Obviously the season was a little disappointing,'' Shields said. "We expected big things from ourselves as players.''
Instead manager Bud Black was dismissed in mid-June and it's been an endless bummer instead of an endless summer.
"We didn't have the production out of some players that we really expected to have, including myself,'' Shields said.
Interim manager Pat Murphy replaced Black, with Preller hoping a different voice would resonate in the clubhouse.
It didn't, and Shields said that's no excuse.
"Yeah it is always tough when you switch managers,'' Shields said. "But as players we can't blame anything on the switch of the manager or anything like that. We got to do our part and play the game of baseball. No matter what manager is coming in or how many switches you have, the game is still the same.''
What isn't, in Shields' eyes, is the Padres' demeanor. Despite being on the wrong side of the win-loss ledger, Shields senses a shift. It was on display this week when San Diego rallied for walk-off victories on consecutive nights against the world champion Giants.
"We had a lot of positive stuff come out the last couple of months and hopefully we can continue with it next season,'' Shields said. "I think next year we need to start building a winning culture around here. I think that's what it is all about: Having a winning culture and a winning attitude.''
Shields has been on his share of winners, appearing in the World Series with the Rays and Royals. But not before those clubs transformed.
"Every team I've ever been on, whether it's Tampa in 2007 going into 2008, whether it is Kansas City 2014 compared to 2013, it takes a good year to really embrace that winning culture and winning attitude,'' Shields said. "We are well on our way with that."
But first come two final starts, his last one at Petco Park against the D-backs in Sunday's matinee.
"It's gone pretty fast,'' he said.
And if we fast-forward to 2016?
"We have the right pieces here in San Diego,'' he said. "I'm pretty excited about next year.''
Jay Paris is a contributor to MLB.com. This story was not subject to the approval of Major League Baseball or its clubs.