Seager says confrontation with Weaver 'over'
Mariners 3B was HBP in last matchup, leading to ejection of Angels ace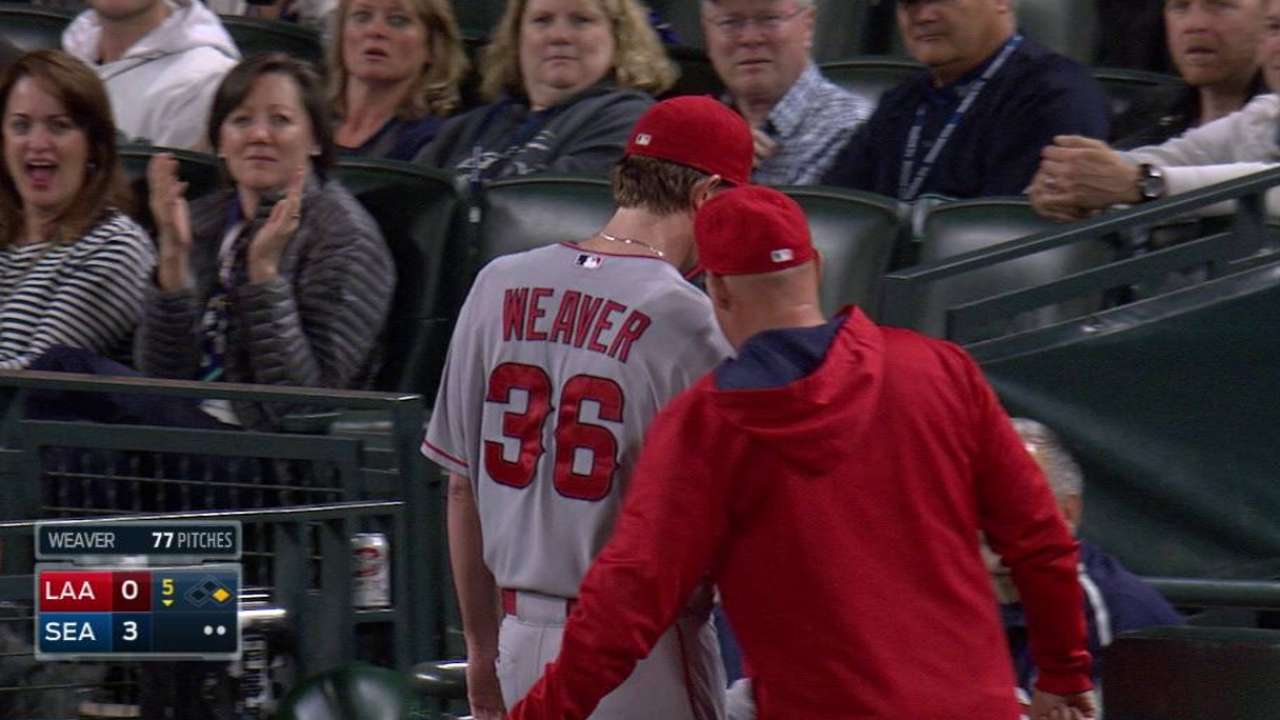 ANAHEIM -- Kyle Seager will face Angels right-hander Jered Weaver on Sunday for the first time since the two tangled during an at-bat on Sept. 16 when Weaver hit Seager with a pitch, resulting in Weaver's ejection. But the Mariners third baseman isn't expecting any additional fireworks.
"That's over," Seager said prior to Saturday's game against the Angels. "We had our little moment there and you move on. That's baseball. It gets emotional at times. But for me at least, that's over."
Mariners manager Lloyd McClendon echoed a similar refrain, saying he doesn't expect any further retaliation from the Angels.
"No, I really don't," McClendon said. "That team is trying to get in the playoffs. They're not going to do anything stupid. That was child's play. It was stupid to start with. As far as I'm concerned, it's over with."
It doesn't appear to be over yet for Angels' fans, however, as Seager heard it from the crowd every time he came to the plate in Friday's series opener.
"I did hear that, yeah. I think that is the first time I've been booed," Seager said. "It was different, but I guess that's them standing behind their guy."
The fifth-inning incident in the prior meeting started when Seager called time out while setting up in the box, leading to an exchange of words between the two and then another emphatic timeout signal from Seager after he stepped back in. Weaver then hit Seager in the arm with the next pitch and was ejected by home plate umpire Brian O'Nora.
After the game, Seager said Weaver "quit on his team" by hitting him when he knew it would lead to his ejection. "I guess he was tired of pitching," Seager said.
That led to Weaver responding the following day by saying, "I don't even know who this kid is."
Seager, a 2014 All-Star and Gold Glove winner, knows his batter's box ritual requires a few extra seconds and he frequently holds his left hand up to signal time until he's settled in.
"It's something I do every at-bat," he said. "It takes me a long time to get in the batter's box. I know that. Every once in a while they'll be getting going and I'm not ready yet. I understand the emotions getting involved there. It hasn't escalated to that before, but you call timeout when a pitcher is in his windup, they very rarely are happy about it."
But he'll do the same routine against Weaver on Sunday and doesn't expect it to be an issue.
"That's over," he said. "That's done with. I'm going to do the exact same thing I would do every other day. We're past that."
The one thing he would have changed in his prior dust-up if he had it to do over?
"I saw the replays," Seager said. "I could have used better language, let's put it that way."
Worth noting
• Vidal Nuno will start Tuesday's game against the Astros at Safeco Field, pitching on just three days of rest and filling the spot originally slated for James Paxton. Manager Lloyd McClendon hopes Paxton's torn fingernail will be healed enough to allow him to start on Wednesday. If not, he'll go with an all-bullpen day in that series finale. Roenis Elias is slated to pitch Monday's opener.
Paxton said the finger was "pretty much the same," on Saturday. He lasted just 1 1/3 innings in Thursday's start at Kansas City.
• McClendon said Felix Hernandez will start either Friday or Saturday in the season's final series next week against the A's, with Hisashi Iwakuma going the other day. Paxton originally was slated to start Sunday's finale, but that won't happen now since his prior start has been pushed back. That makes Roenis Elias a likely candidate.
Greg Johns is a reporter for MLB.com. Follow him on Twitter @GregJohnsMLB, read his Mariners Musings blog, and listen to his podcast. This story was not subject to the approval of Major League Baseball or its clubs.