Day after collision, Correa, Altuve homer twice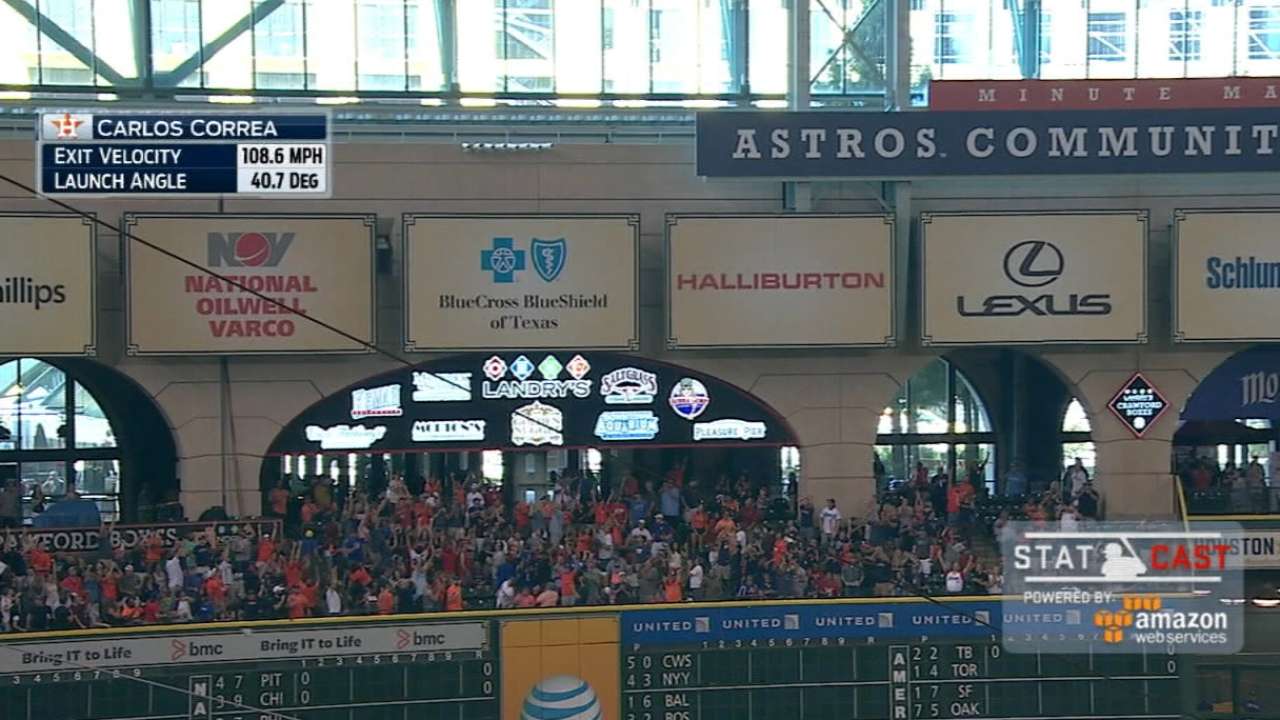 HOUSTON -- Following a 9-7 win over the Rangers, Jose Altuve was asked playfully what Carlos Correa hit harder -- his two home run balls on Saturday or Altuve's face on Friday when Correa inadvertently struck him in a collision.
Altuve said Correa's homers, struck at 109 mph and 101 mph, respectively, per Statcast™, packed more of a punch -- something Altuve, who also cranked two home runs on Saturday, may need to be wary of in the final seven games of the season.
"I need to hit him every single day so he hits homers the next day," Correa quipped.
• Is Correa #AwardWorthy? Vote now for Best Rookie
After the first three-strikeout game of his Major League career in Friday's game and without on-field batting practice due to the early start time on Saturday, Correa headed straight to the batting cages when he arrived at Minute Maid Park.
Those swings led to two home runs in his first two at-bats -- the second multihomer game of his career -- to give the newly minted 21-year-old 21 homers for the season, tying Lance Berkman for the Astros' single-season rookie record.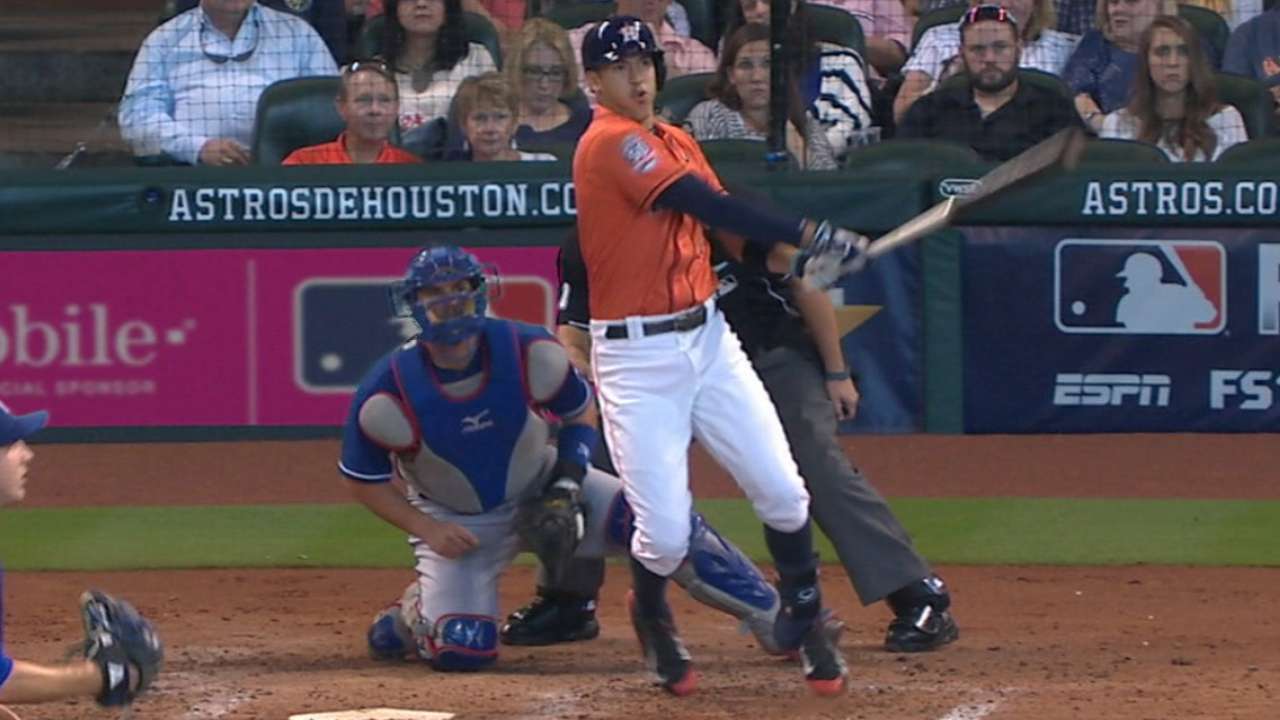 "I went to the plate in my first at-bat with a lot of confidence like I hit three homers the day before," Correa said. "I didn't even think about the three strikeouts. I just thought I can do something to help the team win, and that's what I can focus on."
It showed. Correa launched a mammoth solo homer with a 41 degree launch angle according to Statcast™, answering the Rangers' three-run first inning with a knock of his own.
Altuve followed suit in the third, leading off the inning with a 101-mph blast to left-center. Two batters later, and at the same speed, Correa put his second of the game into the Crawford Boxes to tie things up.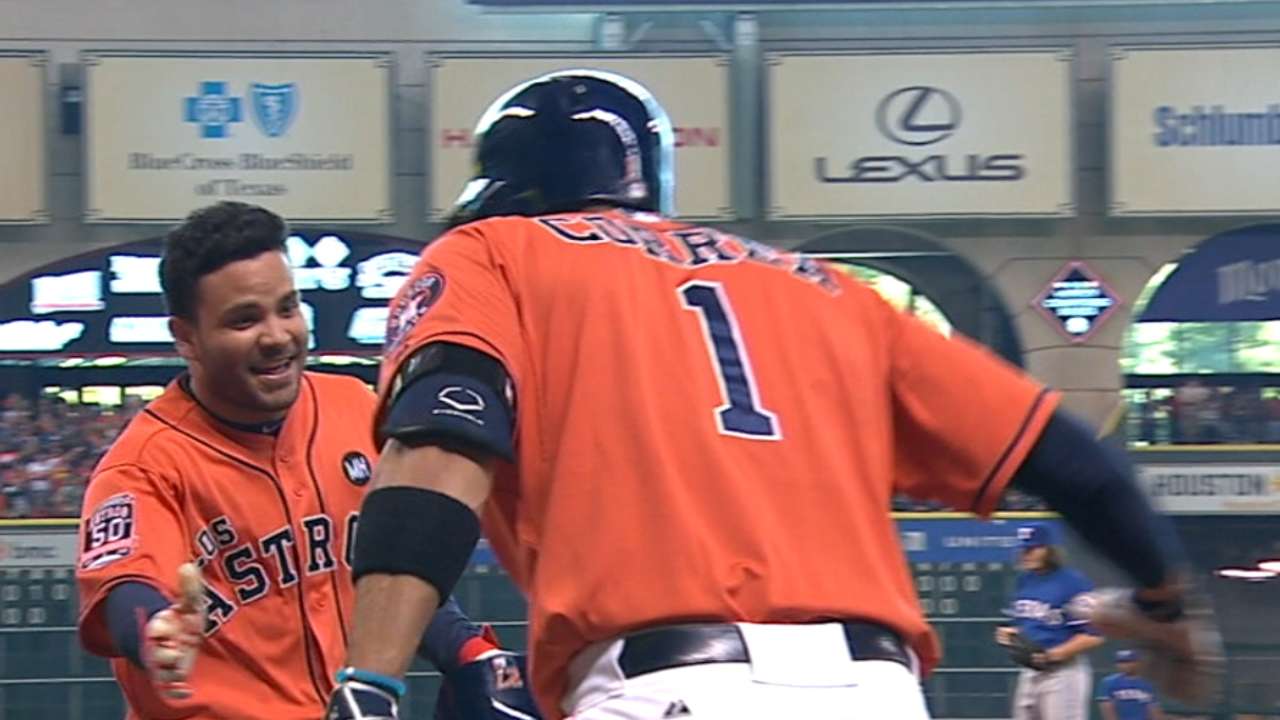 "There's never a doubt with Carlos showing up," said Astros manager A.J. Hinch. "He's got a chance to dominate the game. I'm not sure I would have predicted the type of day that he had, but it's always in there. His ability to stay calm in the moment continues to shine through. It's hard to say he surprises us with anything because of how consistent he's been and how poised he is."
Altuve -- whose 14 homers are a career high -- added a one-out solo shot in the eighth for his first career multihomer game. His 14 home runs are the most by an Astros second baseman since Craig Biggio hit 21 in 2006.
After the game, though, he deflected all talk to Correa.
"He's 21 years old and with 21 homers in the big leagues, that's amazing," Altuve said. "He's going to be one of the best players in the big leagues."
Chandler Rome is an associate reporter for MLB.com. This story was not subject to the approval of Major League Baseball or its clubs.