Reyes uncertain of return from Achilles injury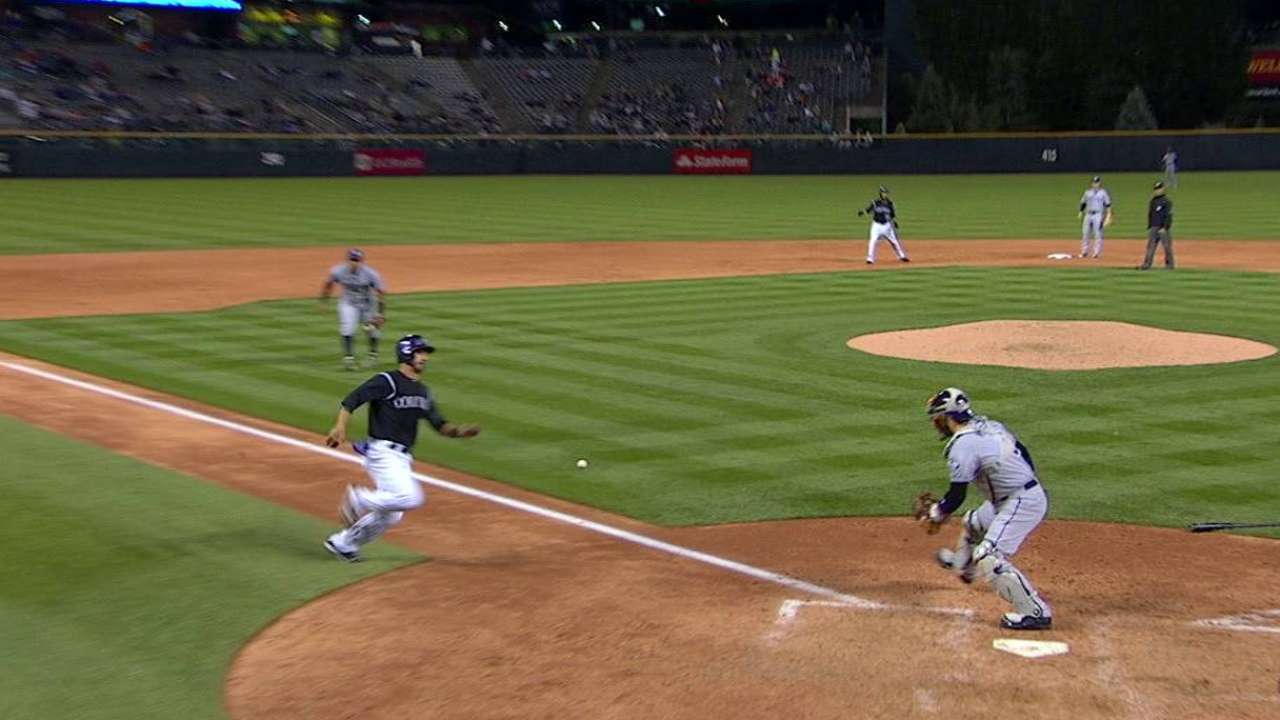 DENVER -- Rockies shortstop Jose Reyes said Saturday he is trying to overcome left Achilles tendon pain but he isn't certain he will play the rest of the season. Of course, uncertainty defines Reyes' stint in a Rockies uniform, however long it lasts.
Reyes has been dealing with Achilles pain for two weeks, and Saturday night he was out of the lineup for the third straight game and fourth time in the last five contests. On Saturday, Reyes took ground balls and participated in batting practice. He wants to play, but only if he doesn't risk further injury.
"The Achilles is a very serious injury and you don't want to [tear] that," Reyes said. "I want to finish the season. But I don't want to go out there, try to be tough and make it worse. But if it's a little sore, but good enough to play, I want to."
Rockies manager Walt Weiss said he is "holding out hope" that Reyes can finish the season on the field.
Reyes, acquired from the Blue Jays on July 27 in the trade that sent shortstop Troy Tulowitzki to Toronto, will go into the winter amid trade speculation. With the Rockies possessing shortstop options, including former first-round pick Trevor Story, many believe dealing him should be a priority. The $48 million he is guaranteed over the next two years serves as an obstacle to any deal. A decline in range that appeared early this season in Toronto, and possibly the specter of injury are other obstacles.
Reyes, 32, has said clearly he wants to play for a winning club at this stage of his career. He also has said the Rockies have the makings of a winner if the pitching improves. But he also realizes whether he is traded is not in his hands.
"It feels weird because I want to go into the offseason with an idea, if I'm going to be here or I'm not going to be here," Reyes said. "I don't want to be up in the air, but this is baseball. Nothing surprises me. Nothing's promised."
"I'm not sure what's going to happen. For now, I'm part of this ballclub for the next two years. What happens, happens. Nothing surprises me."
Worth noting
• Rockies right-handed reliever Miguel Castro -- another part of the Tulowitzki-Reyes deal -- has been shut down for the season because of back soreness, Weiss said.
Castro was 0-2 with a 4.38 ERA in 13 early-season games with the Blue Jays and 0-1 with a 10.13 ERA in five games with the Rockies.
"I saw a big fastball and a really good slider," Weiss said. "I saw some changeups in his later outings that surprised me. That was a good pitch for him. I didn't know he had it. To see him use it in games and use it effectively was encouraging."
Thomas Harding is a reporter for MLB.com. Follow him on Twitter @harding_at_mlb, and like his Facebook page. This story was not subject to the approval of Major League Baseball or its clubs.