MLB.com Columnist
Anthony Castrovince
Mets ride magical season to finish atop NL East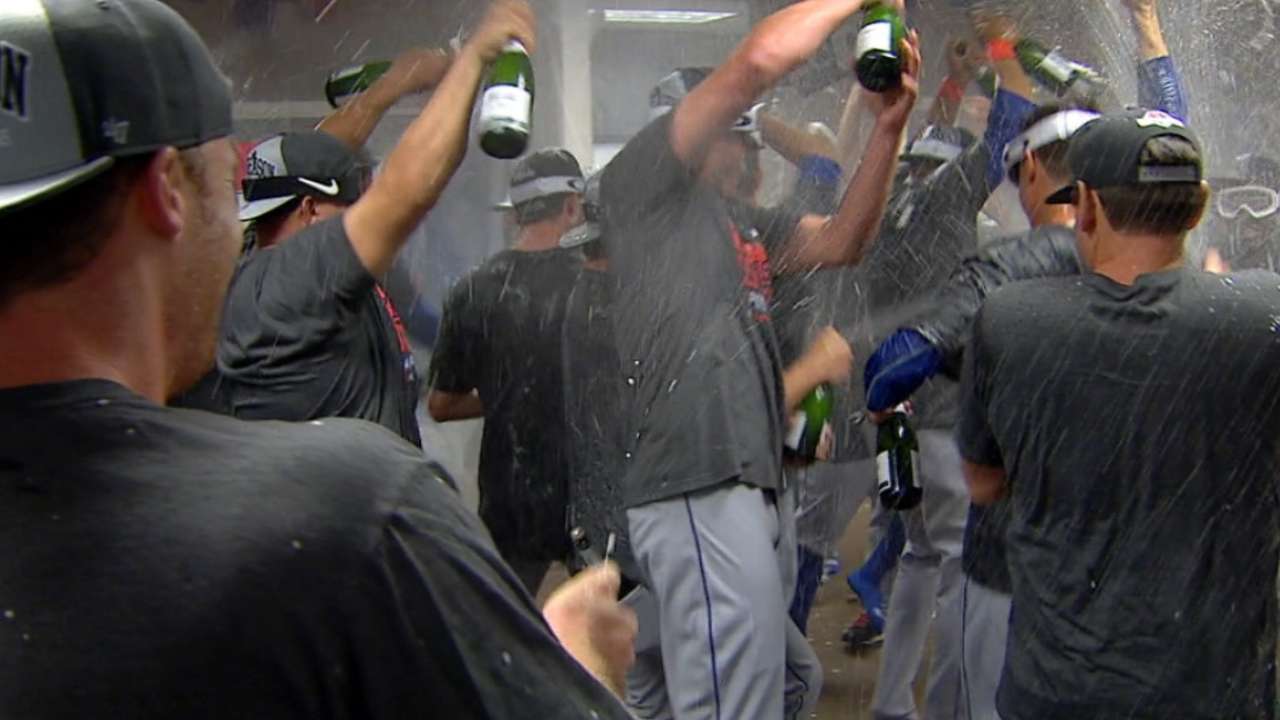 It was, I recall, one of those perfectly sun-splashed days that make Spring Training so fetching for those who attend it, and so phantasmic for those stuck up north. I sidled up to Terry Collins during BP, just before his Mets took on the Yankees at George M. Steinbrenner Field in Tampa, and asked him if his club, now featuring a healthy Matt Harvey, had what it took to take top billing in New York away from the Yankees.
Not even a cloudless sky could get Collins to bite on a question so obviously optimistic.
"That'll never happen," Collins said. "But New York's a big town. There's room for two. How everybody else feels about us and what everybody else sees, I don't know. But I like the look of our team."
The look has been an evolving one in the six months since. The story of the 2015 Mets could fill many volumes -- and will, I'm sure, if they go all the way.
For now, we know this much: The Mets are the 2015 National League East champions, following Saturday's 10-2 victory over the Reds. This, in itself, is an achievement that must be unfathomable, even for Mets fans, many of whom were too scarred by the memories of 2007 to take this moment for granted -- even when it was a near-mathematical certainty.
On top of that, this is the first time since 1988 that the Mets have won their division while the Yankees won't win theirs.
Really, it's hard to say what's more surprising: that the Mets were able to successfully reinvent their offense midseason or that a Nationals team touted as a potential 100-game winner fell flat.
Let's call it a tie.
This division race was no tie. The Mets have won it going away, and their pitching does not portend a team that's necessarily going away anytime soon.
Though I'd stop short of calling this another incarnation of the Miracle Mets -- if only so as not to use the word "miracle" loosely within earshot of that guy from the Vatican who just visited the Big Apple -- this has been a stunning summer in Flushing.
For a long while, it appeared the Mets would flush a fantastic season from their starters right down the toilet. The offense sent out to support that group wasn't just bad. There were points when it was trending toward historically bad.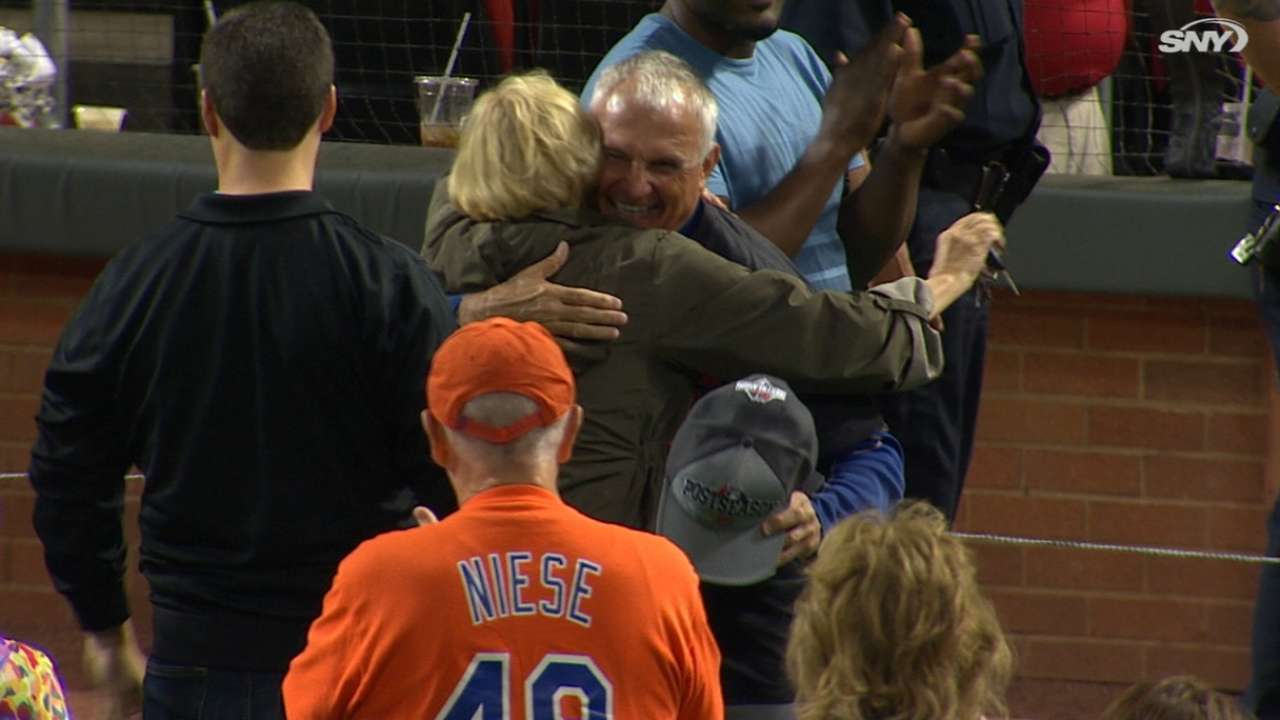 Mere days before the non-waiver Trade Deadline, the Mets were on pace to turn in a worse slash line and fewer runs per game than the 1962 inaugural Mets, a squad that infamously lost 120 games. And whether it was mid-April and Bartolo Colon had somehow driven in more runs than Curtis Granderson, or if it was the day of Steven Matz's debut and he was driving in four runs, at times it felt the best hope for Mets starters to get run support was to provide it themselves.
But those same starters always provided enough hope that this club could at least make a Wild Card run. Harvey's first season back from Tommy John surgery wasn't seamless, as tends to be the case in first seasons back after the procedure. But it was still pretty darn good.
Jacob deGrom avoided the sophomore slump. Noah Syndergaard and Matz arrived, as advertised. Even the 42-year-old Colon got off to a terrific start. Colon compiled four wins nine days before the Brewers did.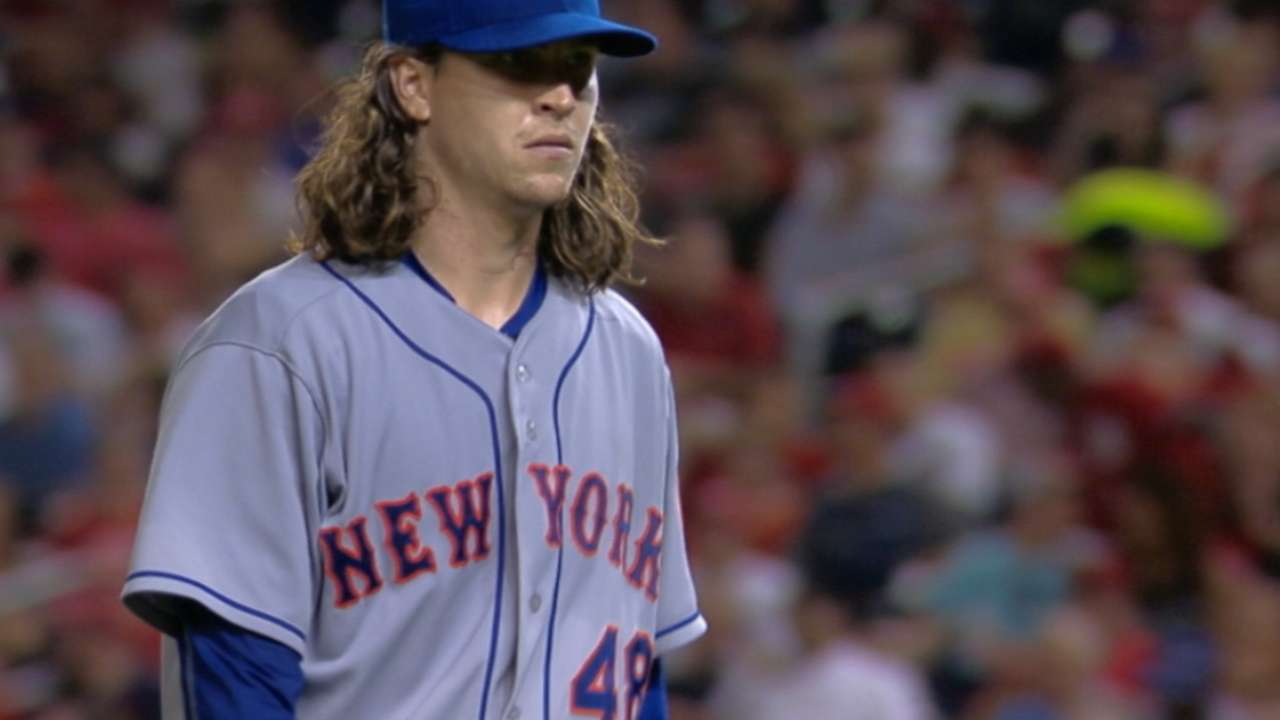 The starters just needed some support, and the search for support certainly wasn't aided by the injuries that piled up for Travis d'Arnaud, Michael Cuddyer, Daniel Murphy and, most prominent of all, David Wright. The Captain's April diagnosis of spinal stenosis created a cloud of doubt that hovered over the Mets all summer.
We had plenty of reason to believe the Mets had to do something bold at the non-waiver Trade Deadline, but there was very little recent organizational history to inspire belief that they'd actually make a major investment. Sandy Alderson swung deals for Kelly Johnson and Juan Uribe, sure, but where was the game-changing bat the Mets needed to ascend?
Not in Milwaukee, as it turns out.
One minute, Carlos Gomez was coming back to the Mets, and Wilmer Flores was leaving -- and crying. The next minute, neither Gomez nor Flores (nor Zack Wheeler, for that matter) were going anywhere, and we were left trying to piece together what the heck had just happened.
What had happened, we've come to learn, was perhaps one of the greatest non-trades in deadline history. With the Gomez deal dead, the Mets pivoted to other options, landed on Yoenis Cespedes, and wound up landing one of the most robust rentals in the history of the summer swap market. Cespedes strapped on that neon yellow arm sleeve, and he swatted away. Michael Conforto came up from Double-A and made an instant impact. Lucas Duda, Murphy, d'Arnaud and Granderson had strong showings. And the Captain came back after 131 days gone -- and he hit the third pitch he saw into the second deck in Philly.
Has it all been magical? Well, no, unless you consider the "now you see him, now you don't" vanishing act associated with Harvey's current in-game innings limit to be a form of illusion. The Mets can still inspire their share of soap operas, but better to have the drama accompanied by a title than otherwise.
The Mets have their title now, and maybe this is just the beginning. Collins was right about there being room for two, because both New York clubs are October-bound. But the Mets are the ones atop their division. How they've gotten there has been nothing short of one of the most fascinating stories in baseball this season.
Anthony Castrovince is a reporter for MLB.com. Read his columns and follow him on Twitter at @Castrovince. This story was not subject to the approval of Major League Baseball or its clubs.