Tribe says hats off to Ramirez swinging hot bat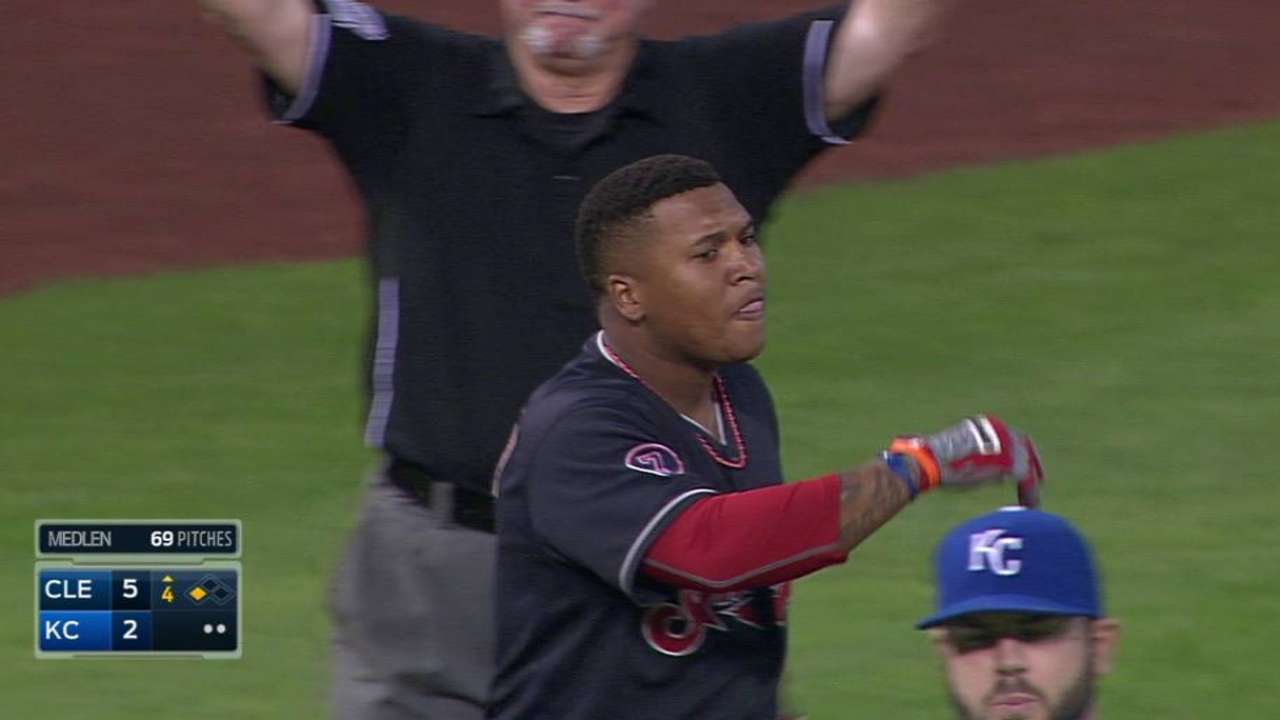 KANSAS CITY -- It hit the infield dirt between second and third base when Jose Ramirez hustled around the basepaths for a triple in the third inning on Saturday night. It landed between first and second when he legged out a double in the fourth.
Rare is the play involving Ramirez that ends with his helmet still atop his head. It was a problem again in the Tribe's 9-5 win over the Royals at Kauffman Stadium, but, really, it was no problem at all. Cleveland likes when the speedy infielder leaves his lid in his dust.
"It just will not stay on," manager Terry Francona said with a laugh. "That's all right. When it falls off, that means good things are happening."
Ramirez was seemingly in the middle of everything for the Indians in the victory, which pushed the Tribe over .500 for the first time since April 9 and kept the club three games behind the Astros for the American League's second Wild Card spot. The switch-hitter finished a home run shy of the cycle and crossed the plate three times.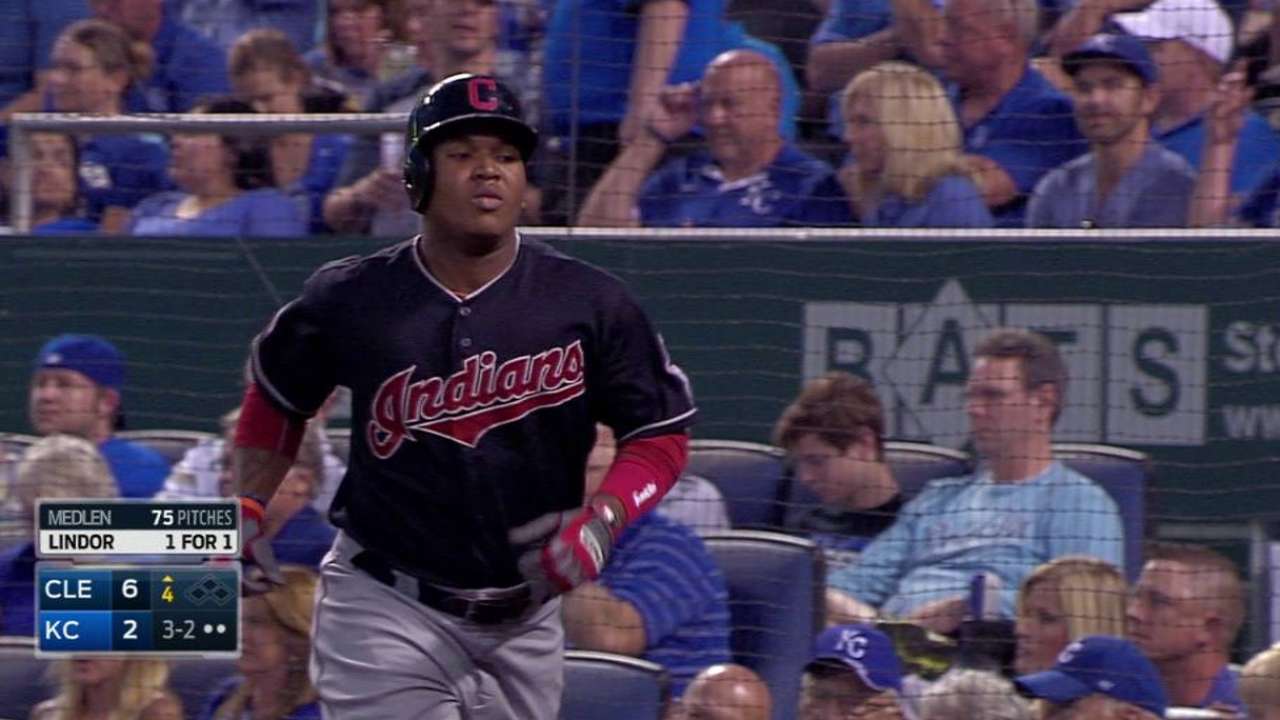 The version of Ramirez that the Tribe has seen since early August, and especially in September, is what the club had in mind when it named him the Opening Day shortstop. What followed were two forgettable months filled with the kind of woes that warranted a trip back to Triple-A Columbus. As it happened, it just took some time for the spark plug to fire.
"My confidence. That is the biggest thing," said Ramirez, who used shortstop Francisco Lindor as a translator. "I believe in myself. I'm believing in my hands, letting the ball get a little bit deeper. That pretty much is all confidence. I have my confidence and that's what's working for me now."
In 90 games this season, the 23-year-old Ramirez has only a .223 average, but he has compiled a .333 (17-for-51) average with three homers and seven RBIs in September. Since being promoted on Aug. 3, Ramirez has hit at a .275 (38-for-138) clip with 14 extra-base hits. Prior to that showing, Ramirez hit .176 with seven extra-base hits in 153 at-bats.
With Lindor entrenched as the starting shortstop, Ramirez has floated around the field as a useful utility man. In early August, Ramirez handled second base while All-Star Jason Kipnis was shelved with a shoulder injury. Lately, Ramirez has earned more time at third while Giovanny Urshela nurses a shoulder issue of his own. Ramirez has even filled in as a left fielder on occasion.
"Confidence plays a big part in everything," Francona said. "But, I also think, you see him swinging now, he's got his legs under him. He's not reaching for balls and, when he makes contact, he's letting the ball get to him. He's a little guy, but he's strong and he can put a jolt into it. He hits the ball all over the field and it's really welcome."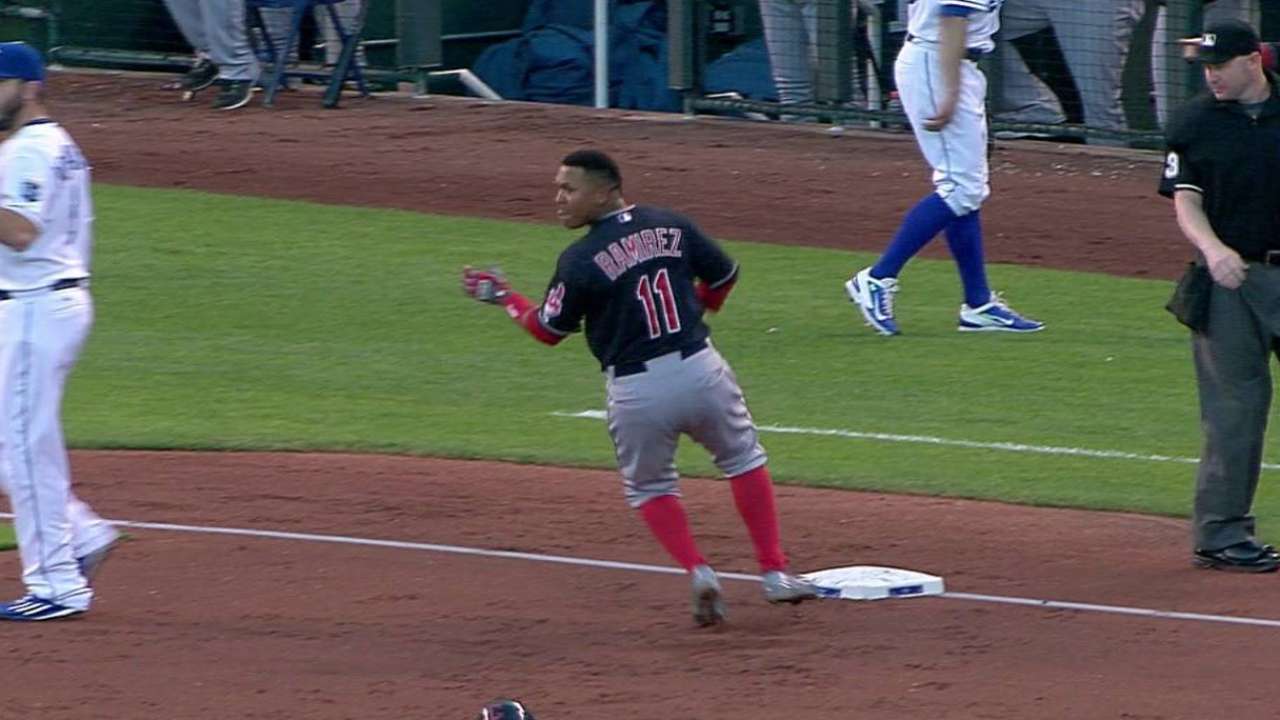 Ramirez pulled a pitch from Royals starter Kris Medlen to the right-center-field gap for a triple in the third and scored on a sacrifice fly by Lindor. Ramirez knocked in a run with a double off Medlen in the fourth and later crossed the plate on a wild pitch. In the sixth, Ramirez slapped a pitch into left field for a hit and went on to score again.
Twice, Ramirez had to ask for time while he trotted back to retrieve his lost helmet.
September 27, 2015
"It's a little big on me," Ramirez said with smile.
Earlier this season, Ramirez wore short dreadlocks, which Francona thought caused the helmet to pop off while he sprinted. The infielder has a close-cropped cut now, though, making it even more perplexing.
"I thought it used to be the haircut," Francona said. "I don't know. I think it's all the shoulder movement."
In the first inning on Friday, Ramirez had it fall off on a home-run trot.
"It's incredible," Ramirez said. "That's the first time that's happened to me."
Lindor does not want Ramirez to seek a smaller helmet.
"I like seeing it fly off," Lindor said. "It's unique."
Jordan Bastian is a reporter for MLB.com. Read his blog, Major League Bastian, follow him on Twitter @MLBastian and listen to his podcast. This story was not subject to the approval of Major League Baseball or its clubs.