Health the key to Lind's solid season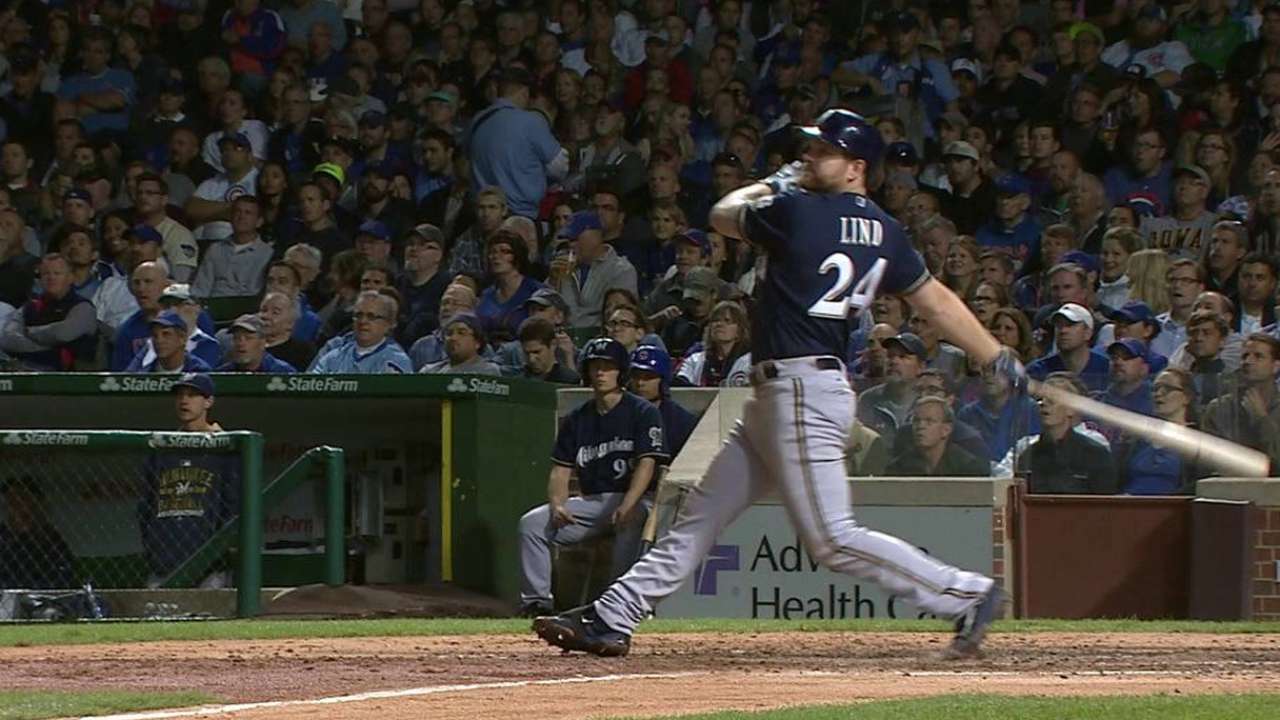 ST. LOUIS -- The next game Adam Lind plays for the Brewers this season will be his 144th, his highest total since 2010, and the previously injury-prone first baseman praised the team's medical staff on Saturday for keeping him in action.
"They're a lot more into trying new things, not just the 'old school' kind of methods," said Lind, who has a history of back trouble but has been completely unavailable this season only one time.
One of those new things -- new to Lind, at least -- is the Functional Movement Screen (FMS), which subjects players to a series of squats, lunges and stretches to identify muscle imbalances. Based on the results, the medical staff prescribes workouts to strengthen trouble areas.
By varying his strengthening program, Lind has remained healthy enough to enter Saturday -- he wasn't in the lineup because the Cardinals started left-hander Jaime Garcia -- batting .286 with 20 home runs and 86 RBIs. It's his fifth season of 20-plus home runs, and he needs four RBIs for his first 90-RBI season since 2009.
His career high for games played is 151, set in 2009 with Toronto. His 128 starts at first base this season have already surpassed his career high for starts in the field, topping his 109 starts at first for the Blue Jays in 2011. In other seasons, he mostly split time between first base and designated hitter. He was on the disabled list for the back issue in 2011, 2012 and 2014.
Lind believes the FMS program is part of the reason he avoided the DL this season.
"They believe a lot in it," Lind said. "We all do the screening in physicals in Spring Training and let that be a guideline on how I feel and what exercises we need to do to get myself on the field. Through the tests and the scores, they figure out which parts are weak, and then maybe once a month you retest and have a different workout."
The Brewers acquired Lind from the Blue Jays last December for pitcher Marco Estrada in a swap of "extra" pieces, and the deal has paid dividends for both clubs, as Estrada is 13-8 with a 3.13 ERA for the Jays.
"I think the medical staff has done a great job with Adam Lind, keeping him on the field," manager Craig Counsell said. "When Adam is healthy and on the field, he's going to hit. He's a talented hitter, and he's been a consistent hitter. A very consistent hitter.
"Backs are tricky things, and they put him in a position to be able to go on the field every day, and [Lind] did a nice job by getting himself on the field and adapting to the program."
The Brewers hold an $8 million option on Lind for 2016, with a $500,000 buyout. If the club exercises its option to bring him back, he will be a free agent during the 2016-17 offseason.
Adam McCalvy is a reporter for MLB.com. Follow him on Twitter @AdamMcCalvy, like him on Facebook and listen to his podcast. This story was not subject to the approval of Major League Baseball or its clubs.