Sipp fans Prince on 3 pitches in huge spot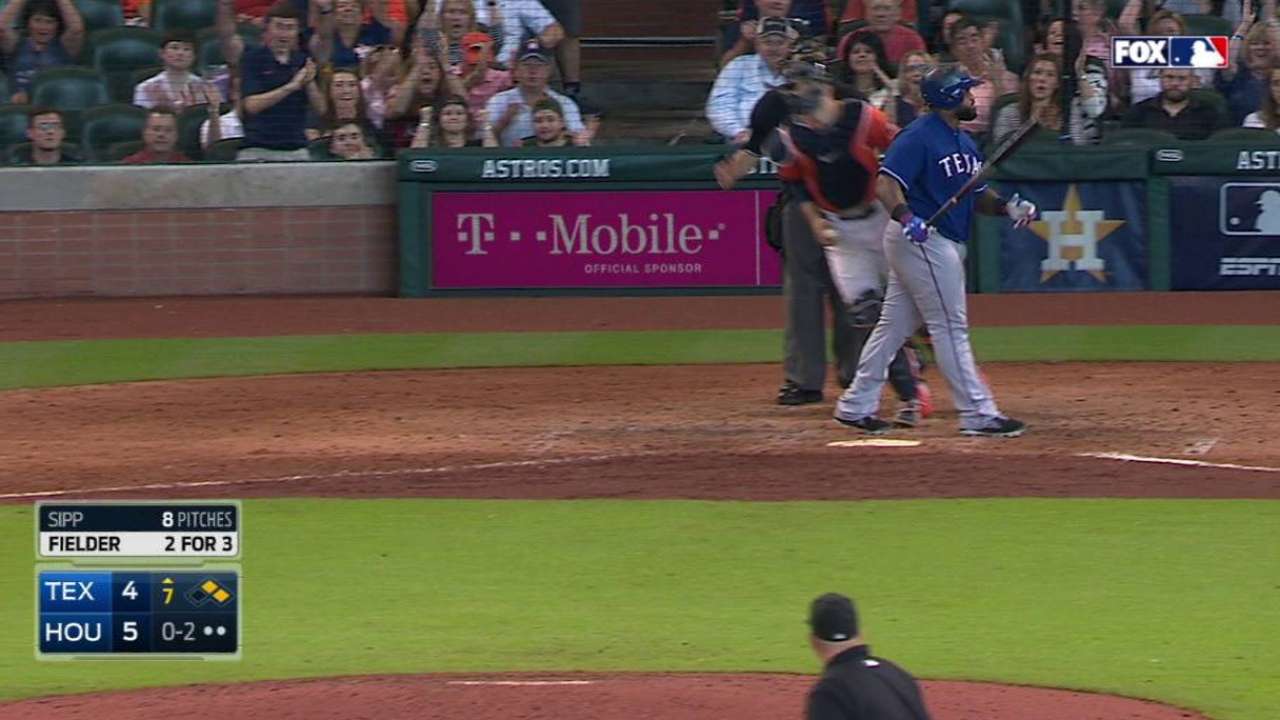 HOUSTON -- With two on, two outs and the Astros clinging to a one-run lead in a game they had to win, Tony Sipp buried a second straight slider in the dirt, almost in the other batter's box.
Rangers slugger Prince Fielder swung wildly for strike three. Sipp, usually even-keeled on the mound, pumped his fist and leaped into the air, racing to the dugout after perhaps the biggest strikeout of the Astros' season to preserve the lead in Houston's 9-7 victory on Saturday.
"I knew my job was done after that," Sipp said. "To keep that lead for [Astros starter] Collin [McHugh], he pitched a great game and I definitely didn't want to be the reason he didn't get a win for it. Just having that relief afterward, it brought a lot of emotions. It felt good to do a job and have it over with."
After walking Shin-Soo Choo on a high full-count pitch to put the go-ahead run on first, Sipp wasted no time with Fielder, fooling him badly on a first pitch changeup before going to two wicked sliders that Fielder swung through.
It's a plan Sipp has cultivated over time with great success. Saturday's result gave Fielder an 0-for-8 lifetime mark against the left-handed reliever, including three strikeouts.
"I just try to attack him hard early in the strike zone and try to get him to chase my pitches," Sipp said. "I don't think there's a real way to attack him. Very aggressive guy, and I try to use that aggression to my advantage, try to get him to swing at my pitches. Hopefully, I don't make a mistake, because you don't get second chances with him."
Sipp's outing started a roll of three consecutive matchup relievers that took care of the red-hot Rangers lineup, giving the struggling Astros bullpen a boost and letting the offense add more insurance. After Sipp, Chad Qualls and Oliver Perez worked a clean eighth, which included two strikeouts from Perez, a southpaw, against lefties Mitch Moreland and Rougned Odor.
Luke Gregerson opened the ninth strong, striking out his first two hitters, before the Rangers poked four consecutive singles to end his afternoon and seemingly hinder any positivity the Astros' bullpen had accrued.
Not the case, according to Astros manager A.J. Hinch.
"The way the game ended is unfortunate, the way they put some marks on the board, but our pitching really stepped up today," Hinch said. "Everybody answered the bell when they were called. Sipp comes up and gets a big strikeout. Qualls comes in and gets his guy. Perez comes in, that's as electrifying as he's been since we acquired him ... all in all it was a well-played game and a good win for us."
Chandler Rome is an associate reporter for MLB.com. This story was not subject to the approval of Major League Baseball or its clubs.