Tribe wants Bauer to cut back pregame work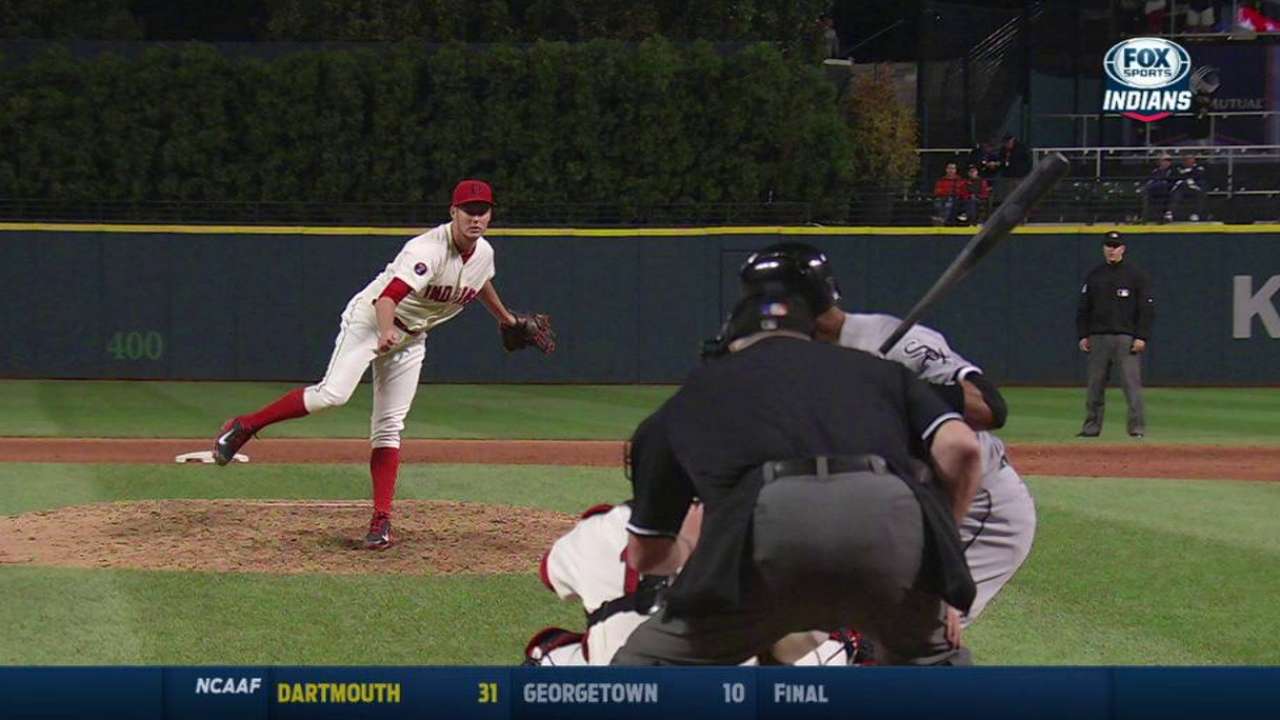 KANSAS CITY -- The Indians remain unsure about whether right-hander Trevor Bauer will make another start before the end of the season. At the rate Bauer has been throwing on the side of late, manager Terry Francona has even been hesitant to use Bauer out of the bullpen.
Prior to Saturday night's game against the Royals, Francona said pitching coach Mickey Callaway chatted recently with Bauer about reducing the amount of throwing he has been doing during pregame workouts. Bauer has always had an extensive throwing program, but the volume has become excessive in Francona's view.
"I've been a little nervous about putting him in games," Francona said, "because he's thrown so much during the day. So, Mickey finally talked to him a couple days ago and said, 'Hey, maybe we better tone it down some days.' Because, if we get into a game where he pitches, I just kind of struggle with a guy throwing 75-80 pitches and then coming to throw in a game that night."
Francona said the one positive is that, if Bauer does get the go-ahead to start another game, he will be ready to handle the workload.
Bauer is 11-12 with a 4.69 ERA and 167 strikeouts in 169 innings this season, but the young righty turned in a 7.30 ERA in eight starts before being removed from the rotation earlier this month. He worked one shutout inning of relief against the White Sox on Sept. 19, but Bauer had not pitched since entering Saturday.
Francona said it has been important to reiterate to Bauer that he is still only 24 years old.
"We've talked to him about that," Francona said, "because I think he views his season [as being bad]. I've said, 'Hey, Trev, you're 24 years old and close to throwing 200 innings. You might be frustrated, but you've had [a solid year]. You have double-digit wins.' It's not like we have to recreate this, we're just trying to make adjustments.
"We've had really good discussions with him. I know there's been times where I think he's been frustrated with us and we've been frustrated with him, but the whole idea is to make it better as you go forward. And, I think we're doing that. That's what we're really shooting for."
Smoke signals
• Left fielder Michael Brantley (right shoulder soreness) remained out of the lineup on Saturday, marking the third game in a row he has not started for the Tribe. Francona said Brantley is "really doing well," but noted that the outfielder will likely remain out on Sunday. If Brantley does not play Sunday, Francona said Monday seems realistic for the outfielder's return.
• Francona said rookie third baseman Giovanny Urshela (right shoulder) has shown improvement in recent days, but the manager will discuss Urshela's situation further with general manager Chris Antonetti and the medical staff when the team returns to Cleveland. Urshela has been out of the lineup in each of the past eight games and for nine of the past 10.
Jordan Bastian is a reporter for MLB.com. Read his blog, Major League Bastian, follow him on Twitter @MLBastian and listen to his podcast. This story was not subject to the approval of Major League Baseball or its clubs.