Top 10 pitching performances in World Series history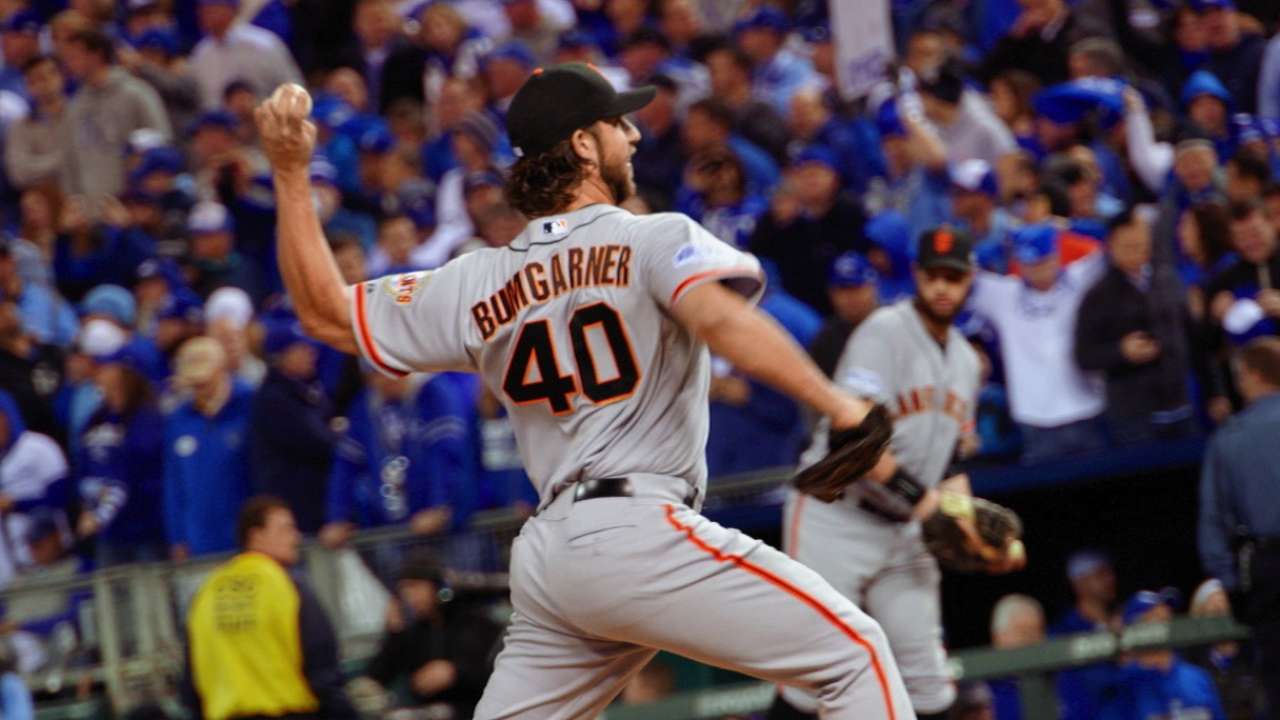 1. Madison Bumgarner, 2014 World Series
Had Madison Bumgarner never toed the rubber in Game 7 for the Giants against the Royals, his two victories earlier in the Fall Classic likely would have earned him Series MVP honors anyway. But in tossing five shutout innings on the road in Game 7, Bumgarner authored the most impressive relief performance in Fall Classic history. By the end, Kansas City had mustered just a .127 batting average off Bumgarner. Royals skipper Ned Yost described the experience as "hopeless."
2. Christy Mathewson, 1905 World Series
At the dawn of the 20th century, New York Giants hurler Mathewson ranked as the game's greatest pitcher. The right-hander's shining moment came in the 1905 World Series, when threw a record three consecutive shutouts in six days against the Philadelphia Athletics, a mark that has never been matched. During those 27 flawless innings, only one Philadelphia runner managed to advance past second base. The team ultimately fell to the Giants in five games.
"I marvel at what Matty has done," sportswriter Grantland Rice wrote in the aftermath. "In those few days, he was the greatest pitcher I've ever seen."
3. Bob Gibson, 1967 World Series
During the 1960s, the Cardinals' Gibson dominated three different Fall Classic stages, setting new records for strikeouts in a game (17) and a single Series (35). But to Tim McCarver, the catcher who worked with Gibson throughout the decade, Gibson's performance in the 1967 Series was the finest moment in a Hall-of-Fame career.
"He was invincible," McCarver later recalled. "In 1967, he had something to prove."
In complete-game victories in Games 1, 4 and 7, Gibson broke the hearts of Red Sox fans through force of sheer will, fanning 26 and allowing just 14 hits in nearly twice as many innings.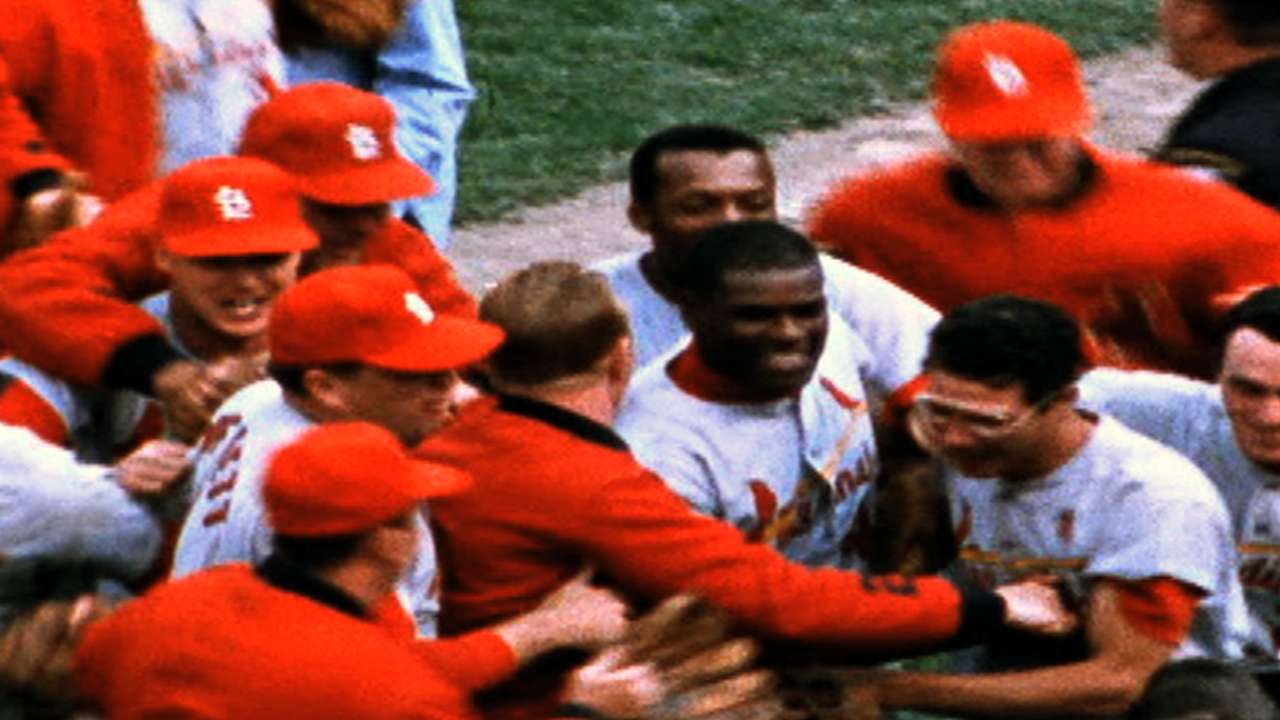 4. Randy Johnson, 2001 World Series
The 2001 Yankees were favored to win their fifth World Series title in six years, but then they ran into the Diamondbacks' Johnson. Making his Series debut, the then-38-year-old overwhelmed the Bronx Bombers with his blazing fastball and legendary slider, whiffing 11 in a Game 2 shutout.
"He throws the ball 98 mph, and he's about 6 foot 13," shortstop Derek Jeter quipped. "You feel like he's right on top of you."
Johnson's gem gave the D-backs a 2-0 Series lead, but the Yankees won the next three contests. The ace would carry his team, though, as he beat the Yanks in Game 6, then pitched another 1 1/3 innings of relief in Game 7 the very next night to earn a third victory.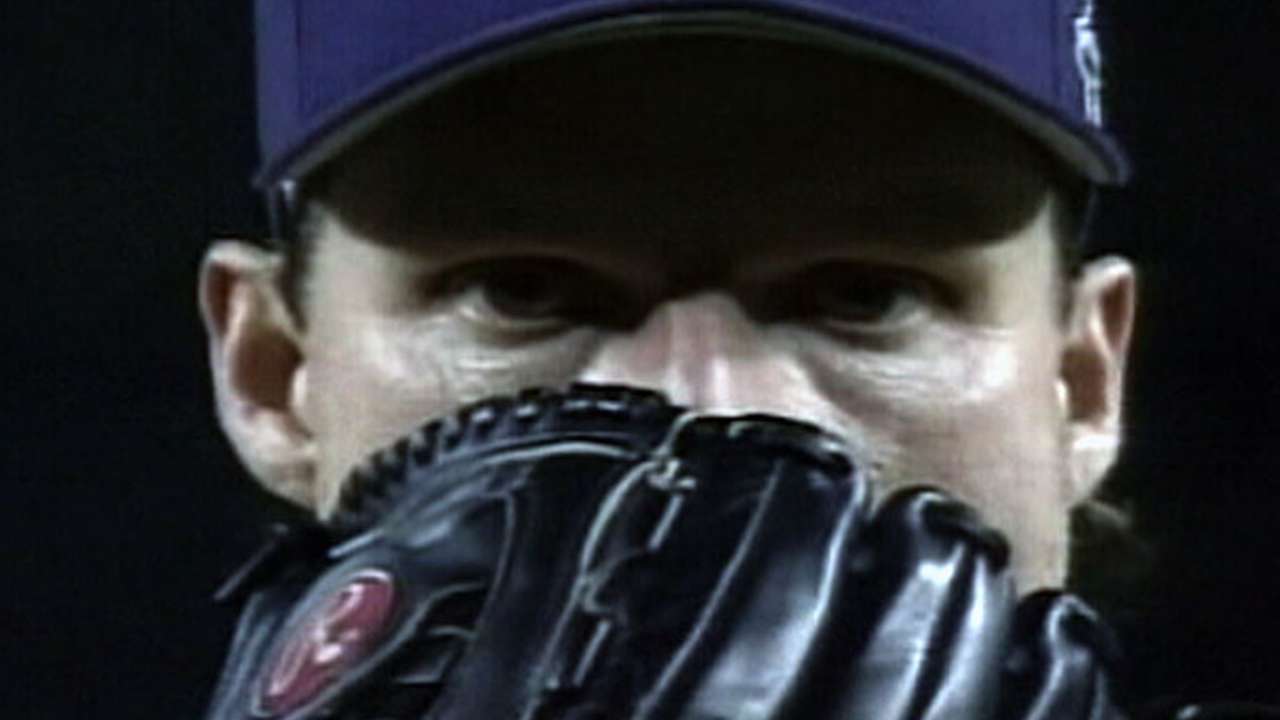 5. Grover Cleveland Alexander, 1926 World Series
Finishing his career with a National League-record 373 wins, Alexander was one of the great stars of the deadball era. In the 1926 World Series against the Yankees' fearsome Murderers' Row lineup, Alexander won Games 2 and 6 for St. Louis, while allowing just one hit combined to Babe Ruth and Lou Gehrig in 14 at-bats.
Cardinals manager Rogers Hornsby called on Alexander with the bases loaded and two outs in the seventh inning of Game 7, even though the hurler had pitched nine innings the previous day. No matter; Alexander struck out Tony Lazzeri to get out of the jam, and then he held the Yanks scoreless for two more innings to give St. Louis its first championship.
6. Mickey Lolich, 1968 World Series
Although the Tigers boasted a 31-game winner in Denny McLain, by the time the dust settled in the 1968 Fall Classic, the unlikely hero was Tigers left-hander Lolich -- a portly flame-thrower who had played second fiddle all year.
"When I'm good, nobody says anything about it," Lolich once said.
By the end of the Series, he was all that fans talked about. Lolich notched three complete-game W's in eight days, including a Game 7 five-hitter to defeat Gibson and give Detroit its first championship since 1945.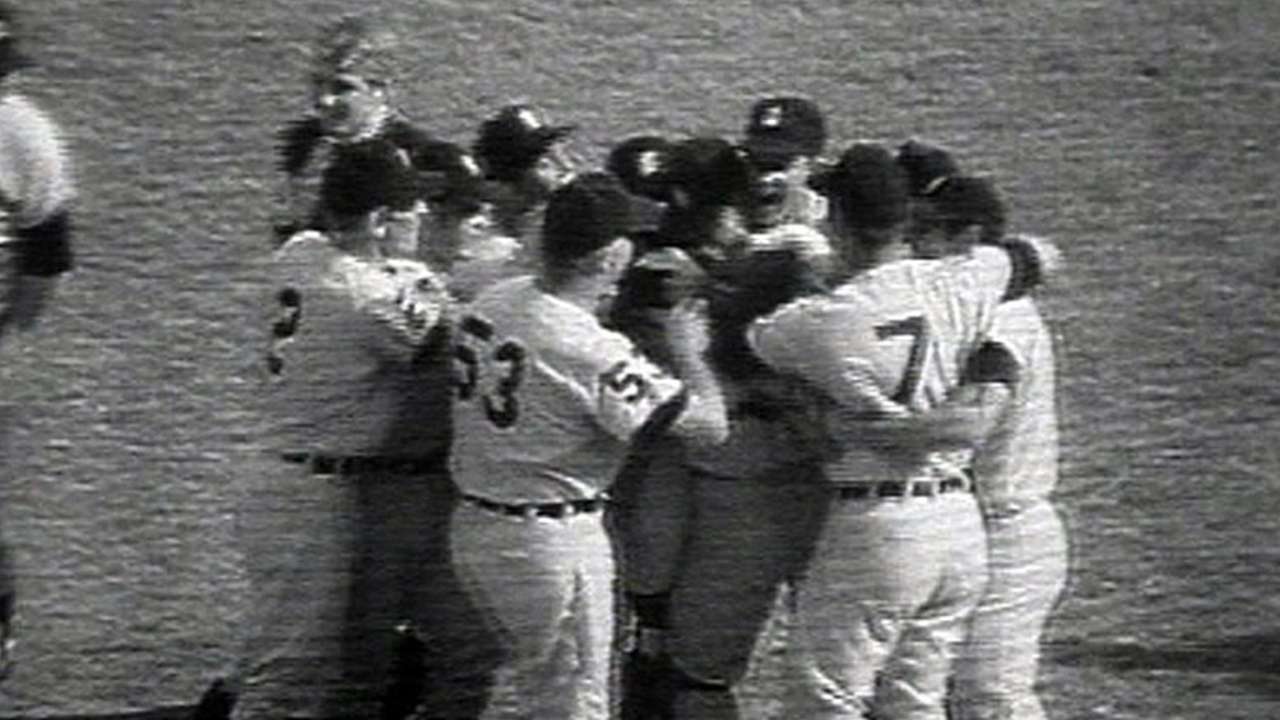 7. Sandy Koufax, 1965 World Series
The 1965 World Series represents perhaps the crowning moment of Koufax's brief career.
Scheduled to pitch Game 1 of the Series against the Twins, Koufax declined to play in observance of the Jewish Holy Day of Yom Kippur. Some accused the Dodgers ace of putting himself before the team, but such criticism was rendered ludicrous by the end of the Series, as Koufax pitched a shutout in Game 5, and added another just three days later in Game 7 to win the Series.
"Koufax is murder," Twins manager Sam Mele said. "The best I believe I have ever seen."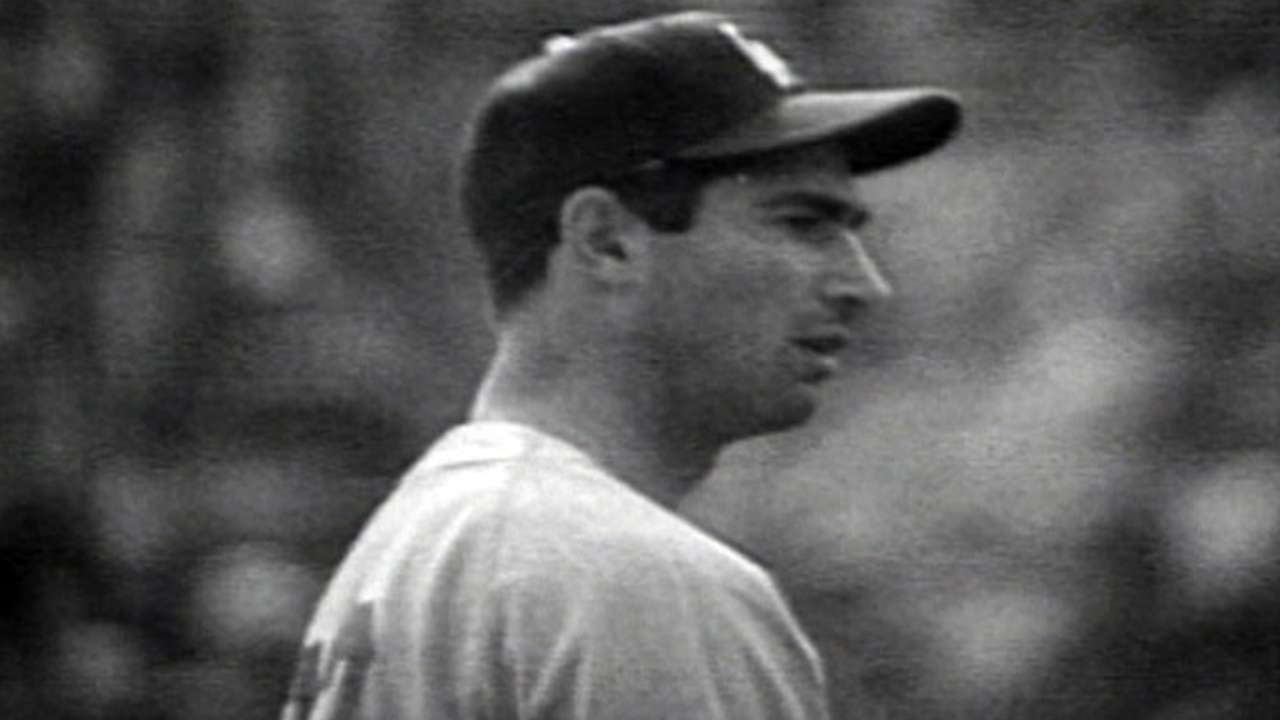 8. Jack Morris, 1991 World Series
Morris played a defining role in the 1991 Twins' worst-to-first turnaround, leading the staff in both innings pitched and complete games. Regarded as a workhorse at the age of 36, Morris was transcendent in the World Series, winning two games while posting a 1.17 ERA.
The Minnesota-born right-hander's crowning moment came in Game 7, when he held the Braves at bay for 10 innings in a 1-0 shutout.
"I said when we got him that he was a horse," Twins pitching coach Dick Such said afterward. "Tonight, he was a race horse, a thoroughbred."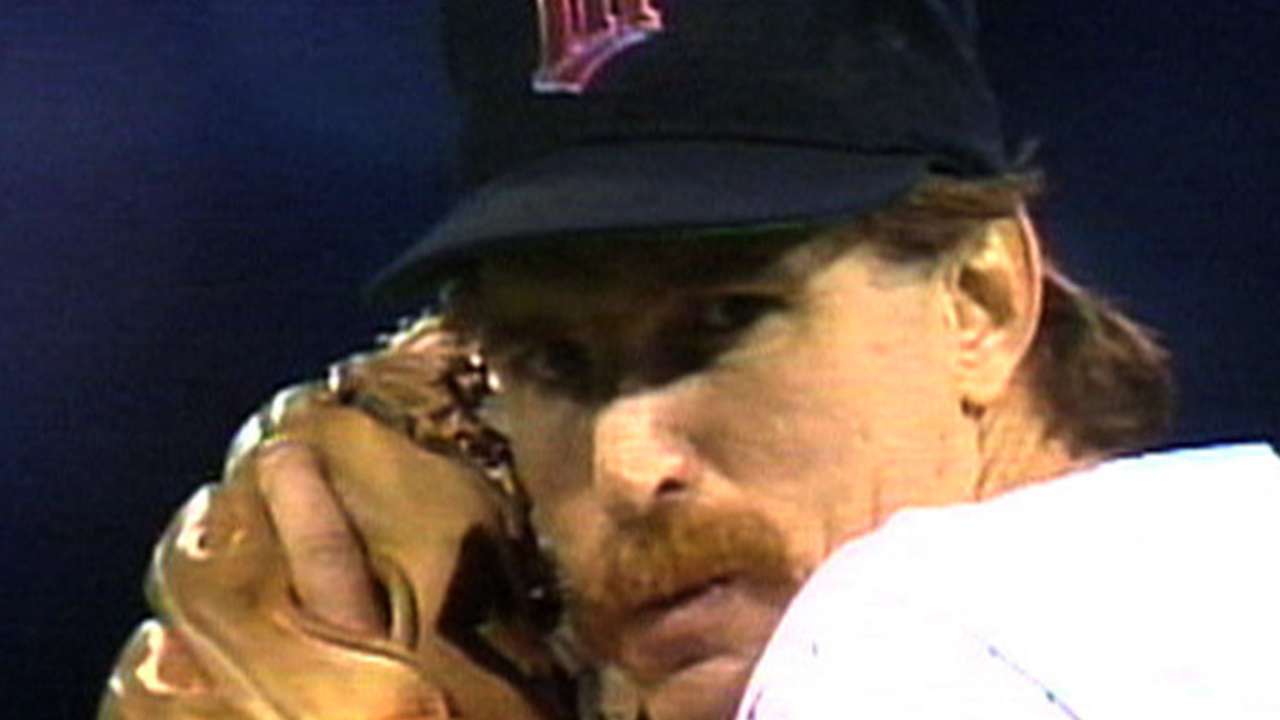 9. Rollie Fingers, 1974 World Series
On a club full of characters, it was the Oakland A's bullpen, led by Rollie Fingers, that made the biggest contribution to its three consecutive world championships in the early 1970s. In '74, Fingers became the second relief pitcher ever to win the Series MVP Award. In an era before relief pitchers were largely limited to one-inning stints, Fingers collected 28 crucial outs in the Series' five games, including 4.1 innings in a narrow, 3-2 win in Game 1, and multi-frame saves in Games 4 and 5.
Video: Rollie closes out the Series
10. Bret Saberhagen, 1985 World Series
Few in MLB history have enjoyed a week as inspired as the one Saberhagen experienced in October 1985. The right-handed hurler threw a complete-game six-hitter to bring the Royals back from a 2-0 Series hole in Game 3, but he didn't stop there. Saberhagen would secure the franchise its first world title with a Game 7 shutout at Royals Stadium, and he did so just one day after his wife delivered their first child.
Asked after the Series how he could ever top such a string of achievements, Saberhagen deadpanned, "Well, you go out and do the same things I did last year, but have twins instead of just one."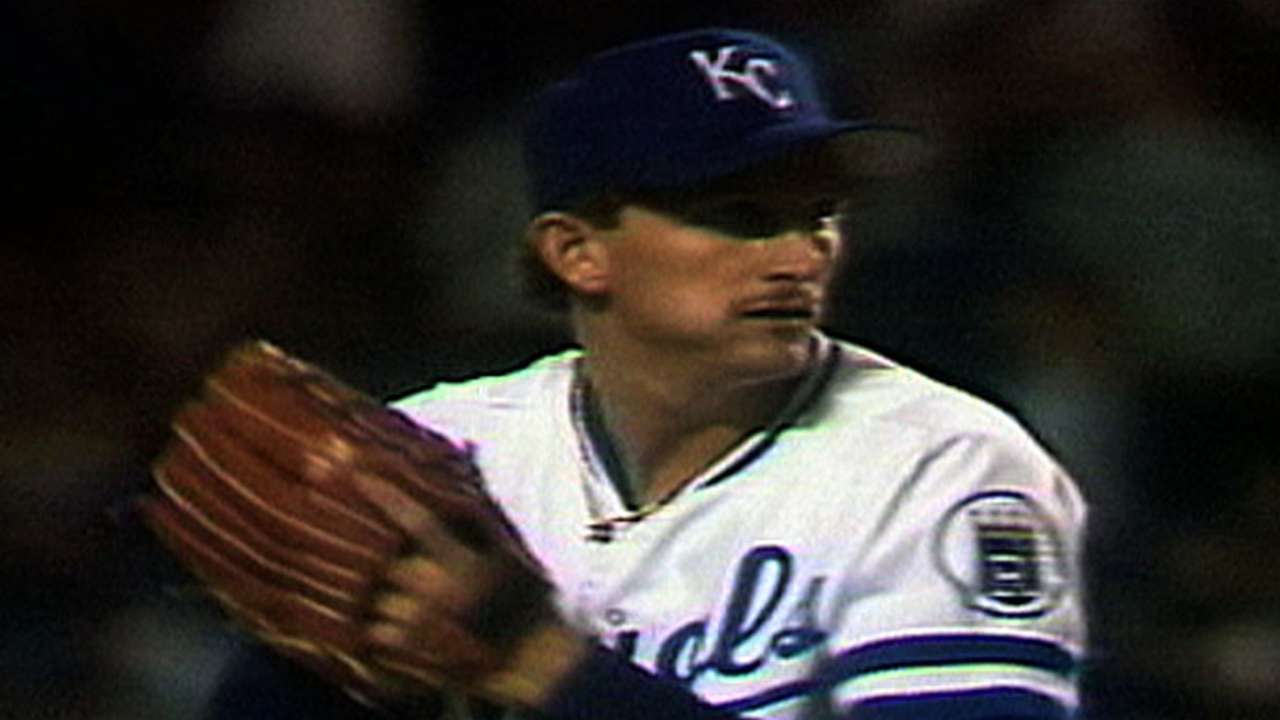 David Crawford Jones is a freelance writer and baseball historian based in Ohio. This story was not subject to the approval of Major League Baseball or its clubs.