Postseason bound: Cubs celebrate at Wrigley
Despite loss to Pirates, team parties in clubhouse and on field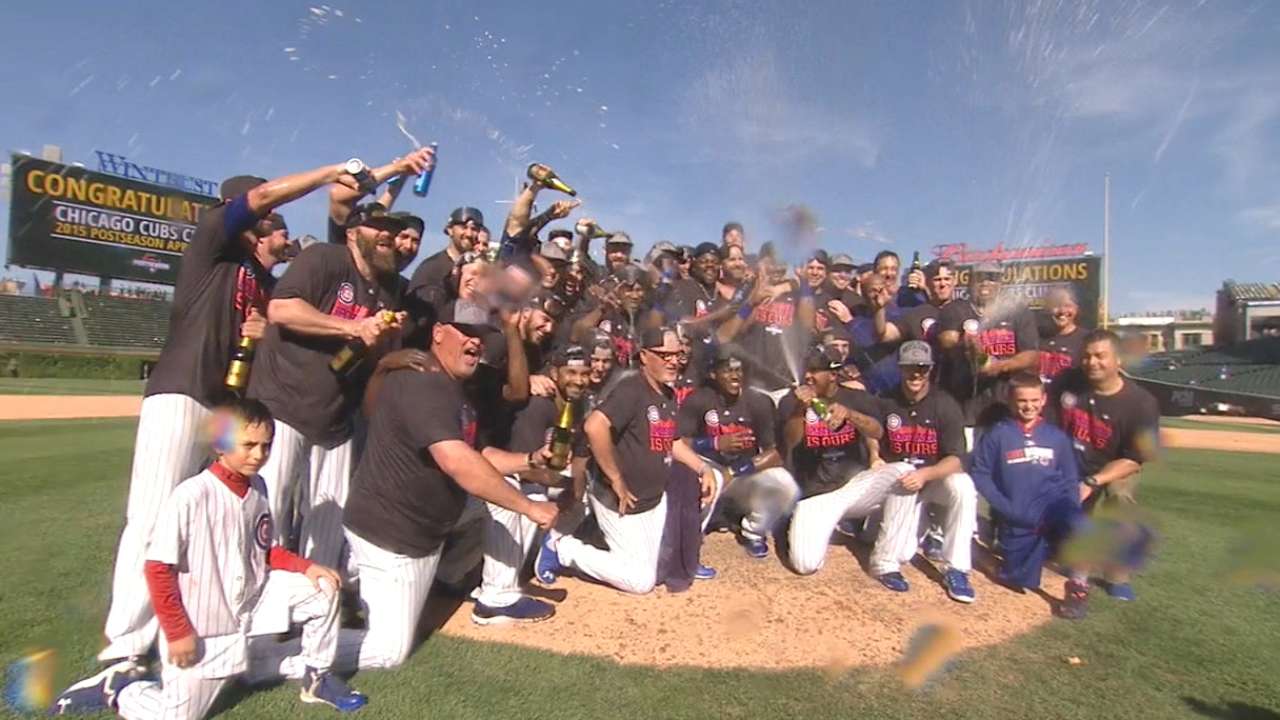 CHICAGO -- The Cubs may have lost, 4-0, to the Pirates on Saturday, but they still got to party, celebrating their first trip to the postseason since 2008. And hundreds of fans who stayed to join in the fun got sprayed with champagne, thanks to catcher David Ross.
Cubs chairman Tom Ricketts, drenched in champagne, wasn't too surprised that the team was able to get to the postseason, even though many believed some of the young talent wouldn't be ready until 2016.
"Honestly, at the end of last season, [Cubs president of baseball operations Theo Epstein] came up to me and said, 'You know, I don't think we have to give up on '15,'" Ricketts said. "[He said], 'I think we're pretty good.' He said, 'If we get a pitcher and maybe a catcher and a center fielder, we'll be good.' They said we've got a chance. He kind of saw it and we went for it, and it's been incredible."
The Cubs added pitcher Jon Lester, catcher Miguel Montero and center fielder Dexter Fowler in the offseason, and now find themselves with the third-best record in the National League.
"We haven't done what we set out to do yet," Epstein said. "We're trying to win the whole thing."
The Cubs actually clinched a postseason spot around 12 a.m. CT on Saturday when the Giants lost to the Athletics in Oakland. But because they had played a day game Friday and had an early start on Saturday, the Cubs were scattered at their respective homes and didn't get to toast the team effort.
After Saturday's game, the players retreated into the clubhouse, cranked up the music, and turned on the disco lights that they normally reserve for wins. Then they brought some champagne bottles onto the field to spray on each other, and posed for a photo on the mound.
#WeAreGood at celebrating. http://t.co/SNSZAzN6Yy @Budweiser #OwnOctober pic.twitter.com/opjRCe0N7R

— MLB (@MLB) September 26, 2015
"Even though we did not win the game today, that really does not matter," Cubs manager Joe Maddon said. "This is a celebration of the season and where we're at right now and what we've accomplished to this point only. We've got a lot of work left. Our guys will be ready for the next week and what happens after that."
"It is pretty crazy to see the plan come together in this way," Ricketts said. "It feels great. It's always the way we looked at it. I think a lot of people would say it's maybe a year earlier than we expected, but it's fabulous, all good."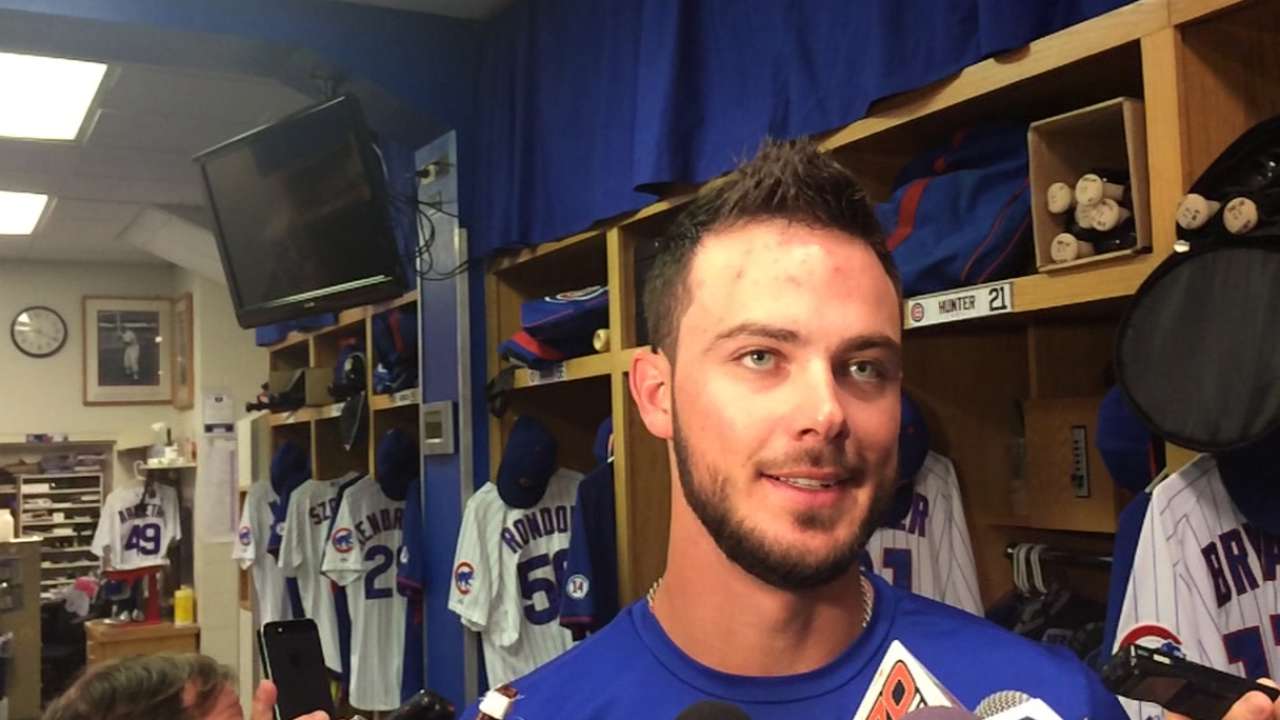 Ricketts also doesn't mind the wild postgame celebrations by the players at Wrigley Field. He's hoping for a few more.
"I'm happy these guys have a great time," Ricketts said. "I say, 'Carpet is cheap, go ahead, have a lot of fun, and enjoy the season.'"
Carrie Muskat is a reporter for MLB.com. She writes a blog, Muskat Ramblings. You can follow her on Twitter @CarrieMuskat and listen to her podcast. This story was not subject to the approval of Major League Baseball or its clubs.