Affeldt passing on wisdom to young Giants
Left-hander in final stretch of what could be his last season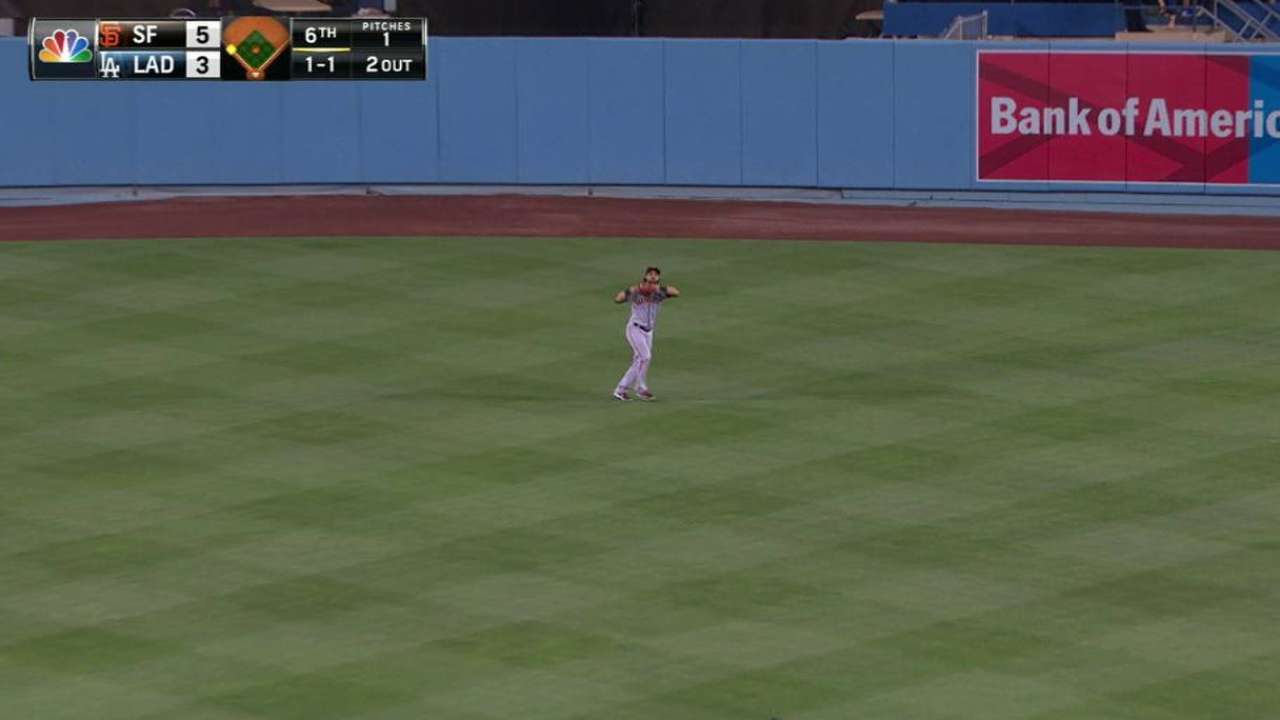 OAKLAND -- If these are Jeremy Affeldt's final days as a member of the Giants, he's striving to make them as meaningful as possible by making an impact that will linger beyond this year.
Affeldt, a member of the Giants' "Core Four" bullpen contingent, frequently counsels the club's group of promising younger relievers -- rookies such as Hunter Strickland, Josh Osich and Mike Broadway -- by sharing the wisdom he has gained throughout 14 Major League seasons.
Eligible for free agency after this season, Affeldt's not certain whether he'll continue to play. Performing on two bad knees at age 36 and having recorded a 5.29 ERA in 49 games this year, he won't be the highly sought commodity he was in the past. Moreover, as a father of three sons who's financially secure, he might decide to abandon the baseball routine that's ill-suited to family life.
"For me, when you don't have a situation set, it's all about leaving a legacy," Affeldt said. "If I don't ever see these guys again, if I'm not their teammate, then what did I leave them with?"
Affeldt indicated that his chats involve the mental aspects of pitching much more than technical ones.
"We have a pitching coach for that," Affeldt said. "I tell stories and talk about things that I've gone through -- frustrating things that I've gone through, positive things that I've gone through, highs and lows, stuff like that."
Known for his easygoing attitude, Affeldt said that there's a purpose behind his ability to relax. That's why he tells younger pitchers that there's a time for intensity and a time to stay loose.
"You'll burn yourself out if you're focused all the time," Affeldt said.
Broadway, for one, appreciates Affeldt's willingness to dispense advice.
"He's such an approachable guy," the right-hander said. "You don't have to feel that you're walking on eggshells with him. I know I speak for the other rookies."
If Affeldt's career does end with this season, he can be proud of his accomplishments. He's among nine Giants to have performed for all three of their recent World Series-winning clubs, joining pitchers Tim Lincecum, Matt Cain, Sergio Romo, Madison Bumgarner, Santiago Casilla and Javier Lopez, third baseman Pablo Sandoval and catcher Buster Posey. His 0.86 postseason ERA ranks third all-time among pitchers who have thrown at least 30 innings. And he entered Saturday ranked second among active left-handed relievers with 729 lifetime appearances, trailing only Lopez (766).
"I kind of look at it as, when I was available, I pitched as much as I possibly could pitch. And I take a lot of pride in that," Affeldt said.
Chris Haft is a reporter for MLB.com. Read his blog, Haft-Baked Ideas, follow him on Twitter at @sfgiantsbeat and listen to his podcast. This story was not subject to the approval of Major League Baseball or its clubs.